ALASTAIR MOOCK
"Let It Go"
(CoraZong Records)
www.moock.com
www.corazong.com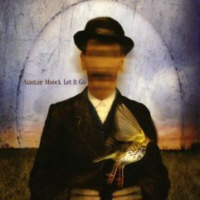 My regular readers here know that I have a weakness for unusual voices, especially the right whiskey-soaked "growl"... As long as it's not just a Tom Waits imitation, there's only one Mr. Waits after all. Alastair Moock, singer-songwriter from Boston and younger than the sound of his cracked voice, definitely does his own thing.
He started performing in 1995, when he moved from the New York suburbs to Boston, a haven for folk singers. "It seems no young musicians want to be labeled "folk" anymore. Everyone's passing through on their way to somewhere else -- alt.rock, alt.pop, alt.country. Alastair Moock plays folk music. Old school, powerful, intimate folk music. There was a time in America when folk music was relevant, edgy, even dangerous -- a tool of personal and political expression, at once raw and beautiful. That spirit lives on in the music of Alastair Moock", his bio states. After playing innumerable open mics, gigs at local coffeehouses and on the clubcircuit, he went touring in 1997, eventually ending up in Norway (2003) and cities like London, Glasgow, Paris and Amsterdam in 2006. "Sometimes he performs with a band or accompanist, most likely you'll find him alone on a stage, sitting in a low chair, stomping a booted foot, picking his beaten guitar and growling out beautifully crafted songs." He won a number of songwriting contests at folk festivals and of course he made records, three independent releases and then "Let It Go" landed in our Alt.Country Cooking hands!
Alastair says: "The title was, first and foremost, a reminder to myself to make the album I wanted to make, not the one I felt I should make." That means the music is still folk mixed with countryblues, but the arrangements shifted to "stripped-down electric roots-rock", thanks to producer Michael Dinallo (founder and former guitarist for The Radio Kings) and the musicians: his fellow Mercy Brothers (bassist Paul Kochanski and drummer Andy Plaisted)! Kevin Barry plays electric and lap steel guitars plus the mandola, Alastair himself has his acoustic guitar of course. Except for a handful overdubbed parts -guitar and the guesting musicians- the album was recorded live in the studio. Another studio than planned... "On the morning of the day we were supposed to start recording, I got a call from drummer Andy Plaisted. He had just arrived at the studio in Boston to start setting up. What he found was a blackened building, debris all over the street, and a notice to contact the fire department. The engineer and owner of the studio arrived a few minutes later... Someone had evidently thrown a cigarette in a trash can the night before and, after everyone went home, the studio caught fire. The fire department came in the middle of the night and pumped hundreds of gallons of water in through the windows. Needless to say, we needed to find a new place to record." Most of the songs were written in 2002 / 2003, the years Moock and his blue-eyed Jane spent in Iowa City. His wife was enrolled in the University of Iowa Writers Workshop, but he claims: "I think the move affected my own writing as much as hers."
The album starts off -very appropriate- with catchy beat-driven uptempo "My Famous Leaving Song". "They'll hear a clap of thunder and see a flash of light / I'm gone." Mark Erelli on harmonica. "When you're on that platform, you've never been so sure / You're leaving when you hear that whistle blow." "Standing At Five Corners" is a song about lost love ("You have your chance and then your chance is gone.") with yet another cool title and with Kris Delmhorst on backing vocals: "I've been out there waiting all my lifetime / The more I wait the more you never call." "Everybody's Wondering", a modern-day version of old-time gospel folk with essential dobro accents by Tim Kelly: "Everybody's wondering how it's gonna be / Honey, when they're called back home" and "Death Don't Have No Mercy", an authentic sounding old blues with great electric guitar solos and cool drumming on the outro, written by Rev. Gary Davis, both address one of Moock's most favorite themes. "Death just never fails to fascinate me. Endings are a critical part of any relationship. I feel the same way about life." Another important theme for Alastair is depression, although the word is never mentioned in "Unwanted Guest": "I like to play the host but I'm done, unholy ghost / No more of you, unwanted guest." Very impressive song, this observation is great too: "The moon is just the sunshine that it holds" and luckily, this guest leaves in the last verse! "Red Ribbon Waltz", "Love Me True", and "Lovely Day" is a trio of love songs. I have to say that I would've put some tracks in another order... Anyway, the slow waltz features Kris Delmhorst again and Alastair tells: "There is something particularly Midwestern about it that will always remind me of our time there. Maybe it's the formality of asking someone to dance or the fact that the girl wears a ribbon in her hair... Anyone with a ribbon in their hair in Boston can count on a beating before the sun sets." "Love Me True", rhythmic & upbeat, backing vocals now done by Mark Erelli, asks: "Our senses of direction / Are in need of some correction / But baby, wil you love me true?" In slow "Lovely Day", with acoustic bass, lapsteel and mandolin, the lovebirds acquired "two kids who look like you and me"; but there's also the outside world, to be addressed in the raucous title track "Let It Go". After Moses and Darwin they come along: "Saddam Hussein took potshots / At the presidential dad / Now the presidential son / Want to drop bombs on Baghdad / That'd be fine if you could drop a bomb / On just a single head / But there's kids down there, you know / Man, you should've let it go." "When The Moon Comes Out Tonight" is my favorite on the album, just a simple & optimistic little song, showcasing Moock's raggedy voice over a lovely lapsteel arrangement. "It could be just illusion / The lure of fractured light / But everything's gonna look better / When that moon comes out tonight."
Many good albums already found their way from radio show Alt.Country Cooking to the Euro Americana Chart and onto Dutch labels and distributors. "Let It Go" was re-released in 2005 on CoraZong Records, digipack, same intriguing cover art, coming with three bonus tracks. Bluesy "I Got A Friend", fast rocking "Home Is Where The Heart Is", apparently an ode to Loretta Lynn gone White Stripes (outtakes?) and last but not least Woody Guthrie's "1913 Massacre", just Alastair Moock and his beaten guitar again, like he started out years ago.
---
Written by Johanna J. Bodde, May 2007.
=====
ALASTAIR MOOCK
"Fortune Street"
(CoraZong Records)
www.moock.com
www.corazong.com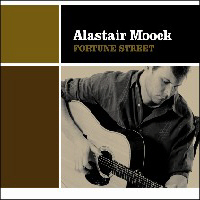 The arrival of "two little pearls" encouraged Alastair Moock to stop dragging his feet and record "this thing". Being his fifth album "Fortune Street"! Something old and something new... His voice is still the same of course: "When I was little, my parents had doctors look down my throat to see if there were polyps on my vocal cords. They didn't find anything. I will never have a clear, flutey voice." His fascination with Woody Guthrie is still there: "Guthrie was a punk, a nonconformist, which appealed to me a lot as a kid who always felt like an outsider. I felt this very personal connection with Woody Guthrie. He spoke for me. And his particular voice excited the hell out of me." He's also still interested in spiritual issues. The son of a Jewish mom and a Christian dad, young Alastair was sent to both church and synagogue. "Neither of my parents are religious, but I've always loved the old bible stories because the storytelling is so good." His songwriting, more matured, got even better. Most of the recording was done live in the studio again (rural Pomfret, Connecticut this time), with a minimum of overdubs and very little cross-cutting between takes. There's a new producer though, David Goodrich, who has a background in jazz and worked with Chris Smither, Peter Mulvey & Jeffrey Foucault. David also plays guitars, piano, banjo and acoustic theremin, Moock himself takes care of guitars, banjo and harmonica, the other players are drummer Mike Piehl and bassist Lou Ulrich. The only Mercy Brother on this CD is guitarist Michael Dinallo, Kris Delmhorst lends her vocals again, together with Sean Staples (The Resophonics) who also plays mandolin.
So, what do we hear during the next fifty minutes? Title track "Fortune Street" opens, an epic ballad in seventies style with that lead guitar and electric piano. Open E-tuning, the key-line: "We're all together, we're all alone". There's a theme running throughout the album: the roles of chance and choice in our lives. "God Saw Fit To Make Tears" is done the same way, more soul here and I like that harmonica, fade-out: so seventies... "Yin Yang Blues" is -indeed- one real blues tune with a wink at the ups & downs of love: "I changed the locks on my front door / Cause I can't take it any more / This afternoon I'm gonna make a second key / And ask you to come spend your life with me." The loose arrangement (lots of stuff rattling about) of "Swing That Axe" has more of a folk blues feel and very cool, funny lyrics: "I'm just walking round looking for some kind of luck / It's a black cat crossing again / Every time I look in a mirror it cracks / Come on baby swing that axe / My mother says you got to make some choices my son / You got to find something better to do / You're broke because folk doesn't pay that's the facts / Come on baby swing that axe." and finally he goes for it: "I'm gonna swing that thing 'til I drown out the sax." "Own Way To Heaven" is slightly simular, with its close rhyme and tongue twisting alliteration (plenty of p's), banjo and mandolin, ending in a giant sing-along with enthusiastic participants Kris Delmhorst and Sean Staples. Inbetween the swirling lines some deep thoughts: "The universe was born without a father or a mother / There wasn't a beginning and there'll never be an end." Fourth bluesy track is long slow "Delia", a traditional. Alastair credits David Bromberg for his haunting version, based on how Blind Willie McTell played it. "I always try to put at least one cover tune on my records. I'm a folk singer. I'm working in a tradition."
Woody Guthrie is of course THE folk poet, "Let It Go" contained a Guthrie-cover as one of the bonus tracks, so we're not surprised to find "Woody's Lament" now. We hear him speaking from beyond the grave to defend the tough choices he made in his life. The track builds up slowly to folkrock, adding one instrument after another. In the chorus themes from Guthrie's catalogue are loosely featured: "Oklahoma never was my home and California never failed to put me on the road / I was chasing down the pages of my story bound to ride that train that's bound for glory." Alastair says about his personal hero: "Woody Guthrie is the reason I'm a songwriter. I read Guthrie's autobiography "Bound For Glory" in high school and never looked back. But I've also always thought of him as a complex guy. I think he probably sacrificed an awful lot personally to become who he became publicly... This song's not just about Woody though. I've always been fascinated by the way greatness demands sacrifice." The album offers another historical ballad, "Cloudsplitter", inspired by the Russell Banks novel (800 pages) about John Brown. "October sixteenth, eighteen fifty-nine / Twenty-one men waiting for his sign / To cross the wide Potomac to a shore / Where slavery's hold was cold as it was sure / Harpers Ferry fell without a fight / And sixty prisoners taken on the night / A fully loaded federal armory / But no slaves came to claim the weaponry." Six-and-a-half minutes, recorded live, Moock's emphatic delivery, with his acoustic guitar only, one take.
"Roll On (Song For Anne Marie)", backing vocals by Kris Delmhorst, is a fictional story about a woman who finally leaves a bad marriage. "It takes a lot of courage to leave a bad relationship, especially if you're a middle-aged woman in this culture. I've known and observed a lot of people in that situation - people who've made the choice to leave and people who haven't - and I guess I wanted to pay tribute to them in some way.", Alastair explains. Another life-changing event is the birth of a child. While Alastair and his wife were expecting their first, he wrote "Fishing Tales", addressed to his son ("Or could you be a girl"). Recorded solo as the closing track of this album. A CD, just as good as "Let It Go", which was more dipped in rootsrock all over, thanks to The Mercy Brothers, while on this one the musical styles are somewhat seperated in blues-tracks & folk-tracks. Well, the Moock family features twin girls now ("What's that, doc, did you say two?"), born in December 2006. And when Mother Nature heard that ode to the baby, she must have said: "Oops..."
---
Written by Johanna J. Bodde, May 2007.
=====