Wild Frontier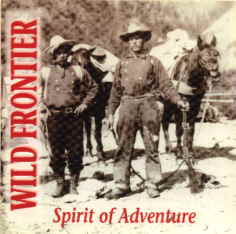 ---
What's up? L.A. Monthly:
Wild Frontier
Spirit Of Adventur
This up and coming band hails from the great, white north in Alaska. They reflect the spirit of adventure that has long made Alaska America's last great frontier. With a tip of the literary hat to writer Jack London on a tune that bears his name, this first release from Wild Frontier gets off on the right foot. Almost a throw back to the tradition of cowboy music or the story telling tune smithing of the great Johnny Horton, the tunes included here speak volumes lyrically about life and experience. With interesting vocals and a fresh perspective, this is one outfit that is bound to conquer the lower 48. Especially good is "Old And In The Way," which details the decline of a man's life due to age and the attitude of our culture towards our older citizens. Touching and unnerving, this tune hits the target musically delivers a message that needs to be heard. Thoughtful and provocative, Wild Frontier is a band of substance as they prove with such songs as "Buffalo Soldiers" and "Get Along." Still, this is a first release and they have some growing to do before they come fully into their own. But, Spirit Of Adventure is a heck of a good start.

---
NEW COUNTRY
Wild Frontier
"Jack London"
When you think of Alaska, you may not think there are a nest of musicians waiting to be discovered there. However, that's where pop star Jewel came from, and it's also home to the members of Wild Frontier, who have spent 15 years in their Fairbanks recording studio playing their blend of country, folk and rock. Three of those years have been spent crafting their 11-song album Spirit of Adventure, which relays the spirit and adventure hidden in the stretches of Alaska.
"Jack London is an appropriate song for Wild Frontier, as it evokes the memory of the literary chronicler of Alaskan wilds and embodies the magic and imagination that the Last Frontier commands.
Despite living in a frozen tundra, these guys are on fire. Mike States dishes out the intricate stories, accompanied by the harmonies of David Peck and Robyn States. Steven Graham rounds out the quartet on guitar. The group has already reached the Gavin Americana chart, as radio is beginning to embrace its spirited tunes.

---

For ordering information, write to Lift Records, 239 Minnie St., Fairbanks AK 99701, or call (907) 456-3419.
CDs are $14, post-paid.