Roy Kasten
Demos
1996 - 1997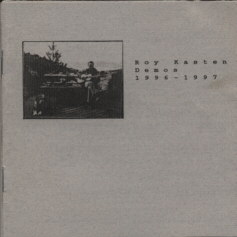 ---
Roy plays guitar and sings on all songs, except Tennesse River,
because Joe Phelan plays it so damn well. Joe also plays slide on
Saul Keller and mandolin on Lost Song.
Neigbor Chuck plays harmonica on Elsah.
Seth Hurwith plays guitar on Lost Song. Ellie Desprez sings harmony.
Randy Dugan sings harmoney and plays rhythm and lead guitar
on Sweeter Ground. Adam Long plays cello.
All songs by Roy Kasten.
Except Tennessee River and Elsah which were written by
Michael Friedman and Roy Kasten

---
Blue Island, Illinois
when I was a child I dreamed of a highway
and a silver city in the sky
now every road I'm on has got my name and number
and the city's a good place to die
just a town on a shut down train line
black water creek, black flyin' crow
sunday morning, God speaks right through you
in a little church on an old brick road
down at Barden Locker the men cut meat from the bone
the women stare at pictures on the wall
I'd give all I'll never own, just to be back home
in Blue Island, Illinois
the fields are bare in May
in Blue Island, Illinois
time slips sweetly sway
my father was the son of a son of a farmer
he cut the trees and sowed the land
he taught me how to judge rain, sun, and winter
but he saw I didn't have them farming hands
so I left for working the bars of St. Louis
and I was a docker in Port Elaine
and I stole cars and I picked apples
and I took 10 different names
and I was blessed by the hand of a stranger
and I was cursed by a friend
comes a day you find every breath is poison
and the broken wheel of life don't mend
in Blue Island, Illinois
the fields are bare in May
in Blue Island, Illinois
time slips sweetly sway
now I got a room at the Y in Cleveland
with a man who talks hard about Jesus Christ
I roll him smokes when his hands are trembling
but I never once look in his eyes
he sells his blood, every thursday morning
and tomorrow I think I'll go with him
the dreams we got, well I just can't tell you
they're mostly taken by the wind
---
The Tennessee River Waits for Me
she lived all her life east of Knoxville
she knows her name in Cherokee
she don't think too much
of the 20th century, and she says,
"the Tennessee River waits for me."
she recalls the day he went to Nashville
oh the trail of the Carter Family
with his black guitar, harmonic,
and sweet blue melody, he said,
"will the Tennessee River wait for me?"
she watched his son grow dark and hansome
she watched his grandson grow up too
she read the postcards that he'd send
from Tulsa and Bergoo, and she'd say,
"the Tennessee River waits for you."
he had a hit recording in '57
a song about a love that never dies
she'd hear it on border stations
at night when she closed her eyes, and she'd dream
that the Tennessee River carried stars in the skies.
she read it in the Sunday paper
the song was over, the high livin' was through
he stole that song from Texas Red
and only changed a word or two, but she said,
"the Tennessee River waits for you."
there were no more songs and no more letters
just a drifter who'd lost his deal
he held a photograph of her
by the oldest willow tree and a note:
"the Tennessee River watches over me."
he died on a lonesome night in Phoenix
in a stranger's company
and just before he breathed his last
and let his soul go free, he said,
"the Tennessee River does not wait for me."
she walks down to the river in the moonlight
she wears her wedding jewelery
she steps into the current
she feels so young and free, and she says
"Tennessee River don't you stop for me."

---
Halfway to Virginia
may your god go with you, may your road be right
the singer's story came and passed sway into the night
just another signal, found and lost again
staring down fortune, in the high beams around the bend
build a ship of dreams of borrowed wood and nails
hold tight to the wheel when you hear the brakes fail
and Highway 64 is a diamond in time
and I'm halfway to Virginia when I cross the Indiana line
take my life and measure it in scales
take the miles, the sunshine and hail
I've seen roans and mares runnin' in open fields
bought and sold mainstreets, never knowing how to heal
last thing I heard, "don't show yourself in this town again"
and the hardness I carry, says the leavin' never ends

---
Elsah, Illinois
when I woke up this morning, I had no idea
what kisses could come to and how I felt about you
we drove across the river and we drove across the years
we knew there were answers deep in our fears
you asked me to tell you what was mine in this world
said, this won't take long, and I gave it a whirl
I've got poems for your waking and songs for your sleep
the stories I've stolen, I'll give you to keep
know the hills of West Virginia and the streets of Santa Fe
know everything I've ever done has led up to this day
we were sitting in a meadow, bathed in the birth of light
in Elsah, Illinois, I said, will you be my wife?
I said, look Claire, the sun's a plie, such insensible light
let's sink into togetherness, forever tonight

---
Lost Song
some say it was here, where the angels
laid down their wings and walked in boots a while
telegraph poles bend like crosses in the wind
seems we walk the road to Rome A.D. 39
I fell in with the sons of hired hands,
liquor's kin and gamblers poor at the game
the dice don't fall on the kind side of fortune
they keep falling just the same
who are these men drinking in their cars?
who are these women waiting on a train?
come night fall we'll be lying in a gutter
but some of us are looking at the stars
snow falls slow on Currant River
and the wind combs Watchtower Hill
and sometimes its peace and sometime sorrow
sometimes a judgment of days unfulfilled
there ain't much work worth the doing
but there's shelter, creeks, and apples warm and red
the towns of Missouri just make a man wonder
will he die alone or decently in bed?
who are these men sleeping in their cars?
who are these women staring down a train?
come night fall we'll be lying in a gutter
but some of us are looking at the stars
our eyes are wide with departure
like servants who've left the mansion door
wayfarers, thieves, apostles, and slaves
by morning we'll reach another shore
---
Saul Keller
Saul Keller was the first to drown in the flood of '93
he lived with his dogs down in Grafton
cut stone in Alton quarry
he grew up in Jessamine Kentucky, played Sweet saro when he was ten
but he bet his mama's harmony
in a dice throw on a pint of bourbon
his father feared God and he feared the mines,
drove the tipples in coal dust clouds
said, "The Master's hand is hard sometimes
but who else is gonna wipe your brow?"
get to know Jesus the women cried, by the river on baptism day
Saul looked the Lord right in the eye
put on his shoes and turned away
sun and moon, circles in the sky
December and June, river rising high
he married a girl from Nachez Trace, twenty years ago, maybe
stole a horse to buy her lace
and a knife of rosewood and steel
they followed the big river backwards for Lily's cousin's in Saginaw
Saul met some men in a trainyard
lost more than he knew on a hand of lowball
by the river they built life and home from a boathouse, shed and bricks
swore he'd never work coal or stone
but in Alton, the stone's all there is
firs spring Lily died in childbirth, on the cool kitchen floor
doctor come to tell Saul
he was pitchin' a knife at the shed door
sun and moon, circles in the sky
December and June, river rising high
now he picks up hitchers on the river line just for someone to talk to
shares his whiskey and he shares his time
trying to put an end to his dues
the Mississippi rises with the spring thaw, round that house
where his child wasn't born
he'd watch her come and go with fall, mark the water lines every morn
when the levee broke he heard her, like the wind
through the mines in his dreams
saw it coming like a tide curl of an ocean he'd never seen
---
Sweeter Ground
will my body remember every tenderness?
and every word I spoke in sleep?
every forgiveness I've abandoned?
and every wish I couldn't reap?
will the praries draw the lightning
and burn to black at summer's end?
will the river flow to Hamilton?
will the road I walk ever bend?
when I lay me down
when my feet are bound
will the wind still sound?
when I lay me down
in a sweeter ground.
I've been faithful to the wandering
of every hitcher on highway 109
in their eyes I've placed a story
in their hands I've felt a blood of mine
three roads belonging to no one
cut the desert like the lines on my palm
fortune, love, and life everlasting
and the warm wind to bring me balm
when I lay me down
when I touch that crown
will time rise or drown?
when I lay me down
in a sweeter ground
if I had wings like Noah's dove
if I could love the way clouds rise
if I could shine like the light on the rails
find hope in dreams and songs in sights

---
Lost Time
some towns got tobacco, some towns got the mines
this town is all working men,
and a river that flows like wine
came of age a child of twenty, and I took my place in a line
Du Pont was hiring and winter comin' on
and they paid twice for overtime
well, I met Sara McHenry, in a tavern one July
found myself back to work on monday
put in a claim for lost time
thirty years the fire's been burnin', they'll burn for ever more
see them flames they leap, like comets in the sky
the poison's deep at the core
thirty years we sowed the poison, hills bloomed and then went bare
methylene she runs, straight down river
sweet as roses in the air
so now you tell me how they're clearing out a town called Love Canal
ain't nobody here, going nowhere
the work's like water from a well
and the sky above this valley,
it's filled with smoke and prayers
and our sins won't be forgiven, no
they won't be remembered and we'll be spared
Sarah closed the door the last time, and she pulled on out the drive
I said I would never bring a child into this world
even if it meant my life
so it's one for the road, one for the open sky
one for whiskey, one for rye
and for cashing checks for lost time
some men they grow old thinking, how they rented out their lives
most of us are downtown drinking
looking for lost time

---
All songs recorded in 1996 and 1997, live to analog two track in Roy's
living room and kitchen, Maplewood Missouri. The one exception is
Sweeter Ground, which was recorded at Clayton Studios,
St. Louis Missouri.
Copyright 1997 Perdition Music
Except Elsah Copyright 1997 Brother Jack Music
All Rights Reserved
---