Vanessa Lively
'Return To Waves'
Animada Records, 2014)
On a beautiful Saturday afternoon in the late Summer of 2012, Vanessa Lively and her husband Jason performed at a lovely street fair 'Pruiverij' in Veendam, The Netherlands. Lots of fun, food and most important: music! The duo impressed me with their 45 minutes show. A tent is something different than a listening room, after all. I wasn't familiar with the music and I didn't own any of Vanessa's albums. I cut a clipping from the local newspaper, gave it to Vanessa's contact person and that was it. Until... the new album 'Return To Waves' arrived!
---
Let's learn a little more about Vanessa! Her bio tells: San Antonio born, Austin (Texas) based songwriter and bilingual chanteuse Vanessa Lively creates an eclectic blend of folk and world music, that beautifully joins heartfelt lyrics with soulful vocals. Drawing on a compelling mix of tempos and styles that embrace hints of urban, world, Latin, funk and pop,
Vanessa Lively's songs fully capture her compassionate nature and love of community. Folk music on fire with worldly rhythms and a Latin pulse, according to The Austin Chronicle. She recorded 'Canto Y Cantera', a collection of songs in Spanish. Vanessa's own tribute to the life, music and passion of Mercedes Sosa of Argentina and the Nueva Canción movement.
Vanessa is also a visual artist. The mosaic artwork on her previous CD 'Uncovering Stones' is an original piece that she painted on forty two smaller canvases. She sold each of them to fund the recording and production of the disc, which was eventually released on a Dutch label. She did the graphic design of her new CD and the painting on the cover is called 'Chasm'. This recording was done while Vanessa was pregnant with her first child, son Jeremiah!

The album is produced by talented singer-songwriter and multi-instrumentalist Paul Curreri. I'm a fan of Paul for several years now, I like the way he gets off the beaten path and he often brings in his partner Devon Sproule - she sings harmonies here! It is a wonderful collaboration between these artists.
---
Vanessa answered some questions by Gabino Iglesias (Austin Post, 2012):
When and why did you start your music career?
Vanessa: I started my music career in early 2007. I had just come back home to the US after having lived in South America (Ecuador, Peru, Bolivia) from 2005-2007, and upon returning, wasn't sure exactly what to do next. I had recorded my first album while living in Ecuador, so after I came back I decided to just go on tour right away and see how that went... and it was great! I have been going down this road ever since.
How would you describe your sound to those who have never heard it?
V: Eclectic folk music with pop and world music influences. My vocals have been likened to Edie Brickell and Stevie Nicks, but my delivery is softer than those artists. Most of my songs either have a strong rhythmic pulse or go the opposite way to be very light and airy. When I sing in Spanish, another side of me comes out. I lived in Laredo when I was very young and then grew up spending almost all of my summers with my grandparents in Brownsville, TX. My grandparents' families both moved to the US from Mexico. My grandfather was Portuguese and my grandmother was Mestiza - a mix of Spanish and indigenous.
Who are your influences and why?
V: I have been influenced by so many artists, it is hard to name them all. Early on, my musical influences were The Beatles and Michael Jackson. As I entered my teens, I began listening to Bob Marley, Tori Amos, Ani DiFranco, The Indigo Girls, Counting Crows and Ben Harper. Each of these artists really touched me in a profound way and made me want to write my own songs. Probably the two most influential songwriters in my life have been Tori Amos and Ani DiFranco. They both had such a unique way of expressing themselves with music and voice and it really spoke to me.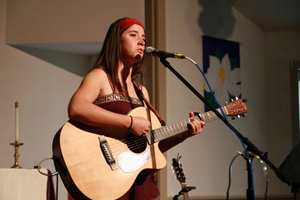 The songs on your albums seem very personal but they ask to be shared; how is your writing process?
V: My songs are always very personal, even when they are not about me! Sometimes I see friends and family struggling and I feel it so deeply, I end up writing songs about what they are going through, but in the first person. And the songs that are about me always have a big story behind them as well. That is how my writing process works - I journal every day and then when I am really moved, or seeing something clearly, I sit down and write a song about it. And I want nothing more than my songs to be shared. I feel like the highest calling for a song is to really speak to someone and touch them in a way that helps them through whatever they are going through. When I hear my songs have done that for someone, my heart jumps with joy! I love it!
What feedback from fans regarding your work has touched you the most?
V: There has been so much said that has touched me. People say my music inspires them to live life fully, follow their dreams and be bold, honest and open. That to me is so awesome! I also have had people call me crying tears of joy and saying that my music moved them so deeply and they had to tell me... Those moments are so precious to me and I feel grateful to be able to share my art in this world and have a positive effect on people.
What would you like for people to take from your albums?
V: I would like people to feel joy, inspiration and compassion when listening to these songs. I think our world can use more of all this and so I hope that my songs have a ripple effect of love and goodness in the world to bring about more peace, understanding and beauty.
-----

The info sheet tells us: 'Return To Waves' is already Vanessa's fifth album. It is a wonderfully unique project that combines Vanessa's songwriting and vocals with the textures and creative ideas of talented singer-songwriter and producer Paul Curreri. The sounds and stylistic ideas on this record are unlike anything Vanessa Lively has done before. There is an expansive, ethereal, almost meditative quality to the songs and the mood is sustained from start to finish. Her vocals combine beautifully with the vocal and musical harmonies to create a relaxing and uplifting record. There is one thing that has definitely not changed and that is Vanessa's insightful messages and deep reflections on life and all it brings.
---

This is a folk rock album with lots of pop flavors, no songs in Spanish and only a few influences from world music this time. Opener "I Am A Song" sets the tone for what we can expect. Reflective, relaxed, full of hope for the future. She only mentions a baby bird, but it is clear that giving birth to her little boy changed life profoundly for Vanessa, in a happy way of course. Lovely Native American chorus halfway the track. Gorgeous keyboards by Paul Curreri. "Chasm", the song from the cover art, has an urgent but nice funky rhythm (Andrew Pressman on bass plus Matthew Shepherd on drums) and so does "Unleash The Words". The adventurous layered title track passes by and Vanessa's pure, confident, unstirred delivery is quite fascinating. I agree with a fellow music writer who compared her to Suzanne Vega. Her inner strength shines through. "We Are Waiting" and "Heart Of Spruce" are sweet airy pop songs. Devon Sproule, a successful singer-songwriter in her own right, sings beautiful harmony vocals on a few tracks, often together with Paul Curreri.

"She Won't Let Go" is absolutely my favorite! The trumpets are missing, otherwise I would believe Calexico backed her up. The song was co-written with Erik Moll. "Dive In" got a surprising sparkling arrangement. It is followed by ominous, feverish, sultry "Bury It". We can enjoy excellent guitar work, including his trademark unusual sounds, by Paul Curreri, he was definitely the best possible choice for this album. "Come And Find Me" goes back to the more conventional acoustic folk, a little love song, sung in an intimate seductive way. The short rendition "What Will You Say Tonight?" is a translation of a French poem by Charles Baudelaire from 1857. Piano based "Wash Over Me" incorporates a synthesizer (not my favorite tool - but allowed here), to build up the song. By the way: Vanessa has promised to post all the poetic lyrics on her website.
-----

I could compare Vanessa with any of the well-known folk pop divas. Actually, I don't want to listen to her in a big fancy venue, I want to enjoy her music in a basement club in San Francisco, or in a castle room in SouthEast Germany! According to her website, this album stands apart from anything Vanessa Lively has ever done before. As I mentioned earlier, I'm not familiar with her earlier work, so I would say: 'Return To Waves' stands apart because of its high quality!
-----
Written & compiled by Johanna J. Bodde - January 2nd, 2015.
=====