Although this is the first time I hold an album by German artist Trailhead in my heads, I did hear the name before. A fellow DJ at Dollard Radio (the station that sadly went under) liked the music by Tobias Panwitz and even set up a showcase for him at a venue in the region. As he always has good and often similar musical taste, my expectations are quite high! Let's take a look at Trailhead's BIO first:
---

Tobias Panwitz in his own words: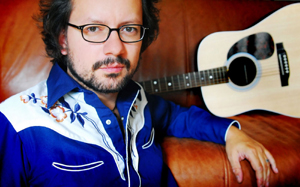 "I guess I started actually understanding the English language after reading "Even Cowgirls Get The Blues" by Tom Robbins. It turned out part of the reason why I feel drawn to the language, musically even more than to German. There's more to it though, I haven't yet given up on figuring that one out...

In the 90s I spent some years moving between places and countries, trying to figure out what it might be that makes me feel most alive, what it is that I want to keep doing after I found it. I didn't find anything that kept me, but that moving around was my escape from boredom. I felt stuck with everything and everyone after some time and it took me a while to admit to myself that in my case music was the only thing worth pursuing, which is what I've been doing ever since returning to Berlin in the early 2000s.

My traveling years included some time of roaming the United States. And when being asked where my affinity to music and the English language comes from, I sometimes feel inclined to refer to, apart from reading Tom Robbins, the U.S. For the language, that is certainly true. As for music though, who knows. Growing up in a family of classical musicians, one takes in a lot of musicality and understanding for harmonics.

Songwriters teach you how to write songs though. We start becoming ourselves by imitating people we admire. So I did, I bought all the Beatles records on vinyl and easily fell for other giants: Neil Young, Tom Petty, Crowded House and later people like Ron Sexsmith, Wilco, Gillian Welch, Dan Bern, Jackson Browne, Gordon Lightfoot... Most of all it's their incredibly powerful, melody laden songwriting that gets to me, that move me before I ever started my travels."
When Trailhead was invited to play a showcase at Canadian Music Week in Toronto in March 2012, it all came full circle for him after traveling North America for the first time sixteen years earlier, laying the groundwork for his music today. This kicked off Trailhead's first tour in Canada, with successful concerts through Ontario.

Born and raised in East Berlin, songwriter Tobias Panwitz weaves his songs around journeys through various parts of the world and musings on relations, past and present. While roadside encounters pass by the listener, Trailhead recounts his travels along Spanish caminos, Swedish islands, Baltic coast lines, Latvian rivers and American scenery.

After years of traveling wide parts of the U.S.A., Greece, Sweden and Spain, Panwitz decides in the 2000s to return to his home town Berlin. Many a song has been written upon many a path, and while pursuing life in urban Berlin, singing the stories from the road is what keeps the tales alive. With a 'trailhead' being the point where a trail begins, it felt like the perfect name for the new music venture, echoing the folky americana sound of the 60s and 70s classics.

Between 1998 and 2006 Tobias Panwitz is touring and recording in various line-ups, releasing four records: 'Some Things Are Beyond Reason' (1998); 'High Tide At The Baltic Sea' (2001); 'North By North East' (2002); 'Selected Road Songs' (2006).

In 2009 Trailhead releases his debut album 'The Road To Salamanca' on Berlin based Folk/Americana label Cannery Row Records, with rave reviews in the German music press and airplay on a wide number of public and privately owned radio stations in Germany and The Netherlands, also on various Internet stations. It features thirteen original compositions with guest contributions by musicians from Germany, Spain, Denmark, England and the U.S.A. Promotional touring, solo and with band, follows in Norway, Switzerland, Austria, Belgium, The Netherlands, Poland (the renowned festival Picknick Country) and repeatedly throughout Germany. In 2010, the music video for the album's title track "Road To Salamanca" is produced. It combines the motive from the lyrics, walking the Spanish Camino de Santiago with Spring atmosphere in the surrounding landscape of Tobias Panwitz's home town.

In February 2012 Trailhead's second album 'Bodies In The Basement' is released on Cannery Row Records. Trailhead combines folk pop with soaring harmonies and dreadnought melodies, focusing on the hidden and concealed areas of the soul, revealed only between the lines of the songs.

In the Summer of 2012 three songs about Berlin and Brandenburg are released on the 'Berlin Brandenburg EP'. As they are in the German language, the EP saw the light under the name Tobias Panwitz, rather than Trailhead.
---

The new album 'Leave Me To Learn' has a very nice lay-out with lots of pictures and even a lyrics booklet!
The TRACKS:

1. "Another Mile": Lovely, melodic and upbeat opener of the album: "When you walk in the rain / Hold your head up high". This gives me a good feeling right away! The mandolin is played by guest musician Matt DeHarp, some of the last notes Matt left behind in Europe, a few days before moving to Brazil!

2. "Changing Seasons": Tobias uses the weather again as an inspirational metaphor, I like that. He is a multi-instrumentalist, playing a great piano part here.

3. "On A Train": I hear a poppy 70s vibe, mostly created by the keyboards, rhythm and choruses. The little acoustic guitar parts in the middle are sweet!

4. "Leave Me To Learn": A beautiful piano ballad, also showcasing that Tobias Panwitz is a very good singer. His voice might not be so one-of-a-kind remarkable as some of the American singer-songwriters we know, but he can do a lot with his pleasant sound and timbre.

5. "My Mother's Father": This heart wrenching slow song brings tears to my eyes! Tobias never knew his grandfather: "He was lost in the war / Pilot in a uniform". I know how strange it feels that a person, so close to you in the family tree, just never was there. He also touches delicately on the subject of all those families, being torn apart in WW2. Definitely the highlight of this album!

6. "This Old Song": Cool harmonica playing throughout the track. Although it sounds cheerful as a children's song, there's a sad undertone: "I can't hold you, my dear / But I'll keep you with me still / When the blue bird sings."

7. "Sing Your Song": Another slow, melancholy sounding, beautifully sung ballad. Compliments for the flawless pronunciation of the English language!

8. "Church Bells": Guest musician Anya Tukh adds violin to this song. A spontaneous contribution, according to Tobias: "As my rusty violin playing would not have sounded nearly as good." His brother Sebastian came over to sing: "We've always enjoyed singing harmonies together and memories of the church bells and cherry trees in our grand parents' village is something we both cherish." Wonderful nostalgic song, a bit like Bruce Springsteen on "The River", about driving and crossing the border into Czechoslovakia and again Tobias states: "Too many blank spots in my family tree."

9. "Nothing But Well": To all the girls he has known before... and this special one: "I just wish right now / There was a way / To let her know / I'm wishing her nothing but well." The electric guitar is played by Juan Duran. Tobias tells: "I asked Juan to try out something on one of the songs. A couple hours later he sent me a guitar track over the Internet, that he had just blasted out during his lunch break. If I liked the direction, he said, he would do it properly. I did like it the way it was and it is now - lunch break recording / first take - this guitar track." Let's not forget to mention the harmonica and mandolin. A catchy uptempo song with hit potential!

10. "Out In The Open": Piano ballad. About sailing and taking a breath of fresh air in a complicated relationship: "Oh, it feels good to be on my own again."

11. "Wouldn't Wanna Miss It": "I left without a word". A delicate approach of leaving the relationship, after it finally stranded: "And it's all but easy living with you girl / But I wouldn't wanna miss it for the world."

12. "Red On Black": Best title of the album: "Tail lights fading red on black". A fascinating atmospheric road song, driving away in the dark night: "You're a silhouette at night time / I'm a-passing two past four". Paul B. Keeves plays the second electric guitar. Another highlight of this album!

13. "When I Come Home Again": "Sparks fly from your door step" - that must be some kind of welcome home!
These are all beautiful, timeless, original compositions with thoughtful, yet uncomplicated lyrics, that we can easily relate to. I would definitely want to hear more songs about growing up in past-WW2 Europe, being born long after happenings that changed history, but still coping with some of the lingering aftermath. Nice variety in up- or midtempo songs and sensitive ballads, all skillfully played. Trailhead is certainly at the same level as successful European singer-songwriters like Markus Rill, Eric DeVries and Ad VanderVeen. My expectations were high, but this album even exceeded them!
----
Written & compiled by Johanna J. Bodde - November 30th, 2014
=====