"Yes, we're baaaack!" according to The High Line Riders. What's the new album about? They explain: "I would say that 'Bumping Into Nothing' definitely rocks more than it twangs. Take a bunch of New York guys reunited in Nashville and I guess we kind of missed the grittiness of the New York scene. Sure we still love pedal steel and have a lovely ballad with country crooner Joanna Smith, and some down home Southern drawl in "You Can't Get There From Here", but for the most part expect a heavy rhythm section and cranked up guitars with an NYC attitude. A lot of the songs relate to trauma, whether our own or our friends, and sometimes you just have to wail to get those feelings out. There are songs about relationships, the aftermath of natural disaster (also see relationships), dealing with sobriety and feeling lost. Yet with The High Line Riders there is always redemption, a sense of hope, and a few good laughs. We're still here after a fair number of years and we still do it for the joy of making music together."
Our Story
:
The High Line Riders reunion heralds one of the most exciting new rock releases of the year. Fans have been begging for a new band record since 1997's 'Somewhere South Of Here' and the new album 'Bumping Into Nothing', obliges with signature hooks, driving rhythm section and outstanding writing. This is the follow up record that fans have been waiting for, raising the bar on sophistication while still delivering on the thrill of a band that loves to make music together.
The High Line Riders are lead singer and guitarist
Ed Pettersen
, drummer
Pete Abbott
, guitarist
Gary Goodlow
and newest member
Mike 'Slo Mo' Brenner
, known for his pedal steel and multi-instrumentalist work in Jason Molina's Songs: Ohia and Magnolia Electric Company. The band first burst onto the scene in the nineties with a worldwide jukebox and dance hit "DWIOU (Driving While Intoxicated On You)" and was in the vanguard of the alt country movement alongside bands such as The Jayhawks, The Bottlerockets and Whiskeytown. Other opportunities, including a gig with the Average White Band for drummer Pete Abbott and a career as a producer and songwriter for Pettersen, took the band in differing directions. But the core members always left the door open for when the time and the songs were right to reunite.
Other important contributors to the new album sound are
Dave Santos
(Billy Joel, The Neville Brothers and John Fogerty) with his propulsive bass lines and ex-Jayhawks and current Sheryl Crow band member
Jen Gunderman
who deftly layered piano and keys after the live studio tracking. Ironically the band that was once a New York band playing country tinged roots rock is now a Nashville band with a New York edge. In another twist, the new album sports some memorable collaborations with Norwegian artists thanks to Pettersen's and Abbott's work in the region. Lead singer and principal writer Pettersen pairs up with Norway's own Henning Kvitnes on several album cuts including "Cold Comfort", a gritty cautionary tale about life on the edge, and the gorgeous ballad "I'm Where You Were". Kvitnes and another Spellemannprisen winner Ida Jenshus contribute background vocals to "Cold Comfort" making it the lead candidate for the first single off of the record. Yet another cut, the propulsive rocker "Small Town In My Mind", is a co-write with Halden, Norway producer and multi-instrumentalist Freddy Holm, with whom Pettersen has a Norwegian side project The Black Country Band.
As a concept album 'Bumping Into Nothing' touches on themes of addiction and struggles with personal demons in a very personal way. The songs "Holding Pattern", "I Don't Think About When You Were Mine" (with BR549's Chuck Mead on backing vocals) and "I Hope You're Happy Now" are tongue in cheek homages to failed relationships, but the lyrics easily remind us of other passages in life. As a songwriter Pettersen's greatest gift is for revealing 'the little truths' that connect universally with each listener, playing back their own story. "Every Time It Rains" (featuring Freedy Johnston on backing vocals) is a perfect example, a guitar fueled, anguished recital of the 2010 Nashville flood which perfectly captures the reality of post-traumatic stress syndrome. The protagonist, who once took comfort in storms, wakes up every time it starts raining and can't sleep until it's over. One of the more raucous songs on the album is Pettersen's tribute to his longtime sweetheart "Janey", a band favorite and as close to a primal scream as a pop/rock song can be. The tautness of the narrative combined with its conversational tone carry us smoothly through recognition, revelation, transcendence and liberation. Never has a band told us so eloquently to deal with your problems, don't hold on to what's not meant to be, scream about it once and a while, and find someone to love. In one respect the record harkens back to the days of yore when records made statements and begged you to listen to them in their entirety, not as piecemeal. 'Bumping Into Nothing' > Get it, listen to it, love it, and make it your own. Turn up the stereo, warn the neighbors and lock the doors, The High Line Riders are back in town. CRANK IT UP!
Also available is the classic 1997 'Somewhere South Of Here' in an expanded remastered edition that has been out of print for years until this reissue.
The album
:
For their first album in eighteen years, the core members of The High Line Riders reunited in Nashville. If you're looking for a rock band you love, these are your guys, according to Ed Pettersen.
1.
"Every Time It Rains"
: The album starts off with a strong track, about the Nashville flood of 2010 and its ongoing traumatic aftermath. Catchy rootsrock, The Bottle Rockets meet Russ Tolman. I always liked Ed Pettersen, he sounds like Chris Burroughs in his finest songs. There is a starring part for the beautiful keyboards, played by the lovely Jen Gunderman. At the end of this song it definitely rains, a lot, no doubt about that, not only in Nashville but everywhere around the world: "Like the whole d*mn world would drown". Freedy Johnston sings backing vocals.
2.
"Cold Comfort"
: A fierce drum beat. "The lies you're selling are ashes in the wind". For a voice with a timbre like this, you can wake me up at 2h30 a.m. A realistic song with sturdy guitar solos and great backing vocals, by Henning Kvitnes and Ida Jenshus. "You think your days are numbered / And you're looking for defense / Calling on all angels / And wondering where they went".
3.
"Janey"
: An atmospheric intro turns into a cheeky song with a punk attitude and it disappoints a little, until The Farewell Drifters add a raw but interesting chorus and the song ends in a trashing guitar riff. I like that line: "Sometimes you can't tell a friend / From foe in headlights".
4.
"Bumping Into Nothing"
: The title track: "She knows a lot can happen in New York / Bumping into nothing in the dark". Heartland rock meets Willie Nile, a gorgeous arrangement with the keys (of course) and a stellar guitar solo, while the pedal steel peeks around the corner!
5.
"Holding Pattern"
: Steve Wynn could have written this. I love these images of an airport, having a 'stand-by ticket to love', another example of excellent lyrics. Even with a wink at Nick Lowe: "Half a fool / And half a man", smart!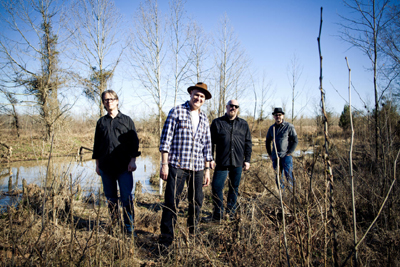 6. "I Hope You're Happy Now": Intro on acoustic guitar, then the twanging powerpop guitars are going all out! "I almost threw my world away for you / Turned my back on everything I'd known." Aren't we all guilty of doing that at one point or another in our lives? Oh, stop with that DJ nightmare extra drum salvo at the end... You know what I mean: a good DJ marks and times a track like this, otherwise you start talking already and then you get surprised by the drummer. Not fun!

7. "Jason Molina's Blues": Ominous guitars, fiery like the flames of purgatory. Ed is speak singing the dark poetry about a meeting with the ghost of Jason Molina. Yes, I believe he was a troubled soul. While we're at the subject, maybe Ed can ask? I still would like to know why Jason totally messed up that Rotown concert, then cutting it short at 45 minutes, claiming his guitar was broken. It was, but he had another one in his hotel room on the opposite side of the street. Otherwise, I just hope he's playing beautiful music in a much happier place now. "And you and I put it out there each and every time the bell rang / But we die every time we get it right because we know how hard it is / And the next time the noose is tighter, every night, twist after twist / So try not to let it get to you even though it will."

8.

"You Can't Get There From Here"

: A different sound in a seemingly familiar, radio friendly melody. Countryrock with pedal steel, courtesy of Mike 'Slo Mo' Brenner who played in the great band John Train and, among many others, also in Marah. "But you can't get there from here / You thought maybe in the taillights / The past might disappear / I hear the voices whisper in my ear / They say you can't get there from here." Guitar screech on the very end instead of the unexpected drum salvo, sigh...

9. "I Don't Think About When You Were Mine": "I don't see your face out in the crowd". An old favorite, Chuck Mead from BR549, sings background vocals and we stay with the country flavored rootsrock, that steel part is simply super, especially in combination with the keys. Complicated sounding title for a complicated relationship, that makes sense indeed. "But there's an empty space that follows me / Where paintings used to hang a silhouette line". I got fascinated by the sound of this song, so I contacted Ed and asked to tell a little more about the guitars. He kindly answered within a few minutes: "The album was mostly recorded live in my home studio. I used a Strat with a Tele pickup and a little overdrive to my amp. Gary played a semi hollow body Epiphone Riviera and Mike Brenner played steel with a touch of fuzz. I think I overdubbed acoustic later but that's it. Pretty simple really."

10. "Small Town In My Mind": Back to their punkrock influences, including the f-word, then polishing the sound a bit as this loud song progresses. Another drum salvo at the end. I go after that drummer (Yes, you Pete...) with his own sticks!

11.

"I'm Where You Were"

: Quite a big change, from the last track into this folkrock duet, with the sweet-voiced Joanna Smith. "I've looked for you / In familiar places / The names have changed / Not the looks on faces". This is a co-write with Henning Kvitnes.

12. "Hard On Me (Out Of Innocence)": The guitar growls, Ed is angrily determined too, past innocence. "Another cross along the winding road". The band goes, five minutes long, full out once more for a strong Springsteenesque stadium rocker! Jen plays piano, there's that delicious slide guitar and the various voices (Wendy Moten guests here) join in for the chorus. The song was already written in 2001. "I never, ever took it easy on myself / And neither has anybody else". Now that is a bridge!
Bonus Track "Cold Comfort" (Alt. Mix): For this bonus track we go back to an alternate mix of the "Cold Comfort" song. Ed in a proper duet with Henning Kvitnes, who also has a beautiful, ragged voice. Jen shines again - touching the keys, the guitars cry in desperation and we call one more time on all the angels...

---
The glorious return of The High Line Riders! Coming to you in a very nice lay-out with great black and white photographs. (The lyrics can be found on the band's website, thanks for the service!) In a perfectly balanced production by Bob Ohlsson, who worked for Motown and the Grateful Dead. I love this album, there are only two tracks I like less and I will take Pete Abbott or whoever was responsible for those couple of DJ nightmare endings > outside... Just a joke, you know me. No other remarks, I swear. Rock&roll should always be sung and played like this, straight and loud and urgent most of all, like the life of the musicians is depending on it!

Ed Pettersen is a versatile artist, he writes great songs, I absolutely love his voice - especially when he showcases that special timbre of his. He is honest, a person can be more powerful in vulnerability, telling about all of life's troubles, like heartbreak and addictions and other demons. So, I suggest we close off learning a little more about him!



About Ed Pettersen

:



Ed Pettersen's passion for music of all genres is unlimited and led to forming the rock band The Strangely's with friend and drummer Pete Abbott, his brother Mike (one of the finest guitar players Ed knows to this day), and bass player Lori Adams. Despite the great sound of the band, without label support and the inability to tour widely, the Strangely's drifted apart leaving Pettersen with two of his finest rock cuts, the moody and dark "Broken Mirror" and the plaintive "Justine". Around the same time a mysterious illness hit Pettersen hard, sending him through a long odyssey of doctors and hospitals, and being felled by acute physical pain for which there was no visible cause. Temporary paralysis of the vocal chords was a recurring symptom and so for several years Pettersen concentrated on songwriting and production, producing the quirky and gorgeous voiced duo Rosasharn and developing the concept for 'Song Of America'.

Ed Pettersen has earned respect for his own Folk / Americana albums, but it is his nine year effort behind the production of the 3-CD, 50-song compilation 'Song Of America' (2007) featuring artists such as Bettye LaVette, The Blind Boys of Alabama, John Mellencamp, Old Crow Medicine Show, Freedy Johnston, Devendra Banhart, Folk Family Robinson (the brothers Robinson of The Black Crowes), Andrew Bird and more, that has garnered him international recognition. In 2007 Pettersen also released his critically acclaimed fifth record 'The New Punk Blues Of Ed Pettersen'.
Discovering his Norwegian roots and Scandinavian heritage is the catalyst for the hauntingly melodic acoustic tunes on 'I Curse The River Of Time: A Norwegian American Tale' (2013), it represents a wonderful blend of culture, drawing heavily on Norwegian literature for inspiration as well as his own observations of small town life in Norway. The achingly beautiful music of this release has its roots in contemporary Folk and Americana, with a stellar Nashville backing band and Norwegian guest musicians. There are several outstanding co-writes on the album as Pettersen pairs up with pop star Freedy Johnston to deliver the gorgeous ballad "Harbor Road" and then with award winning Norwegian songwriter Henning Kvitnes for "I Curse The River Of Time", the title track of the album. Kvitnes, taking an interest in the whole project, assisted Pettersen with securing paintings from important Norwegian artists to create a beautiful art book as liner notes for the new record. The limited edition hardbound book is a collector's item printed on art paper with stunning colored illustrations and an inspired layout by Norwegian designer Runar Drønen.

Ed's songwriting has propelled him further into the limelight, with his track "I Guess We Shouldn't Talk About That Now" on the Grammy nominated record 'The Scene Of The Crime' (2007) by Blues legend Bettye LaVette, a song "I Don't Want Anything" on Soul powerhouse Candi Staton's 2009 release 'Who's Hurting Now?' and another song on her 2014 album, 'Life Happens'.

But it is the amalgamation of his early years honing a few well-crafted words in advertising, working with playwright and mentor John Bishop, trying a hand at film production, overcoming hardship and illness, and through it all constantly studying music, art, literature, and life that makes Pettersen an artist of note and a poet worth discovering.
-----
Written & compiled by Johanna J. Bodde - May 3rd, 2015.
=====