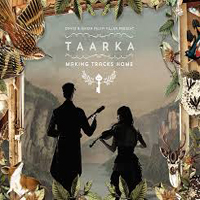 Taarka
'Making Tracks Home'
(Self-Released, 2014 / 2015 Europe)
www.taarka.com
It's no mere coincidence that there are tracks entitled "Waterbound" and "River's Eddy Blues" on this latest album from Taarka. Husband and wife team David and Enion Pelta-Tiller, core and constant members of the band, emerged from the Colorado floods of 2013 (which wrecked their property and left a shocking impact on the whole community) determined to continue to make music. It's their life's passion.
Like many others in and around the small town of Lyons, Boulder County, the Tillers lost their home -and studio- when the St. Vrain River burst its banks with devastating and thunderous fury. 'Making Tracks Home' is almost an exorcism of the experience as they attempt to make sense of the calamity and create some good from bad.
If there's a more bluesy feel on some of the tracks, compared to the gypsy-jazz / Eastern European folk vibe of previous offerings such as the impressive 'Adventures In Vagabondia', for instance, well, they have every right to tell it how it is. Yet, there's unmistakable pep in their step too, a 'we can celebrate and get through this' determination, just as Spring can wash away the gloom of Winter.

Joined by a grand cast of musician friends to pull off this magnificent feat, together, they cast off and ride the wave of emotions. Those floods were declared a national disaster and left their valley crushed. What better way to help healing process than to get together with friends and kindred spirits to sing and play to raise the spirits?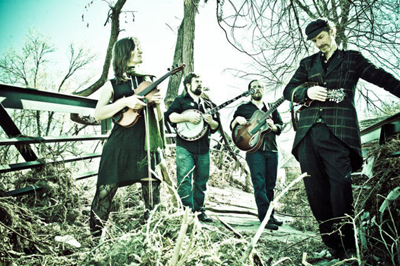 The Taarka BIO:

Described by SF Weekly as a 'collision of Django Reinhardt and David Grisman', Taarka is the new acoustic 'supergroup' (Flagstaff Live) 'presenting masterfully deep Americana and Gypsy jazz string band music!' Led by the husband-and-wife team of David Pelta-Tiller (mandolin, tenor guitar, vocals) and Enion Pelta-Tiller (five-string violin, vocals) Taarka fills out its unique sound with impeccable guitarist Ross Martin and bass powerhouse Sam Grisman on their release 'Making Tracks Home'. Now with a touring band made up of award-winning bassist Troy Robey and prodigious young guitarist Mike Robinson, Taarka is bringing their otherworldly, energetic music to venues across the US, Canada, and Mexico.

David, a versatile picker raised in Virginia on a steady diet of bluegrass, Celtic, classical and Gypsy jazz, and Enion Pelta-Tiller, an award-winning classically-trained violinist who can switch seamlessly between Bartok and bebop (not to mention Gypsy jazz, punk, rock, bluegrass) began their journey together in 2001. After meeting at a Brooklyn Browngrass gig, the two began a Gypsy jazz busker act in the New York City subway before hitting the road as Taarka.

Taarka's live shows strike a balance between well-crafted songs and spirited instrumentals these days, expanding on its beginnings as a purely instrumental string band putting a modern spin on Gypsy and Eastern European folk music. Taarka has drawn from wide-ranging influences over the past ten years. Sophisticated listeners would be able to distill flavors of Western and Eastern folk traditions, jazz, rock, bluegrass, old-time, Gypsy, Indian, and Celtic music all in a string band setting. Taarka has lately been gaining notice for their songwriting, which is informed by traditional bluegrass, oldtime and folk from America and Europe, 19th century poetry, and rock inspired by performances with some of the greatest names in songwriting today, including Darrell Scott, Greg Brown, James McMurtry and Nathan Moore, but which incorporates sweeping pop and popping Gypsy elements.

Since 2006, when David and Enion landed in Lyons, CO, known for its bluegrass and new acoustic scene their compositional output has taken on a decidedly American aura, with vocals added to enhance the stories told in their songs. Their fifth studio album, 'Adventures In Vagabondia', was released in January 2013. Taarka's powerful acoustic rock instrumental, "A Whole New You", was recently included as part of the soundtrack to Maximum Pictures feature-length documentary, '1971'.

Taarka's joyous recordings benefit from starry guest performances and David's masterful production work, each a carefully crafted travelogue tracing a phase of the groups evolution. Yet unsurprisingly, Taarka's calling card is its colorful live show. Of Taarka's performance at the Oregon Country Fair, Synthesis Magazine wrote: 'Taarka began driving the painted and costumed crowd into a dancing frenzy, they combined Roma, Klezmer and jazz, infusing their rousing and exciting tunes with breakneck Zappa-esque breakdowns and insurmountable gusto'. Regardless of your particular musical tastes, Taarka is a band that simply must be witnessed.

The band is equally potent whether as a down-and-dirty duo act or a stellar extended line-up featuring a top-notch array of fellow travelers. David and Enion have performed with members of the Grateful Dead, Phish and String Cheese Incident, Yonder Mountain String Band as well as Darol Anger, Joe Craven, ALO, Keller Williams, Danny Barnes, Steve Kimock, Taj Mahal, Widespread Panic, The Samples and Aquarium Rescue Unit, Kaki King, Rob Wasserman, Tony Furtado, The Motet, Dan Bern and The Everyone Orchestra.

Taarka has performed at major festivals across the country including High Sierra, Pagosa Folk n' Bluegrass, Joshua Tree Music Festival, Oregon Country Fair, Sisters Folk Festival, Telluride Bluegrass, Mendocino Music Festival, Bumbershoot, Seattle Folklife, Nedfest, Lightning in a Bottle, Berkeley World Music Festival, Aspen Bluegrass Festival, San Luis Obispo Mozart Festival, The Millpond Folk Festival and many more.
Enion Pelta-Tiller
began classical violin studies at age three, but her education was always supplemented by improvisation lessons from her jazz guitarist father. By sixteen she had taught herself to compose impromptu melodies in styles from classical sonatas to East Indian ragas and jazz standards. Enion attended Peabody Institute in Baltimore, MD, working towards a viola performance degree, while also studying English at Johns Hopkins.

Eventually she landed in NYC, where she performed cutting edge music straddling punk, free jazz, and classical with various local musicians, and landed a gig with the crown prince of Hungary's New Wave music scene, Menyhart Jeno, as the violinist in Mr Con and the Bioneers. She traveled to Hungary in the summer of 2001 to play the main stage at the Pepsi Sziget, Europe's largest music festival, playing immediately before Run DMC and Morcheeba.

Upon her return she focused more on composing and performing the music she and David had been working on together, and the two decided to make a life of it. Enion has performed onstage with Phil Lesh, Mickey Hart, Bob Weir and Vince Welnick of the Grateful Dead, Darol Anger, Darrol Scott, John Cowan, Fareed Haque and many others.

David Tiller began playing guitar at age eight, spurred on by his musician father. His childhood in Virginia was spent learning the abundance of bluegrass and Celtic and rock music there, but by age fourteen he was enriching his knowledge with classical and jazz guitar training at the North Carolina School of the Arts, and began exploring the mandolin.With a diligent practice schedule and great aspirations, David took on the mandolin full time in his late teens, and was a founding member of the celebrated High Sierra Festival Record label's band ThaMuseMeant, based in New Mexico. In ThaMuseMeant's 8 year history, they toured all over the United States, sharing stages with the likes of the Dave Matthews Band, Sheryl Crow, Ricki Lee Jones, Blues Traveler, String Cheese Incident, Leftover Salmon, YMSB, Greg Brown, and many others.

In 2000, when the band broke up, David moved to NYC to follow his heart and study jazz, where he met Enion Pelta, a member of Brooklyn Browngrass. They began writing together and formed the group Taarka to feature their music.

The album
:

David Tiller plays a Nugget mandolin, a John Sullivan archtop guitar, a Clark octave mandolin and a Jayson Bowerman tenor guitar.
Enion Pelta-Tiller plays a John Sullivan 5-string violin and a Gary Bartig acoustic electric strings 5-string violin.

1. "Heart And Song": "And shall we rise up, my darling / And greet the new day with open arms / And shall we be strong, my lovely / And never give up on heart and song?", sings Enion in the opener and there is none filled with more hope, uplifting mood and positive spirit. I like Enion's pretty girlish voice, she plays the violin, together with Sam Grisman on upright bass creating a surprising full string sound. The melody floats on the waves of music. An ear catcher for sure!
2.
"Old Waterford Town"
: The mandolin steps to the fore front on this track, written and sung by David in his nice warm voice. A far more traditional song, with a little bit of an old-time Celtic feel. "You hide yourself within your song / You sing it softly to the dawn / And unsuspecting I sing along / And I find you in the day".

3. "Moon Song": Enion starts this 6m12s song in a special way, like she is telling us a secret, with only the mandolin in the background and before other instruments join in. Her ethereal vocal remains in the spotlight for this tragic Gypsy song."I could not speak, my words were stolen / Into the woods I ran away". Beautiful climax in the last minute!

4. "Trip To Duncan": Taarka's roots as an instrumental band show again in this bluegrass flavored tune, with touches of Celtic and Gypsy tradition. A slightly different line-up here, with Eric Wiggs on guitar, Dusty Rider on banjo and Ian Hutchison on upright bass in skillful accompaniment.

5. "Another Morning": David wrote this plaintive story song, sings lead vocals and plays a regular 6 string guitar. "No one recognizes me when I'm without you / Yet I wake up another morning without you". Another example of what contemporary folk music should sound like all the time.

6. "Grounded": Enion sings leadvocals in this light and delightful Gypsy jazz tune. Wonderful bass solo! Taarka doesn't just imitate, they infuse their many influences into their own unique vocal and instrumental sound.

7. "The Bouncing Tale": Another instrumental track, with the same musicians as on the "Trip To Duncan". What an incredible melody - it makes me smile and wanting to dance around the room, I love it!

8. "Look At Miss Ohio": Oh yes, the Gillian Welch and David Rawlings composition or should we say 'classic'? Enion sounds like a seductive 1920s songstress here and pulls us deep into the song.

9. "River's Eddy Blues": Gorgeous jazz riffs, played by Grant Gordy on guitar and the talented Sam Grisman again on upright bass. A perfect piece to follow track eight, it stays in the same vibe. Enion recalls in her lyrics the drama of the flood and speaks to the river: "River, you old St. Vrain River you / Ain't such a saintly river, man" and to top it all off, she also plays the life disturbing violin solos. An excellent piece of music!

10. "Crocodile Tears": A sparkling instrumental, incorporating violin and mandolin, guitar (played by Ross Martin) and bass.

11. "The Lark And The Owl": David sings leadvocals in this short self-penned song and Enion duets with him on the fiddle and vocally. Interesting melody, which requires perfect phrasing and of course the couple gets it done.

12. "Waterbound": A song by the great Dirk Powell deserves the full six minutes of attention that it gets here! Enion sings the forlorn lead vocal, Ron Miles adds a wonderful flugelhorn and there's yet another bassist, Greg Garrison, while Jayme Stone plays banjo. Wow, highlight!
First of all, I love the art work for this album, especially all these beautiful drawings of animals on the frames.

What makes this group special, is their distinctive mix of gypsy music and Eastern European sounds with the usual styles of folk, jazz, old-time, bluegrass and Celtic. They play with a surprising ease and flow and the voices of the two vocalists Enion and David form a pleasant contrast, doing justice to the emotion in their songs. The duo looks back on tragic happenings and their aftermath, looks at the here and now of taking pride in rebuilding and looks forward to an even better future.

Although singer-songwriters and musicians these days are the modern gypsies and Taarka likes to go where the music takes them, everybody deserves to have a good and safe home when returning from a tour and after an experience like the horrible flood, home becomes even more special!
What does Taarka mean?

In Indian cooking, 'taarka' is the word to describe roasting spices to create the base for an Indian culinary delicacy. A wet t(a)arka is a mix of garlic, ginger and onions sauteed in ghee. A dry t(a)arka is a mixture of whole spices, dry-roasted or fried in oil, til the seeds begin to pop. Taarka is in fact the sound of the spices roasting…
Other Meanings of Taarka:

The first name of a celebrated Seto (Estonian) folksinger - Hilana Taarka, which means Taarka from the village of Hilana.

In Poland, the device with which one shreds vegetables. This device is known as a Mandolin in English cooking practice.
In Tibetan - Walnut

T(a)arka is also the daughter of the demon suriya in Hindu mythology - a most evil demoness.

In Magyar, the language of Hungary: Colorful

A hand-made Flute from Bolivia, which plays a 5 note scale.

'In the ever-more-popular Grand Unified Theory in modern physics, which states that the smallest states of matter - quarks, leptons, and other subatomic particles - are not particulate, but are composed of strings of energy which vibrate in different ways to create different 'particle behaviors', taarka is the term used to describe the vibration of the strings.

Tarka (note the single 'a') is a heart medication, which, as a Missoula, Montana rag informed us, causes nausea, diarrhea, constipation (?!), and dizziness. This should explain why we use two a's instead of one in the definitions where one is the norm.
The residue left on the inside of your skull when you wake up from a really great dream.

A village in Tunisia.

A Croatian Noodle Dish.

A town / train line / otter in England.

If you find a definition and want to send it (legit definitions only, please), email Taarka!

-----
Written & compiled by Johanna J. Bodde - May 19th, 2015.
=====