TG and The Swampbusters are: Tim Gibbons - electric guitar, vocals, harmonica; Swampy Joe Klienfeltr - bass; Patch - drums.
It was in the hazy days of the late sixties that two young Blues music enthusiasts first met in front of the Sherwood Lanes pool hall in Hamilton, Ontario, Canada. For guitarist 'TG' Gibbons and bassist 'Swampy Joe' Klienfeltr it was to be the auspicious start of a longtime musical collaboration.

"I had started out playing drums at some local teen things and occasionally backing up strippers," says TG. "I guess I felt more drawn to the guitar for I sold my kit to a guy who worked at the local gas station, named Patch. This guy was so over the top he set the kit up right on the station lot. Whenever he could get a minute from pumping gas he would play a mean boogaloo on those drums. He was great and it wasn't long before me and Joe were playing the blues with Patch."
--
Hamilton, Ontario's Tim Gibbons, a local music legend, has triumphantly returned to his rock and blues roots with his latest CD 'Swamp Tooth Comb' (under the name of TG and the Swampbusters). Primarily known as a banjo playing acoustic blues artist, after years showing off his amazing skills, he's picked up the guitar again and proven he can still rock it with the best of them. TG's newest release highlights his competence on the electric guitar, as well as his well worn vocals that are reminiscent of a cross between Slim Harpo and Bob Dylan. 'Swamp Tooth Comb' features nine original gritty blues-based rock songs, described by The Hamilton Spectator as 'the kind of stuff a less-than sober Keith Richards would appreciate'. The result is a fabulous mix of country blues rockin' songs.

TG first started playing music in high school as a drummer in garage bands, then switched to banjo and guitar. It was then that the 17 year old TG scored his first professional job playing guitar in a blues combo backing exotic dancers at Starvin' Marvin's, a notorious burlesque theatre. His later career found him performing with some of the city's most infamous rock&roll bands, including The Shakers and The Trouble Boys. In the late 1990's TG was recruited to play bass, drums and organ on Daniel Lanois' soundtrack to the Oscar-winning film 'Sling Blade', with his song "Lonely One" featured in the film and on the soundtrack. Following the success of 'Sling Blade', TG released a CD called 'Shylingo' with Grammy Award winning producer Mark Howard. Other still available recordings by Tim Gibbons are 'Folk Gangsta' and 'Dead Guy Won A Muffin'. In 2006, he won Roots Recording of the Year, Instrumental Recording of the Year and Songwriter of the Year at the Hamilton Music Awards. In 2011 he released an Americana album called 'Trail Of Smoke' under the name "Cootes Leland" that was produced by Michael Timmins of the Cowboy Junkies.

With a storied past and lengthy musical career, TG brings a wealth of experience in his approach to songwriting, with songs that become more intricate and detailed with each listen. "As a kid I was always making up songs, hearing things in my head and singing them out. It's never really changed', says Gibbons. "I let most of them go but every now and then I'd grab hold of my guitar and write it down".
--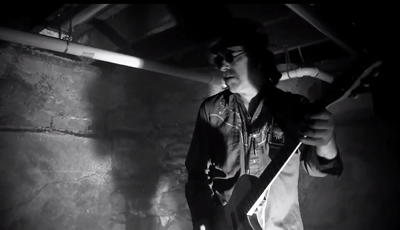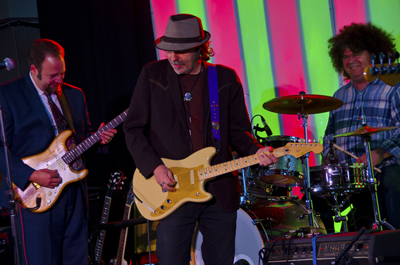 VIEW's Hamilton Music Notes tells us a bit more of TG's background:
With a career that stretches back some four decades, Tim Gibbons has been a fixture on the local music scene with the Shakers, the Trouble Boys, the Drifting Drawers and more. Over the last two decades, Gibbons has offered some eight discs that offer a wide palette of styles exploring folk, country rock and the blues. His stories about his musical career involve guest appearances from the likes of the Tragically Hip, the Cowboy Junkies, Teenage Head, Daniel Lanois and Billy Bob Thornton but while he's made his way to Hollywood and back (yes, that's a Gibbons song on the 'Slingblade' soundtrack) the grit of Hamilton style blues is what he wants to talk about this time around. Tim Gibbons has spent the better part of the last five years touting the banjo but his latest efforts see him return to the guitar as well. TG and the Swampbusters officially release 'Swamp Tooth Comb' this weekend and it's time to recognize the brilliance of one of Hamilton's great musicians.

"I know it sounds bizarre to say it but it was demand," says Gibbons. "I was playing the banjo and everyone that was supporting me all requested that I play the guitar again. When I did begin to play the guitar again, I suddenly got hired to be a guest at these blues matinees. That started to pick up and a couple of years ago I was doing a New Year's Eve gig with Dave Rave and I was playing the banjo. I just played that thing so hard by the end of the show; the banjo looked like a crossbow and just didn't bother fixing it. I went to the guitar and haven't been able to go back."

Songs like "Play Me Some Blues and Keep It Country" are indicative of the music Gibbons felt inspired to create. "The song title - that was something somebody said to me at a gig and it stuck in my head," explains Gibbons. "As everyone knows, the blues originated on the back porches in the country folk and then it got electrified. I think what it means; the sentiment when you keep it country is you keep the intent and flavour of that music which is strong stuff. It's not too slick and show-bizzy. For blues, when an artist gets it right, I get really excited by it. There's that rawness, that element of grit that makes it really the adult stuff. That's the kind of music I like best."
Solid, raw and with a hint of humour flavouring the whole project, TG and the Swampbusters give you the real stuff right between the eyes. It's an infectious blues with real soul and for the CD release, Gibbons assures TG and the Swampbusters will further upon bringing the blues how they see it come to life. "When you play with real blues musicians, they're really smart musicians and they're really great to be around," says Gibbons. "I just try to be humble and learn from those people and I still do. It's what I want to play. People will say, 'Well, you're from Hamilton and you should only play folk songs about steel mills'. You can't listen to the outside opinions when you've got that fever and you want to learn an art form that might be considered retro or passé or out of the past. You just turn that racket off and say, 'that's other people's problems'. You focus in on learning this stuff and getting as close as you can. You don't just hear it on records; you have to experience it live - you have to hear the buzzing of the amps. I've dedicated my life to doing that, but that's just my quirk."
--
The ALBUM
is starting off and perfectly setting the tone with the intriguing "Bayou Preacher" (also the single with video on YouTube). I like the way TG speak-sings the lines here, his vocals and delivery make me fittingly think of Tony Joe White sometimes, which means these Canadians capture the right exciting swamp sound! "Who Wants To Dance With An Old Ding Dong" features some Chuck Berry type of electric guitar playing sturdy blues rock. In the vein of traditional (electrified) country blues, we find "Hey Poor Boy Hey", "Country Side Of Town" and of course "Play Me Some Blues And Keep It Country". "The Brooder" shows off great guitar riffs in its melodic rock, while "Hot Money" got some rock&roll touches, no big surprise with a 'bee hive honey from Arkansas' in the starring role! "Cornpone" and "The Bone Of Contention" go back to the same feel as "Bayou Preacher". "Cornpone" features fine use of the slide and interplay with the harmonica.

My favorite track is catchy "Country Side Of Town", yes, I understand that comparison with Steve Earle. This funky band has confidence and is ready for the party, bringing a cool set of songs. Ah, there's even a picture of the white alligator on the back!

-----
Written & compiled by Johanna J. Bodde - January 13th, 2015
=====