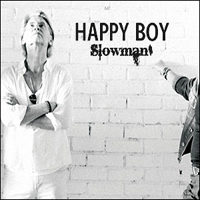 Slowman's BIO: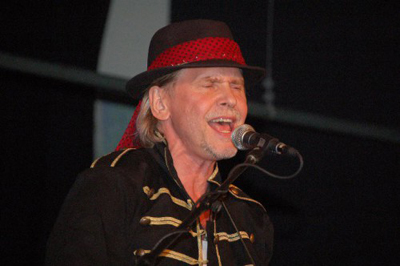 The guitarist, singer and composer Svante Törngren, aka Slowman, ­was born in Linköping (1957) and currently lives on the South side of Stockholm, the capitol of Sweden. From the archives: Svante recorded a number of albums on the CBS label and toured in Sweden during the 1980s with the rock pop group 2001 and the soul pop group Station. He also played in the successful afrofunk and highlife band Sababas, led by the legendary Paul Edho. Svante Törngren was one of the key drivers when Teater Pero started in 1983,­ he composed all the music in the very first Pero Show.

Svante released his first solo album as 'Slowman' in 2008. It came after years of silence, a consequence of leaving the music industry in anger in the mid-1980s. During decades Svante Törngren devoted himself to live performances in a variety of constellations. Over the years he became a familiar profile on Stockholm's pub scene, often acclaimed for his Hendrix interpretations.

But slowly a pile of original songs grew in his desk drawer. After 24 years it was finally time for the solo debut with a selection of original compositions: 'The Best Of Slowman'. The album was praised by critics all over Europe, and in 2010 came an equally appreciated sequel: 'I'm Back'. The same autumn, Slowman released a tribute to Jimi Hendrix, forty years after he passed away on September 18th: 'HEY JIMI - Slowman & Friends play Hendrix'.

Svante Törngren was awarded with The Linköping Blues Association Scholarship in 2009, thereby joining Louise Hoffsten, Sven Zetterberg and other Swedish music profiles in the inner circle of the Swedish blues scene.

In 2014, Slowman released an EP with three Swedish songs as a trial balloon to test the public reaction to an optional Swedish album. The Swedish audience got the chance to vote in a poll and their wishes were loud and clear: they wanted to hear more of Slowman in Swedish. But Slowman himself added the Swedish material to the pile of unpublished material in the drawer until further notice, and is now focusing wholeheartedly on this English album 'Happy Boy', with twelve brand new, original compositions.
-----
Slowman's ALBUM:

After two praised albums, Slowman releases an awaited third album with original compositions in English. But Svante Törngren - the guitarist, composer and singer behind the alias Slowman - is chastened: "I'm not expecting a herd of journalists and TV producers. I just want to reach out to my audience with songs and compositions that I really like myself".

The desire to find a voice of his own has characterized Svante Törngren's musical career ever since he, almost thirty years ago, left a contract and the music industry in anger over meddlesome producers. He didn't return until new technology made it possible for unsigned musicians and composers to call more of the shots in production. With the new album he has outdone himself: "This is the best I've ever done. Finally it sounds close enough to what I heard in my head when I wrote the songs".

But fans and critics who favour heavy riff-based classic rock-blues may be slightly disappointed - among the twelve tracks on the new album, only a few qualify into that category. On the other hand, there are many other elements to enjoy. The skillful Mats Lundström on keyboards and John Ahlin's horn and string arrangements highlighting soloists like Anna Dager on cello, Jonas Wall on saxophone and Jonas Lindeborg on trumpet. Additionally, several tracks have been supplemented with a joyous gospel choir led by Camilla Stenman. Throughout the album, bassist Jan Enegard and drummer Stefan Rosén provide a steady groove and rhythmic accents.
Slowman himself has supervised all the details and produced the entire album: "Some of the songs are torn straight out of my heart and it took me four years and a network of awesome musicians to put the bigger picture together. Now I'm incredibly proud of the result, even if the album gives me more expenditures than revenues. The real gain is on an entirely different level".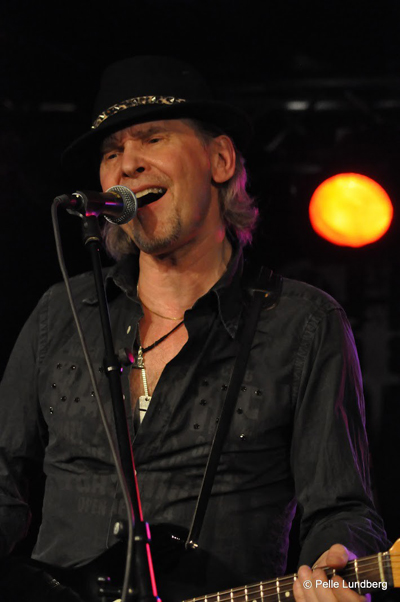 Slowman's
TRACKS
:

1. "Time": The album starts off with a catchy heartland style rocker, think John Cougar Mellencamp or Bob Seger, if you want. The keyboards stand out right away. Time that he wants to spend with her: "Want to share black coffee in the first glimmering morning light". Good plan!

2. "Nothing To Pretend": A long slower (midtempo) and piano based song, that sounds mighty and also a mighty lot like the early works of Springsteen or Southside Johnny. More of Mats Lundström's fine piano playing, while Jonas Lindeborg plays trumpet and Jonas Wall does a good Clarence Clemons imitation on his saxophone. Even the lyrics "Let me rest in my lover's arms" are Springsteenesque, which doesn't bother me, as I'm a big fan of his eighties recordings. Slowman too, apparently.

3. "Into Gold": Intro by a stirring five piece choir and then a funky rhythm takes over. Slowman digs into his memories, visiting New York City for the first time in 1994, when the radio in the yellow taxi cab played "Born To Run". Ah, I knew! Gorgeous organ solo by Mats again.

4. "Little Berlin": The choir stays for this unabashed nostalgic track, Mats does his best Jackson Browne interpretation on the piano and a real string quartet adds even more power to the epic climax.

5. "Every Heart Is Crying": Back to midtempo in a melodic radio friendly song, building up on layers of organ, fine guitar and that pretty choir just doesn't quit. I love the reference to the small birthmark on the girl's chin, the next verse comes almost straight from Springsteen's "The River" and then we end up with a politician. Interesting, to say the least.

6. "Happy Boy": The title track of this album, just Slowman's great vocals (no strange accent!), Mats Lundström's electric piano and guest Anna Dager on cello, she also played in the string quartet. "From a happy boy / To a man of sorrow". Then the electric guitar comes in with a stunning solo...

7. "What Do We Do Now": A meeting with an old lover. "But your smile is still the same / And you give it to me / Still standing in the doorway". For some reason these piano based songs make me think of Jackson Browne. Slowman is very good at writing about our feelings in every day's life. "The years fell down on me like a river of dead roses." He does it in a poetic way too, beautiful. Then the sound of this song, again with the string quartet, grows bigger towards the finale.

8. "Drowning Stones": A nicely paced, rhythmic and apparently autobiographical track. Piano, great guitar again and the last verse is very strong, pointed at the various uncertainties of life these days, especially for the younger people, like Slowman's kids.

9. "Ain't Gonna Worry": "His daughter is gonna marry a drug dealer from the South / And she is not really that strong". Very nice "Carmelita" type of song, with a few gospel touches and one of the best (slide) guitar parts on the record.

10. "Baby's Burnin'": A blues rocker, the music is good, without winks at anybody as far as I can tell, but the lyrics are just a bit cheesy. The wah-wah guitar makes up for all of that!

11. "Where The Roses Grow": This is a strong, emotional song with a beautiful Warren Zevon influenced melody. Great backdrop, with the piano up front and the gorgeous choir moving in from the sides. "There's concrete and dust, big houses of stone / Heavy traffic wherever you go / There's pollution and smoke, black rain on dirty roads / That's where the roses grow." Inspirational and almost spiritual.

12. "Nobody Else": This track continues in the same vein, the choir stayed, the rhythm gets a bit more unusual though, I like that little funk! Ah, there's the trumpet of Jonas Lindeborg back for the rousing finale...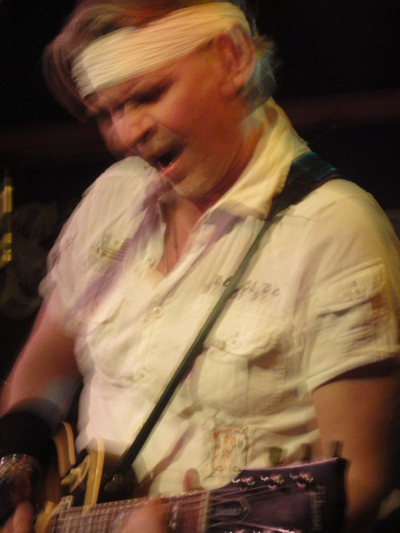 I always liked Slowman, he's just a bit older than I am - so I get his influences, his thoughts and his dreams. I have all his albums in my collection and his current choice for mostly rock and pop songs instead of the blues, is intriguing. I do like his voice, the confidence and conviction in his delivery. I understand the things he has to say in his lyrics. His band is great, the arrangements with choir, strings, trumpet and saxophone are top notch. The somewhat nostalgic but audience friendly eighties rock sound is fine with me, he just needs to be careful with those nods to various of our mutual heroes. The Scandinavian music world is developing very rapidly, but at first (some ten to fifteen years ago) various artists and bands were well known for their perfect imitations of American and British acts. So, a little bit more of Slowman himself would have made this an even better record. Otherwise, I love it and I can't wait for more. Indeed, MORE Slowman, please!
Written & compiled by Johanna J. Bodde - April 14th, 2015.