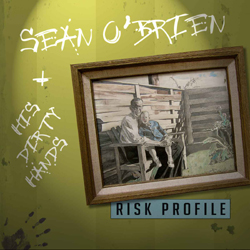 Here at Insurgent Country - we know Sean O'Brien for quite some time already. He is a veteran of the West Coast rock scene, living in Los Angeles and the Bay Area, having performed and recorded with the legendary band True West, Meantime, Denim TV, The Mariettas and The Mistaken, a side project featuring Gregg Turner of The Angry Samoans. Every couple of years he surprises us with a new solo album and in 2014 it's 'Risk Profile', again including His Dirty Hands. Sean was considering this album title and another one (no, not going to tell you...), so I'm glad he finally picked the one I voted for! The front cover shows a painting by Sean's talented brother Liam and on the inside we find a few more tasteful photographs. There are twelve tracks on the disc, starting from alternative rock and pop, then following unusual musical roads with jazz and even electronica.


It has been a hard time for Sean, after the loss of his best friend, talented guitarist and co-producer Jeff Kane, who passed away after a brave fight with a rare type of cancer on June 2nd, 2012 - only 56 years old. This album is dedicated to Jeff. Sean tells: "There wasn't a day I didn't think of Jeff in writing and recording the new album. It was a good kind of therapy. It helped me stay sane through a tough time. But the album is not maudlin or sad. It's powerful and upbeat." The atmospheric track "Torn Down And Hauled Away" is a co-write by Sean and Jeff, it incorporates (very recognizable) some of the music from "King City", a song on the album 'City Lights' by Russ Tolman, who wrote his own lyrics with Jeff's music. Am I the only one who hears an awesome 'surf' guitar there?


There's a rather large amount of musicians playing on these tracks: the original Dirty Hands, drummer/co-producer/engineer Matt Boudreau and bassist Tom Hofer of course. Among others: Greg Lisher from Camper Van Beethoven, Damon Wood from Engine 88, Michael Papenburg, who has performed with Penelope Houston, Tom Hofer from The Leaving Trains and pianist Rob Reich. I'm happy to see personal favorites Max Butler, who was the multi-instrumentalist in Chuck Prophet's Mission Express and Joshua Raoul Brody on keyboard, who played in one of Jeff Kane's other bands.




Well, let's listen to some music! Enter the first track "Rehabilitated (I Want You)", rocking hard, it even makes some people think of the Queens Of The Stone Age! There is also powerpop, when "Final Say" (on nice layers of the twin guitars), "How I Hate That Hand" (with hammond organ touches from the late sixties) and "I Can't Say No" (swinging, winking at Nick Lowe) follow. "Some Fight In Me" adds Max Butler's mandolin again, "The Addict Demands" explores the jazz lounge, "Watch It Heal" is a midtempo ballad with piano and pedal steel, "Post-Recovery" is powerpop again (with handclaps in the back), "Painted On Glass" sounds somewhat strange, to say the least, with these computer programmed staccato beats. The computer stays for "The Sugar Will Do You In", but then we have at least Joshua Raoul Brody on keys! As he often does, Sean saves a most impressive track for last: "Blind Advantage", built up with lapsteel and background vocalists. Speaking about vocals: Sean O'Brien himself sounds so fine again, he has that one-of-a-kind voice with a little drama built in, just like the other True West vocalist: Gavin Blair. A fellow music writer compared him to Eels - I like that too!


A 'DeLuxe Edition' digital version of the album will feature studio outtakes (for example: one called "Thanks Mary" and a remix of the "Painted On Glass" track), the 'Tribute to Jeffrey Kane' EP released in 2013, as well as four live tracks from a radio broadcast at KDVS in Davis, California. This station was the site of Sean's earliest musical adventures, more than thirty years previous.
Sean says: "I think Jeff would have liked this album... but there would be critiques as always!" And he laughs.
-----

Written by Johanna J. Bodde - August 11th, 2014

=====