Samantha Martin's BIO:
Toronto based roots and blues ensemble Samantha Martin & Delta Sugar just have released their full-length album 'Send The Nightingale' officially. A rising star on the Canadian scene they have quickly gained attention and praise from soul, gospel and blues fans alike. Samantha Martin's rich, soulful voice has been compared with Mavis Staples, Sharon Jones and Tina Turner. Along with Delta Sugar (Mikey McCallum - electric guitar, Jimmy Hill - organ, Sherie Marshall and Stacie Tabb - vocals) this is the latest incarnation of this artist, whom some of you might already know from a previous self-titled album as Samantha Martin & The Haggard (2012).

In a short time, Samantha has been featured at festivals of all kinds, including: Calgary Folk Festival, Salmon Arm Roots & Blues Festival, Dawson City Music Festival, Vancouver Folk Festival, Summerfolk Festival and Shelter Valley Folk Festival, to name a few.

In November 2014, Toronto blues fans were introduced to Samantha Martin's dynamic voice when she was featured in the Toronto Blues Society's annual Women's Blues Review at Massey Hall, followed by opening for the legendary Blind Boys of Alabama at Roy Thompson Hall. Her recent official showcases at the Toronto Blues Society's Blues Summit and Folk Alliance International Conference in Kansas City are sure to keep this big voiced little lady busy for future years to come.
An enthusiastic
introduction
by
Rob Bowman, Grammy Award winning author of 'Soulsville U.S.A.: The Story of Stax Records':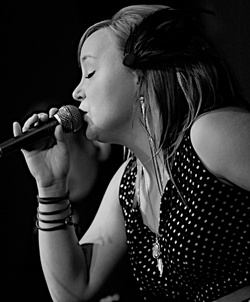 "Bubbling up from the cauldron of roots Americana music, Samantha Martin is an artist of extraordinary power, gravitas and deep-seated emotion. On first listen, one is immediately struck by the awesome presence and sheer magnitude of her other worldly voice. Cigarette-ravaged and whiskey-soaked in the extreme, Martin's pipes are capable of conveying an infinite range of emotions, bringing one to tears in one instance and in the next uplifting one's soul with an empowered declaration of hope, faith and desire. As a vocalist her roots lie squarely within the wellspring of powerful, strong woman's voices embodied by such forbears as Marion Williams, Mavis Staples, Etta James, Tina Turner, Bettye LaVette, Lucinda Williams and, perhaps most closely, Bonnie Bramlett. As a songwriter, she draws on black gospel and southern soul with a hint of roots country and sixties pop while her lyrics suggest an old soul with wisdom beyond her years.

While Martin is a powerhouse unto herself, 'Send The Nightingale' is not the work of a single talent. In combination with what she likes to term her 'co-vocalists' (as opposed to 'backup vocalists'), Sherie Marshall and Stacie Tabb, the vocal blend Delta Sugar produces is pure, unadulterated neuron-tingling magic where the sum is even richer than the already soul-melting parts. Add to that guitarist Mikey McCallum's Delta-inspired and mystery-inflected guitar lines and Samantha Martin and Delta Sugar emerge as one of the most powerful new artists I have heard in many, many years."

'Send The Nightingale' features eleven originals that are at once uplifting and heart-breaking. Samantha Martin, who also plays acoustic and resonator guitar on the recording, fuses gospel, roots and blues that is ripe for 21st century audiences. "You may not know it yet, but Samantha Martin is a rock star", says Serena Ryder. "She'll tear your heart out one note at a time".

'Send The Nightingale' is the soundtrack for courage, anger, love and vulnerability all rolled into one stunning package. "Since the inception of Delta Sugar two years ago I knew I wanted to write and record THIS album and had to fight for it", says Samantha. "The world is full of flashy music lately and I wanted to get back to basics with Delta Sugar. We wrote and workshopped these songs on our Summer tour - the album is the fruits of our labour. It may not win a Grammy and I am OK with that because it changed my life".

Samantha's TRACKS:

1. "Give Me Your Mercy": A very powerful opening track, demanding full attention from the first note. Samantha takes no prisoners in this soulful pleading, slow burning country gospel. The vocals of the three ladies are surrounded by Jimmy Hill's layers of organ and some guitar. As this is the first time I hear Samantha, my first impression is: Janis Joplin meets Bonnie Tyler.

2.

"Addicted"

: This is a lively swinging Rhythm & Blues track, the subject being love: "I'm addicted to your love", indeed. Guitars and organ get a bigger role to play, the rhythm is kept by hand claps while Sherie and Stacie follow Samantha's lead flawlessly.

3. "When You Walk Away": The slow sad soul ballad, with a 60s Sam Cooke or Otis Redding feeling, lots of feeling actually. The song also features beautiful arpeggiated chords.

4. "Don't Shoot": A raucous uptempo track with great electric solo guitar parts. Lots of hand clapping and echoing ooh-ooh background vocals make this a 'busy' song. We're asked not to shoot the messenger, by the way.

5. "One More Day": More enthusiastic, rhythmic hand clapping fervor in this country flavored song, written by Martin Vinnick, as I deciphered from the small print. The guitar does some 'chicken picking' here, very cool!

6. "Take Us Swiftly Home": The gospel fire hasn't burned out yet, this song has more of a raw blues feeling. The mix is almost completely taken over by the vocals of the three ladies, until the electric guitar escapes for a solo.

7. "Won't You Stay": Ah, this is gorgeous - another deep soul ballad, with wonderful vocal blending, also the organ sings along, while the guitar punctuates this track. The tearjerker taken to a whole new level, who could say 'No' to such a plea to stay the night? A favorite for me!

8. "Mississippi Sun": The justified highlight track of this album, written by Martin McCallum. The song was previously recorded on Samantha's 2014 live EP with the same title, along with "One More Day" and "Won't You Stay". A simple country ballad, along traditional lines, with acoustic and (slide) resonator guitar. I absolutely love the guitars and would like to hear more of this!

9. "My Crown": "You can't keep me down / When I'm done / I want my crown", we're back in the feisty gospel mode with rhythmic clapping. Samantha keeps the attention of her listeners focused. The song builds up beautifully on organ sounds, with acoustic and electric (solo) guitar. Very nice arrangement!

10.

"I Won't Justify"

: A song written by Rench. I remember him, he played a Dutch festival once, with his collective. He is also listed on this album as a contributor to the stomps & claps. Samantha does her best Janis Joplin thing, while Sherie and Stacie ask her "Tell me why?" and Mikey McCallum drips his fluent guitar over the organ sounds. Another remarkable track.

11. "Tell The Heavens": The almighty final number, sung a-capella in pure perfect three part harmony. A very nice conclusion indeed.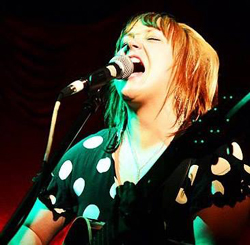 To one of my fellow music writers, who was already licking his lips asking for bids on his promo with the misspelled name: I received a similar one. Maybe a whole rejected batch was smartly used to send out to the European critics, so his plan to make big bucks is not going to work! The lay-out looks very nice, by the way.

The disc contains thirty-six minutes of music with an astonishingly powerful voice as the key instrument. Intense and urgent and sometimes a bit scratchy, tough and gritty with some underlaying vulnerability. In one word: impressive!

The unconventional line-up, no rhythm section but hand claps instead, definitely works and makes this a very different kind of blues album. Or southern soul meets gospel meets blues album. A little more guitar here & there would have been nice, to add variety. Engineering and mastering was done by Peter J. Moore, known from his work with the Cowboy Junkies, while Rench mixed at his own studio, both did a great job, as expected.

This album obviously means very much to Samantha, who dedicated it to her mother who very recently (December 2014) passed away. The title is also a loving reference and was taken from an Oscar Wilde quote: 'The Nightingale & The Rose'.
Written by Johanna J. Bodde - March 12th, 2015.
=====