Rob Ickes & Trey Hensley
'Before The Sun Goes Down'
(Compass Records, 2014)
www.robandtrey.com
Introduction (written by Randy Pitts):
This unique collaborative effort between two uniquely gifted musicians - Rob Ickes is a longtime, well established instrumental giant and Trey Hensley is newly arrived in Music City, bursting with talent both as a vocalist and guitarist - is bound to be a revelation to traditional music fans on several counts. It is the vehicle which first introduces Trey Hensley to much of the bluegrass and country music world. Trey is a young man poised on the edge of an incredibly bright future, steeped as he is in much of what is best in the music. From his powerful yet sympathetic vocal interpretations of traditional and new material, his jaw dropping instrumental skills on both acoustic and electric guitar, and his own considerable songwriting talents, Trey is bursting at the seams with freshness and musical excitement. His resonant baritone voice is rich, expressive and equally at home with classic bluegrass, traditional country, or original compositions from his own hand or written by others. This album promises to be a breath of fresh air on the country music scene today, even while bringing Trey's comfort and familiarity with traditional country and bluegrass music to the fore. He began playing guitar and singing in his native Jonesborough, Tennessee when he was ten. At eleven he was invited by Marty Stuart to play the Grand Ole Opry and was thrilled when they were joined from the wings by Earl Scruggs with whom he played several times thereafter. Marty remains a fan and a booster. Trey has also in his young life already played with Johnny Cash and June Carter Cash, Charlie Daniels, Ricky Skaggs, Steve Wariner, The Oak Ridge Boys and Janie Fricke. He's appeared on bills with Sara Evans, Charlie Daniels, Peter Frampton, Randy Owen, Steve Wariner and Marty Stuart.
Another benefit the album offers is an opportunity to view Rob Ickes, by now an acknowledged master of the dobro and lap steel guitar, outside the box, as it were. Rob has been playing bluegrass with his much decorated band, Blue Highway, for over twenty years, during which time he has been adjudged Bluegrass Dobro Player Of the Year fifteen times. He has also played on countless sessions, recording with artists as diverse as Merle Haggard, Dierks Bentley, Patty Loveless and Alison Krauss. He has also helped form a jazz oriented trio, Three Ring Circle, along with Andy Leftwich and Dave Pomeroy. His most recent recording, 'Three Bells', is a true dobro summit meeting with fellow greats Jerry Douglas and the late Mike Auldridge. He even once received (out of the blue!) an admiring phone call from jazz guitar and harmonica master Toots Thielemans.
One is struck when talking to Rob and Trey by the satisfaction they both feel about what they have produced. The album was recorded mostly live, with minimal overdubs, fixes, punch-ins, or even very many takes and with all the musicians in one room in only a few days of studio time. Rob, the driving force behind the album and the man largely responsible for its being made, says that his favorite albums by the pioneers of the music, the ones that made him want to make music in the first place, were made this way. The spontaneity and sheer joy of creation among a small group of master musicians is palpable in listening to the completed product.
Rob has been a booster since he first heard Trey, a happening that came about in an unusual way. He became aware of the young man's enormous vocal talent when he heard his scratch vocal (suggested by the album's engineer) on Rob's band Blue Highway's album 'The Game'. Wayne Taylor and Tim Stafford of Blue Highway penned the song "My Last Day In The Mine". The band had initially hoped to have a prominent lead singer outside the band to perform a guest vocal of the song for the album, but found themselves falling in love with the youthful Trey's evocation of the world weary working man's fears of leaving the only job he'd ever known. Trey was 22 at the time. His vocal was used on the completed product and has received considerable positive notice, as has the entire album. Shortly thereafter, Trey and his wife Amber relocated to Nashville, and Rob has been showing Trey the ropes.
Completely consumed by country music from an early age as he was, I wondered aloud to Trey how he made it through school. "I just smuggled an iPod into classes," he confessed, smiling ruefully. From the evidence offered on this album, I'd say he was listening to the right stuff. Accompanied by some of the finest, most accomplished musicians in Nashville, Rob and Trey tackle a diverse group of songs, put a fresh spin on some old ones, polish up some more recent hits, and offer up an original from Trey, drawing from the music of artists as diverse as Jimmy Martin, Merle Haggard, Waylon Jennings, Billy Joe Shaver, Bill Monroe, Lester Flatt & Earl Scruggs, Buddy Emmons, Jimmie Rodgers and Bob Wills. In addition to Rob - Trey's friend, mentor, and co-producer on dobro and lap steel - Trey's sterling vocals are bolstered by a band which includes Aubrey Haynie or Andy Leftwich on fiddle, the ubiquitous (and mighty fine) Nashville acoustic bassist Mike Bub, and drummer John Gardner, who is rightfully lauded for his sensitivity to the needs of country music in the studio and who has toured with the likes of Don Williams, the Dixie Chicks and The Dead Reckoners, among others. He provides impeccable rhythm throughout. Vocal harmonies or instrumental sweetening are added on one song or another by Jon Randall, Susanne Cox, Dan Tyminski, Shawn Lane, and Ron Block.
-----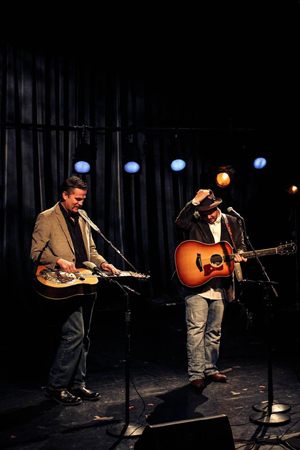 The album
:

'Before The Sun Goes Down' pairs Rob Ickes, the International Bluegrass Music Association's 15-time Dobro Player of Year, with rising singer / guitarist Trey Hensley whom Ickes recently discovered while recording in the Tri-Cities area of East Tennessee. After collaborating with Hensley on an album track from Blue Highway's current release, and inviting him to guest on some live shows, Ickes was inspired for the two musicians to record a studio project together. 'Before The Sun Goes Down' is the result of that effort and it is a unique project in the way it seamlessly blends contemporary bluegrass and the spare studio stylings of classic '60s and '70s country music.

Hensley's voice is something of a miracle, a throwback to the great country singer icons of the genre's first golden era, at one moment evoking an early George Jones or Merle Haggard, and at another, Conway Twitty or Hank Snow. The fact that Hensley is still just in his early 20's makes the experience of listening to him even more astounding. His talent has drawn the attention of more than his fair share of Music Row heavy weights including Marty Stuart, who said: "Trey Hensley is the real deal - I'm one of his biggest fans." Dobro master Rob Ickes is the perfect musical foil to Hensley's prodigious talent, both as a musician and co-producer. His Dobro ornaments Hensley's vocal lines with perfect finesse one moment and with jaw-dropping fire the next, showing why he is one of the best to ever pick up the instrument. On the production side of things, Ickes has a solid hand and deep musical understanding which enables him to draw the connections between bluegrass and early country to create a cohesive and highly successful end result.
--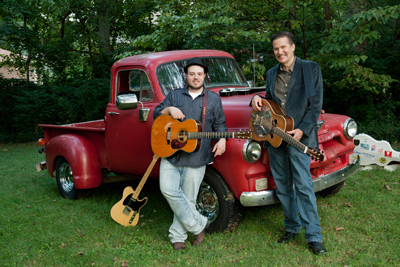 Tracks
(written by Randy Pitts):
"Before The Sun Goes Down"
- The album's title cut sounded on first listening like a song by Hank Williams that he'd never recorded. It has that honkytonk roadhouse feel, but it is in fact a song from 'The King Of Bluegrass' Jimmy Martin's repertoire. JD Crowe made the same Williams comparison before being told he played on the original record by Jimmy. An elegantly played country shuffle, that illustrates just how well Ickes and Hensley have absorbed the sounds of shared musical influences.
"Lightning"
- A fond remembrance of a son for his whiskey-making father, written by Bobby Starnes.
"I'd Rather Be Gone"
- A winsome, melancholy two-step by Merle Haggard. Rob plays lap steel and Jon Randall adds his harmony voice to this beauty. This one displays Rob and Trey's affinity for the work of Merle Haggard.
"Georgia On A Fast Train"
- A hard-driving cover of Billy Joe Shaver's masterpiece is given a swingy treatment, and the ensemble turns in a masterful job, especially showcasing Trey's acoustic guitar chops.
"My Way Is The Highway"
- An original by Trey, that elicits a classic country vibe, likely only the first of many of his compositions to be recorded by him -and others- in Nashville.
"Workin' Man Can't Get Nowhere Today"
- The classic by Merle Haggard - the poet of the common man. A lament about the plight of those who give their all in the workplace everyday and have very little to show for it on pay day.
"When My Last Song Is Sung"
- This is also from the pen of Merle Haggard about his faith and the part it plays in his creativity. It receives the benefit of Trey's sensitive and on-the-money vocal interpretation. Susanne Cox adds harmonies.
"Pride And Joy"
- A wonderful collaboration between Trey and Rob on acoustic guitar and dobro respectively, with a rousing vocal by Trey from the repertoire of the late, great Texas blues guitarist, Stevie Ray Vaughan. I've heard Trey do this live on his Telecaster and that is something to see and hear – but this acoustic version, with the interplay here with Rob's dobro, is unique and special.
"More Than Roses"
- A sensitive ballad of regret, written by Bobby Starnes and Barry Ricks, once again delivered in Trey's rich, resonant baritone.
"Raisin' The Dickens"
- The instrumental classic by steel guitar great Buddy Emmons, here given a rousing workout by Trey on electric guitar and Rob on lap steel, which in itself is worth noting, if only for Rob's uncanny ability to achieve the feel of Emmons' pedal steel rig on his lap steel. A real show stopper.
"Misery"
- The Bob Wills classic written by Bob, Tommy Duncan and Tiny Moore. Trey's unerringly soulful vocal turns this classic into a bluesy waltz-time thing of beauty.
"Little Cabin Home On The Hill"
- From the repertoire of the now classic Flatt and Scruggs line up of Bill Monroe's Bluegrass Boys. Listen especially for Trey's amazing guitar breaks on this one.
"There Ain't No Good Chain Gang"
- A hit for Johnny Cash and Waylon Jennings, who sung this as a duet. Written by Hal Bynum and Dave Kirby. This honkytonk ride is propelled by Trey's electric guitar and Aubrey Haynie's amazing fiddle.
--

Is there anything left for me to say? I absolutely love the DOBRO as an instrument, if you visit this page more often - you might know that by now. The love affair dates back to first hearing James Burton play on the country records by Rick Nelson. Rob Ickes is just as good a player and I'm a fan for a long time already. If he gets enthusiastic about somebody, like this fine new singer Trey Hensley - I'm listening! This is absolutely great stuff indeed... A current release, that sounds just like the classics. Giving a fresh take to some of my favorite songs like "Georgia On A Fast Train" and "There Ain't No Good Chain Gang" especially is an accomplishment. Let's not forget "Pride And Joy", best played country blues I've heard in quite a while. Usually I say something like: "Keep your paws off songs like that..." - but I just love these new versions. They pay respect and get my respect. A must-have for everybody who loves the traditional country music and... the dobro of course!
Compiled by Johanna J. Bodde - January 17th, 2015 (Thanks to AirPlay Direct)
=====