Reed's BIO:
Reed Turner's wandering spirit has led him to live and travel all over the country, but it wasn't until he returned home that he found his true voice; one that is simple yet evocative, intimate but universal, and ultimately true. His parents moved him from Portland, OR to Austin when he was five and he spent most of his childhood there. Like other kids, he was drawn to the Beatles, Michael Jackson and Led Zeppelin -"the band that made me want to pick up a guitar"- followed, as did Jeff Buckley, who Turner said led him to become a singer-songwriter. He then left for the Berklee College of Music in Boston. After graduating in 2008, he moved around the country, to Los Angeles, Nashville and Portland. He debuted in 2009 with 'All My Running' and released the follow-up EP 'Side One: See How Far I Can Get' in 2011. Having settled back in Austin, the songwriter gathered an impressive outfit for his hometown recording 'Ghosts In The Attic'.
People are taking notice - CMA's official magazine named him one of their Top 20 'Who New to Watch in 2013' and he followed that up by winning the prestigious Telluride Bluegrass Festival's Troubadour Competition. He also added a February 2013 performance at the International Folk Alliance Conference in Toronto to his resume.
On his latest album 'Ghosts In The Attic', Turner lends his voice to songs that run the stylistic gamut, while staying grounded in the Americana roots he's become known for. The 'gorgeous new album' has received much critical acclaim, with one reviewer writing that Turner has "Americana poetry one might expect from the lyrics of The Avett Brothers, and an entrancing intimacy reminiscent of Jeff Buckley". His hometown newspaper, The Austin-American Statesman, adds that Turner is "a star in waiting".
Fans are noticing too. He's been selling out such legendary Texas venues as Cactus Café and Stubb's BBQ, and the buzz has led to a year of sharing stages with national touring acts such as Gary Clark Jr., Will Hoge, Joe Pug, and Jessica Lea Mayfield. Whether he's carrying on the wandering troubadour tradition or inhabiting the familiar stages of his hometown, Turner is, indeed, a storyteller. And it's definitely time to let these 'ghost' stories loose.
-----

1. "Modern Man": The first song slips quietly in. Softly, slow and melodic folk pop with gentle vocals, reminiscent of Jeff Buckley or even Nick Drake. Deceptively sweet though, we start to notice the dark undercurrent while the tension in the moody song builds up and expands: "Listen to the night sometime / You can hear those coyotes and man, they're talking". Very nicely played, especially the guitars. Not cheerful in any way, but we didn't expect that.

2. "Ghost In The Attic": The title track, another moody song, country blues with somewhat creepy undertones. Think David Eugene Edwards or Hyacinth House. More excellent playing, especially by Phoebe Hunt on the sinister violin parts, nice rhythm too. A haunting refrain, yelping howls sound from the dark: "Left a note for my family / On the night I took my life / Said if you're looking for me / Check the attic with my wife / We'll be singing / Oooh..."

3. "Killed That Girl ('Cause She Was Killin' Me)": A clever title for a rhythmic rockabilly take on a Nick Cave type of 'murder ballad'. Cheating, revenge and dark ominous guitar sounds. Of course it ends bad, with the chorus as final words. Reed said this was in part inspired by bluegrass music. "I've always loved the murder ballad; it's not uncommon in my songs where people die. But I haven't killed anyone off yet."

4. "Room For Doubt": The conflict between ambition and patience. A much quieter ballad, lovely and a little mystical. Gentle singing, with some delicate female harmonies and a softly swinging pedal steel played by Kim Deschamps (Blue Rodeo, Cowboy Junkies, Fred Eaglesmith, Charlie Robinson). A fellow music writer mentioned Aaron Neville and I agree with him. "One guard sleeping at the palace gates / The others stand guns held high / But it's all I need to capture the queen / In the middle of the night." No big surprise, that this song won Reed first place in the Troubadour competition at the Telluride Bluegrass Festival. It recalls songwriting icons Townes Van Zandt and Lyle Lovett, both inspirations for Reed Turner.

5. "Long Gone": Rising slowly from the silence, a cool and stylish jazzy tune, with a heavy rhythm. Reed plays his blues harp and Ellie Carroll harmonizes flawlessly. Impressive scorching electric guitar solos by lead guitarist Brian Broderick and Reed himself. The only co-written song, with Phoebe Hunt and bassist Pat Harris.

6. "Locking Doors": Smooth country rock. Giving Reed plenty of opportunities to show off his rich tenor. Lots of hurt and there's one instrument feeling right at home in that environment: the pedal steel, crying with compassion. "Seems these locks and chains / And broken frames / Are what you prefer / There's a reason / There's a lifetime of regret."

7. "Familiar Sound": Acoustic guitar, fingerpicked, in a quiet lonesome folk pop ballad. Phoebe Hunt plays the fiddle and sings along. Reed Turner has built strong collaborative bonds with Phoebe, a well-known Austin-based songwriter and fiddle player. Reed is also a member of Phoebe Hunt's band and often opens shows for her. "I don't think I've ever sung with anybody where our voices complement each other the way that Phoebe and I do," he said. "It was instantaneous."

8. "The Fire": Harmonica on the intro of this 6m36s long Neil Young styled epic wistful rock balled, culminating in a soaring chorus. Great electric guitars, sneaking up on the rocking side again.

9. "Long Way To Go": Smart pensive folk pop ballad, there's a bit of Gordon Lightfoot here. This album definitely includes lots of variety. This track features a piano, played by John Arndt.

10. "The Sculptor & The Stone": Reed pays loving homage to his hero, the late Jeff Buckley. Vocal greatness, when the song builds up to a climax. Yes, he can pull it off too. "I'll belong to someone when I can", is the effectively restrained last line.
---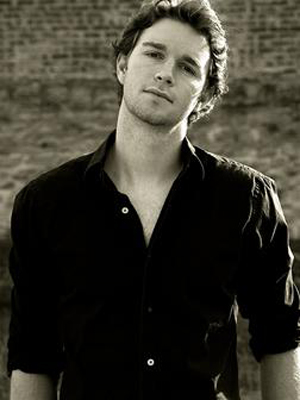 A strong collection of songs, although presented to us in a modest way. We could probably describe this as gothic folk rock with a pop approach. In suit with white shirt and tie Reed looks like a crooner and indeed has a compellingly beautiful, pure and mellow tenor voice, he doesn't need any effects to impress. Or good looks, for that matter! Having attended the Berklee College of Music, Reed is a skillful musician himself, he plays guitar and blues harp on the album, the guitar sounds revolving around his vocals. Despite the singer-songwriter label, Reed Turner performs with five to seven musicians. Having recorded in Austin, other members of his band come from the city's jazz community, something he said pushes his music outside the realm of rock and country. "They're able to offer suggestions, interpret my music differently than I would as a singer-songwriter". He writes well and his lyrics have depth. On this album he tells stories that tend to dwell on themes of youthful decision and indecision, delivered through a hazy, sometimes haunting music style. The songs convey a sense of searching that fits Reed Turner's own transient life. He views his writing as a process of exploring the characters that populate the songs. "What's important to me is not just the story of what happened, but why it happened."
-----
Reed's INTERVIEW
:
(from NYC Melody, October 2013)

Meet Austin's latest gem - the charismatic, funny and multi-talented Reed Turner. The singer-songwriter of (if I had to label it) Alt-Rock / Alt-Folk / Americana (with elements of other genres), will take you on a journey with his vivid story-telling and soulful vocals on his new album 'Ghosts in the Attic'. It's a truly unique experience, which, as we all know, is hard to come by these days with all of the music out there. I'd highly recommend it.

Question: Do you think that you fit into a particular genre? Is there a certain sound that you're going for?

Reed: I don't know that I fit into one particular genre, but I think that's true of a lot of current artists. I love the melting pot that music has become, especially among independent musicians. The fluidity with which people combine genres is really inspiring.

Q:Your most recent album 'Ghosts In The Attic' is gorgeous. There's a sort of haunting and flowing beauty to it. I love the harmonies. Tell me about the creative / songwriting process. What inspired it? How long did it take to come together?

R: Thanks for the kind words. This particular group of songs was pulled from about a year's worth of material. As for the creative process, I write in character about as often as I write from my own perspective, which keeps things interesting. I'm not limited by my own viewpoints, beliefs, or life experiences that way, which is sometimes important. It affects the live performance too. I can feel the emotional shift that much more as we move from song to song.

Q: Any major influences? Who would you like to collaborate with?

R: I'd love to work with T-Bone Burnett. I think he serves a song as well as any producer out there.

Q:How did growing up in a buzzing music capital like Austin shape you as an artist? Did you always know you wanted to be a musician? You're a great songwriter. When did you start writing songs?

R: I think growing up in Austin helped affirm the notion that music is an important part of our makeup, both as individuals and as a culture. It was (is) everywhere, all the time. I grew up in a house that had music playing 24/7, then I'd step outside and there would be music following me down the streets. I bought my first guitar when I was about 16 and started writing songs fairly soon after that. But if I'm being completely honest, I wanted to be a basketball player growing up. Still waiting on that call from the NBA - I've got a killer outside shot if anyone's in the market.

Q: You spent some time traveling around the country before moving back. What did you discover along the way? What brought you back to Austin?

R: An unbelievable amount - I discovered that this country is massive. I discovered what wonderful gifts both friendship and independence are. I discovered that people are inherently good. I discovered that each city has its own personality, and each state its own pride. I discovered that despite what I thought growing up, I really am a Texan in a lot of ways. I think it was just time for me to come back. I had some momentum career-wise, so that was pulling on me. I was really terrified of staying in Austin and living this sort of Groundhog Day, comfortable existence. But by that time I'd been gone for seven years. I had evolved so much as a person, and Austin so much as a city, that it felt more like another stop on the journey. The familiar faces were an added benefit.

Q: You've been touring with some very well-known acts, including Gary Clark Jr. Do you have any particularly fond memories of those experiences? What have you learned from them?

R: Mostly I've learned to be gracious, and that it's never acceptable to mail it in, whether you're playing for 10 people or 10,000. Often when people are successful in this business, it's with good reason. The show with Gary was pretty funny, actually. It was in Los Angeles, and for some reason that I'll never understand the venue had me listed as the headliner. I called and begged them to change it, but they held firm that he'd be opening the show, even though I was playing solo and he had his whole band. I saw him in the green room and jokingly asked him to go easy on me, but he predictably went out and blew the roof off the place. He came back in, gave me a wink and said: "I warmed them up for you".

-----
Written & compiled by Johanna J. Bodde - January 28th, 2015
=====