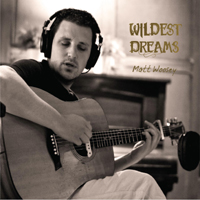 Matt Woosey
'Wildest Dreams'
(Robar Music Records, 2014)
www.mattwoosey.co.uk

Matt's previous album 'On The Waggon' first caught my eye, because of its different spelling: waggon, with double G. I loved the music and I'm very pleased to find a follow-up in the mail!

Matt's BIO:

Matt Woosey's refreshing musical songwriting and playing style combines acoustic blues, folk and rock conveyed with an accomplished vocal delivery which has been defined as The WooseyBlues. His ability to combine originality with a broad musical knowledge has gained him praise from varied sources in radio land.

Matt's songwriting focuses strongly on combining the meaning and message of the lyrics with the composition and atmosphere of the music. His catalogue covers a wide spectrum delivering a powerful blend of tracks spanning seven albums. With tours in Europe, South Africa and Australia he has expanded his fan base and a simultaneous broadcast of the EP 'Hook, Line And Sinker' title track on 39 BBC local radio stations have raised Matt's profile significantly.

'Wildest Dreams' is Matt's most recent and seventh full length release since 2008. It was recorded at Monnow Valley Studios in Monmouthshire and launched in his home town Malvern, Worcestershire in the British West Midlands. This album is similar to his previous material in that it contains a certain number of blues and/or blues influenced songs, although the overall spectrum of his song writing is broader and more mature than before. Ranging from ethereal folk to Pink Floyd-esque vibes and from Rumours-era Fleetwood Mac to full-on blues riffage, 'Wildest Dreams' takes Woosey fans and new listeners alike on a journey through the man's soul and musical heritage. Six of the ten tracks are brand new compositions, one is a reworked band version of a previously released solo recording, two from a previous limited release EP and one a radio edit of the albums' single "Exactly As We Please".
The appeal of 'Wildest Dreams' for music fans is the versatility of the song writing and playing on the album without watering down Woosey's trademark sound and energy. The band is tight and the songs are performed with a free flowing ease which bridges the cross-genre stylings effortlessly. Today, Matt's playing is often compared to Jimmy Page's blues rock style, Rory Gallagher's improvisational flair and John Martyn's heavy handed acoustic onslaughts.
---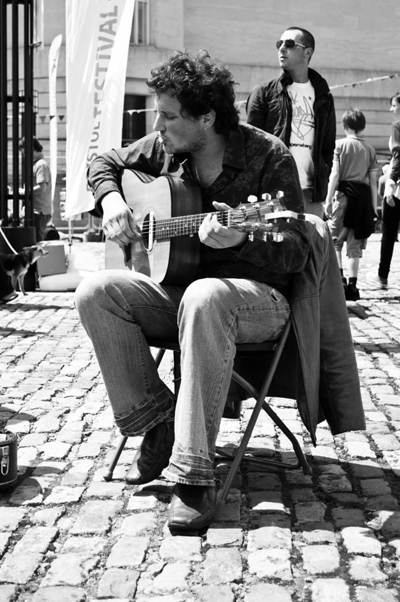 Matt's music career started aged 15 when he played the drums in a Thin Lizzy tribute band called Black Rose, which was paramount to Matt's appreciation and understanding of rock'n'roll. Everybody knows the Irish hard rock band, or at least their guitarist Gary 'Still Got The Blues' Moore. Black Rose had a show in Bristol, England that was named 'Vagabonds of the Western World'. Matt swears that it was the finest education a young man could have when starting out on the circuit! Growing up, like his peers, with some albums by Led Zeppelin - he was more interested in origins and influences of the music, eventually listening to Taste (with Rory Gallagher) and The Smiths (with Johnny Marr). He also learned to play guitar at a rather young age and wrote some songs for local bands. He was soon frequenting open mic gigs and local clubs crafting his acoustic guitar playing style, including his own explosive slap and pick right hand technique. Creating some sort of plopping sound, by plucking the strings with the thumb for bass plus rhythm and with the forefinger for high notes plus melody.

Matt Woosey was the lead guitarist in a Malvern-based band called Taxi. It was featured on local BBC radio shows during its UK tours. In this period he split his time between studying at Keele University and touring with Taxi. Taxi remained unsigned although they recorded several self-released albums. They split in 2005 after which time Matt Woosey went solo and toured throughout the UK. After leaving the university he returned to his family home in Malvern and formed The Strange Rain, another 3-piece band in which he played acoustic guitar. The band featured original songs by Matt and stayed together for one year producing one album. Following this Matt Woosey carried out a tour of 100 gigs in 100 days. He also busked around the UK and Europe. Around the same time he had an instrumental song featured on the BBC series 'It's Not Easy Being Green'. He remained a solo performer until forming The Matt Woosey Band in 2011, they played several times at Ronnie Scott's Jazz Club in London and released one album called 'On The Waggon', which reached No. 2 in Blues in Britain's top 10. Since then, Matt Woosey has toured and recorded with various session musicians and recorded the 'Hook, Line and Sinker' EP. He now appears solo, in a duo with percussionist and singer Big Dave Small or as The Matt Woosey Band, a 3 or 4-piece utilising session musicians. In 2014 Matt Woosey released a box set, "Draw A Line", which included his first 5 CDs.
---
Matt tells the Malvern Observer: "It's great to have another little collection of songs to release as part of a new album and to launch it in my home town is the ideal place to do it. I've got a lot of friends and family around so I'm hoping to make it a special occasion at the Malvern Theatres - it's a great place to play. There will be a lot of people coming who will have seen me develop as a songwriter and had a lot of support from people in the town over the years. In my opinion this album is quite wide-ranging and what has come out is a slightly different and more mature album from my previous ones. I think it's my best one to date. It was such a joy to be part of and I think we managed to capture a great atmosphere in the studio. The songs have come to life and I'm very proud of the album and hoping many other people will like it as well."
---

Matt tells about the Monnow Valley Studio: "It is situated just outside of Monmouth, near Rockfield. Dave, Tony and myself arrived on the Sunday night, met with Liam and Felix, the in-house engineers, had dinner and discussed what we were about to do and how we would like to do it.

The band for this album consists of Dave and myself, plus Rob and Paul who had played just a couple of gigs with us prior to the recording. It's a real testament to the guys and the working relationships we developed extremely quickly, that the album has such a live and flowing vibe to it.

A great deal of this is down to the way in which Tony worked with us and produced the album pre, during and post recording. As a songwriter you need somebody who you trust musically and respect in such a way as to be able to put your confidence in them when it comes to making decisions on just about anything to do with the recording. From microphone placements to choice of pre-amps. From arrangement suggestions to ego soothing. From extracting the smallest nuance of sound to the creation of walls of energy which will hopefully knock out the listener. It's about capturing moments and moving people.

When you get a team of people right, it is such a rewarding experience and the recording of this album, for me, was nothing but a joy to be part of. As I said we didn't have a great deal of time to learn, record and mix the album, so working with talented professionals made the process all the more enjoyable for myself."
---

Matt's TRACKS:

1. "Exactly As We Please": The opener demonstrates Matt's unusual guitar technique right away, in a pleasant poppy sounding song.

2. "Wildest Dreams": The atmospheric title track, a slightly sentimental memory of an old love affair, featuring great drums and percussion by Big Dave Small.

3. "Same Old Blues": A temporary, driven take on the old Delta blues, Matt plays acoustic as well as electric guitars and sings his heart out. Paul Quinn adds a wonderful swinging Hammond organ.

4. "I've Seen The Bottom": Another typical subject for the blues: the bottom is loneliness and pain, then the devil stops by... Add a slide guitar and an organ, the result is such absolute great music! Nice variation on the often used expression: "If it doesn't kill you / Doesn't mean it makes you strong".

5. "Nowhere Is Home": Folk blues on the acoustic guitar, slow and beautifully desperate, longing for the love of a woman. More great percussion. Another smart line, with a wink to the Willie Nelson and Kris Kristofferson classics: "Living on the road's gonna keep you free".

6. "Don't Tell Nobody": Great sounding arrangement for this long (6m46s) track. Big Dave Small sings background vocals on a tale of this illicit affair with an older married woman. Recalls the soulfulness of the great Robert Cray.

7. "Love Is The Strangest Thing": A lengthy intro on the acoustic guitar, showcasing Matt's fabulous playing techniques again. The song builds up after that, with effective echoing vocals and a poppy chorus.

8. "Hook, Line And Sinker": Two songs from the EP 'Hook, Line & Sinker' (2013) are added as bonus tracks. Love that slide guitar solo! Matt is joined here by Mike Hoddinott (drums) and Richie Blake (bass).

9. "Let It Flow": Classic blues rock. The second bonus track, totalling to almost fourteen minutes of extra material - good deal!

10. "Exactly As We Please": A radio-edit of the opening track to close off this album.
-----

Matt made this album with an amazing groovy feel, lots of variety, not only honoring the uncomplicated Delta blues in his riffs, but also adding some airy folk, sophisticated rock and infectious pop. He seems to play so effortlessly, sharing a little of his own world with us in his lyrics and he still has so much more potential for the future!
-----
Written & compiled by Johanna J. Bodde - December 6th, 2014
=====