Markus Rill
talks about
'Late Night Drive'
(Self-Released, 2013)
www.markusrill.net
German singer-songwriter Markus Rill has this very nice promo postcard printed. The front shows a quote from 'Rolling Stone': "Songs shimmering with beautiful ambiguity... Brilliant lyrics". The back has a nice row of little pictures lined up: twelve album covers! Another quote I like a lot: "If voices were highways, Markus Rill's would be gravel."

At Insurgent Country we are lucky to know Markus for many years already! When he still had more time, he wrote some reviews and in 2006 he talked here about his album 'The Price Of Sin'. An update on his recent projects is long overdue...

In case you don't know Markus yet - here's a bit of background info:
Markus Rill's BIO
(by Hans Hartmann)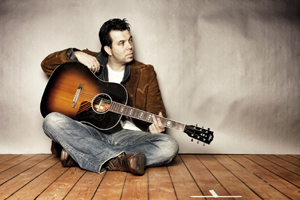 B
orn in Frankfurt / Germany, Markus Rill is not the most likely candidate to become one of roots music's most interesting songwriters and performers. And yet, over the course of many studio albums and countless live gigs in all kinds of venues - from the Bluebird Café in Nashville, TN to the Country Rendez-Vous Festival in France, from Wunschlos Glücklich in Würzburg to SXSW in Austin, TX - that is exactly what he has become.

We're not talking about the fact that he has won major songwriting awards, played with icons like Townes Van Zandt, recorded with Nashville's finest and is racking up accolades by every critic with ears. We're simply talking about the songs, the albums, the performances.
If
Tom Waits and Bonnie Raitt pick your songs for songwriting awards, if Rosanne Cash, Texas legend Ray Wylie Hubbard and master songwriter Gretchen Peters recommend your stuff, you've probably got something worthwhile going on.

Rill's songs are honest and direct - yet there's remarkable poetry in the way he uses everyday language. His rough-hewn vocals convey deep emotion in an almost backhanded manner. And his band The Troublemakers are a remarkable, versatile outfit, grasping that some of Rill's songs need dry, no-frills realism while others profit from a more atmospheric approach. Thus Markus Rill & The Troublemakers bring together rock'n'roll, folk, country, blues, gospel and soul to create a refreshingly original Americana sound.

Both the originality and the authenticity of their sound in a clearly American idiom have a lot to do with Rill's origins. The German spent some of his formative years as a young songwriter in Austin, TX. "I soaked up the music scene, I bathed in it. It felt like I had come home." The No-BS ethos of the Austin scene appealed to Rill. "Not only did I learn a lot about country music, the blues, about all sorts of roots music, about songwriting and live performance, I also realized that to be an interesting artist, you have to be yourself." And as Rill matured so did his artistry. "I no longer re-write Steve Earle songs", he says with a laugh. "I have my own stories to tell and my own viewpoint to write from." Not being able to use generic Americana symbolism like highways, diners and pickup trucks has made Rill's writing leaner and, paradoxically, more universal and more specific at the same time. "If I can create the image of someone sitting home alone at night at his kitchen table, I don't need to say whether he's sitting in Texas or Bavaria. The emotion matters more than the location."

Rill has gleaned some very powerful songs from that approach. Some that make you laugh and jump and dance, some that make you cry, some that make you sit and think. Both his 2013 albums - the full-band "My Rocket Ship" and the more intimate solo record "Late Night Drive" - have plenty of each."
Both times I saw Markus live, he was playing with the wonderful Swedish singer-songwriter Annika Fehling. The year 2009 found us in the studio of Radio Winschoten and last year at a venue in the province Drenthe, when the duo was even kind enough to pick me up by car! Well, several detours due to road construction later (I agree with Annika: the roads here are randomly laid out like spaghetti) we were treated to a beautiful intimate acoustic show. 'Late Night Drive', with several songs I can relate to, immediately brings me back to that evening!
I always enjoy Markus Rill's albums very much and I hope you do too! I admire him most for his knowledge of English, his smart lyrics, his flawless and
convincing pronunciation. Our favorite German is definitely authentic! Markus is -of course- the right man in the right spot to tell us more about 'Late Night Drive'.
Markus Rill in his own words:

"My album 'My Rocket Ship' was recorded in early 2013 and released in February 2014. It received really wonderful reviews. Since I had a number of new songs and some tunes that I believed in left over from the sessions to "Wild Blue & True" and "My Rocket Ship" and was buoyed by that reception, I thought I could maybe make a very low-budget solo album of these songs and release it on my own.

Once we had recorded my solo takes of these songs, co-producer Tom Ripphahn and I had plenty of ideas. "We could add a second guitar here, this one could use a harmonium, how about upright bass on that one." It turned out a not-so solo (and not-so low budget) album after all.

1. "Late Night Sunday Drive": Along with very many people in today's modern world, I live in a long-distance relationship and usually only get to spend the weekends with my partner and daughter. And God knows I hate the Sunday night drive away from them. Since that made it a pretty personal song, I decided it would fit better on a solo album than a band record.

2. "Only Fairytales": I saw a very moving documentary on former Chess world champion Bobby Fischer on TV and it made me want to write a song about him. Four lines in I discovered I had pretty much said all I had to say about him. And I had also written a few biographical songs before... so I zoomed out a little and it became something of a rumination on how someone's life seen from the outside is not the same as the inside situation. Admittedly, it's sort of vague which I think fits with the atmosphere of the music. I was shooting for a dreamy Twin-Peaks-type vibe.

3. "The Hardest Thing To See": I really like how this came out. Hard to believe now that I deliberately left this one off 'My Rocket Ship' but I suppose I hadn't really found the song yet, hadn't quite figured out how to approach it. I wrote this after seeing the movie 'Crazy Heart' with Jeff Bridges as a country singer who had seen better days. At the end of the movie there's a big comeback scene with, of course, a big comeback song. Except I didn't think that song tied in very well with what had gone on before or was quite strong enough to carry that scene. So I came home and tried to write the song I'd have liked to hear. Pretty cocky, I admit. But it got me this song. Ryan Bingham and T-Bone Burnett, writers of the song used in the movie, got an Oscar and a Grammy.

4. "Brand New Moon": This is an eco-conscious song based on recycling old material. I had originally tried to write a song titled "The Moon & You" but discarded that idea. There were a bunch of good lines left over, though, that I'd have hated to see go to waste. So I started from scratch with the lines that I liked and it became "Brand New Moon".

5. "Drifting In And Out Of Sleep": This one could've been on 'Wild Blue & True' but - as with "The Hardest Thing To See" - the song matured and blossomed over time when I found out how to play it. And people responded to it when I did it live. Sleep-deprivation as a young parent was exhausting but surprisingly inspiring. In that phase when you haven't quite woken up or fallen asleep, things that would make no sense to the rational mind come together and seem perfectly natural. Like I would dream of being in the room with my mother who passed away in 2001 and my daughter who was born in 2009. That half-conscious/sub-conscious state is a very fertile ground for art. I'm very happy with Tom's contribution to this song, the harmonium, the great guitar figure, the backwards solo - wonderful stuff.

6. "Sure Do Miss Her Now": An old girlfriend of mine became quite successful as an artist and I kept seeing great reviews on social media and elsewhere. Talk about conflicting emotions. It's probably best to point out that the song isn't based on facts, it's just inspired by these emotions - as well as by Fred Eaglesmith and "The Weight".

7. "Broken Puppet": One of my favorite songs from 2006's 'The Price Of Sin'. However it had a change of perspective in there - a songwriting flaw - that kept bothering me. Until one day I realized how to improve on the original lyric. I had to share it with you with this new recording. A first take, actually.

8. "The World's Greatest Fool": Tom Petty says he wrote "Swingin'" in his head while trying to record another song. Well, I like saying I came up with this while a sound guy took forever and left us waiting on stage.

9. "Jenny And Johnny": Tom had asked me for input on his lyrics for the last Hands On The Wheel album. "Jenny & Johnny" was one I did quite a bit of work on. The world has heard Tom's version and now here's mine.

10. "Sergeant Dad": Literally the day before I went in to Analoghaus I came up with this hooky figure on the banjo. I had originally thought I'd need the band to make that song work. With this hooky figure in there, I figured I might give it a shot as a solo recording. There's a twist in the lyric that I stole from my friend Hubert Treml. Listen to our song "More Than You Need" and you'll see what I mean. The 15 months I spent in mandatory military service were really some of the worst months of my life.

11. "Even When I'm Blue": A Steve Earle song that I always liked but never really played any differently than the original. Maybe a week or two before I went into the studio I found this different fingering and worked on it and liked how it sounded. Great contributions from Jan van Bijnen, Robert Oberbeck and Chris Reiss on this one and "The Hardest Thing To See".

12. "Beautiful Baby": I must've thought I had finished this song three or four times. I always liked the idea of it and had some funny lines but I could just never make the pieces fit in a satisfying way. One day my friend Andy Fite, a master jazz guitarist and a keen and witty wordplayer, was staying with me and he helped me finish this and tie it up. A conscious nod to the beautiful sound Sam Phillips cooked up at Sun Studios.
-----
Written by Markus Rill & Johanna J. Bodde - October 25th, 2014.
=====