M. Lockwood Porter
'27'
(Black Mesa Records, 2014)
www.mlockwoodporter.com
www.mlockwoodporter.bandcamp.com
The Bay Area is such a wonderful place for music! Between 1998 and 2001 I spent longer periods of time there, mostly in San Francisco and I could just go out four nights in a row... Well-known and completely unknown names, often the concerts and showcases were even free of entrance! So I would buy a cranberry juice and a bus ticket or I just walked to the club. Great memories... Of course M. Lockwood Porter was still a pup in rural Oklahoma back then, but I'm sure he's hanging out with my friends right now! Yes, I know what the 'M.' stands for, but I respect his privacy...

Let's get to know M.: his songs are all about intelligent, poetic and thoughtful story telling, while the music ranges from folk via country to classic rock & roll. He hopes his albums will be timeless, like the ones by Neil Young, Bruce Springsteen, Wilco and Ryan Adams. Although he lives in Berkeley now, he brought memories of his birthplace and childhood, listening to all kinds of rock music, with him. He recorded his debut 'Judah's Gone' at home and released it in July 2013.

So '27' is his second carefully crafted full-length album. It will be released on vinyl (including a free digital download) and CD.
His bio tells us:
We find M. Lockwood Porter (who himself turned 27 in July) wrestling with a growing awareness of life's limited possibilities, with a mixture of melancholy and defiance similar to that of Carter-era Springsteen, describing failed relationships with a nuanced poignancy reminiscent of Ryan Adams and Lucinda Williams. Eulogizing Big Star founder Chris Bell, who died at age 27 (like Kurt and Jimi, as Porter reminds us), while name-checking Paul Westerberg and arguing with Neil Young on "Chris Bell". In other words, '27' is a confident sounding record. That's a bit ironic for an album that - half break-up record, half quarter-life crisis - is all about the disillusionment and sense of 'Is this really all there is?' characteristic of one's late twenties. But Porter's willingness to write and sing about the travails and uncertainties of life with courage and honesty is exactly what makes '27' such a compelling album. It was primarily recorded in San Francisco's Hyde Street Studio C, where classic albums like CCR's 'Cosmo's Factory', Grateful Dead's 'American Beauty' and CSNY's 'Deja Vu' were made.


Showcased on these songs is M. Lockwood Porter's new live band. M. himself plays acoustic and electric guitar, harmonica, glockenspiel and percussion. Peter Labberton is the drummer / percussionist, he also engineered and mixed the album. Bevan Herbekian plays bass and sings too, Jeff Hashfield on keys and Jules Leyhe on pedal steel and electric guitar complete the line-up. The band is both tight and spontaneous, sounding like a cross between Tom Petty's Heartbreakers, The Band and Wilco, bringing a rawness and intimacy to the performances that a home recording never could. Porter's vocals, too, are stronger and more confident, honed by a year of gigging in support of his first album.

Time to listen to some music!

1. "I Know You're Gonna Leave Me':

The opening song or even the first minute can make or break an album. This is a great one: title as well as music (acoustic guitar plus keyboard) as well as voice (warm and just slightly hoarse) - from there everything builds up perfectly to a very powerful climax. 'There's a part of you in all these sad songs about rock and roll'.

2. "Chris Bell":

Harmonica and pedal steel featured on a catchy country rock melody, with hints of Gram Parsons. Incredibly interesting subject and wonderful poetry. 'Maybe all he needed was a friend'. Don't we all?

3. "Restless":

The perfect fast pace for this title - like an early Springsteen song. I love the keyboard here! "And I was on a rooftop in the Summertime / Manhattan sunset skyline / And the warm taste of cheap red wine."

4. "Secrets":

M. sings very clear and close into the microphone and then waves of keyboards and guitar roll in for this short song. I hear a bit of Steve Wynn in the singing here too.

5. "Mountains":

Acoustic guitar in my right ear - piano in my left ear. That's something smart and different for a ballad, like every song has its own specialty. His father said 'faith can move a mountain'.

6. "Different Kind Of Lonely":

First song of Side B, if this were an LP. Another beautiful melody! 'A different kind of lonely / Even though there's two of us together in a room'.

7. "You Only Talk About Your Band":

Brilliant song title! Yes, old school rock & roll - where are my blue suede shoes? No kidding! Thanks for the warning M., but in Europe we have freedom of speech and that includes four-letter words.

8. "There To Here":

Unexpectedly back to slow. Memories... and a sad harmonica.

9. "Love Me Like I'm Not Around":

Starting off with one shy guitar and cleverly building up over more than six minutes to epic, slightly psychedelic folk rock. M. knows how to rhyme, for real. Not just those 'they sound almost the same' words.




10. "Couer D'Alene":

The name of a city in Northern Idaho and the album closes off with this sweet little acoustic ballad.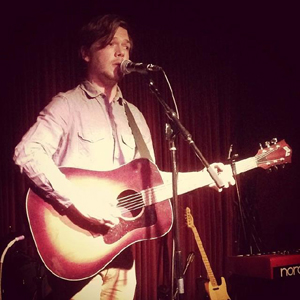 There was a very nice, talented singer-songwriter named Pete Droge, big for a while in the 90's -also in Europe- and then he kinda disappeared from the air waves again. I still saw him in San Francisco once. Not sure if anything went wrong.

There was another very talented but haunted singer-songwriter named Larry Barrett, big for a while in the 90's in Europe and then he disappeared completely. It seems that he still plays every now and then in Seattle. No clue what went wrong.

M. Lockwood Porter made me think of both these favorites of mine. The voice and the songwriting. He is just as good and has just as much potential. Let's hope nothing goes wrong in his career!
A lot of info was published around the release of 'Judah's Gone'. I don't have that album here, but it's still available! Let's dig a little deeper in M.'s history:

Although M. grew up on a 30-acre farm in NorthEastern Oklahoma, he didn't feel the pull of country and folk music until he left home to attend college at Yale University. He studied Literature and American History. Homesick and band-less, the self-taught multi-instrumentalist and veteran of the Tulsa punk and hardcore scenes found comfort and inspiration in artists like Woody Guthrie, Hank Williams, Kris Kristofferson, Gram Parsons and Townes Van Zandt - whose records not only served as reminders of home, but also as makeshift instruction manuals on songwriting. While his college classmates spent their spare time at the library, bar or frat house, Porter could usually be found in his dorm room, studying records and writing songs.

After relocating to Oakland, California, in 2009 Porter spent much of his early twenties playing a backing role in other bands while continuing to write. In the Spring of 2011, he first began recording his own songs with the help of band mate and audio engineer Peter Labberton. What started as an off-the-cuff recording exercise evolved into a two-year project that resulted in the creation of a twelve song debut album 'Judah's Gone'. Recorded on a shoestring budget in basements, garages and living rooms, with Porter producing and playing nearly every instrument, 'Judah's Gone' is a testament to the mature, authentic voice of a promising young artist. These garage sessions eventually resulted in a heavy-hitting full-length that boasts a variety of country, folk and rock influences while maintaining a coherent vision, one that balances a sometimes playful optimism with a pale overarching sadness. As Porter sings about topics as diverse as the Trojan War ("Menelaus") or the death of an ex-band mate ("Stephen"), his voice remains consistent, matter-of-fact, clear-eyed and poetic, with traces of humor and wistfulness. Dark with a whimsical streak, M. Lockwood Porter muses of hope lost, found and forgotten. Somewhere between Americana and Indie rock, he has a serious case of bittersweet melancholy reminiscent of Elliott Smith or a young Jeff Tweedy. There's a lived-in quality beyond his years to his songs. That he was raised on a farm in Oklahoma isn't surprising, given the hint of twang in his voice. That he studied poetry in college isn't either, once you study his contemplative, eloquent lyrics.
In an interview with Michelle Evans (2013), M. Lockwood Porter tells more about his background:

"I grew up in Oklahoma, in a small town outside of Tulsa and I just really loved music from an early age. My first musical love was Bruce Springsteen. I fell in love with the song and album 'Born In The U.S.A.' when I was, like, five years old. Ever since then, I kind of knew that it was what I wanted to do. I was an only child with not much to do, so I became obsessed with my parents' records and dallying around on my Mom's piano. My Dad got me a guitar from a pawn shop when in 5th or 6th grade and I just taught myself how to use that.

Basically, I've been writing songs since I was a little kid and then in middle school and high school, I got into the local music scene around Tulsa and played in several different bands. The scene kind of started out as Christian punk rock, then it kind of evolved into more of a hardcore and metal scene. Yeah, the bands we looked up to when I was, like, 13, were Christian punk rock bands. It was the first exposure I had with playing with other people. The scene quickly moved past that, though, and became various hardcore, punk and Indie rock bands while I was in high school. It was also when I was really writing my own songs. And it was around that time that I met John Moreland. He wasn't actually somebody I knew really well, but that's how I know John. He was playing in bands around Tulsa. He was a couple years older than us, and we all kind of looked up to him. Even before he was doing his own thing and writing his own songs, he was a really good metal-core guitarist. We've all been following his career since he started doing his sort of singer-songwriter thing, and we're all super-impressed how, from the very start, his songs were amazing. It's true. It's not fair."
When asked if Christianity is still a theme in his work, he says: "Well, you know, I grew up in a small town in Oklahoma going to the Southern Baptist Church and while it's not really a part of my life anymore, it was definitely a big part of my life when I was younger. I would say there might be traces of it in the songs, but it's not an overt theme. But, I guess the beginning of the project I'm working on now sort of started when I was 18 years old, when I left Oklahoma to go to college. I didn't really anticipate how much that would change what I was doing with music. I found it pretty hard to find other people to play with for the first couple years I was away from Oklahoma. I was kind of unaware how rare it was to have such a close-knit group of people -and part of it was because we were so young- where everyone knew everyone and all the bands and could easily find someone else to play with. My solution to that was to try to write songs that sounded good by myself and that were more about the lyrics, creating turns of phrase, and putting together lines that were really meaningful to me and might mean something to other people. So, since then, I've kind of been writing on my own, but it was never my main focus to, you know, have a solo career or anything. Instead, it was something I was doing on the side while I was looking for a band to play with. Pretty much the whole time I was in college, I had trouble finding a band to play with. I was playing with a band for, like, a year at the very end of college, but it was never really serious. We played a couple shows. We didn't record anything, really. Then, when I made it out here, I was a lead guitarist in a band for a couple years, and I was just kind of a sideman. I found that to be really fun, and I was totally content to be a sideman for a while. Then, about two and a half years ago, a friend of mine, Peter Labberton, who plays drums and is also a recording engineer, was talking one day about how he wanted to record some stuff, so we did. We recorded an album, which he played drums on and engineered. I wrote a bunch of new songs for it, and it kind of turned into this much bigger project than we thought it was going to be, we finally finished it this Spring."
Asked about the title 'Judah's Gone', M. tells: "Well, I'm using the name Judah as a metaphor for growing up and coming of age. You know, the whole 'You can't go home again' thing and growing out of the culture you were raised in and also all the feelings of freedom, nostalgia, shame and guilt kind of all mixed up together that come with that. It's not overtly biblical, but it's the closest thing there is to biblical influence regarding the album. When I was at Yale, I went from this small Baptist town in Oklahoma to a very liberal, intellectual place and that kind of sped up that whole coming of age process for me. There wasn't anyone there I felt could identify with me in what I was feeling and going trough. The first songs I wrote that I was really proud of came out of that time, out of trying to figure out who I am."
Let's hope M. Lockwood Porter will share more of his life and his emotions with us through his music - over the years when he gets older... As a reviewer pointed out: an album by an independent artist costs as much as two cups of coffee. Let's buy many albums!!

-----
Written and compiled by
Johanna J. Bodde
- October 9th, 2014.
=====