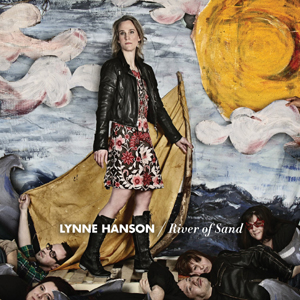 "See my life passing through my hands / Flecks of gold in a river of sand". Opening track and title song 'River Of Sand' shows right away the clever images Lynne Hanson uses in her songwriting. The melancholy, darkness and honest truth is never far either, so it doesn't surprise me much that she teamed up with my long-time favorite Lynn Miles as the producer for this album.
Lynne Hanson grew up in Ottawa (Canada) and started playing guitar when she was fourteen, learning on a hand-me-down from her older brother. After performing with Shane Simpson from 2000-2005, she launched her solo songwriting career with the release of her first album 'Things I Miss' in 2006. As she tells to AmericanaUK: "I've been playing guitar since I was in my teens, but I started out professionally playing rhythm guitar and singing harmony with another singer-songwriter. When that whole relationship went south I started putting my own songs down on paper. Eleven breakup songs later I had my first album and was booking gigs". Asked about her biggest musical influences, Lynne says: "Generally every country and bluegrass song I've ever heard. If I had to name names though: Gillian Welch, Steve Earle and Patty Griffin".

With tales to tell, two more albums quickly followed: 'Eleven Months' (2008) and 'Once The Sun Goes Down' (2010). Each new release garnered critical praise, earning Lynne Hanson a Canadian Folk Music Award nomination in 2009, an invitation to the Kerrville Folk Festival as a New Folk Finalist and in 2010 the prestigious Colleen Peterson Songwriting Award, handed out annually by the Ontario Arts Council, for her song "Rest Of My Days".

Then it was quiet. She took a four-year hiatus from recording. It was time to kick dirt over the tracks on the trail. Lynne took some time to take control of her personal life and with it, a new approach to songwriting. Her fourth studio album 'River Of Sand' is the creative output of that very personal journey. She has been fortunate to work with Juno-winning songstress Lynn Miles as her producer. "The songs on this record are honest and fearless," says Miles, and the search for truth that's always guided Hanson's work takes a turn to the raw. No topic is off limits and the eleven songs run the gamut, painting a candid canvas of whiskey-soaked heartbreak and personal struggle, all contrasted against some hope that better times are coming. Of course the 'murder ballad' that has become a trademark of Hanson's albums, is also featured.

Lynne Hanson's songs may be full of grit, her live performances are polished, whether she's playing solo or with her band The Good Intentions. And she's managed to get around - having toured Canada, the US, Europe and the UK. She's played showcase gigs in Austin, Phoenix and Memphis (Folk Alliance), toured in support of Grammy nominated songwriters (Gretchen Peters, Steve Forbert) and performed at several historic music venues, including the legendary 100 Club in London England and the Bluebird Cafe in Nashville. Her big wish is still to play at... "Definitely Ryman Auditorium. It would be hard to top being part of that kind of musical history".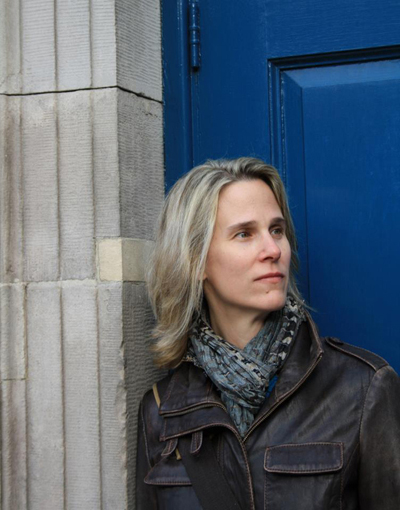 I have only the music files here, but let's stay optimistic: no distracting booklet, so we must be able to focus!
1. "River Of Sand":
A song that draws you in immediately, with its flowing melody. 'Sometimes I go down to the shanty town and dance until dawn.' That seems cheerful, but most of the other lines speak of loneliness and they address the big problem: drinking.
2. "Whiskey And Tears":
Ah, there's the reason of all the sadness... A broken relationship. Somebody she loves very much, has left. 'I'm chasing whiskey with what's left of my tears.'
3. "This Too Shall Pass":
The music slows down to a beautiful ballad, full of pain. At the same time this is a perfect showcase for Lynne's pretty alto voice. 'Hope is just a four letter word'. Loneliness, depression, even a possible suicide? Lynne considers this the best song she has written: "I wrote it for anyone who's ever felt alone in very dark times. I wrote it over two days, which is quick for me, but it took me a lifetime to be able to put those words in a song. Easily the most challenging song I've ever written and the most personal".
4. "Waiting By The Water":
Great drumming here! It emphasizes the urgency of this song. 'I said forever / You said maybe'. Haven't we all made that remark at least once in our life? And the pedal steel is crying too...
5. "Heaven And Hell":
The haunting sound of disappointment in life. Lynne feels suffocated: 'Those are devil's hands around my neck' is already one of the first lines.
6. "Tightrope":
Nicely paced rhythm. 'I'm walking a tightrope, baby / And that wind is blowing / I'm losing my grip'. She's hoping for rescue...
7. "Foolish Things":
Gorgeous pedal steel solos. Chasing foolish or maybe not such foolish things? Everybody deserves a bit of happiness!
8. "Good Intentions":
An uptempo, skillfully played, but at the same time disturbing song about twenty year old Suzy, taking revenge on all men in general, when she shoots that truck driver, who's looking for female company.
9. "Colour My Summers Blue":
Country ballad about another try to wipe out memories with alcohol, hoping to 'sink into a merciful haze'...
10. "That Old House":
There are more songs written about this subject and I can relate to all of them. It's heartbreaking indeed to leave a house, if you don't want to. 'Our home became four walls of love grown cold / My heart still broke the day that it was sold.' In case of a divorce, or worse: in case of a partner's passing - there is no other way, unfortunately.
11. "Trading In My Lonesome":
In this song, co-written with Lynn Miles and adorned with some fine playing, it seems that Lynne is finally ready to let go and get some closure. She's tired living life like a country song!
What strikes me most is Lynne's honesty, just like Lucinda Williams can be so almost 'too much information' honest about her feelings. Or Mary Gauthier. Lynne mentioned Mary's latest album 'Trouble And Love' as her favorite of this year. "Raw heartache gets me every time". This is very heavy subject matter indeed! Friends who had addiction problems in the past, related immediately to the songs about drinking and were touched, almost to tears. When AmericanaUK asked Lynne about her most significant moment yet, she answered: "Waking up sober and staying that way just over three years ago. That one decision has changed every element of who I am, including how I approach music and songwriting".
This is an authentic self-analysis and all kinds of realistic human emotions pass by: loneliness, insecurities, mood swings. A true document of personal darkness with luckily some glimmers of hope, as we get to know Lynne a lot better as a strong and brave lady, who can pull through the worst of circumstances!
I would like to compliment the musicians for their sublime playing in nicely
crafted arrangements. No booklet means no names. I managed to figure out a few though: Keith Glass (guitar), Lyndell Montgomery (fiddle), Anders Drerup (pedal steel and guitar), Lynn Miles and Rebecca Campbell (harmony vocals).
Lynne feels good about her life as a singer-songwriter: "I love telling stories and I love music, so getting to put the two of them together and getting paid to do it is pretty fantastic". Where Lynne sees herself in ten years? "Writing songs, recording them, and continuing to complain bitterly about cold Canadian winters to anyone who will listen".

-----
Written & compiled by
Johanna J. Bodde
- September 30th, 2014
=====