Kelley's BIO:

In some ways Lawrence, Kansas based Roots R&B / Americana singer-songwriter / piano player / guitarist
KELLEY HUNT
is a rarity and a challenge to the music industry's penchant for easy artist definitions - a woman who has muscled her way onto the scene on her own terms with an identity steeped in blues / roots / gospel traditions and a refreshing originality. She makes music with it's righteous roots intact that also crosses boundaries, has an open-minded, exploratory attitude and takes on social and political issues. Together with a commanding, passionate stage presence and superior vocal, keyboard and songwriting skills she has earned the respect of critics and fans across North America and Europe.

Born in Kansas City, Kelley Hunt's love for her craft was ignited listening to early blues, R&B, roots rock, jazz and Gospel influences - artists like Ruth Brown, Mahalia Jackson, Billie Holiday, Ann Peebles, Ray Charles, Dinah Washington, Aretha Franklin, Charles Brown, Wanda Jackson and a cross section of the New Orleans / St. Louis / Kansas City piano traditions of Professor Longhair, Toots Washington, Johnnie Johnson and Kansas City masters Jay McShann and Mary Lou Williams among others. Before that came the sound of her mother singing jazz and blues - her first musical memories - and the influence of her New Orleans Gospel singer grandmother.

Reminders of these very traditional influences are evident in Kelley's live performances and recordings but the lyrics, soul and passion are all her own. Her career path so far has been a story of fierce independence, incredible will, unassailable cred as a blistering live performer and hard-won accomplishment. That narrative includes 1500+ performances with appearances on a long list of premier North American and International festival stages, nearly 150,000 indie units sold on her own label and critical praise reflecting her conviction from the outset to make her path in the roots music world not just as a performer, but as a forward-thinking songwriter as well.

In 1998, Kelley's song "If I Don't Dance" from her debut album, was used in the film, 'Dance With Me'. Hunt made her debut as an actress in Bunker Hill (2008), where she also contributed music to the film's soundtrack.

She has variously performed at the Omaha Blues, Jazz, & Gospel Festival, Salmon Arm Roots and Blues Festival (2013), Memphis in May, Austin City Limits Music Festival, and Thursday at the Square. In addition, she has appeared six times on American Public Media's 'A Prairie Home Companion'.
Kelley's ALBUM:

Kelley Hunt's new album, 'The Beautiful Bones', offers a dozen superbly crafted songs that blend timeless music with a contemporary perspective - drawing a bead on modern life with grace, humor and gravity through the earthy poetry of her lyrics. Those songs are buoyed by a performing style that balances Hunt's virtuosity with the down-home Gospel, Soul and R&B that's part of her DNA.

The title track is a perfect example of Hunt's art, with its shimmering guitar and B-3 organ providing a gorgeously textured canvas for her haunting, soulful voice. And its storyline is an equally deep illustration of her multi-faceted writing, celebrating both the joy of life and its impermanence, while quietly reminding that the earth is a delicate and mortal place that must be tended to flourish. "That song was the key to the album's identity", Hunt explains. "I had already written most of the songs, and felt they were about the things that are important to us all as people, but "The Beautiful Bones" connected them. I was inspired by looking out my kitchen window while I was playing guitar and seeing the bare branches of a tree covered in snow, and I started to think about the layers we all have in our lives and the possibilities that come with each of them. Fifteen minutes later the song was done".

The album repeatedly returns to pivotal moments, from the central question 'what will we do with this truth and these tears' asked in "The Beautiful Bones" to, in "Gates Of Eden," the flash when a glance off the road nearly causes a cataclysmic accident to, in "Let It Rain," the realization that - whether we know it or not - life truly does give us everything we need. "As human beings, we get so attached to the material world that we forget the most important things", says Hunt. "The pivotal moments give us clarity. They help us understand that at the end of the day the only things we really have are our lives and our souls".

Both heart and soul are in abundance on 'The Beautiful Bones', Kelley Hunt's sixth album in her outstanding catalog and an evolutionary step in her songwriting and arranging. The set's seamless integration of her influences - from the wooden-church-pew gospel of Mahalia Jackson that resonates in "Release And Be Free" to the classic Memphis soul of "The Sweet Goodbye" to the boogie-woogie of the Tea Party skewering "I've Got A Good Feeling" to the driving rhythm & blues anthem of self-realization "This Time" - captures Hunt at the apex of her skills, abetted in her performances by the A-team of session musicians she assembled in Nashville's 16 Ton Studios.

Some of those players are already familiar to Hunt's growing legion of fans. Drummer Bryan Owings played on 2011's 'Gravity Loves You' and 2008's 'Mercy', and has toured and recorded with Justin Townes Earle, Emmylou Harris, Delbert McClinton, Shelby Lynne and a host of other roots music legends. Veteran Hammond B3 player Mark Jordan (Van Morrison, Bonnie Raitt, Delbert McClinton, Taj Mahal) was a stalwart on both 'Mercy' and 'Gravity Loves You' and is a regular on Hunt's live stage, and Detroit transplant bassist Tim Marks, who claims credits ranging from roots music stars and eminent singer songwriters to Taylor Swift, also had a previous role on 'Gravity Loves You'. The McCrary sisters, the three daughters of Sam McCrary, the founder of the historic gospel group the Fairfield Four, also appear, lending their angelic voices to three numbers. Regina McCrary is also a veteran of Bob Dylan's touring band and sang on his album 'Shot Of Love'. Another former Dylan band member, John Jackson, is a new addition to Hunt's studio ensemble. "He was a perfect fit, with that rare combination of chops, an authentic roots vocabulary and the ability to work right on the edge", says Hunt. Typical of Hunt's open-minded studio aesthetic, a slide guitar line Jackson improvised after the band played through "Golden Hour" for the first time quickly became the song's bloodline, working as a foil for Hunt's own New Orleans-style piano.

Hunt's versatile keyboard and guitar playing provides the album's own beautiful bones, connecting all its songs with the limitless architecture of her style. "My goal is to continually grow as an artist, and 'The Beautiful Bones' is part of that", Hunt says. "I'm also aware that my music exists to serve other people, the way that the music of all the artists that I loved while I was growing up served me. Ultimately, that's really what is most gratifying".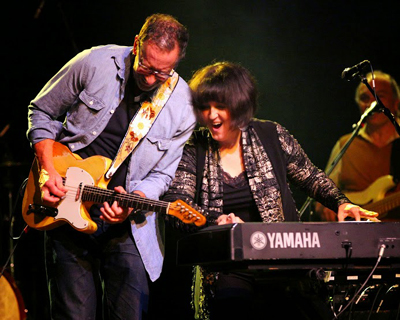 Kelley's
TRACKS
:

1. "This Time": The opener - what a way to open! I hear the wah wah guitar right from the start... Played by John Jackson. A funky soul sound, Mark Jordan on the Hammond B3, one of my favorite drummers Bryan Owings keeping a steady beat, there's even a trumpet and a saxophone. Kelley has the perfect rich and flexible voice for this kind of gospel like soul. The lyrics remind us to take a look at ourselves, understand how valuable we all are and that we should live life to the fullest.
2.
"Golden Hour"
: The lively sound moves a bit more towards gospel, keeping the funky rhythm. Three lovely ladies: Regina, Alfreda and Ann McCrary sing background vocals. Kelley herself plays the old school acoustic piano. She co-writes most of her songs with Caryn Mirriam-Goldberg. More wise words, we should notice our surroundings, pay attention to little good things, make a new mosaic from our old broken dreams and have faith in the future.

3. "Let It Rain": A gorgeous slow rhythm & blues ballad, embracing the classic sounds of the genre. "Pass it on / Pay it forward / Let it rain". I like this lady's positive yet realistic view on life! She plays the piano, in a very nice combination with Mark's Hammond B3 and John's electric guitar.

4. "Release And Be Free": A very strong and confident soul song with a taste of gospel again, also thanks to the three McCrary Sisters singing background vocals. Regina even shakes the tambourine! A stellar vocal statement, with perfect timing. The lady is a very good piano player too, by the way. That last high note...

5. "When Love Is At The Wheel": A fast fun song, the trumpet and saxophone are back, while The Keltastiks provide background vocals. Excellent guitar solos, Mr. John Jackson! While Kelley treats us to a little bit of Jerry Lee Lewis inspired piano work. Yes, we can ride all night like this!

6. "Simplify": A nicely constructed rhythm & blues ballad in a rather relaxed pace. The background choir is called The Kelphonics now. I don't get the joke, but it's fine with me - as it sounds fine! The advice for the broken hearted is here to let go and lean on the ones who really love us. That sounds simple, indeed.

7. "The Beautiful Bones": The title track, I didn't like this title at first, but with Kelley's explanation it's O.K. She puts heart and soul in this perfectly phrased song, it means obviously a lot to her. Electric guitar and Hammond B3 create, once again, a beautiful atmospheric sound in the classic way. Relationships, with another person as well as with our planet Earth.

8. "Gates Of Eden": Kelley plays acoustic guitar on this nostalgic sultry sounding story ballad. The lyrics recall a near tragic highway accident, in which Kelley barely escaped a crash with a tractor trailer, staring back she realizes how close she actually came to death and discovers again how good every day life can be. Compliments for John Jackson, who creates magnificent atmospheric sounds with his acoustic and electric guitars, using lots of effects. Definitely a highlight on this album. Favorite!

9. "I've Got A Good Feeling": A exuberant boogie woogie piano shuffle in New Orleans style. The electric guitar and Hammond B3 are swinging!

10. "I Want You There": This is a well crafted slower song, with a sweet melody as well as sweet lyrics. A gorgeous solo on tenor saxophone by Mitch Reilly surprises us halfway the track.

11. "Miracle": A very long (6m34s) intoxicating soundscape, with a starring role for the piano as well as Kelley's sensitive and delicate vocals. Halfway the song picks up vocally with an echoing overdubbed triumphant chorus, the guitar moves closer and Bryan uses some extra percussion. Then the track fades into space. Masterpiece!

12. "The Sweet Goodbye": The album closer with a fitting title for another gospel tinged soul ballad. John treats us one more time to a breathtakingly beautiful guitar solo. No regrets or alibis, indeed.
Kelley Hunt is a gifted, dynamic and powerful vocalist, to say that is an understatement. She writes songs with passion and some depth, she is an accomplished player, especially on the piano. I also like her approach of the music, with respect for the traditional roots of the soul, rhythm & blues and gospel genres but giving them a modern twist. I like her optimistic inspirational approach of life in general, trying to understand the essentials, to see all the beauty in ordinary things every day and to encourage other people, creating a good relationship with the ones around us. The musicians she worked with on this record formed her very own dream team, surrounding her with inspired playing and lifting the songs to a higher level. The mix and overall sound are perfect. Any critical remarks? Absolutely not. I never heard of this lady before, she turned out to be quite a personality and I came to love her record!
-----
Written & compiled by Johanna J. Bodde - April 14th, 2015.
=====