Although this is her seventh album already, I had never before heard of this country singer-songwriter and lady entrepreneur. Luckily it's never too late for a first time to listen, so the disc enters the player and there it goes. I am very pleased to see the name of multi-instrumentalist extra-ordinaire and all-around nice guy Max Butler in the album credits. Now, let's get to know KATIE!
--
Katie Garibaldi has proven to be an artist with staying power. Based in the golden city of San Francisco, this determined and enthusiastic singer/songwriter/guitarist is an avid national touring performer who has acquired a devoted fan base, due in large part to her engaging live shows (whether she's performing solo or with a band) and personal connection to her listeners through her music. She sings with an emotional nearness that, in combination with her melodic and catchy songs and her soulful and expressive vocals, captures her audience wherever she performs. She has a characteristic musical style wherein her equally pop- and country-tinged folk rock gives her a distinct and edgy sound - Americana with sparkling memorable melodies.
'Follow Your Heart' was recorded at John Vanderslice's world famous Tiny Telephone Recording Studios in San Francisco, CA, and was engineered by Ian Pellicci.

The foundation of the band is Katie Garibaldi on vocals and acoustic guitar, as well as being the songwriter.
Katie opted to produce this album herself. "I went through a long and meaningful journey with the making of this album, and in the end, it only felt right to take on the producer role since I had a clear idea of how I wanted the album to sound. I essentially 'followed my heart' right into Tiny Telephone and everything just fell into place after that. 'Follow your heart' became the backbone message and mantra of this entire album's creation, and dream after dream of mine just kept coming true."

One of those dreams was to work with some of her favorite musicians, which did indeed come true. The album's rhythm section consists of Memphis-based Kevin Blair on electric and upright acoustic bass and Bay Area local Todd Richardson on drums and percussion. Magik*Magik Orchestra [Nicki Bluhm & The Gramblers, Weezer, John Vanderslice, Death Cab For Cutie, Glen Hansard] also makes an appearance on this recording, which features Michelle Kwon [The Delphi Trio] on cello and Philip Brezina [Brothers Comatose] on violin. Katie had the opportunity to co-write / arrange the string parts with Magik*Magik artistic director, Minna Choi. More notable players include Max Butler [pedal steel, mandolin, ukulele], Sylvain Carton [flute, clarinets, saxophones], Henry Hung [trumpet, trombone], Matt Blackett [electric guitar], and Shawn Shaffer [harmonica].
There is no mistaking that these are top-notch players, including highly talented engineer Ian Pellicci, and the chemistry between this group on the recording is certainly palpable, which lends itself to a very enjoyable listening experience. There's realness and rawness and it works.

'Follow Your Heart' consists of thirteen new tracks,

which include her most personal recorded songs to date, and all seem to reflect back to her simple yet powerful message of the importance of having the conviction to follow your heart.

One of the songs being "Stand In My Way", a bonus track that Katie's fans might already recognize. The indie artist released a different version back in 2012, which she called the Nashville Version as it was recorded at the world-renowned Ryman Auditorium in Music City (also referred to as the 'Mother Church of Country Music' and best known as the past home of the Grand Ole Opry). That was a solo version of just guitar and vocals, whereas this bonus track features the full band. Fans of Katie's live shows will also be excited to learn that a long-time live concert favorite "Whispers & Rumors" makes its album debut with the full band as well. On 'Follow Your Heart', we see a significant collection of personal and moving songs from Katie, which clearly shows her remarkable growth in songwriting.

The title track, "Follow Your Heart", sets the tone for the entire album and most of the songs seem to reflect back to that simple yet powerful message. The track list also includes a song called "White Roses", a dedication to one of the artist's friends who passed on from cancer, and "Wedding Day Song", which she wrote for her husband and sang to him on their big day, and is perhaps her most personal recorded song to date. "There was a hesitation in me for quite a long time to record some of these songs because they are so personal. But then I thought, this is who I am - this is me being real. I love expressing emotion through songwriting, so why not tell my stories? That's how people connect. Since my last album I've gone through a lot, including getting married. Being a wife now is a whole new chapter of my life and that renewed sense of love and closeness definitely influenced my songwriting in the past couple of years."

Not only do we see a maturity in Katie's songwriting, but 'Follow Your Heart' also provides our ears with a new sonic vocabulary that's a bit of a departure from her previous releases. The sound enters deeper into the country realm, however still appeals to a wide variety of genres and rings true of Katie's distinctive sweet and soulful vibe. Some stand-out country-loaded tunes on the album are "Make Them Go Away", which features an outstanding fiddle performance by Philip Brezina topped off with percussive hand claps from the band, and "Lock The Door, Lose The Key", which is a fun pedal steel [Max Butler] spiced 'disco country' tune that will keep your foot tapping the whole way through.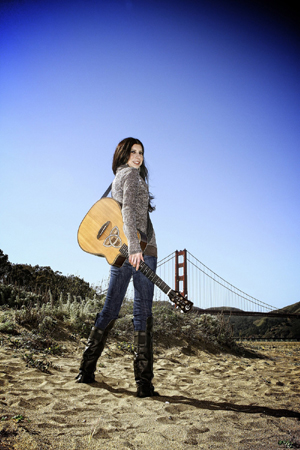 The listener is also treated to some exceptional vocal performances on songs like "Holding On" and "Always Kiss Me Goodnight" and even some unexpected surprises like a 'Fiona Apple-esque' clarinet/flute section on "Love The Hell Out Of You" and a horn section and gospel-infused vocal ad-lib part on "Saved The Best For Last". The glue that holds it all together is Katie's distinct fingerpicking and syncopated guitar playing, which is showcased more than ever on this new work. Simply put, if you've already placed Katie Garibaldi in a genre- or sonic-specific box, once you listen to 'Follow Your Heart', the walls of those boxes will crumble, and delectably so.

Katie is also an innovative entrepreneur and the owner of her own label, Living Dream Music.
Katie plays regularly in her San Francisco Bay Area home base and has taken the stage at some of the premier music clubs in the area such as Hotel Utah, The Little Fox, Cafe Du Nord and Neck Of The Woods, as well as tours nationally, with frequent stops to Nashville and has performed at Music City's (world-famous) The Bluebird Cafe. This indie artist has been compared to household names, such as Sheryl Crow, Brandi Carlile, Ani DiFranco, Fiona Apple, Jewel, and Taylor Swift. The press says Katie offers 'true-to-oneself-artistry, excellent musicianship and lyrics and vocals to die for' and states that she 'raises the bar' on the San Francisco singer/songwriter scene. Katie Garibaldi is a sweet and soulful Americana artist and her songs will keep you humming along effortlessly for days on end.

'Follow Your Heart' is Katie's first full-length release of all new compositions since her award winning 'Next Ride Out' album in 2009. In that time, the Americana songstress has toured the country, including regular trips to Nashville, TN, accomplished many exciting successes and built her business DIY-style from the ground up, including such achievements as being named a Music Connection Magazine Top 100 Live Unsigned Artist and being featured on the cover of The Indie Bible four different times. Most notably, Katie received the Songwriter of the Year award in 2012 from Songsalive!, the largest international non-profit membership organization and social community for songwriters and composers. She has also attained some impressive endorsement deals with Luna Guitars, Fishman, Reunion Blues Gig Bags, and most recently, an endorsement deal with Breedlove Stringed Instruments, who have worked with the support of Two Old Hippies to create a custom Master Class Breedlove guitar made specifically for her. In latest news, Guitar Player Magazine has published a full-page artist feature on Katie and her new album in their 2014 holiday edition.

In the meantime I listened a few times to the album, which contains a generous amount of music (51 minutes). The opening title track sets the tone in a very positive way. Katie has a distinctive clear and soulful voice, in my humble opinion most perfectly suited to sing country music. Especially the interaction with the pedal steel is just wonderful. She sings her heart out, very energetic and I love that!
The lyrics are good and simple, personal and easy to relate to: "
Follow your heart / Even when things are hard / You will see what I mean." Katie is still young, her writing style will mature and deepen over the years. Of course she wrote love songs for this CD - the girl got married recently! One well-meant remark: using the word 'hell' several times feels a bit like sandpaper and isn't really necessary here, is it?

The catchy melodies are her strong point, I didn't get bored for one second! The poppy sound fits Katie very well. Smart of her, to chose all these excellently playing musicians. (I would buy an album only to hear Max Butler.) A very nice variety of arrangements, made easy by all those instruments in the studio, is the deliciously thick icing on the cake.

"Lock The Door, Lose The Key" is a fun track! I love the touching ballad "White Roses" with the bird sounds... "You Saved The Best For Last", Katie took that literally, indeed, going full out with a horn section. "All I know / Is I didn't know / The best was yet to come."

Very nice lay-out, including some glamorous pictures of Katie herself and a cute little image of 'Marvin the studio cat'.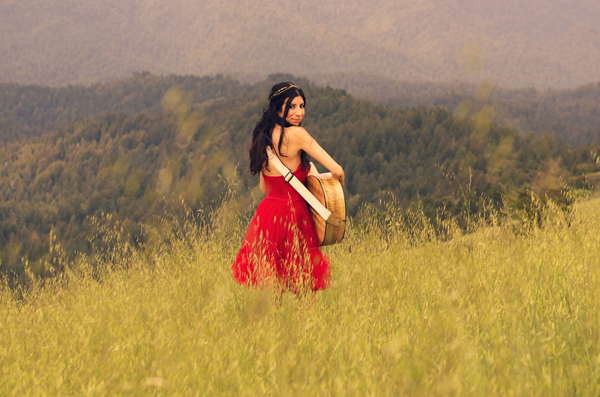 Interview

TO Lifestyle (2014):

Question: What inspires you and motivates you?

Katie: Love really inspires me. It's such a powerful thing to feel and being in love just kind of releases songs from within me that I didn't even know where there. And love was particularly a big influence on my new album, 'Follow Your Heart', because I got married almost two years ago and I think a lot of the songs were inspired by falling in love and experiencing a whole new kind of closeness and commitment to love. Being a wife is empowering and motivates me to be a stronger and better person in general. I think that, in turn, motivates my creativity and songwriting.

Q: What's the best part about what you do?

K:The best part about being a performing singer/songwriter is that I get to live my passion. I feel so blessed that from an early age I was always well aware of what I wanted to do in life. It's not lost on me that not everyone knows their purpose in life or is able to live their passion every day. I do music because it's what I love and I can't not do it. And the fact that I get to share my music to connect with people is awesome. I wouldn't have met more than half the people I know or been on even a fraction of the adventures life has taken me on, if it wasn't for playing music.

Q: What time of day do you produce your best work?

K: It really varies depending on when the muse decides to grab me. But I would say most commonly, I write in the afternoon.

Q: What can we expect from you in the near future?

K: Touring regions of the States that I haven't yet visited and following my heart to new musical adventures! I hope to see you there!
----
Interview
about being a business woman - with Sylvia Browder (2014):

Sylvia: Hi Katie and welcome. Please tell us about yourself and your business?

Katie: Thank you Sylvia! I'm a national touring singer/songwriter and guitar player based in the San Francisco Bay Area. As an independent artist, I run my own music label called Living Dream Music, at which I wear many additional hats, in addition to writing, recording, producing, and performing music, which include a wide span of tasks such as, booking and promoting shows / tours, running my website and on-line presence, and marketing and selling my music. I recently released my seventh album called 'Follow Your Heart'.

Sylvia: Yes, I definitely can relate to wearing many hats. As a small business owner, that is the norm. It's good to have a team in place to allow you to focus on your core business. Now, tell me a little about your personal life.

Katie: Well, The San Francisco Bay Area is home for me - born and raised! I love playing guitar, writing songs, cooking, drinking wine and chilling out with my husband.

Sylvia: I lived near San Francisco many years ago. It's a beautiful city. What does success mean to you?

Katie: Having a successful career to me means that I'm able to do what I love, while being able to make a living doing it. Many people may think if you're a singer, automatically your goal is to be famous. Fame has never motivated me to be successful. Sharing my music is the driving force behind accomplishing my goals. I've found that the general public's perception of the music industry hasn't quite yet caught up to the reality of what it actually is. A lot of people don't view an artist as 'successful' unless your music is being played on mainstream commercial radio or you're performing at the MTV Video Music Awards or something. But the reality is, superstars only make up a tiny slice of the music industry pie. There are tons of independents and smaller label artists who are out there recording, touring, and supporting their families on their music career. I've always based success off of my personal goals and accomplishments, rather than other's perceptions.

Sylvia: How do you create work-life balance?

Katie: Creating balance with my career and life can be tricky sometimes since I mostly work at home, which can blur the lines between 'clocking in' for work and 'clocking out' for personal time. Plus, I'm on the road a lot touring and playing shows on the weekends, when most people take weekends for personal time. It helps to have people in my life who understand my hectic schedule and support what I do. Travel-wise, I plan regular trips home to spend time with my husband in between tours. At my home office, I like to write down a list of goals for each day and also work on a time deadline. So I'll estimate: "This list will take me until about 6:00 to get through. At 6:00 I'll break and take stock of what I did and evaluate it to make a new plan for tomorrow." This kind of thinking helps me leave room for personal time. I can look at my list and feel satisfied that I accomplished something for the day, which makes my free time feel like an award. So organization is a big part of feeling balanced for me. When things are unorganized I feel overwhelmed. Of course, sometimes I'll just keep working all night, no matter what time I had planned to finish by, if I'm on a roll. But I do know the importance of unplugging and just being present in the moment, whether it's simply dinner with my husband or just playing my guitar to unwind.

Sylvia: Very awesome! What steps are necessary for a woman entrepreneur who wants to move her business to the next level?

Katie: It depends on what that next level is for you, but don't be afraid to invest your money in projects that you believe in. I think with small businesses, owners can be afraid of spending money because they're only thinking about the dollar signs. But what you put your time and money into, that's the level of results that you'll get back. It's important to look at the dollar amount, sure, but that shouldn't be the end-all answer. More importantly, you have to consider the return on your investment.
The questions you need to ask yourself in taking the steps to help you move your business to the next level are:
- What are the services I need, and how can I effectively research them?
- How much will this service cost me?
- What's the return on my investment?
I think a lot of us tend to leave that third step out, especially when the price is more than we originally anticipated. What you have to decide is, is this investment, no matter how expensive it may seem right now, going to be worth it in the long run? It's always smart to be wise with your finances, but sometimes it does indeed take money to make money. Don't be scared to make that next step in your career, even if it takes a few extra dollars to get there.

Sylvia: I agree! Investing in yourself is paramount as it only helps you to strengthen your expertise. It is important to give back. In what way do you give back to your community?

Katie: I agree, it is important to give back! One of the things I love doing most is playing live shows to help support and raise awareness for good causes. I have done work with a San Francisco organization called Muttville, which provides rescue and adoption for senior dogs. I also have played shows the last few years in support of the Squeaky Wheel Tour, which raises awareness for missing people. Depending on the location of the shows that I book for this tour, the non-profit assigns me missing people from that area and I'll spread the word with flyers and info at my shows. I also volunteer to play a free show at my hometown church where I grew up at their annual festival. It's a great feeling to be able to share my music to help good causes in the community. I also recently joined a program called 'Music For Good' by ReverbNation, which is a site for artists to share their music. Half of my sales for the title track off my new album, "Follow Your Heart", are donated to Sweet Relief, a non-profit organization that provides assistance to musicians with disabilities or illnesses.

Sylvia: Great! I commend you for using your platform for the betterment of the causes you hold dear to your heart. What challenges and opportunities do you see in the present economic environment?

Katie: I think a big economic challenge for any business owner in today's economic environment is to just plain stay in the game - to not quit. The long hours and hard work that it takes to run your own business can get overwhelming pretty quickly. You always need to be thinking of new ideas and creating different opportunities because the truth is, no one else is going to care as much about your career as you do. This can put a lot of pressure on entrepreneurs and giving up can be tempting. Coming from the perspective of the music world, fair compensation for songwriters is a huge issue in our economic environment. I'm a member of the performing rights organization, ASCAP, which helps bring awareness to Congress on fair compensation for creators. If we continue to work towards what's fair, I know it would encourage more music creators to stay in the business because they would be working hard for a fair payment, as opposed to working for fractions of pennies, for instance, as it now stands in music streaming services. When consumers can shift their mindset to value things like music and see the worth in it, independents will find more thriving opportunities in the business. I think social media is a great opportunity that is presently very active in our economic environment. Now more than ever, we have outlets to reach a wider audience on social networks to promote our business. For me, there are tons of great websites and ways to share my music with people, and new ways are popping up all the time. I think for other small businesses more and more successful sites that help sell products to bigger audiences, like Etsy for instance, will become even more popular.

Sylvia: Good information! How do you promote/market your business?

Katie: I have a website that I update regularly, as well as a mailing list that I use to send my subscribers monthly newsletters with my live shows and news about my music. I also do a lot of promotion online on social media and different Internet sources, and I promote to press and radio. The best way for me to market my music is going out on tour and playing live shows. I'm able to meet all kinds of new people and bring my music to different markets. Tours can include radio shows as well, which are a great outlet to promote my album and upcoming events.

Sylvia: What books and resources would you recommend to other women in business?

Katie: I've read tons of books and articles on music business-related topics, which is good to keep up with, but I do like to follow women in business-related social media sites as well like, Women In Business LLC and The Indie Chicks. However, the best resources that I've found to inspire me are motivational and spiritual books. I love listening to Joel Osteen's audio books or watching his sermons on TV every now and then. It's a spiritual basis, but I would recommend his books to anyone. He offers great ideas and affirmations on how you can motivate yourself to activate your faith and achieve success.

Sylvia: I enjoy Osteen's sermons as well! What advice do you have for women who are just starting out?

Katie: Make a plan! I've seen so many artists release new music and then sit and wait around for people to 'discover' them, and wonder why nothing is happening. They put so much time, energy, and money into making an album and then once the CD is finished, they think the work is over. On the contrary, the work has just begun! This same idea applies to any business, which is you have to prepare and have a concrete marketing plan outlining your goals -short term and long term- and have the resources in place before you even release that CD or product.

Sylvia: Yes! Having a plan, personal and professional, in place is just good business sense. How do you stay connected in mind body and spirit?

Katie: The best way for me to stay connected in mind, body, and spirit is to express gratitude. We're all guilty of focusing on disappointments or rejections at one time or another and seeing a situation as only negative, which is not good for your mind or body. I've learned that the things that don't work out are just ways that set you up for new (and usually better) opportunities. When I take time out of my day, even just a minute or two, to focus on how thankful I am, my mindset is refreshed and I feel great, almost like I'm protected by gratitude - a shield against negativity and a motivational tool to get to where I want to be.

Sylvia: What is your favorite quote to live by?

Katie: One of my favorite quotes is, "I've learned that people will forget what you said, people will forget what you did, but people will never forget how you made them feel," by Maya Angelou. These words help me keep things in perspective. It's crucial to be good to each other. Material success is impressive, but how you inspire others and how you make them feel is the legacy that you leave behind in this world.

Sylvia: I love the work of the late Dr. Maya Angelou. She had such a powerful way with words. Share with us two industry or general business related tips that could help other women business owners.

Katie: One tip to keep in mind is to not get wrapped up in the concept of competition. It's easy to get caught up in thoughts of: "She's better than me. I've got to do better than her." Don't go down that rabbit hole. Stay focused on your own goals and your own work. She is not you, nor are you her. Therefore, there is plenty of room for both of you. Hustle is great, but there need not be a competitive energy fueling your business. The dreams in your heart need your attention and there is no time for trying to one-up someone else that is on their own unique journey. Stay on your path and trust it.

Another important tip that might help women business owners is to follow your intuition even if it seems like the hard way. The more passionate you are, the more potential you have to succeed. Some people will want to take advantage of your potential and try to tell you what to do. For example, if a high profile marketing expert is trying to tell you to change your company's branding but it doesn't feel right to you, get another opinion or stick with your own idea. This might sound like a no-brainer, but it's surprising how often we get ourselves stuck in difficult situations where we go against our gut because we don't want to hurt someone else's feelings or we find it too hard to speak up for ourselves. We may hear so many voices around us sometimes that we start to lose our own voice. I've heard countless horror stories from other artists who have lost a lot of money or rights to their songs because they let themselves get sweet-talked, so to speak, by an industry pro, even though they knew the deal didn't feel right. You are in control of your business. Let that control empower you to trust your instincts.

Sylvia: I am in awe of your wise-ness. I agree with you on competitiveness. One of my closest friends once told me that there is "enough work for everyone". So, don't worry about what others are doing… just ALWAYS give 100% to your craft and the work will overflow. In a competitive industry like the music business, what inspires you to not give up?

Katie: I've come across my fair share of doubtful moments - times when I felt like I wanted to give up. This business can be extremely challenging and emotionally draining. But the love that I have for making music and doing what I do is so strong, that I never feel defeated for too long. That fire just keeps burning inside me. So I feel like I can't not do what I do. It's such a part of me, and writing songs and performing is a great love in my life. I always feel like I'm 100 percent me when I'm playing music. To give up on that feels like giving up on myself. It's a joy to do what I adore and at the same time being able to connect with others through something so personal as a song, which is basically a story that I'm telling from my heart. I feel blessed to know my purpose in life and that is really what keeps me motivated to continue on my journey, wherever it may lead.

Sylvia: This has been an amazing interview. I feel your gentle spirit! Thank you for sharing your time and expertise with us.Continued success to you.

Katie: Thanks so much!
-----
Written & compiled by Johanna J. Bodde - February 12th, 2015.
=====