Kathy Moser
'Some 1 Like U'
(Self-Released 2014)
www.kathymoser.com
Kathy Moser plays Music For A Better World! I know quite a few idealistic, motivated, hard-working artists, I really do... but Kathy impressed me big time!
Let's take a look at her bio first:

On Earth Day of 2014 (April 22nd) she has released her 4th album 'Some 1 Like U' to the American radio. It features eight original tracks and covers of songs by Neil Young, Joni Mitchell, Peter Meyer and Death Cab for Cutie. Kathy's album was produced by Tom Prasada-Rao and we can also enjoy performances by Andy Goessling (Railroad Earth), Buck Dilly and Cary Cooper.

Kathy Moser has been in love with music and Planet Earth as long as she can remember. Her introduction to folk happened at Girl Scout camp, which led her to the coffeehouse scene. Distressed by her inability to play guitar while sitting on that four-legged stool found on every folk stage, she wandered over for a record or two into something looking a bit more like rock. But realizing she missed her tribe, she wandered back to her acoustic roots with a guitar strap and never looked back.
An award-winning songwriter, engaging performer, teacher, social artist and passionate environmentalist, Kathy is dedicated to bringing positive change to the world through music both on and off stage. She performs and tours nationally, having
appeared at well known folk venues, as well as colleges, churches, coffeehouses, prisons, and benefits too numerous to mention!

Known for her poetic lyrics, driving guitar style and goofy stage presence, her songs confront a variety of topics ranging from world peace to lawn mowers, dysfunctional families to shopping malls, drug addiction to the wisdom of trading in your car for a horse. Audiences leave her shows entertained and uplifted, thoughtful and motivated.

Out of respect for her favorite planet, half of the 'Some 1 Like U' pressing is CD-free. Fans will be able to purchase a copy that contains all the stuff they love about albums -including lyrics, photos and stories- with a download card, instead of a CD. The number one environmental impact of the music business is the audience traveling to the shows. To date, through a combination of education and bribery, Kathy's audiences have carpooled more than 1,200 miles to her concerts. This win-win solution benefits fans, festivals, venues and... the planet.

Working with young people is one of Kathy's passions and she gives workshops, artist residencies and concerts in a variety of educational and institutional settings. Her work encourages young people to find a place to make a positive contribution to their communities.
Every time I listen to this album, I hear more stunning details, I'm loving it more...
1. 'Big Yellow Taxi':
Joni Mitchell's best known song, arranged by Kathy. Don't tell anybody, but I like this version much better than the original... Gorgeous duet vocal by Cary Cooper, while Andy Goessling does a great job on the woodwinds.
Kathy: "I almost always hear two voices in my head musically, I rarely get to share it with the audience".
2. 'Some 1 Like U':
This seems like a lot of words, but they make perfectly and rhythmic sense. My favorite lines: "And there's a reason, there's a power, there's a gift to being kind / What if someone had just been really nice / To those two kids from Columbine".
Kathy: "I've been called many things, normal is not one of them. I believe it is the 'normal' people who hold society together, and I thank them for it. It is the ones who don't fit in who move it forward."
3. 'Straw, Clay, Wood And Stone':
A lovely, upbeat folksong. Cary Cooper, a talented songwriter in her own right, again on harmony vocals.
Kathy: "Houses built with straw bales are energy efficient, beautiful and quiet. I've helped build several and hope to live in one someday."
4. 'Moses':
The first song I ever heard of Kathy, as the earlier release started off with this track. Even as a child I already had a weakness for the stories about the historical character Moses from the Bible and this song reflects on his life. It makes me think of Chip Taylor's more recent works. 'Between the desert and the sea / We stand between our fear and our destiny.'
5. 'Within Arms Reach':
A realistic song that brought tears to my eyes. What else can I say?
Kathy: "My boyfriend Paul relapsed and overdosed on September 21, 2001. I found him by chance and called 911. He lived 3 more months and I learned that life is between each person and their god. Weirdly, this has freed me up to love more deeply."
6. 'Ghosts In The Kitchen':
This beautiful ballad with piano and percussion is somewhat simular to Bruce Springsteen's "You're Missing". 'Maybe there's nothing in a graveyard / But the tears of the people left behind'. Life must go on and we're even getting used to those ghosts...
Kathy: "I lost my partner to drug related suicide in 2001 and later dated someone whose partner had also died young from addiction. The fact that they were gone, we were here and I was raising her children walked next to me the whole time."
7. 'Needle And The Damage Done':
This heartbreakingly beautiful Neil Young cover fits perfect after the two previous tracks. "But every junkie's just a settin' sun".
8. 'Coming Back For You':
A haunting song with a spot-on arrangement and Cary's flawlessly following harmony vocal. 'Sometimes to survive, just to stay alive / This is what you have to do.'
Kathy: "I wrote this song in a songwriting class where we wrote about a moment when our life changed, then we shared the story with a partner and we each wrote a song about the other person's story. This is Steve's story and my song."
9. 'I Will Follow You Into The Dark':
Written by Ben Gibbard from Death Cab for Cutie and arranged by Kathy. A sparse slow ballad. "If there's no one beside you / When your soul embarks / Then I'll follow you into the dark." Sigh...
Kathy: "I am an artist about a half inch ahead of everything else. I don't agree with this song, don't even really relate to it, I just love it."
10. 'Windows On The World':
More of a rock vibe here, with drums, electric guitar and keys. Looking back at 9/11 and the aftermath: 'It's time for a change'.
11. 'Everything Is Holy Now':
A cover song, reflecting on a religious upbringing, in a quiet acoustic setting.
Kathy: "Peter Meyer is amazing, you should check him out!"
12. 'Marvin (The Ballad Of The Reluctant Great Spangled Fritillary)':
Comedy. This is not really my thing, but hey... it's the last song, easy to skip.
Kathy: "I wanted to call this song 'Transformation Is A Bitch' but Marvin wanted it named after him".
Environmental friendly albums can look just as nice or even better than others. The packaging doesn't have any plastic, nothing can break or splinter, wonderful! I like the picture on the front, with Kathy peaking around that corner... Yes, there is a booklet with the lyrics, essential for this sometimes heavy subject matter.

I have here the new CD and an earlier version (2009), which is only slightly different. The earlier released disc contains ten songs: "Too Long" (a short comical, almost yodeling number, played on a ukelele) instead of "Ghosts In The Kitchen", "Coming Back For You" and "Marvin". The order of the tracks is also different.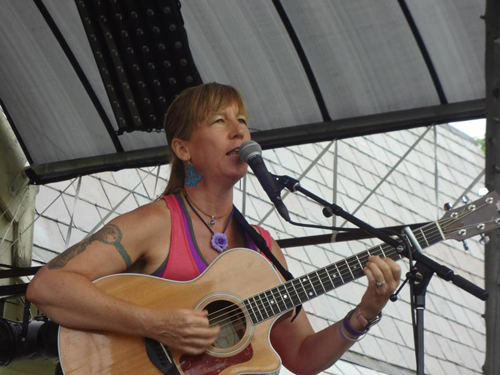 What I didn't know until recently, is Kathy's deep involvement with Music For Recovery. She explains:

"I am an award winning professional musician in long-term recovery (18 years). I have given recovery performances and workshops at The Meadows, Rutgers' Summer Institute, Caron Texas, Father Martin's Ashley, Alina Lodge, Gosnold on Cape Cod and many more.
The programs I offer give your clients hands-on experience with skills that will help them be successful in recovery. Plus, it's fun! Here's more information about what we do.

1) A two hour songwriting workshop in which up to 25 participants strengthen their recovery skills as they write, rehearse and record an original song on a recovery topic. You can make CDs of the song to give to the participants and/or post the song online.

2) A 75 minute interactive musical performance 'Guide to the Landscape of Recovery'. This high-energy program engages the audience and gives them tools for dealing with feelings. These programs are most powerful when combined. We can do 2 two-hour workshops and a 75 minute concert in one day."
Many of you might be interested to read a bit more about one of these workshops. So was I and I found a great article, written by Elise Hugus in 2012.

"Two dozen women aged 20 to 50 gather around in comfortable chairs in the West Falmouth mansion's cozy living room. They chat and laugh amongst themselves or sit quietly, studying the print on a lavender sheet of paper. A few are pregnant and some have infants, which they entertain with toys or rock in their arms with a bottle. It's not a family reunion or a ladies weekend getaway. Some of the women have been staying at the Emerson House for close to a year; others arrived just days ago. All are on the rocky road to sobriety, spending each day reflecting and healing from the path that brought them to this place.

A tall woman in her 40s walks into the room, wearing a purple dress, thick-rimmed glasses and a smile. She's pulling a red and white polka dotted suitcase filled with assorted paraphernalia: a laptop, a projector, a mic stand and a tangle of wires.

Meet Kathy Moser, a New Jersey singer-songwriter who travels to rehab centers across the country teaching songwriting workshops. She's been coming to Gosnold-affiliated centers like the Emerson House and the Miller House for the past two years and last week joined the Students Achieving Recovery Together (START) club for a special workshop at Cape Cod Community College.

"Hi, friends and sisters in recovery," Moser says to the group. "My name is Kathy and I'm an alcoholic and an addict." "Hi, Kathy," the women chorus back.

Like many who work in the rehabilitation sector, Moser has her own stories to tell. Now clean for 16 years, she freely admits that she abused substances until she finally had a breakthrough 18 years ago. One of the myths about being a musician is that drugs and alcohol help with creativity, Moser says.

"I'm sure I had moments of brilliance [as an addict] but I can't find them," she says. "Now that I've gotten help I've been able to bring my creativity out into the world. All my success in music has come in recovery."

Though she graduated from New York University with a degree in music, Moser emphasizes that she is not a licensed musical therapist.

"I'm not a trained therapist. I'm a trained musician. I'm trying to bring these workshops to the highest level of musicianship," she said in an interview earlier this month, as she prepared for the Cape Cod Symposium on Addictive Disorders. "It's not 'Kumbaya'".

That fact is evident as she breaks the ice with the song, "I'm Open", written by women of the Emerson House in a previous workshop. With her assistant, Trina Hamlin on harmonica and drums, Moser sings the bluesy tune: "I always find myself wherever I go/ But I'm open to something more than what I know." Listening in rapt attention, the women need little encouragement from Moser to join in on the refrain: "I am open/ To letting go" they sing, shyly at first, then with rising confidence as Hamlin lets loose on a harmonica riff. When the song ends, the room breaks out in whoops and applause.

Putting her guitar down, Moser tells the group that -believe it or not- they will have written and recorded just as powerful a song within the next two hours. "Right now there is no song. It might not go well the first time, and that's why we give each other the gift of repetition and allow ourselves to make discoveries through mistakes," Moser says. "Writing a song is like the process of recovery."

Writing songs also engage participants in creating a soundtrack to their own recovery. "Music reaches you in a different way. It just bypasses your defenses. So if you get an earworm with a positive recovery message [in it], it's like a pop song you can't get out of your head," she says.

And therein lies the key to Moser's success. Not only do participants come away with a song they might find themselves humming in dark moments, they also learn coping skills and cultivate an outlet they can use long after they leave rehab.

One of those skills is learning to work with others, especially in the close-knit and sometimes tense living situations at rehabilitation centers, says Moser. "Some women said they'd done the thing that they'd been afraid of - working together [in my workshop]. It makes people willing to take healthy risks outside their comfort zone," she says.

Turning the microphone to the group, Moser asks each woman to share a source of personal strength. As they begin to open up about their past experiences, full of disappointments and hopes, one of the women types their words onto a laptop connected to a projector. A good song "tells the truth, paints a picture and tells a story", Moser says. And as the women speak, the elements of a song begin to appear on the wall. A red-haired young woman named Tristan says she finds strength, ironically enough, in reflecting on the experiences that led her to the present moment. "My strength is walking through the door of this beautiful mansion. My hope is what I'm striving for," she says. Moser's eyes light up. She highlights Tristan's words, which will eventually become the refrain for the song: "My strength / Is walking through this door / My hope / Is what I'm striving for."

As the women share their stories around the room, it becomes apparent that one song will not fix their broken families, illnesses and criminal records. Jessica, a mother of three boys with another baby on the way, has just arrived to Emerson House. "To be honest, I don't have a strength right now," she says. Instead, Moser asks her to share how she really feels. "I don't want to reveal it. I don't want to deal. 'Cuz I know I have to heal," Jessica rhymes, drawing smiles and high-fives from the women around her. After selecting promising lyrics, the women pick out a beat in Garage Band and recording the chorus as a group, the women then add layers of tambourine and soft guitar licks.

"Songwriting is like a pizza. The crust is the drums, then we throw on the cheese and toppings on to see if it works," Moser says. "Just like recovery, making music is all about choices."

-----
Written & compiled by
Johanna J. Bodde
- September 23rd, 2013.
=====