Introduction:

Multiple award winning East Coast blues guitarist John Campbelljohn just has released his twelfth album!

A master slide guitarist and songwriter, Campbelljohn hails from Cape Breton Island, Nova Scotia, and over the course of his four decade-long career has won or been nominated for countless music awards, including Maple Blues Awards, East Coast Music Awards, Real Blues Awards, Music Nova Scotia Entertainer Of The Year, Blues Recording Of The Year & Musician Of The Year.

His newest release 'Chin Up' features twelve original tracks covering a myriad of topics and sub-genres all highlighting Campbelljohn's prowess as a guitarist and vocalist. He proves with each song why Blues Revue Magazine deemed him a 'guitar-god-in-the-making'.

During his career John Campbelljohn has been featured on recordings and live shows that include names like Sting, Joni Mitchell, Emmylou Harris, Leonard Cohen, Joe Ely, Willie Nelson, Robben Ford and Alvin Lee (Ten Years After) as well as TV productions by Sony Music Entertainment. Rich vocals and distinctive slide guitar playing has made him a favorite at music festivals in Eastern Canada & Europe.
John Campbelljohn's sophisticated and progressive approach to song writing gives him a distinctive edge, mixing rock, blues, reggae, Celtic & country into his signature style.
John Campbelljohn's BIO:

Many artists have their specialties - some cut great records but need support to realize their studio sounds in a live setting while others are born performers who never quite translate to records as well as they do live. Rarely do you find an artist who excels at both. John Campbelljohn does. In each of his many forms.

In his solo, acoustic blues performances he makes the most of the song. Campbelljohn soulfully commands the stage with rich vocals, while his powerfully prolific technique on guitar or trusty dobro lap steel further embellishes each composition. His power trio ups the ante with an electric sound that can pummel an audience into submission or captivate them with the subtleties of ace musicians driven solely by the love of their craft.

A tight rhythm section fronted by Campbelljohn's distinctive prowess on slide guitar quickly demonstrates that, although John's a Cape Bretoner, he's been cut from a plaid of a very different color. Power blues that touch on rock, reggae and roots with a few overtones of pure country - these are John Campbelljohn's stock and trade. He's also added the wondrous sounds of the pedal steel to his live band shows to haunting effect. The overall quality of the musicianship, the energy of his delivery and the guaranteed good times that spring from the band's performances are proof of the pudding.

Acoustically, John combines the influences of such diverse players as Fred McDowell, Ry Cooder and John Hammond while his electric shows earmark everyone from Sonny Landreth to Johnny Winter, Eric Clapton to Duane Allman. A simple listen to any of his CD releases tell the tale that John Campbelljohn - solo or otherwise - is a born performer and a credit to his accomplishments. His is a sophisticated, well-informed and progressive definition of the blues and his distinctive edge has been applauded from Sydney to Stuttgart.


--
As many a mainlander will tell you, if you want to make a success of yourself, you have to do it away. Unless, of course, you're a Caper and your heart and soul are inextricably tied to the land for reasons that no outlander could ever comprehend. Despite the fact that Cape Breton is a hotbed of traditional Celtic music with its high energy fiddle playing and step dancing, John Campbelljohn focused his energies in other directions. Learning his first guitar chords at age fourteen from his steel-working Dad, Chas, it was hearing the first strains of Duane Allman's "Statesboro Blues" at a high school dance that set him on a course from which there was no return. Learning slide guitar became Campbelljohn's sole obsession. Step dancing could wait.

He, in truth, had been spoken to by the blues and he responded in kind, injecting his music with the same sense of frenetic energy, raw emotionalism and pile-driving rhythms that fire the regions rich legacy of Celtic fare. Musically, Campbelljohn covers a lot of ground - his is an eclectic grasp of the blues grounded in the subtleties of Fred McDowell, Son House and Earl Hooker, yet channeled through a stylistic bisque that name-checks the mastery of Sonny Landreth, Duane Allman and Johnny Winter. Depending on the muse, he can veer off into territory that embraces reggae, roots rock and (with the help of his pedal steel) pure country. Yet the core of his sound is a sophisticated, well-informed and progressive definition of the blues. He may follow a slightly different path than that taken by his tartan-clad brethren but the 'guts' inherent in the Cape Breton sound remain true-to-form and Campbelljohn's unique calling card no matter where his travels take him, the distinctiveness of his sound has been applauded and appreciated.

John released his debut in '93 and, as his originality begged immediate attention, with accolades pouring in across the next releases: Blues Artist of the Year, Guitarist of the Year, Slide Guitarist of the Year. Regular nominations and a mantle-full of awards - as well as constant recognition and critical praise for both his recordings and his live performances - keep him in the limelight and feed his soul but, in true Maritime tradition, he prefers to further refine his craft in a self-driven quest for perfectionism that comes with the territory. Not content to be revered for the originality of his songwriting, his celebrated slide skills, his cut-to-measure vocals and his fan-friendly stage prowess, Campbelljohn can now add pedal steel guitar to his already sizable arsenal. At the same time, he is amping up his home recording capabilities to lay down his more adventurous ideas at his convenience as well as offer help to up-and-coming talent in search of hands-on direction.

John Campbelljohn is an exceptional blues musician with great instincts, tastefully concise solos and a no-nonsense approach to giving his fans the good times they not only deserve - but have come to expect. John Campbelljohn is one nose-to-the-grindstone artist who is rarely satisfied with doing his absolute best and it is this very drive and ambition which keeps him in the foreground.
John Campbelljohn: front man, sideman, consummate showman, proud Cape Bretoner, Canadian bluesman. He's redefined success at home and away. And -thankfully- there's still no sign of his step dancing.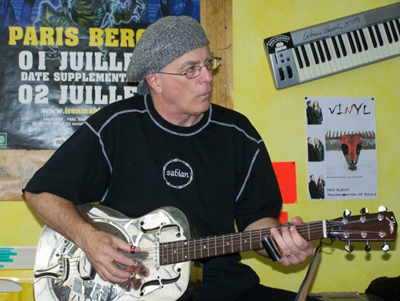 John Campbelljohn's ALBUM
:

Although John plays slide guitar (an instrument I love dearly) and lives on Cape Breton Island (an area I love dearly), I just knew his name vaguely and I have to admit that this is the first time I'm listening to him! There's too much music in the world for a person to enjoy in one lifetime, that's for sure.

1. "The Mumble Boogie": A fast and funny up-beat opener. I notice that John likes to co-write, almost all the credits of his originals share one or two names. This is a swing boogie indeed, with a full band: upright bass (Ronald Hynes), drums (Neil Robertson) and keyboards (Robert Campbell). John himself plays his slide guitar, of course.

2. "I Got It All": This is basically a country two-step! Who said something in the bio about line-dancing? Somewhat slower, with more fine guitar and I do like the driving rhythm, I was just joking before!

3. "Meet My Maker": The lyrics get more serious here, entering the stripped down gospel country blues mode, with some fine background vocals. Especially one lady's voice is standing out while John lays down a rather mind blowing solo in the meantime. Definitely a favorite! The background singers for this album are listed as Martha Mae Campbell, Megan Baxendale and Stan Carew.

4. "The Poor Man Pays": The background singers are back, Pat Riley plays electric bass guitar and John Sayre keyboards on this fine swamprock track. I hear that John was inspired by slide guitar god Sonny Landreth in his playing and that's not so strange, in light of the strong Acadian connection between Nova Scotia and Louisiana. Funky blues riff, wow! "The rich get richer and the poor man pays". Truth.

5. "Castaway": A classic heavy blues rocker with a basic talking repetitive riff. Also Ronald Hynes plays great electric bass lines now.

6. "Attitude": The last in this trio of blues rock tracks. Speak singing with lots of attitude (indeed) from John, over a rhythmic background and of course some very nice soloing.

7. "How Stupid Is That": A very different folk sound, although the melody leans more towards a traditional country ballad. A delicate acoustic resonator guitar and gorgeous piano work by Robert Campbell. John has a good sense of humor, which shows in most of his lyrics.

8. "Stop Making Excuses": Back to pithier sounds with articulate stinging riffs on the electric guitar. John's delivery is confident, he sings just as easy with a full rocking band as with a few acoustic instruments. A fine catchy track.

9. "Sally In The Alley": The disc continues in the same driving blues rock vain, but I'm not too crazy about these lyrics. A little more compassion, please, with Sally, who is back on the wrong side of town? Luckily the guitar work makes up for a lot!

10. "Fantastico Supremo": The background vocals for this very energetic rollicking track were recorded in a hotel room in Brescia, Italy. Sonny Landreth's zydeco sounds are back here! Uptempo, upbeat with lots of Italian sounding nonsense lines, swinging like there's no tomorrow! Give me some more slide guitar, please...

11. "Good Morning Mr. Blue Sky": A light happy-go-lucky fun Spring song, with a sunny reggae groove. The slide guitar, keyboards and Pat Riley's electric bass are being accompanied by the fine female chorus and David Myles guests for a trumpet part. The type of catchy track that has you humming along right away.

12. "She's Gone - My Little Love Song": This simple plaintive acoustic folk track wraps up the album. The resonator guitar is back, with some fine rhythm and backing vocals by the ladies. A nice ending.


-----
Is there such a thing as 'happy blues'? That might be a good fitting label for John Campbelljohn's music, recorded for this album in his home studio in Cole Harbour, Nova Scotia. He's not Sonny Landreth, there can only be one slide guitar god after all, but I had a great time with this entertaining record! Especially the guitar parts, acoustic as well as electric, are dynamic and exciting, showcasing all the different styles John has been developing over his long career. He knows how to compose a good song, the large number of influences from country, folk, even boogie woogie, reggae and sometimes plain fun on his blues is very attractive and adds to the variety. So, yes, I would say there is 'Happy John Campbelljohn Blues'!
-----
Written & compiled by Johanna J. Bodde - March 12th, 2015.
=====