The long awaited new album by JimBo Trout and the Fishpeople is meant to provide the listener with 'a happy hour of the mind'. That's right - expert musicians evoke diverse musical settings such as rural pastures and train stations and whisky rivers that will provoke an easy feeling in the brain.

JimBo Trout and the Fishpeople are a high energy, good-time band that has been together, playing fun music in and around San Francisco and the world, since 1992. They perform a musical gumbo made up of bluegrass, ragtime, blues, jug-band, western-swing, Appalachian, early rock&roll, New Orleans jazz, honky-tonk, klezmer and more. But they are not a band that would let tradition stand in the way of a good time! They are known for their entertaining, energetic and danceable live shows. Fun for all ages, they play at restaurants, nightclubs, cafes, weddings, dances, festivals, street fairs, retirement homes, and children's parties. The band has performed at many top clubs and festivals, including Hardly Strictly Bluegrass (2005), The Great American Music Hall, The Independent, Slim's, Bottom of the Hill, and the San Francisco Bluegrass & Old-Time Festival (eight years in a row). JimBo Trout and the Fish People have opened for Dr. John, Johnny Winter, The Freighthoppers, Wayne Hancock, The Gourds, Hot Club of Cowtown, The Squirrel Nut Zippers, Cake, Calexico, Doo Rag, The Iguanas, Riders In the Sky, Drew Emmitt, Dale Watson, Jeff Buckley and Southern Culture on the Skids, among others.
---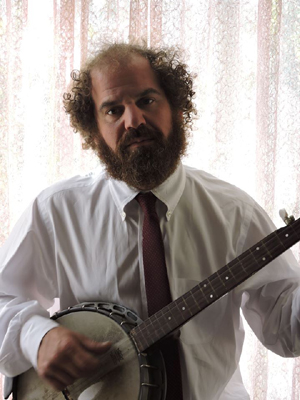 'A Happy Hour Of The Mind' is their fifth release. JimBo and the gang are pulling out all the stops. Yes, his name really is JimBo Trout! The only thing you can do, is get even more creative with a band name... I met JimBo in Amsterdam, Fall of 1998, when he roadied and sold merchandise for Russ Tolman's 2 Car Garage Band. It was a crazy night, Russ even went missing for a few hours and around 2 am we ended up searching the rainy streets! I didn't know JimBo was a musician in his own right until later, when the booking agent slipped me a cassette 'Now! with Staying Power' for airplay. During one of my stays in San Francisco I went to see JimBo play, but it turned out he was replaced for reasons unknown, by another act at the last moment. We never lost touch over the years and he did send me two CDs: 'Hillbilly Bebop-Boogie' (2008) and 'Jam Along With JimBo' (2012).

The new album is even better and scores higher on the fun scale (is that possible?), I just love this music! A first-rate fusion of bluegrass, blues, traditional folk and '20s-era jazz - thanks to the fine clarinet, saxophone, trombone, etc. The playing is excellent, period. If you haven't heard JimBo sing before, it might take you half a song to get used to his 'gravelly twang', as another writer described it and then he sounds just like your new good friend! This album makes me think of my late friend the legendary Jimmy Adams, who had a somewhat similar voice and gathered many talented friends to play on his recordings; he did more originals, that's the only difference. I like this choice of traditionals and other covers, JimBo's arrangements are spot-on fitting every track to the T. My own favorite is the "Hesitation Blues". Highly recommended if you like old-time music and bluegrass: a must-have, it will brighten your day and many days to come!

"They combine Appalachian bluegrass with Louisiana swamp music, Cajun, zydeco, Dixieland, ragtime and street-corner jug band. JimBo Trout's music has a sort of jug band feel to it. It's good-time music, filled with funky acoustic guitar, jangly banjo, mandolin, fiddle and an assortment of junkyard percussion. Jimbo Trout himself has a sort of white-boy blues voice, bringing to mind the late Bob 'The Bear' Hite of Canned Heat: full, drawling and with a touch of humor." (Tom Wegner, Twang Cafe at Epic Arts).
-----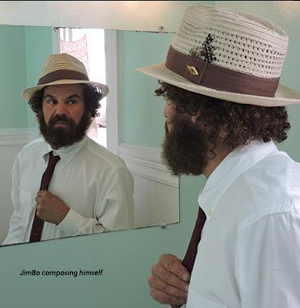 The
SONGS
:

1. "Alabama Jubilee": The opening track sets the mood for the album. This ragtime classic features triple fiddles (played by Annie Staninec, Paul Shelasky, and Leif Karlstrom) and some ripping clarinet by Greg Laakso.

2. "Roscoe": This old-time fiddle tune features Annie and Paul on twin fiddles with JimBo Trout on the banjo.

3. "Sally Goodin": We had a good time recording this western-swing classic that features some ripping fiddle by Annie Staninec, chugging guitar by Mitch Polzak, some beautiful steel guitar work by David Phillips, and the jaw harp stylings of David Murray. We all ganged up on the chorus.

4. "In The Evening (When The Sun Goes Down)": Taking you back to blues and jug-band days with this old song by Leroy Carr. This track features the bluesy sounds of Paul Shelasky on the fiddle and Eric Thompson on the National mandolin along with JimBo on the harmonica.

5. "Lulu's Back In Town": We pulled out all the stops for this jazzy number. The song kicks off with Greg Laakso's clarinet and Carl Prescott's trumpet alongside JimBo's guitar and the piano stylings of Kevin Gerzevitz. The triple fiddles of Annie, Paul and Leif take over the bridge and David Phillips rounds out the first head. Check out the solos by Greg, Kevin and Leif and some fine harmony vocals by David and Steve.

6. "Katy Hill": This fiddle tune is sometimes known as Sally Ann Johnson. This track is all about Leif Karlstrom on the fiddle!

7. "Mountain Dew": Yeehaw! This song kicks off with the churchy sounds of David Phillips' steel guitar. And pretty soon the band kicks in with some hot guitar by Mitch Polzak, banjo picking by JimBo and some hoe-down style fiddling by Annie Staninec. The whole gang sings the choruses.

8. "Bye Bye Blues": An early jazz classic features JimBo's harmonica work with solos by David Phillips on the dobro and Leif Karlstrom on the fiddle, all punctuated by Carl Prescott's pocket trumpet and Steve Neil's slap bass.

9. "The Train That Carried My Girl From Town": Frank Hutchison was the old-time guitar player from West Virginia that wrote this song, also made popular by Doc Watson. It's performed here as a trio with Annie Staninec on fiddle, Mitch Polzak on acoustic guitar and JimBo on banjo and vocals.

10. "I Heard That Lonesome Whistle": A ballad by Hank Williams and Jimmie Davis. This song features the plaintive mandolin strumming of Eric Thompson along with solos by David Phillips on steel guitar and Leif Karlstrom on fiddle.

11. "Hesitation Blues": An early ragtime-era blues tune, the Fishpeople give it a Louisiana feel featuring Kevin Gerzevitz's bluesy accordion, working with Greg Laakso on clarinet and Carl Prescott on trumpet. Steve Neil sings the harmony.

12. "Milk Cow Blues": The Fishpeople do a Milk Cow Blues that pays tribute to the versions of Rose Maddox and Bob & Billy Jack Wills. The song starts off with triple fiddles by Paul Shelasky, Annie Staninec, and Leif Karlstrom. The first verse is followed by an Eric Thompson mandolin solo. Later solos are by David Phillips on steel guitar and Carl Prescott on trombone.

13. "Big Possum Waltz": This is an original tune by JimBo Trout who also provides the harmonica lead. There is also a fiddle solo by Leif Karlstrom and strong support by David Phillips on steel guitar and Steve Neil on bass.
14. "St. James Infirmary Blues": This old New Orleans funeral march is given a mambo groove by JimBo and the band. There is some fine piano work by Kevin Gerzevitz, some theremin-like steel guitar sounds by David Phillips and some mad solos by Leif Karlstrom on fiddle and Greg Laakso on the tenor saxophone.
-----