The cover art shows us Jesse Stone in some great modern day James Dean type of poses. Only that cigarette worries me a little... Jesse is a Canadian singer-songwriter and alternative roots musician, who currently lives in Manhattan, New York. He read the piece on fellow Canadian Suzanne Jarvie elsewhere on this page and found her story to be inspiring. Then he made the good decision to write me an E-mail about his own freshly released album 'Break Of Day'! It is his first full-length studio album and includes the single "Don't Change".

As we always do, when we get to know a new artist, let's take a look at his BIO:
With tattered vocals and acoustic songwriting, Jesse Stone's music is raw and introspective, rooted in innocence, soiled with experience. His main influences are singer-songwriters and poet rockers such as Lou Reed and Bruce Springsteen.
Jesse began songwriting while in high school after off-handedly writing a pop-folk song with his brother. Dubbed simply, Zach & Jesse, they collaborated for several years, writing and recording songs at a high rate. The duo was recognized by Montreal radio host Terry Dimonte and was invited to perform on his radio show in Calgary and at the Mountain View Music Festival. That same summer, the two brothers were invited to perform for the Songwriters Festival On Music Row in Nashville, Tennessee. After their short tour, they returned to Montreal to start the band Stereo Hotbox. The group performed regularly, was a finalist in Montreal's annual 'Battle Of The Bands' and recorded a four-track EP.

In college, Jesse took poetry courses and found a mentor in one of his teachers, Larry Weller. Weller taught him several approaches to writing and interpreting literature. He referenced work by Romantic Era poets such as Blake & Wordsworth, whose themes became integral in Stone's songs.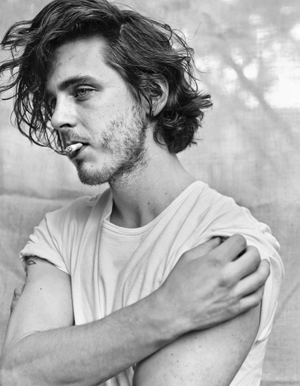 Jesse moved to the city and performed regularly in the open-mic circuit and occasional gigs, continuing to craft new material and honing his skills as a solo performer. He was a finalist in Daniel Weaver's 'Great Canadian Song Search' and was invited to perform in Toronto as a result of the contest. Stone also founded an open-mic at Montreal's Bull Pub, which became his central performance hub and hosted hundreds of musicians both native and foreign to the city.

Eventually, Stone set to work with his new band, The Creatchers. Taking the reigns as front man, guitarist and wordsmith, Stone's prolific songwriting offered no shortage of material. Though never recording, the band was known for its large volume of original material and lively performances.

Stone enrolled into TREBAS institute to study Music Business Administration in 2010. At TREBAS, he wrote a business plan for 'Bandstand', a fundraiser and music showcase. Upon graduating in 2013, Jesse founded the company, Hot Soupe, to produce the event. Showcasing 15 local bands over a three-night stand at Montreal's Lion D'Or and raising thousands of dollars for the Montreal Children's Hospital, 'Bandstand' was an overwhelming success.

As a result of the event, Stone befriended producer Dave Sturton, an affiliate of Sennheiser Canada. He was invited by Sturton to perform at Sennheiser's underground artist showcase. It gave Stone the opportunity to perform with a professional band that included R&B recording artist Slim Williams and producer Rick Haworth. The event resulted in Stones' first music video. That same summer, Sturton also invited Jesse to perform at the Montreal Jewish General Hospital's Jazz Festival and Owl's Head Ski Lodge music showcase in the Eastern Townships.

Stone followed suit by drawing up plans for a record. He spared no council for the endeavor, partnering with producer Dave Carmichael and producer / bassist Alec McElcheran. Mountain City Studio owner Joseph Donovan was enlisted as sound engineer and Dave Sturton was brought in to mix. During pre-production, Jesse met Josh Trager, a member of the Canadian group, Sam Roberts Band. Stone recruited Trager to play drums on the album. From his current band, Jesse brought in Quebec City-native Chad Tuppert to play electric guitar. An assortment of other local players would also perform on the record, including Stone's brother and sister.

Production for the record took nearly a year and a half. 'Break Of Day' was mixed by Dave Sturton in Montreal and mastered in Brooklyn with Kevin Blackler. Upon completion, Jesse moved to New York City where he was featured at the historical venue, The Bitter End for Larry Oakes's NY Songwriter Sessions.
-----
The
album
:

Jesse himself wrote: "I call it an alternative roots record, as I think the album is somewhat of a mixed bag musically. My aunt Sue always told me that I have a heart of country and I hope that shines through." Yes, it does!

The album title 'Break Of Day', Jesse disclosed to Nathan Navidzadeh (New York City Insider), sparks from the William Blake poem "Hear the Voice". He told Nathan that to him it represents a new morning, making it through the night and returning with a story to tell. The sequencing for this release was clearly important, Nathan asked Jesse about it. He told him that he was actually inspired by several 10-track records by singer-songwriter Josh Rouse. "2 sides. 5 and 5. They swell up to the high-tempo centre 3rds, nose dive into ballad 4ths and send you on your way with pick up 5ths." (More smart quotes from Nathan in the track descriptions.)

1. "Love On The Charles Bridge": The drummer kicks off, Jesse shouts the song title and then the band goes to town! Pulling us along in the raw and strong altcountry sound. Creating the same kind of excitement as when I first heard Steve Earle on his LP 'Guitar Town'. And now we're talking about the Earles anyway: the female harmony vocal even resembles Steve's sister Stacey, when she sang harmony on "Promise You Anything" from 'The Hard Way'.

2. "Promises": An uptempo upbeat intro with soulful trumpet, trombone and tenor saxophone. I also notice the fine piano playing again. "Promises don't put food on your plate", that's a reality check. I'm thinking Southside Johnny and his Asbury Jukes now! This is the only cover on the record, Nathan knows more: "Written by his father, "Promises" is Jesse Stone's homage to his pa. I had the opportunity to speak with him about the album, in regards to "Promises," he told me that working with a horn section for the first time was nerve wrecking and exciting."

3. "Fisherman": I love that banjo, holding its own - competing with a very confident electric guitar in the full band. Jesse plays harmonica too. Halfway it seems like the song is done, but it starts all over again and the swaying almost shanty-like chorus will invite everybody to sing (or at least hum) along. Nathan tells: "Jesse Stone's sister contributed harmonies to one of my favorite tracks, the hard-ridden, ode to a fish-out-of-water, "Fisherman". This song was originally recorded as a demo a year prior and was refined with collaborative efforts to yield this pop-filled punch of emotions. Jesse revealed to me that it's the sole 'Franken-song' on the record and that he's glad it made the cut." Ah, see? Jesse also sings with his sister!

4. "Don't Come Around": A beautiful dark ballad. Nathan: "This is a portrayal of unrequited love, have a look at the music video which elegantly portrays this theme."
5.
"Don't Change"
: Another song that will stay on your very own musical hard drive in your head. Such a beautiful arrangement... This is the first single of the album. Nathan: "The confidence gained from implementing the horns into "Promises" led to a last minute touch of trumpet on "Don't Change." The full-spirited, spaghetti-western (as his producer Alec McElcheran describes it)
is a defiant story of a lone protestor's refusal to compromise. I'm not sure if the protester is actually just a loony hobo on the city sidewalk, but I think that's the point. The song starts off real smooth and crescendos to a valiant climax."

6. "Vampires": A rather simple acoustic track with fiddle, then culminating in a beautiful part where the angelic lady sings gorgeously in the background, balancing Jesse's observant lyrics, beware: "In this house we're not alone..." Nathan: "A song that seems to explores the fluctuating energy in life, where bad deeds may swing you strongly in a direction but a new morning can swing it back."

7. "Fortress": A catchy cheerful pop song. Nathan tells: "When I asked Stone to talk to me about his lyrical intent with this song he whimsically told me I'd have to interpret that on my own. I thought I had it figured out but I am now questioning the head space I was in when I first heard it. My initial interpretation steered me towards a feeling of celebration: reaching the girl's fortress around her heart, a heart that is difficult to satisfy, and Stone 'burning down the draw bridge,' perhaps symbolizing his marriage, as the fortress is now only for them. Cute right? As I listened more carefully, and my whole interpretation took a darker turn as the words began to conjure dark visions of betrayal. A damsel trapped in a fortress with no draw bridge. I guess it depends on my mood, or maybe I'm insane. Regardless, the subtleties in the lyrics call for attention."
8.
"Life Lonely Road"
: I absolutely love this track! My favorite. Two brothers singing a duet - this is an instant classic. Acadian flavored, with tasteful fiddle playing on a solid rhythmic base and there's my darling brave banjo again, played by Guy Donis. Yes, life is a lonesome road, but that's not so bad with this music playing on the headphones. Nathan: "
Jesse also told me he had intended to share lead vocals in at least one song with his brother Zach, his long-time music partner. He wrote this duet - with that in mind. It showcases their grace and the fun they have singing together with a back-and-forth vocal-exchange. Zach works overtime having to switch between melody and harmony duty, which fuels the excitement and leads to the type of hoedown you can only expect from a pair of musically-inclined siblings."

9. "The Letter": A lovely arranged ballad, building up nicely: "Let the pages burn... Let it burn!" Makes me think for a moment of Adam Snyder's "Ghost Town".

10. "Don't Apologize": A fun track to close off. Nathan explains: "The final track could've been called "Credits" Jesse said, and while it doesn't exactly list off the players on the record, it does list off the many players with which he's performed in the past that have become good friends of his and have helped shape him and his music."
--

I think I have found our next young altcountry star! Jesse Stone obviously poured his heart and soul into this brilliantly sung and played album, which sounds fresh and spontaneous like it was recorded live in the studio. I like his very nice, slightly hoarse (cigarettes?) voice and the way he shares his emotions, without getting overboard but keeping it recognizable, as we are all in the same crazy world and we all want some love, friendship and security, don't we?

-----
Written & compiled by Johanna J. Bodde - January 16th, 2015.
=====