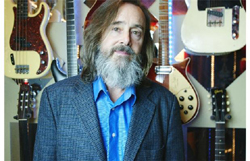 Jay Semko was born and raised in Saskatchewan, spending much of his first eleven years living on a farm. After moving to Saskatoon in Grade 7, Jay began honing his skills as a guitarist and bassist, playing in numerous rock bands through his high school years. After a year at the University of Saskatchewan, and after stints in a number of bands in and around Saskatoon, Jay formed The Northern Pikes in 1983, a guitar based pop rock group featuring twangy, atmospheric guitars and unique three part harmonies, with Bryan Potvin, Merl Bryck and Don Schmid. After releasing two independent albums which charted highly on College and Indie playlists in Canada and the USA, the Pikes signed an international record contract with Virgin Records, touring across North America and the band's career went to another level.
The Northern Pikes had a number of Canadian hit singles, including "Teenland", "Things I Do for Money", "Wait For Me", "Hopes Go Astray", "She Ain't Pretty", "Girl With A Problem", "Kiss Me You Fool", "Twister" and "Believe". Two of these, "Things I Do for Money" and "She Ain't Pretty", appeared in the USA Billboard Charts and many of the band's videos charted in the top five on MuchMusic, including "Girl With A Problem" - which made its way to number one. As a member of The Northern Pikes, Jay Semko has eight Juno Award nominations, four gold records and one platinum record with sales of over 1 million units worldwide. He has also received two Canadian Music Publishers Association Awards for "Teenland" and "Girl With A Problem". In 2012, The Northern Pikes were inducted into the Western Canadian Music Hall of Fame in Regina, Saskatchewan.
--
Currently, Jay Semko's core focus is his solo career.
Jay has released ten solo albums, firmly establishing him as one of Canada's premiere songwriters. In 2011 Jay was nominated as Songwriter of the Year in the Western Canadian Music Awards for "Before You Leave Canada"; in 2012 he won the SCMA Award for Roots Album of the Year ("Force of Horses") and he was nominated in the Best Solo Roots Recording category for "Sending Love" in the Western Canadian Music Awards.

Jay is an accomplished voice-over artist and a full ACTRA member, with his voice being heard on radio and television advertisements, public service announcements, documentaries, and dramas. He has also instructed songwriting courses and hosted songwriting workshops and seminars through the University of Saskatchewan, Songwriters Association of Canada, SOCAN and private clients. Jay has also co-written with many other well-known songwriters in Canada and the USA, and continues to do so regularly.

Aside from The Northern Pikes and his solo career, Semko is also an international award winning music composer for numerous film and TV productions including the hit TV show 'Due South' and for such films as 'Trailer Park Boys - The Movie' (2006), 'Men With Brooms' (2002) and 'Being Erica' (2009). He has won the MMPIA Blizzard and SMPIA awards for Best Music Score as music composer for the movie, 'Paris Or Somewhere' (1994).

Jay's songs, film and television scores, and legendary live performances continue to garner him international recognition as one of Canada's most prolific musical talents.
Jay's favorite films: 'Mrs. Miniver', 'The Fantastic Mr. Fox', 'True Grit' (both versions).
Jay's favorite music: Gordon Lightfoot, Chopin, Bach, Beethoven, all Glenn Gould recordings, Jackson Browne, Gram Parsons.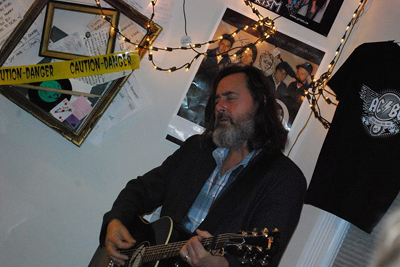 Jay Semko's newest, tenth solo-album, 'Flora Vista', is a rootsy, melodic, guitar based musical road trip through love, loss, spirituality, addiction and recovery - he continues to tour, and his solo acoustic concerts are legendary for their laughter, tears, sheer love of music and indeed, life.

"My new album, 'Flora Vista', has truly been a labor of love for me. Some albums happen in days, others in years - 'Flora Vista' was recorded over the course of over a year, although many of the songs on the album were recorded mainly 'live off the floor' with my pal Randy Woods engineering and co-producing at his studio in Saskatoon. All of the songs on this album were written on the acoustic guitar… either my Gibson J-45 or my Washburn R320. Seven of the songs were written solely by myself, and three were co-written with close friends. It always takes a while for me, after completing a new album, to sink in to where my head and heart were really at when I wrote or co-wrote the songs, and where I was at when I actually recorded the songs. I've been very fortunate when recording every one of my albums to work with so many talented musicians, recording engineers, and producers, which allows me to express myself as honestly as I can, and working with Randy Woods on 'Flora Vista' fit perfectly. One thing I've learned over the past few years is to trust my gut instinct (intuition) more, and recognize when my subconscious is trying to tell me something… so… that's what I did with 'Flora Vista'.

Love… loss… spirituality… addiction… recovery… and back to love… the circle… the goldfish swimming in the brain, the bliss, the tears, the day to day to day combined with the 'is this really happening to me' for good or bad, the craving… bigtime craving, beyond anything imaginable… the love - deep, real, swimming with the goldfish and swimming through the bloodstream… at the ocean, the desert, the wheat fields, the bedroom, behind the wheel and behind the darkness… of God, of your soulmate, of your children, your home, your universe… hold up the palms of your hands to the sky… love."

Recorded in Saskatoon at Randy Woods Studios. Jay wanted to record close to home and chose Randy's Saskatoon studio. They've collaborated on music projects before and are friends. "It was a very homey record," Jay Semko says.
Mastered in Nashville at FivePoints Mastering.
Musicians:
Jay Semko (vocals, acoustic & electric guitars, bass, keyboards, percussion
Randy Woods (electric guitar, mandolin, pedal steel, keyboards, bass, vocals)
Mike Pierce (drums); Diane Woods and Leslie Stanwyck (vocals)
Warren Rutherford (pedal steel)
Jeff Assman (keyboards).

1. "Ocean In Your Eyes": Co-written with Randy Woods. I have a couple of Jay's earlier solo-albums, but it's been a while since I listened to him. This is a very nice, relaxed folk rock song. I do understand why some people compare him to Jackson Browne, the music has a similar vibe. Cool keyboards and sweet female harmony vocals.

2. "Clean": Impressive intro on acoustic guitar. Deeply personal lyrics: "It's been a few years now since I left the darkness / It still comes back to visit once in a while". By now the band has joined in, pedal steel is of course the instrument of choice to underline words like these. Too bad, the album doesn't have a lyrics booklet. Fine punctuation by the mandolin. Jay is a winner in the end, good for him!

3.

"Flora Vista": The exquisite title track. Evokes the vibe of a region of Southern California where several of the songs were written. Jay played this song live on his old Washburn guitar. "I'd never done that on a record, when it's completely live from beginning to end." I see, how he can keep an audience spell-bound for a full evening, just singing and playing his acoustic guitar.

4. "Let The Love In": The full band is back. An intriguing encounter with a ghost almost right at the beginning... Why not? Wonderful electric guitar solos, reflecting the atmospheric desert sound. This could easily be part of a movie soundtrack, for one of Jay's other fun jobs.

5. "Divide And Conquer": Many of these songs were written during times of tumult and change in Jay Semko's life, namely divorce and rehab. Divorce no doubt influenced this song. Rhythm, a female choir and flowing keyboards... "You just won this war / I put up my white flag / Now I'm walking out the door."

6.

"Junkie Pride"

: Jay started writing this long (7m17s), raw and bluesy ballad while in rehab - he's been clean and sober for over eight years. The ominous evil sounding electric guitar duel halfway is just awesome... A very expressive as well as impressive track.

7. "Asleep In The Loving Arms Of God": Apparently Jay writes also religious / spiritual music. In 2009 he was a finalist in the Gospel / Inspirational Category of the internationally acclaimed John Lennon Songwriting Contest for "Jesus Is Gonna Help Me". He also was a finalist in the international Independent Music Awards Gospel Song category for "Drop You In The Water". This is a comforting, sweet and quiet song, re-assuring, very well sequenced after the heavy previous one.

8. "Only Sometimes": Co-written with Sherry Crawford and Dana Blayone. The pedal steel is back for this catchy country rocker. The duet vocal is sung by Leslie Stanwyck. I would say 'hit song potential', but I don't think Jay wants that at this point of his already successful career in music.

9. "Stand And Deliver": Co-written with Colli Christante. Bass intro, I love that. Rockabilly with frantic electric guitars! Jay brings this track just as convincing as all the other ones. Another hit song, if I may say so.

10. "Surrounded By Love": The expansive album-ender is a conquistador tale that resulted from a free-form writing session, just letting the ideas flow without self-editing. "I just let it go and this story came to mind. I sort of wanted to edit it, but it's a vibe and I'm 54 and I can do whatever I want," according to Jay. "If I want a song that's eight minutes long, so be it."
Jay says: "I had a guy tell me it was an album of redemption." There are thematic connections among these ten songs, but he wasn't necessarily going for a unified message. On the other hand, he does see it as an album. "That's what I grew up with and I love the fact that it's like a book; you have to have the chapters and it takes time and effort to have the sequencing of the songs to tell the story correctly."

Jay made a fine folkrock / altcountry album, with honest yet poetic lyrics, carried by beautiful arrangements. A good well-balanced mix of lighter upbeat tracks and emotional, heavy subjects that need to be addressed. It's a musical road trip indeed. From lovely beach towns to the dangers of the inner city, on to the dry desert and circling back. Place the disc on the tray of the CD-player, keep an open mind and enjoy!

I can't say this enough: Jay has also successfully escaped the demons of addiction and is enjoying life clean, sober and more productive than ever.
Interview
(from Music Life Magazine by Joel Naphin, 2015):

Joel: I want to, first of all, congratulate you on 30+ years of making music here in Canada. Between The Northern Pikes, your solo career and other projects, what pushed you to keep going for as long as you have and still to keep going?

Jay: Thanks Joel!!! I guess the thing is that I truly love music - there are a lot of challenging situations (and people) existing in the music biz, and entertainment biz for that matter, and it can get overwhelming - whenever I start to experience that kind of stuff, I take a pause and remind myself how amazing music is… music!!!!!!! When I take some time and listen to an incredible song by Dylan, or a piano piece by Chopin, or I just take a few minutes to strum my guitar without thinking about anything, it brings me back to… music, and how much it is a part of me. I feel very blessed to be alive and making music - I receive email messages from people all over the world who have been touched by my songs and my film & TV music - it's pretty cool, and it feels fantastic to know that something I've created is something that can affect people in such a positive way - it's very humbling, and often very emotional for me - I feel very, very grateful.

Joel: Do you pay attention to what is current and does that help you or discourage you in any way?

Jay: Yes I do pay attention to current music, although I can't say that I follow charts or that kind of thing. There is so much great music out there - age isn't a factor for me - I've worked with people many years older and many years younger than me, and when it comes to creativity and the arts, we're all the same age when it comes right down to it.

Joel: Who do you listen to musically?

Jay: I listen to everything - really - new, current pop, rock and country, and of course the classics of rock, pop, and country - lately deep into Bob Dylan, lots of instrumental new age and classical - when I'm driving, I'm listening… to everything - I flip around and listen to everything on the radio.

Joel: Last year you released your tenth solo album, 'Flora Vista', and you are currently doing a solo acoustic tour in support of your new album. Where are you going on this tour and how long are you touring for?

Jay: I'm going across Canada - first leg in BC on the West coast, second leg in Ontario, third leg currently booking in the prairies, etc. - I've never done a complete national tour with just me and my guitar - I'm having a blast singing, strumming, and literally conversing with the audiences - I've had some pretty interesting experiences on the road and in the studio over the years, and once I start talking, it's hard to shut me up!!!!

Joel: Is 'Flora Vista' released outside of Canada and do you have any plans to tour outside of Canada?

Jay: 'Flora Vista' is released worldwide through CD Baby and is available on all digital sales sites - I currently have no plans to tour outside of Canada, but interestingly, 'Flora Vista' is receiving some solid airplay on roots/acoustic shows at radio in Europe, Australia and the USA, so opportunities to tour outside of Canada may be happening soon.

Joel: I understand your shows have a mix of solo material and Northern Pikes material. Do you balance out your solo songs with Northern Pike songs? For fans who grew up on Northern Pikes, like myself, what can we expect to hear as far as the songs you perform?

Jay: On this acoustic tour I'm playing a real mix of material - of course a number of hit songs from The Northern Pikes, as well as songs from my solo albums, some film & TV music from 'Due South' and a few other surprises… I don't make a setlist - I just bring a list of about 60 or 70 songs and let it ride according to the vibe in the room every night.

Joel: Do the songs go over well acoustically with fans? Are the people coming out to your shows mostly older generation?

Jay: I've been getting a variety of people at the shows - obviously some Northern Pikes fans, some 'Due South' fans, some people who aren't even that aware of my past and who know me from my solo stuff - I had someone in Calgary tell me that they thought I had some pretty good potential… they knew me from 'Flora Vista' only - it was cool!!!!

Joel: I'm sure there is a lot of great history behind your music and your songs. Is there a lot of story-telling, like the history of certain songs, in your shows?

Jay: Oh yes - every song has a story, and I often tell them - that's a cool thing about getting a bit older…

Joel: The Northern Pikes were inducted into the Western Canadian Music Hall of Fame on September 30, 2012 in Regina, Saskatchewan and the band performed at the induction ceremony. Since then, Merl Bryck has left the band and The Northern Pikes is now a three-piece band. Was that the last time the four of you played together? Any plans to continue The Northern Pikes as far as touring goes or to record and release a follow-up to 'It's A Good Life' (2003)?

Jay: Merl joined Bryan, Don and myself last August (2014) when we played in our hometown of Saskatoon - he joined us for eight songs - I'm hoping the original four of us will do more together in the future. We've talked about the possibility of recording new material in the future - we'll see what happens.

Joel: You have written a lot of great songs over the years. Many songs have created great memories for many who grew up listening to your music, whether it was with The Northern Pikes or solo. Is there a song by any other artist that you wish YOU had written? And if so, why?

Jay: I love great songs, and there are so many great songs out there - I think my songwriting is getting better as I age - I've written some pretty good ones - I hope someday I can have a song or two in the league of Gordon Lightfoot's "Don Quixote" or Paul Simon's "Bridge Over Troubled Water"… I just want to keep on writing from my heart - that's what keeps me going.
-----

Let's close off with a cool quote. Jay says: "I simply have to keep making new music. The periods when I stopped doing that resulted in a lot of personal difficulties for me. Music is a big part of who I am and I have a deep desire and need to express myself."
-----
Written & compiled by Johanna J. Bodde - February 27th, 2015.
=====