Veendam, The Netherlands - August 9th, 2014
Pictures by Peter van Dijk (except the promo pics)
Original Dutch presskit by Bé Wever
On Saturday August 9th the second edition of BogBlues took place on the Museumplein. A festival (free admission) right in the center of Veendam. The rain stopped already around ten, the sun made some appearances, the wind wasn't too bad after all. The festival market was set up and shortly after noon the first band took the stage! Unfortunately, members of Bluesheat were bitten by the flu bug, so they sent worthy replacements to open the festival.

All bands played approx one hour, until 22h30 or probably slightly later. And everybody (a total of 1500 to 2000 people stopped by) left feeling very happy...
A little more info about the various acts:


The Mississippi Kings
A scorching slide guitar, a growling and ripping harmonica, even a washboard - The Mississippi Kings have it all! Founded early 2013 by five seasoned musicians with a great love for the blues. They are from Zuidlaren in the Northern part of the province Drenthe, an area with a long tradition of good bluesbands. Ronald Schoonveld (vocals, guitar), Steven Elings (harmonica), Jaap Fijma (washboard) Ton Töben (bass, vocals), Karstjan Kremer (drums) form a tight formation, that guarantees passionate music. Some of these players were in the BJ Hegen Bluesband for years. Their inspiration comes from Delta blues and Chicago blues (50's + 60's). They play, besides original compositions, music by Robert Johnson, Bukka White, Mississippi Fred McDowell and Robert Lee Burnside.


Low Budget Blues Band
Already nineteen years 'The Blues, the whole Blues and nothin' but the Blues' - as the four musicians in the Low Budget Blues Band from Assen (also in Drenthe) play together since 1995! Almost all blues styles come along in a mix of original work and LBBB interpretations of other blues songs. From low down and dirty blues riffs to the more sensitive heartstrings, everything is right there!


Ad van Meurs and the Wilhelmina Blues Band
A band, formed around legendary singer-songwriter and guitarist Ad van Meurs (also known as The Watchman). His son Dylan plays drums and Koos Cornelissen (The Flying Spiders) impresses on the leadguitar. According to rumors, he's originally from Groningen, but now he owns beautiful Café Wilhelmina in Eindhoven, where -indeed- this band often can be found on stage. They explore all facets of the blues and even some rock&roll!


Juke Joints
They are one of the most successful blues bands in The Netherlands, with their own blend of swing, rockabilly, rock'n'roll, bluesrock, Chicago blues and zydeco! The Juke Joints played festivals and clubs in Ireland, England, France, Sweden, Norway, Germany, Letvia, Poland, Switzerland, even in the U.S.A. and on the beautiful island Curaçao. Now it's a four hour drive from the province Zeeland to Veendam!
Down Jones
Also one of the longer existing bands, there were a few changes in personnel, but they keep playing and having fun! They are looking forward to record their second CD, as the material keeps piling up... They mix their originals with covers and don't mind the long drive all the way from the Zaanstreek.


Bluezofeel
This is a collective of three friends, who offer different styles: americana, blues, jazz, world and rock. Niko Christiansen plays soprano and tenor saxophone, but switches also to guitar and vocals, even to cabassa, cajon and other percussion instruments! He started out as the singer of Livin Blues and he still is... Joaquin Lorenzo, the guitarplayer, sings pop and latin ballads, but he also plays bass and harmonica if necessary. Marius Bos began his career as a bassist in the music scene of the Northern Netherlands. Later he made the accordion his main instrument and played in a wide variety of bands.


Bas Paardekooper and the Blew Crue
This band came to life in 2007. Frontman Bas heard "Hey Joe" by Jimi Hendrix when he was eleven years old and taught himself, encouraged by his parents, to play the guitar! He always knew that his future was in the bluesrock, but it took him a few years and a few bands until he could focus completely on the music that fits him best.


Jed Thomas
Headliner is the Jed Thomas Band from the UK! Jed comes from Yorkshire and plays the 'screaming slide blues' right from his heart. He considers the late great Rory Gallagher to be his 'teacher', but was also influenced by Jimi Hendrix. Since age 17 he played in a variety of bands and shared the stage with Buddy Guy, Nine Below Zero and Joe Bonamassa. Jed is joined by Max (drums), Paul (keyboards) and Nibs (bass) for sturdy bluesrock with long solos, sliding powerblues and also some bluesy ballads.
Last year his CD "It's About Bloody Time" was well received, one song on the disc is dedicated to Native American political activist Leonard Peltier, showing Jed's social awareness. The title of his brandnew CD is "Emerald Blue" - with a dedication to Rory Gallagher, no big surprise!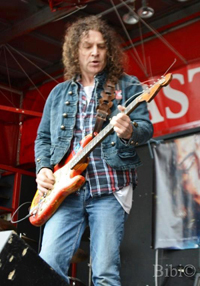 -----
Written / translated by Johanna J. Bodde, August 12th, 2014.
=====