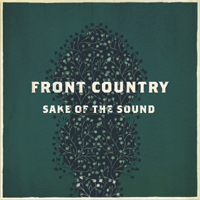 Front Country
'Sake Of The Sound'
(Self-Released, 2014)
www.frontcountryband.com

Front Country's BIO: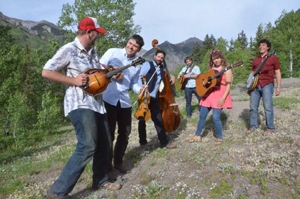 They call their music Progressive Bluegrass! Formed in 2011 as a collective of the Bay Area's finest young acoustic talent, Adam Roszkiewicz, Jacob Groopman, Jordan Klein, Leif Karlstrom, Melody Walker and Zach Sharpe joined forces to play a monthly gig with friends in San Francisco's Mission District. They quickly found a musical rapport that was open to challenging arrangements, unique covers and original songwriting. With a global span of interests and world-class talent, it's no wonder Front Country's bluegrass sounds like it was born in a new century. Melody Walker brought her award-winning songwriting to the table and her hall-shaking voice, which sounds like a mix between Bonnie Raitt and Natalie Maines. Mandolinist Adam Roszkiewicz was nominated for a Grammy in 2013 for his work with the Modern Mandolin Quartet on their album 'Americana' and is a composer of new acoustic instrumental music. The offspring of a concert violinist and a geology professor, fiddler Leif Karlstrom is an explosive mix of talent and precision, erupting like a bluegrass volcano. Banjo player Jordan Klein has been an asset to the Bay Area bluegrass scene for over ten years and can be found picking in the campground of many a festival till the wee hours. Starting out on electric bass in funk bands, Zach Sharpe plays upright bass on-stage, and picks a mean banjo off-stage. Jacob Groopman is the hardest working man in Front Country, acting as both lead guitarist and head cat-wrangler, while supplying sweet harmony vocals and spiritual guidance for a crew of six.

Since then they have continued to expand their repertoire and push the boundaries of bluegrass on the national scene. In 2012 they won the Rockygrass band competition in Colorado and followed up in 2013 with a win at Telluride becoming the third band in history to win both contests. Also in 2013 lead singer Melody Walker won the Chris Austin Songwriting competition at Merlefest. Along with guitarist and band mate Jacob Groopman, she released the magnificent duo album 'We Made It Home' in 2013. The years 2013 and 2014 has seen Front Country break onto the national scene with festival performances at Rockygrass, Old Settlers Music Festival, Wintergrass, Grass Valley Bluegrass Festival, Telluride,
Summergrass, IBMA's Wide Open Bluegrass Festival and many others along with headlining performances at the Great American Music Hall in San Francisco.
---

Their highly anticipated debut album 'Sake Of The Sound' was released in September 2014. Wanting to create something that pushed their sound even further, Front Country recruited renowned instrumentalist, composer and songwriter Kai Welch (Abigail Washburn, Bela Fleck) to produce the album. With Welch at the helm, Front Country were able to unite their many far-reaching musical influences and inspirations and do credit to their electrifying live show.

Chris Pandolfi of the Infamous Stringdusters says of the album: "Over the course of its rich but relatively short history, bluegrass has put down roots all over the world. As the music evolves, its various strains are becoming more and more identifiable by their place of origin, and the West Coast is no exception, continuing to carve out a unique but important place in the history books. With their first full album in hand, and a great one at that, Front Country are now a part of that story.

This talented young group of Bay Area up-and-comers are connected to the likes of Peter Rowan and Laurie Lewis, musicians who have made unique and quality music for years, cultivating a place for acoustic evolution on the West Coast. Like their predecessors, Front Country draw on the ever valuable lessons of bluegrass while making music that is distinctly their own. The instrumental work is subtle and strong all across the album, ranging from delicate chambergrass type textures to melodies reminiscent of the great innovator David Grisman, another West Coast legend. Melody's voice sits perfectly out front, making the music happen, bringing it to life. Along with producer Kai Welch, they take sonic chances throughout, but it's always in support of the song.

While the familiar tone of the fiddle and banjo draw you in, the material is what sets this band apart. 'Sake Of The Sound' is so much about the songs, both originals and covers, and arrangements that showcase the synergy of a true band effort. When musicians play and sing well together it magnifies the powers of music - that's the real magic. Add great material and the result is a very memorable debut album. As the album rolls along, Front Country establish a consistent musical identity despite lots of variation. Perhaps the best news of all is that amidst all this variation, the originals stand out as some of the strongest stuff, a promising and important sign for any emerging band.

Front Country have arrived, the latest acoustic ambassadors to emerge from the California coast. This first album will certainly serve them well, meeting all the technical criteria without getting lost in it, focusing instead on the substance of these great songs. They represent their roots well, both musical and geographical, but the door is clearly open to transcend both. With 'Sake Of The Song', Front Country are well on their way."

Woody Platt of The Steep Canyon Rangers says: "Bluegrass, Progressive Bluegrass, Newgrass, Americana, Folk-Pop… In today's music world it can be totally exhausting to try and put music in a box and deliver it under one clear, clean description. In this case, one thing is undeniable… this is darn fine music! Front Country's debut release 'Sake Of The Sound' features powerful and compelling lead vocals alongside intricate and highly skilled instrumental work. Aided by the fresh and creative perspective of producer, Kai Welch, the arrangements serve the depth and variety of songwriting and keep you excited to hear what the next tune will bring. Front Country's willingness to stretch the bluegrass boundary while maintaining the acoustic integrity of the music will solidify them as one of the top new bands on the acoustic / bluegrass scene. This record can be devoured not only by Bluegrass music fans but also by the larger world of music lovers. Expect great things from this talented group of musicians!"

Six powerhouse roots musicians at the top of their game may be a lot to wrangle, but Front Country has pulled off an album that not only showcases each artist, but also has something new to say about what American roots music can mean today. It's no small feat, but they do it for the sake of the sound!
---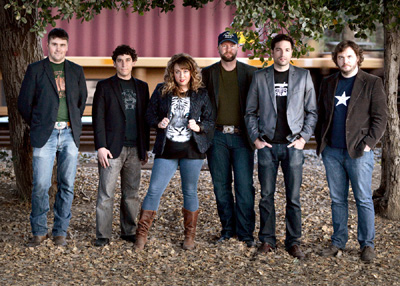 Interview with Melody Walker
(from CMT Edge):

"I'm imagining the phrase 'feel the room shake' could be taken a few different ways. What kind of imagery was on your mind when you wrote "Sake of the Sound"?"
Melody Walker: "It was sort of an impressionistic set of senses that came to mind when trying to describe the power of music. Like the ecstatic feeling when a room full of people are all rocking out together and music becomes more than the sum of its parts. It's more than just a little sexy and transcendent -and also scary- to fully immerse in the experience. I started with the chorus -which was a sketch with lots of room for interpretation- and then the rest of the song is based on fleshing out this sort of earthquake metaphor... which is tres Bay Area, really. What can I say? I grew up here. I was definitely recalling images of the 1906 quake that burned San Francisco to the ground. Music and earthquakes as vibration. Ecstatic obliteration. There's a teeny bit of "Thriller" mixed in there (with the second-person narrative verses). I was a huge MJ fan as a child."

"I like the dramatic arrangement especially. How did you go about capturing that eerie feeling in the studio? What do you remember about this particular recording experience?"
Melody Walker: "The thing I love about this band is our ability to build textures that create spaces, moods, other worlds - but with all acoustic instruments. So when I brought the song "Sake of the Sound" to the band and we arranged it together, much of the eeriness and anticipation was just built in. If you close your eyes, it's all there. But I wouldn't be a diva if I didn't demand proper mood lighting for recording sessions. So, yeah, luckily we were in a nice studio with tons of dimmers and track lighting and got to set the tone to make it extra creepy and dark. Most of us in the band are into different types of metal and progrock, so we relish the chance to indulge those sensibilities - even if it's still all fiddles and banjos."
"For folks who haven't seen you play, how would you describe your music?"

Melody Walker: "Definitely hoping to see some new faces out there and have some folks take a chance on a new band. One of the big things we hear from new fans is: 'I didn't think I liked bluegrass, but I like you!' So maybe our genre is bluegrass for people who don't like bluegrass?" In terms of the usual nomenclature, we are a progressive bluegrass and Americana band with some pop and indie-folk tendencies. Our second set at the record release party will sound exactly like The Band -because we will be covering the entire second album of The Band! Front Country is known for creative cover songs, but it's our first time covering a whole album, and we are really excited for the challenge."
Front Country's TRACKS:

1. "Gospel Train": This traditional spiritual blues makes quite a remarkable opener, when Melody's powerful soaring voice entwines around the phrase "I woke up with heaven on my mind". Then the electric fiddle and a distorted acoustic guitar come crashing into the song like roaring waves and we all know this is a different kind of bluegrass band!

2. "One Kind Word": Written by Laura Wortman of The Honey Dewdrops, a relatively new source of songs. I like the band for their musical curiosity and exploration, while they still manage to feel as if linked somehow to older rootsmusic sounds. A mid tempo duet, where the skilled band showcases their impressive playing.
3.
"Rock Salt & Nails"
: This has always been one of my favorite classic songs, it was written by Utah Phillips. Brought to us with a fresh new perspective, but sounding familiar at the same time.
4.
"Sake Of The Sound"
: The interesting original title track, bluegrass with a rhythmic rock feel and irresistible choruses. It sings of the healing power and the emotional impact of music: "Feel the room shake / Can you hear my heart break? / I'm in love with the sound". It even dips into Melody and Jacob's interests in ethnomusicology and Afro Pop.

5. "Daysleeper": Instrumental, written by Adam Roszkiewicz. Flashing finger picking duel between mandolin, fiddle and acoustic guitar. No chance of anybody growing bored!
6.
"Undertaker"
: Spellbinding modern pop ballad, richly dipped in bluegrass.
Melody (what's in a name?) wrote the song and shows off her powerful voice again and she demands respect for her vocal range. Great build up with the violin breaks.
7.
"Glacier Song"
: Pure bluegrass in the true sense, sung by Jacob Groopman as the leadvocalist, I assume. Written by Will Fourt. With a subtle and far reaching mix of harmonies.
8.
"Like A River"
: Another more traditional song, a dramatic soulful take on a cover of the great Kate Wolf, underlined by banjo and mandolin.

9. "Old Country": The second instrumental from the hand of Adam Roszkiewicz. It is clear, that Front Country views tradition as a launching pad for grander explorations. Comparisons are made with: The Infamous Stringdusters, The Hillbenders, Punch Brothers, Frank Solivan and Dirty Kitchen.

10. "Colorado": A powerful throbbing undercurrent sets off this Melody Walker / Kai Welch original. No drums in a bluegrass band, a little percussion will do. Showcasing yet again her gorgeous, charmingly bending voice and the understated power of each instrumentalist in the band, playing their solos. Kai also plays an electric guitar on this track and a couple others. Glorious musicality in the highlight of this very strong album!

11. "Long Ago, Far Away": Fast take on Bob Dylan, old history transferred to a sprightly Western song, by leadvocalist Jacob Groopman.

12. "Lovin's For Fools": New songwriter Sarah Siskind from Nashville wrote this ballad, almost five minutes of heavenly vocal bliss by Melody to close off the disc.
-----
Written & compiled by Johanna J. Bodde - December 4th, 2014
=====