Eryn Shewell
'Eryn Shewell'
Rewbie Music, 2014)
Eryn's BIO:

Eryn Shewell has developed a reputation as one of the premier up and coming voices on the scene today. Eryn has performed her unique blend of blues and jazz rooted americana, infused with a taste of years gone by, all over the East coast and beyond. Known as the Jewel of New Jersey Eryn's incredible vocals have the capability to give even the most hardened critic chills.

In venues such as the legendary Stone Pony, The Saint, The Cutting Room, Bluebird Cafe, Newton Theater, Count Basie Theater, NJ State Theater, as well as other popular clubs throughout New Jersey, New York City, New Orleans and Nashville, many crowds and hearts have been won over by the power and sweet sound of this only 30 year old talented singer and song smith.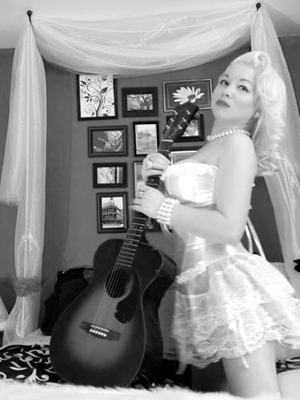 Eryn Shewell was born in Washington D.C. to a family of Dutch, German, and English ancestry. Her paternal grandfather was an artist for the US Navy as well as a police officer in Maryland. Her maternal grandfather was a multi-instrumentalist and introduced Eryn to the guitar. She found inspiration in her musical family, learned how to sing from her grandfather, mother and her two aunts, and she chose music as her career at an early age. In 1989 Eryn's parents divorced and she moved with her mother to Jackson, New Jersey, where she went to high school, studied music theory and voice, graduating in 2002. She was a member of the Ensemble Choir and the All-State Chorus. She has been singing publicly since she was 10, wrote her first song at 14 and hasn't stopped writing since. Eryn received her first guitar as a gift at age 13 from her father, she taught herself to play guitar to help facilitate her songwriting and performing. She also trained as a sound engineer so she could better understand some of the science behind the perfect sound.

As a young child Eryn would watch her aunt Lori's country band Sundance. She began singing professionally at age 13, when she started a 10 year run singing with Sundance, eventually became a permanent member at age 14. During her high school years Eryn started honing her songwriting skills with the guidance of Jody Joseph. She then, at 16, joined Jody Joseph and The Average Joes of Asbury Park, as her back up vocalist for a few years, meanwhile continuing to sing with Sundance.
After high school Eryn joined the New Orleans funk band The Soul Project (with Jon Cristian Duque) and began traveling to New Orleans on a regular basis, winning over audiences with her singing. Here she met well-known New Orleans artist Walter 'Wolfman' Washington. He took a liking to Eryn and asked her frequently to perform with him, as well as record backing vocals on one of his latest album releases.
"Music has always been my passion, my therapeutic outlet. I'm not just chasing fame, this is my career. I will always work in the music industry in some capacity", she says in her soft speaking voice that belies the powerful tonality, that is her trademark.

Eryn Shewell was married in 2003 to William Schneider shortly after she graduated high school. They have one child named Emily Schneider. Feeling pressure to return to the music business after Emily was born, Eryn separated from the marriage in early 2004.
---
She started the Eryn Shewell Band in 2007, playing mostly her own original compositions. Performances often featured nine pieces, including a horn section. Within the first year Eryn and her band were recognized with three Asbury Music Awards nominations and have been nominated each year in more and more categories. In 2009, Eryn won the Top Female Vocalist award, in 2011 she won Top Female Vocalist and Top Blues Band. She has also received many songwriting accolades including BillBoard world song competition.

Eryn embraces every opportunity to perform and write music. She is sought out by other artists as a backup singer because of her natural ability to harmonize. While in New Orleans she was honored to record vocals for blues veteran Walter 'Wolfman' Washington's album 'Doing The Funky Thing'. "I love working with other artists and experiencing their music. I have learned something from everyone I've had the pleasure to perform or write with. It's not the same if I can't share it anyway", she says smiling, as she quotes a line from one of her songs. Since then she has recorded and shared the stage with other artists such as Gregg Allman, Gin Blossoms, Johnny Winter, Robert Cray, Little River Band, Glen Burtnik, Marcia Ball, Eric Lindell, Sonny Landreth, Steve Ferrone, Bernard Purdy, and many more.

During 2011, Eryn Shewell and her guitarist Patty 'Slidell' Ruh co-wrote and produced an album for their student Lily Ann Riche at Trax East in South River, NJ. Throughout 2011 and 2012 she began a collaboration with singer/songwriter Alice Leon. Shewell co-wrote and recorded lead and backing vocals on Alice Leon's release 'It's All Making Sense'.

On June 24, 2012, Shewell and her guitarist Patty 'Slidell' Ruh released an acoustic EP called "Children At Play" with all cover songs in an effort to help raise money for this next full length original album. It includes songs like Al Green's "Let's Stay Together" and The Beatles' "Oh Darling".

In 2012, Shewell folded The Eryn Shewell Band after many years of touring back and forth from the Jersey shore to Nashville to New Orleans. The following year she announced her new trimmed down band Eryn Shewell and The Whiskey Devils featuring guitar, bass, drums and keyboards.
She lists as her influences: Susan Tedeschi, Eva Cassidy, The O'Jays, Donny Hathaway, Al Green and Joni Mitchell.
-----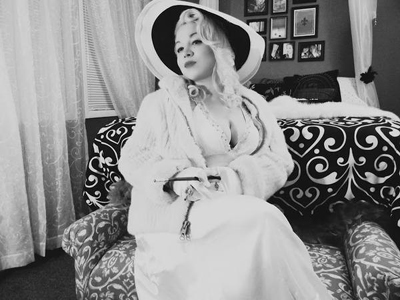 A self-titled album is often a debut, but there are exceptions as Eryn's album is her fourth. I have 'Window Pane' (2008) and '4th & Broadway' (2009) in my collection, but unfortunately missed the EP 'Children At Play'. I already liked Eryn's music a lot, right from the start and it only gets better with this new album! Lovely lay-out with a gorgeous series of pictures (by Elise Manuel), showing us Eryn posing as a music diva in Marilyn Monroe style. Nine of the ten songs are written by Eryn, with Patty 'Slidell' Ruh, Alice Leon and Jody Joseph. There is quite a variety in the musical styles, Eryn feels confident and at home, no matter what style she sings. She has an absolutely gorgeous voice, powerful with an amazing range, flexibly bending wherever the melody brings her or when required soft and seductively wooing anybody who listens, to "Breathe In" for example. I'm not even going to try and make comparisons: one-of-a-kind voice, period.
Opener "Fall" could very well be a radio hit and "Afraid Of The Dark" is also a bluesy soulful track, uptempo and rhythmic with lots of trumpet plus trombone sounds. "Suck It Up" in another rich arrangement with wonderful saxophone and also "High School Sweetheart" go back to more traditional blues sounds. The last mentioned song shows in brackets 'live in the studio', featuring dobro, upright bass and harmonica in a very convincing acoustic setting. "Boy Like You" is a loving sensitive piano song, where Eryn sounds like a 40s-era torch singer. "Relax To Sleep" shows off her skillful singing in a country pop style. Eryn doesn't even shy away from a little bit of doo-wop in "Backseat Romance Forecast", there's beautiful jazz ballad "Simple" and then the album ends with a very long (14 plus minutes) cover track: "I Wish I Was In New Orleans" by Tom Waits, fittingly played and improvised in typical brass band style with various sound effects, but halfway ending up in an unnecessary lot of mostly inaudible conversation and laughter.

A very impressive album! Eryn just made her next big step into this blues and soul world, where she will find many new fans with every note she sings! She launched her new album with a show in Asbury Park, hub of the South Jersey Music Scene. Throughout the years, musicians and bands as diverse as Count Basie, Bruce Springsteen, The Gaslight Anthem and Nicole Atkins have called Asbury park their musical home and have taken their first big steps into their international careers from here. Eryn Shewell might as well do the same thing!

-----
Written & compiled by Johanna J. Bodde - January 12th, 2015
=====