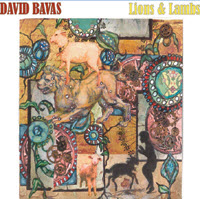 David Bavas is a singer-songwriter originally from the foothills of the Appalachians, now living in East Nashville, Tennessee.

He writes about the struggles and traps we set up in our lives, and what it means to find some kind of peace in this world. He also writes love songs using whisky and tomatoes as the vehicle for romance.

'Lions And Lambs' is his fourth record and was produced by longtime friend and collaborator Kevin Suggs, whose past credits include The Shins, Cat Power and The Minus Five.
--
David is not a stranger to us here at Insurgent Country! He talked at length about his previous album 'Songs Of Love, Death And Trains' (2007), with a quote from Kevin Suggs included. Let's not forget he recorded that same year one of the best duet albums in roots music history: 'Lonesome Lo-Fi Lullabyes' with Willow Scrivner, using their aliases Mabel McGee and Pennsylvania Slim. He found time in his busy schedule around the CD release, to write something for us again! (Thanks, David.)
David Bavas talks about 'Lions And Lambs':

"This is an album that has been two years in the making. I started writing the songs when my family and I moved from Seattle to Nashville in the Summer of 2012 after releasing 'Make It Rhyme'. I recorded 'Lions And Lambs' in my home studio in Nashville and then sent the tracks to my good friend Kevin Suggs in Seattle to Produce and Mix at his studio The Imperial Room. 'Lions And Lambs' is a record about finding peace even when times are hard and remembering when the times are good. My cousin and artist Pam Templeton did a great job of visually capturing that with the album art. It really sets the tone for the album.

You'll recognize some familiar friends on the record such as Kevin Suggs (Pedal Steel, Guitar, and Piano), Randy Reichenbach (Mandolin), Bob Congleton (Bass) and Willow Scrivner (Vocal on "Ohio #2").

You will also notice there are two new friends from Nashville who just happen to be my neighbors: Megan Palmer (Vocal & Fiddle) and Aaron Lee Tasjan (Guitar on "The Storm"). I've always wanted to play with a fiddle player and I got my wish with this record. I also was excited to catch Aaron for 35 minutes before he was off to Atlanta to play a show. I'm really looking forward to playing again with these two, if I can ever catch them before they're off on another tour.

I think the listeners are going to hear some of the Southern themes on this record such as whiskey, tomatoes, and storms. I also think the listeners will hear some of my NorthWest influence on tracks such as "Itches" and "Island Park, Idaho". I'm excited to be living in Music City and I am looking forward to being continually inspired by Nashville and by the people who live and play here. I'm already looking forward to writing my next record and meeting 'all the friends along the way'.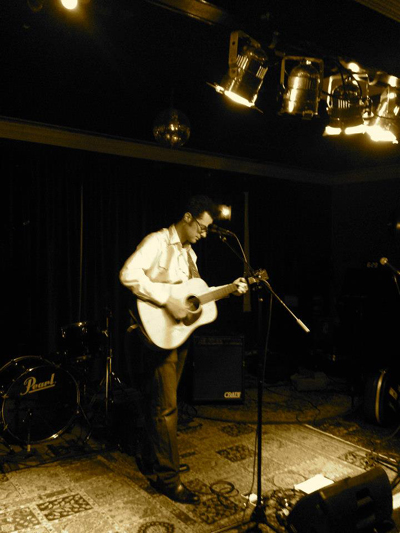 Some singer-songwriters are good at the shameless self promotion and even get a bit annoying in the process. David Bavas is exactly the modest opposite! There's not very much to find about him on the Internet. He has been compared with Richard Buckner, Bonnie Prince Billy and Chris Mills. Before we got to know him, he debuted with 'David Bavas And The Down Comforter' in 2005. He met co-producer and multi-instrumentalist Kevin Suggs when they both lived in the same apartment building in Seattle, while Kevin was working at a recording studio. The musical friendship endured years and distance, as they still worked together on this new album.

Let's give the disc a spin! Starting off with a catchy country tune "Our Great Fair #2", an upbeat description of that important event in town. Megan Palmer sings harmony and plays fiddle, they sound very convincingly like Gram & Emmylou together. In "Heart Shaped Balloons" (I love that song title!) we hear more of David's appealing voice, deep, somewhat husky and rather soft, with an unusual timbre singing in his very own style. Megan is a fine fiddle player! David wrote all the songs himself, giving his wife Anika credit for the idea behind "Whiskey In My Pie". On this track we hear also Kevin Suggs on the pedal steel.
"Island Park, Idaho"
has that familiar feeling of all solid songs with timeless quality. In
"Ohio #2"
Willow Scrivner adds a magnificent duet vocal to an already beautiful sensitive, yet simple acoustic guitar based ballad with a great piano part, played by Kevin. Willow appears these days on stage with her group 'Willow and The Embers' and she is one of my top favorite female singer-songwriters. Highlight!
"Tomato Blues #1"
picks up pace and features lyrics with a good sense of humor. The atmospheric soundscape on
"Itches"
is perfectly captured. The title track
"Lions And Lambs"
winks at David's Appalachian upbringing, when Randy Reichenbach plays mandolin. In classic country song
"The Storm"
we hear David's new neighbor Aaron Lee Tasjan on electric guitar: "Thunder and lightning cancelled our show". For the last song
"Mama Prays"
we go sentimental, while Megan fiddle joins in again.


--
This is basically an altcountry album or acoustic stripped down americana if you want, I don't like that last word, as you might know. David's country influences take over here - from previous ones like indie folk and a bit of rock. Less darkness, less unruly guitar work but more romantic elements and classic sounds, almost like we are listening to some obscure work by Gram Parsons or Townes Van Zandt. Yes, David is that good!! He finds his own way and eventually it will also lead him to more (commercial) success, as there are people like us, music lovers, who sense quality from miles away!
-----
Written by David Bavas & Johanna J. Bodde - April 14th, 2015.
=====