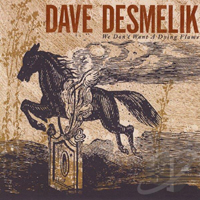 Dave Desmelik
'We Don't Want A Dying Flame'
(Self-Released, 2014)
www.davedesmelik.com
"Dave Desmelik is a singer-songwriter and instrumentalist whose musical focus is on original compositions. What attracts listeners to his tunes, is the element of authenticity incorporated in them. There is no sugar coating involved. His songs are not wrapped in false smiles, rather they are stark and open and tend to settle on the pulse of everyday life. An unclosed and evolving journal of thoughts set to music and melodies in prose and instrumental performance", according to the 'True Story' on his website. I have two earlier albums in my collection: 'When Your Eyes Are Closed' (2005) and 'Onlooker' (2009) and I completely agree with these lines.

Dave was born and raised in Alpharetta, just outside of Atlanta, GA, but has traveled and lived in a multitude of landscapes. He currently resides in Brevard, NC. He was an original member of Onus B. Johnson, a successful, award winning band based in Flagstaff, AZ in the late 90's and early 2000's. Nolan McKelvey, another singer-songwriter we like a lot here, was also a member of this band, that was on the front wave of jamgrass, while maintaining the passion for songwriting. They released two albums in 1998 and 2000.

Today, Dave continues to pursue an ascending path as a solo artist, having released nine albums, dating from 1999 to present. His recordings could be found on the EuroAmericana Chart and the Freeform American Roots Chart, they were also reviewed in a number of reputable publications and on-line music sources. He has toured extensively in support of his songs, including numerous performances in the USA and UK. Some notable artists Dave has opened for and / or shared the stage with are: Robbie Fulks, Chuck Brodsky, Richard Buckner, The Black Lillies, Cary Hudson, Bow Thayer, Shawn Mullins, Pieta Brown and Bo Ramsey among others.

A seasoned veteran of recording and performing, Desmelik states of his career thus far: "I have recorded in state of the art studios and bedroom closets. I have performed on big festival stages for numerous people and in lonely corners in dive bars for three people and the bartender. Either way, what you get is me with my eyes closed getting lost in these songs. I have chosen the life of a songwriter and musician not because I wish to, or have to, but because I want to and need to. It is my therapy and in this regard the door to my sessions is open."

If you listen to Dave Desmelik's songs, whether lyrical or instrumental, you may become pleasantly fixed in the simplistic realness of them and if you hear Desmelik in a live setting you may realize that there are no tricks, just a genuine venture into the highs and lows of life.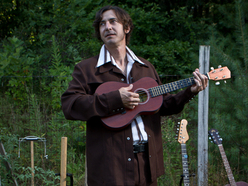 So, here it is: Dave Desmelik's ninth album, self-released, containing thirteen original tracks, songs as well as instrumentals. A few were penned many years ago and kept hanging around waiting to be recorded and some were written more recently. All of them are heartfelt and born from emotion. Dave has established himself as an accomplished singer-songwriter, whose music might best be described as altcountry or americana, although I don't like that word very much. Drawing upon influences from country, bluegrass, rock'n'roll and blues, focusing on lyrics, melody, instrumental and word phrasing, he mixes distinct ingredients into his songwriting as well as his live shows. Dave is no stranger to the hard work it takes to be an independent singer-songwriter and musician, stating: "I am happy to be releasing this collection of songs. My passion for songwriting and music continues to grow and I am grateful for the fans and friends I have connected with along this path." Dave's long-time collaborators Josh Gibbs (lap steel) and Andy Gibbon (bass) contribute their fine playing to various tracks. Dave plays all other instruments, not only acoustic and electric guitars, but also keys and percussion.
The album starts off with an intriguing beautiful instrumental soundscape, 5m13s long, called "Hyper Fatigue". Second track "Destruction" is even longer, but has words and we hear the ominous growl of the electric guitar again in the background, while the unstirred acoustic guitar stays upfront, smart combination! Honest music thanks to the unpretentious personal approach, Dave has a distinct voice and pours his heart into the words - sung with accentuation. He asks relevant questions and brings up important subjects. "L-I-F-E" mixes sounds of a family home with the music, lifelike indeed, at first listening I thought I heard our neighbors! I love the instrumentals just as much as the songs with words. "Red Collar" and "Two Gifts", with the softly crying lapsteel, are both so gorgeous! "We're Older Now (Ode To OBJ)" is all about memories and I assume the initials stand for Dave's old band Onus B. Johnson. I like the nostalgic Neil Young type of feeling, underlined by the harmonica. The album title originates from a line in the song "Stretch". In "Do You Even Know?" he sounds like JJ Schultz - well, he basically rolls all my unpretending, favorite, mostly lo-fi singer-songwriter friends into one, for this fabulous track. Ending up the disc with a backwards spelled little guitar piece.

This CD is never predictable, it offers lots of variety for such a basic recording with only three musicians. The tracks are lined up according to a good plan and the order makes perfect sense. Well-placed soundscapes, long and short pieces, the return of instruments, building up from quiet and subtle to pithy and going back again like dark currents, with here and there some unexpected noise. A very good album, with enough sweetness surrounding the gritty vibe to make it spell-binding from the first to the last minute!
-----
Written & compiled by Johanna J. Bodde - November 30th, 2014.
=====