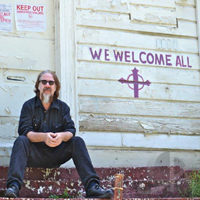 Dan Montgomery
'Sin, Repent, Repeat'
(Fantastic Yes Records, 2014)
www.danmontgomerymusic.com
Dan Montgomery's
Bio
: He
was born in Philadelphia (1960), grew up in South Jersey and now lives in Memphis, Tennessee. That's the short version. Let's connect the dots. Learning to play his brother's guitar on the sly, Dan played in a bunch of teen garage bands including Samuel Jay (Bad Company a specialty) and the 10 piece R&B based Below Average White Band (they played "Heatwave" three times each set - not that anyone asked them to) around Pennsauken, NJ. In his late teens Dan began playing at Camden, NJ's semi-legendary club The Perimeter. It was a great place to play: people sat quietly and listened. Dan says: "It gave me a totally false sense of what to expect elsewhere".

A few years later Dan spent time as soundman and road manager for The Ben Vaughn Combo. It was an amazing adventure touring the country for five years, learning how it all worked (and sometimes how it didn't work), how to structure shows yet still be able to be spontaneous in the moment, how to live on $5/day and still really enjoy it! Dan also fronted several bands in Philly, most notably the Flamin' Groovies/MC5 inspired Drugs Before Breakfast and Pub Rockers Del Pez. The latter band released a single on the King of Rock label entitled 'Hope I Had a Good Time'.


Personal and musical unrest led to an ill-fated move to the California desert. The isolation brought him back to his Perimeter roots style and a solo career was born. The huge upshot of this move was a visit to Memphis along the way out West, where Dan met his new bride. "Cali tanked and going back to Jersey was a backwards step, so I came to Memphis for a summer and have been here several years now. I've planted my seeds here and I cant imagine living anywhere else now".

In 2003 Dan released his first solo album entitled 'Man From Out Of State'. An acoustic based travelogue that looks back at ten years, three thousand miles and almost as many sleepless nights. Reviews were excellent especially in Europe and Dan hit the road often with accordionist Gus Cordovox and bassist Neal Arot (the core players on the record). Dan followed the album up with the highly ambitious concept album 'Rosetta, Please (A Love Story)'. Rosetta was the story of a guy Dan met many years ago in a NJ bar, who was an ex-con and his girlfriend (Rosetta) a prostitute. The album was a bigger hit and even made several Year End Best Of lists (including The Philadelphia Inquirer and North Carolina's Independent). The key song "Favorite Color" even went to number two on radio in Corpus Christi, TX. Americana bible No Depression called it "An Astonishing Album"! Much touring with the band on the record (The Professional Baddasses) followed.

Then in 2010 he got ready to release his third work 'You'll Never Be A Bird', a twelve song piece of what Dan called 'Omni folk'. A sprawling record that ran the gamut from lilting ballads to outright heavy rockers, 'You'll Never Be A Bird' featured the amazing musicianship of Robert Maché (Steve Wynn, Continental Drifters, The Mumps) on guitar and mandolin among others. "I've worked long and hard on this album", said Montgomery, "Going so far as to scrap two previous attempts because they just weren't up to par". Again much touring followed its release, from smokey corner bars to intimate listening rooms, house concerts to concert halls, solo or with his full band.

Dan Montgomery proves night after night that he's a compelling and entertaining performer.
And now it's time for his fourth release with the smart title 'Sin, Repent, Repeat'! This title fits perfectly with Dan himself as well as his songs. It is a moody, emphatic ride through the lives of a number of happy and mostly unhappy song characters. There are a few ballads and slower songs on the well-balanced album, but most tracks are sturdy, raw roots rock. An extra dimension is added by piano, saxophone, violin and harmony vocals by Candace Maché, a pleasing counterpoint to the unfriendly growl of Dan. Thirteen tracks, just as unmoved and stoic as the album title, never shy away from any difficult subject. An endless row of bitter relationships, abuse of drugs, loneliness and especially a lot of thinking with a bottle within arm's reach. Intense subjects, brought with a sly, sharp sense of humor and a surprising honesty which brings the song characters to life.

Co-producer Robert Maché was the ideal partner to realize his musical vision for this raw rock record. A skilled team brings out the best in everybody and a good working atmosphere gives the music that little extra. If you take the time to listen, the expressions will grow on you. Dan is not the only one who writes about these themes and subjects: troubled relationships, addictions and loneliness - but the dynamic, original, sharp style is all his own approach. It leaves a small way out from the endless dark circle, with a bit of humor and
self-mocking.
There needs to be a connection with the 'cast-iron songs and torch ballads', what the artist offers has to be genuine, from the inside, you need to feel it... (Yes, there is a lyrics booklet, hallelujah!)

Dan Montgomery's Tracks:

1. "The Drunken Mouth": The album leads off with this driven rocker, a gospel influenced confession with a great piano part and some slide guitar. The harmony vocal by Candace Maché is sublime and close to the end even a saxophone joins in. "Should have learned not to speak when I'm drunk". Oh please, if more people could learn that? Or even better: not drink that much and regret it later?

2. "Dirty Rotten Shame": The uptempo rocking and the catchy melody almost hide the serious subject of the song. A family hiding the secret, something bad happened between little Sylvie and her uncle, but then it overtook her whole life, she married the wrong man and eventually overdosed on Easter Day, while the family still covers up, telling everybody she had a heart condition. This is almost as good as "Soul Murder" and "Ragged But Righteous" by Russ Tolman.

3. "When I'm Me Again": A slower song with an acoustic guitar, the vibrato lead melting together with the organ and dark echoing background vocals. About depression or maybe a mental disorder: "When I'm me again / Gonna lose this evil twin".

4. "Crack Home": This track sounds very much like anything the best bands from the Paisley Underground scene had to offer. Probably exactly what Robert Maché had in mind from the get go, playing his menacing lead guitar solos. About a child, growing up in a crack house. "I make my own dinner / Put myself to bed at night". Well, that
could have been any dysfunctional home and it just goes worse from there, with the Von Crack Family Singers chanting like a little kids chorus from a horror movie and then it all ends in crashing chaos...

5. "The Difference Between Lonely And Alone": The beautifully arranged sounds of a sweet ballad, even with an accordion. Dan tells the very personal and convincing story of a man, living in the sticks ("City lights just make me squint"),who seems to have lost everything. We're not sure if it's really his choice to be alone, as he writes to the paper, goes to weddings and funerals. "For twenty dollars I can fix that wheel / How bout ten and a meal". He holds out hope!

6. "Too Good For Too Long": We return to genuine rock here with stellar playing. "I've been wondering when I'd go wrong / Just like clockwork you come along". Oh yes, don't we all know what that's like? "I couldn't help myself when you were near".

7. "Life's Funny": "She said I got something to tell you". Uh-oh, that doesn't sound good. The songs builds up with a desperately screaming guitar to a powerful chorus and gives room again to listen to the verses. By the way, why haven't we heard of this fabulous singer Candace Maché before?

8. "Audrey And Hank": Ah, we go to a fifties honky tonk, somewhere in the Southern States, where a Jerry Lee Lewis impersonator plays. Just a very short song (1m46s), but we get the picture, as we know from the old stories how ferocious the fights between Hank Williams Sr and his first wife Audrey were.

9. "The Thorn": A long (8m05s) and ambitious classic ballad with a lot of verses, a bit in the style of Leonard Cohen. Apparently the song took Dan ten years to complete, because he thought he would never get away with writing something that long. It's about a doomed relationship between two people, who are each other's soulmate and even while they're in marriages with others, never refused to give up on each other. "My phone rang once in the dead of the night / I heard your voice saying, Are you alright?" A violin joins in for the epic, smartly structured arrangement and Candace turns the song into an impressive duet. Although serious, the song has also a few lighter humorous observations and the conclusion is: "You and I were born / To be the thorn in each other's side".

10. "Not Without You Anymore": A fierce angry rocker, about a man who parks across the street, obviously after a violent fight with a woman: "I'm drunk and scared and not with you anymore". Yet another romance gone wrong!

11. "If You Were Mine": Dan's take on a pretty love song: "If you were mine, I'd ruin everything that was good". Indeed, the very realistic and recognizable lyrics from the man who means well, but always ends up doing wrong - take the exact opposite of this nice melody.

12. "Old Friends": Starting off with a bass line, we end up in the middle of an energetic swamp rock song with great organ parts. "Don't say everybody I know is either dead or in jail" - so much for old friends... Candace's soulful voice follows Dan perfectly into an abyss of electric guitar sounds.

13. "My Fidelity": Dan concludes his album all by himself, playing the electric piano in a Dan Penn-styled soul ballad. We finally get the chance to enjoy his voice, which is rough around the edges, the man has obviously lived through a lot, but he still sounds warm and friendly.
I am so impressed... This is the best songwriting I have heard in quite some time! I do hope Dan himself didn't live through all of the trouble himself, but it feels like he did, he goes to the heart of all that matters and he shared it with us, like we were living next door in that apartment with way too thin walls. This is also exactly the type of rootsrock I love best, with excellent playing and great singing, again with an extra word of praise for Candace Maché.
Peter Stone Brown (Counterpunch) writes:
A master of the hook line as well as a wizard of the punch line, Montgomery is a musician with an encyclopedic knowledge of rock and roll and all the music it came from. 'Sin, Repent, Repeat' is an album dominated by fierce rockers, punctuated every few songs by simply gorgeous ballads that perfectly offset the rockers.

Like a far more well known singer-songwriter from New Jersey, Montgomery has created a world of characters and stories that create a portrait of working class life. The songs on this album add up to a portrait of people hanging on by the slimmest of threads in a constant struggle not only for survival, but against the enemy within. On 'Sin, Repent, Repeat' relationships never last, are often doomed before they start, and rumination takes place on a bar stool. Desperation is a given, as well as the feeling that the people in these songs are always on the verge of committing some illicit activity. Hovering in a hazy background is a feeling of: maybe I should have listened to my parents, paid attention in school and had some kind of faith.

All of this is taking place over searing rock and roll played by superb musicians. Many of Montgomery's rockers are built around guitar riffs that sound familiar, but you can't exactly place them. The melodies are the lyrics tend to come back in your mind hours after the CD stopped playing. The album was co-produced by lead guitarist Robert Maché, who was previously in the Continental Drifters and also played with singer-songwriter Steve Wynn. He is the perfect co-conspirator for Montgomery and it is clear that how each song was framed and where it was placed on the album was carefully considered.

'Sin, Repent, Repeat' is available at all the Internet places that helped kill the retail record business.
"It's all about making a connection", says Dan, "and you have to prove yourself every night".
Written & compiled by Johanna J. Bodde - November 17th, 2014
=====