Well, hello - another new name, from Canada. I do recognize somebody in the credits of this CD though: the lovely Grainne Ryan sings harmony vocals. If you scroll down on the Insurgent Country page into 2007 (time machine...), you will find a review of her own album 'All The Money'. And now: let's take a look at that BIO!
CHRIS CULGIN
is a highly-regarded singer-songwriter and multi-instrumentalist from Peterborough, Ontario. His influences are steeped and rolled in the roots-country traditions that are prevalent in the musically rich environment of this small city surrounded by farmland, forests and lakes. His new album, 'It's Only Time', clearly exhibits his ability to paint a picture with his lyrics and offers the listener a glimpse into the life and times of a genuine country boy.

Having grown up on a farm on the outskirts of Peterborough, Culgin is the real deal and his rural roots naturally shine through in his music. He writes from the heart and has the innate ability to create great hooks. With the one-of-a-kind timbre in his voice, he tells real life stories that range from "Car Crash", which explores the darkness of losing a friend in a tragic accident, to the whimsical song "Ex", which humorously details the strife of small town romantic predicaments.

Culgin's strength as a songwriter allows him to make what some people may consider mundane subject matter spring to life with soaring melodies, lavish arrangements and foot tapping tempos, such is the case with track four, "Clutter": "Life is full of clutter, like the clothes on our floor / Sometimes doing nothing are the times I remember more".

Although he graduated university with a Bachelor of Fine Arts degree majoring in jazz music, Culgin says he learned way more busking on the streets and being a subway performer in downtown Toronto. That raw talent and ability to connect with a listener is on full display with 'It's Only Time', featuring some of Peterborough's finest talent: Rob Foreman (bass), Matt Greco (drums), Sean Conway (electric guitar), Grainne Ryan (harmonies), Shai Peer (piano and organ), Sam Weber (electric guitar on track one). He also drew talent from Toronto, such as Pat Phillips (drums on track one), Kelly LeFaive (violin and fiddle), Aaron Goldstein (pedal steel), James Bunton (synths, harmonies on track twelve) to help him round out the album. Culgin himself played various instruments, such as acoustic guitar, piano and banjo and John Dinsmore (Luke Doucet, NQ Arbuckle, The Wooden Sky, etc.) was able to tie it all together as engineer at the Lincoln County Social Club in Toronto.

Culgin has toured extensively across Canada, both East and West, as a bandleader and a supporting player for various other Canadian acts. The tour of 2013 was in support of his first seven-song EP called 'Good Night, Good Morning'. He's performed at festivals such as the Summer Solstice Festival (SK), The Edge of The World Festival (BC) and the Peterborough Folk Festival. Chris kicked off another two-month Canadian tour in support of 'It's Only Time', with the album's launch party on June 5, 2014 at The Gordon Best Theatre in Peterborough. His backing band featured Peterborough's Brandon Humphrey on electric guitar, Rob Foreman on upright bass, Matt Greco on drums with Chris playing acoustic guitar and mandolin. The tour took them to the Sweet Water 905 Festival in Rolla, BC and the Bud Country Fever festival in Grand Prairie, Alberta in the summer of 2014 and Chris looks forward to sharing his sound with as many people as possible in the year 2015.
-----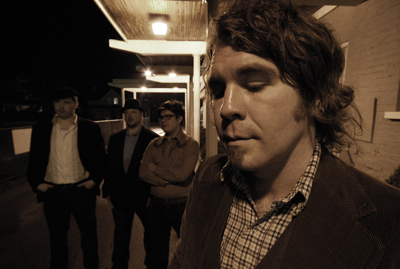 Song titles are always important to me. As a DJ I often felt an instant attraction to a track, only based on a title and I was rarely wrong. "You Were Always Dancing" definitely would have been a nice one. Chris Culgin's friendly voice is good, not really remarkable in any way, just pleasant to listen to. The skilled band plays country music and impresses me with enthusiasm and energy. "Hell's A Box House" gets a nice touch from the banjo, also played by Chris himself. Strong electric guitar solo too! "The devil doesn't live in a fictionally world / he doesn't come from somewhere down below". "You're Haunting My Favourite Place To Be" got another great title, pedal steel parts and Grainne's sweet harmonies. The song lines created by Chris often have a somewhat odd sound, bending upwards without the expected question mark or trying to fit a few too many (monotone) words on the music. It's not really bothering me or anything, I just noticed this while listening.
"Clutter"
- yes, Chris keeps himself close to home when he picks his song subjects. In the meantime Grainne and the banjo do more fine work! The
"Cowgirl Song"
turns out to be a wonderful spaghetti western instrumental.
"Ex"
is a light-hearted traditional country song with fiddle and pedal steel about a love triangle, but in a small town setting people tend to keep bumping into each other, awkward!
"Your ex is the mother of your best friend's kid"
.
"Blue Bird"
also tells about an unfortunate love affair.
"Oh and the wind blows cold / We never saw the leaves turn gold" is the beautiful multi-vocal harmony chorus to poignant
"Car Crash"
. After the sweet fiddle and organ sounds I like the unexpected noisy end to
"Living In The City"
. Uptempo
"Road Kill Love"
is definitely catchy, thanks to the banjo and Grainne's singing on the choruses, the electric guitar solo is another pleasant surprise.
"Never Learned To Read"
sounds very much as another true story about a person straight from Chris Culgin's home town. While all the other tracks clock around the three minutes, the last one
"Caught Myself In A Wind"
goes on for eleven. It turns out to be an intriguing soundscape song with synths and other sounds (thanks to the input of co-producer James Bunton) for over five minutes, followed by silence until 07m45s, when Chris and band come back for an upbeat country ditty: "Sometimes the world is full of wonder".

My conclusion: Uncomplicated honest feel good music.

-----
Written and compiled by Johanna J. Bodde - January 17th, 2015
=====