Groove. Funk. Gospel-flavored blues with blackened creole spice. Soul singing. Chunky horns. John Scofield on guitar. That's what!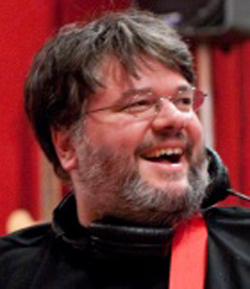 Carl Franklin is accomplished at acoustic and electric guitar (since 1977), bass, and vocals. At the age of 10, after five years of piano lessons, Carl started taking guitar lessons from Jesse Casimono, a left-handed southern-rock tele player from New London, CT. After surviving the ego blow brought on by listening to Leo Kottke and Jorma Kaukonen as a kid, somehow Carl managed to keep picking long enough to master fingerstyle guitar by the time he was in his early 20s.
On the electric side of the fence, his early influences were Don Felder and Joe Walsh, Peter Frampton, Brian May, and the like. Once he heard the voicings and phrasings of Larry Carlton and the rest of the great players on Steely Dan's albums, he was doomed. Jazz was upon him.
In his late teens he was listening to Wes Montgomery, B.B. King, Les Paul, Django Reinhardt and that crowd, but he never really got into fusion or progressive rock. He was still digging that hot tube sound influenced by blues players and the 70s rock players that were influenced by them.
He came of age in the 80's where there wasn't really a lot of solo guitar playing in popular music besides the old-timers (Clapton, etc.). In the 90s it was all about strummy-strum acoustic songs and grungy power chords. So Carl was pleasantly surprised to stumble over John Scofield's 'A Go Go' by chance around 2001. That album reassured him there was a market for fine melodic expressive electric guitar playing that wasn't too jazzy or showy, but had balls. That's where Carl likes to hang out these days.
Carl attended Berklee after High School (1985) with an eye toward performance, but quickly fell in love with recording, engineering, and production. The line for studio time was long at Berklee, so he enrolled in Full Sail in 1986 where he learned the basics of audio recording and production. It was there that he was lured into the world of computers, which took him away from the music business, into programming, software development, web design, technical writing, speaking at software conferences, consulting, training, and finally podcasting.
Carl started home recording in 1994, and in 1999 produced the first Franklin Brothers album, 'Strange Communication', with brother Jay on a PC in Carl's basement. By 2007, the podcasting was in full swing and Pwop Studios was built to support the podcasting business as well as Carl's music habit. Taking four more years to complete and perfect, Carl and brother Jay produced their second album, 'Lifeboat To Nowhere' at Pwop and released it in August, 2011.
The people who know Carl in the computer world don't really know that he's been playing piano since he was 5, singing since he was 8, playing guitar since he was 10, writing songs since he was 13, and recording in studios since he was 16. Likewise, his musician friends don't understand the first thing about computer programming. That's okay. A person can have two passions.
The Story of 'Been A While'
:

In February of 2009 I found myself in an unusual spot. I had a week to myself with no parental or other responsibilities. I had just finished writing and arranging a bunch of new songs, so I hired a small handful of fine local musicians to come hang out in the studio for a week and lay down the tracks.

The mantra for this project was 'it's all about the groove'. Forget about the notes. Notes will come if the groove is right. I remember Andy asking me "What do you want me to play here?" The answer was: "Just be awesome". The idea being that I wanted the musicians to do what they did best, trying to stay out of the way as much as I could. We recorded for six straight nights starting at around seven, rehearsing for a few hours, stopping for dinner, and then recording until two in the morning. "False Profit", "The Titanic", "Drive My Car", "Time Bomb", and "Out Of Your Way" came out of this session. "Big Butter And Egg Man" was recorded in November 2010 with the same line-up. "Waiting For The Summer To Come" started as a writing project with Al. I recorded the tracks myself (except for the horns) one day in January 2011.

"Boogie Groove" was another solo studio adventure, being written and recorded in one day in July 2011. I added horns to "Waiting" and "The Titanic" with the help of Doug Woolverton, who has trumpet solos on "Boogie Groove" and "Big Butter And Egg Man". Doug's flighty solo on "Boogie Groove" turned that song from a little shuffle into a true homage to the man who started it all: Louis Armstrong.

We unofficially released 'Been A While' in May 2012 at a concert at the Garde Theater in New London, CT. It was a joint concert with my band and The Franklin Brothers. It was great, but the album needed one more song. I met John Scofield through a mutual friend. He really seemed to like The Franklin Brothers and my solo stuff. To my surprise, he said 'yes' when I asked him to record with us! I co-wrote "Chain Reaction" for the occasion with my brother Jay, and we rehearsed the band, who were psyched to get to play with Sco. He came to Pwop Studios in May 2013 to lay it down. That was a great day!

Pwop Studios was built in 2007 in a corner suite of the historic DeWart building in New London, CT, which was designed in 1914. Completely digital, there is no mixing console. Microphones go from preamps directly to digital, usually without compression or any effects. There is no separate control room, as I like to be in the same room as the musicians when recording. There are two isolation booths that we use for guitar amps, vocals, or other instruments. As well, there is another room across the hall which we use often for more separation. The walls are big bass traps. Stretched fabric over open wood frames cover standard fiberglass (craft side out) in the framing. With sound foam on the ceiling and a Brazilian Cherry floor, the ambient sound is easy to control. Rolling baffles are often deployed in live situations.
For this session we used Focusrite preamps, MOTU 24IO hardware, and Adobe Audition 3.0 with various plugins. At the end of the day, I trust my ears over the gear. I try to get the sound right in the first place and resist the urge to make my mixes too complex. More about the studio at:
www.pwop.com
- Carl
------


F
rom Pwop Studios in New London, CT, comes another great album produced by Carl Franklin, only this time it's all his! He has appeared with Garth Hudson and Tommy Ramone on Chris Castle's Americana Masterpiece "Last Bird Home". As well, Carl produces numerous bands in the New London area where the scene is thriving.



About the tracks:

1. "Waiting For The Summer To Come": Co-written with Al LaPorte. The album opens very nicely with this optimistic song: "Oh, the sun has gotta shine someday". The horn section is present from the first notes, cool. That's The Franklin Brothers Horn Section: Doug Woolverton (trumpet); Rob Funk (trombone); Matt Nemeth (Alto and Tenor Sax); Jeremy Taylor (Baritone Sax). Carl himself sings and plays all the other instruments: guitar, bass, keyboards and drums.

2. "Drive My Car": Written by John Lennon and Paul McCartney. A funky version of the old Beatles hit! This is more of a band attempt, with Al LaPorte on keyboards, Andrew Chaney (bass), Matt Covey (drums), while Carl plays electric guitar. Yes, he pulls it off. This track rocks!

3. "Chain Reaction": Co-written with Jay Franklin, who also plays keyboards. The star track with the great John Scofield on electric guitar! Carl plays acoustic here and his dubbed vocals give the song a proper seventies feeling. Halfway there's a beautiful jazz vibe, when Doug Woolverton plays his trumpet along with the guitar solo. Otherwise the funky groove continues throughout. Yes, I like this collaboration between The Franklin Brothers and John Scofield!

4. "Boogie Groove": Except for Doug's beautiful atmospheric trumpet, is this whole track Carl's doing when it comes to instrumentation. He gets into his 'boogie groove' indeed! I love all these wah-wah sounds... Another strong track.

5. "False Profit": The band joins in for this long (6m12s) track. I hear some Prince influences in parts of this bass driven, remarkable spacey song.

6. "Big Butter And Egg Man": Written by Percy Venable and the great Louis Armstrong! A long and slow jazz ballad, where Doug Woolverton's trumpet gets the chance to shine again. It builds up very well towards the end and then we get the fade-out.

7. "The Titanic": Written by Alan Lomax, a very surprising cover made into a wonderful folk blues ballad. The old story is spell-binding. Al LaPorte plays stunning parts on the piano, The Franklin Brothers Horn Section is back and Jeff Kenniston signs on for a saxophone solo. Carl gives his own touch to the protest folk classic, when he mentions the Iraq war in the verse about casualties of war. A highlight on the album, we can close our eyes during the solos and be in the middle of an old black & white movie, situated in New Orleans, of course, the sound is that good!

8. "Time Bomb": The only instrumental on this album. Carl on electric guitar, Andrew plays bass, Matt Covey drums and Al LaPorte is behind the keyboards again for an improvised frantic jazz fusion piece.

9. "Out Of Your Way": The last song has been announced as a true story ballad, that may just bring tears to your eyes. "You were a bullet inscribed with my name / I just had to get out of your way". It sure has a beautiful melancholy seventies sound!
-----

The album title 'Been A While' obviously refers to the long time span between the original idea popping up in 2009 and the release of this album.

It is the opposite of what we would expect from a technical and computer 'nerd' (with all due respect) like Carl. The album doesn't have any drum computers or other digital creations, the keyboards probably do some extra tricks, but all the musicians play real instruments all the time! It is engineered, recorded and produced very, very well - that's the big extra here.

The final result is a fine groovy mix of R&B, soul, jazz and lots of funk. Carl has a very nice, relaxed and flexible voice, perfect for R&B related music. With some Donald Fagen / Steely Dan influences, but that doesn't bother me one bit. He creates an original sound after all. And hopefully Carl doesn't need such a long time for his next album!
-----
Written & compiled by Johanna J. Bodde, February 27th, 2015.
=====