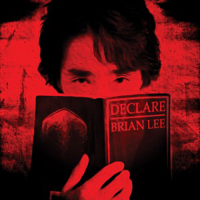 Brian Lee's previous album 'Moth' (2010) came as a very pleasant surprise. It is always a very pleasant surprise, when an album by a singer-songwriter you've never heard of before, turns out to be really good! So, I made sure to get the latest release... I noticed it's only a 5-track EP, but hey: five songs is always better than zero songs, right? Just in case this item is your first encounter with Seattle-based Brian Lee, let's take a look at his BIO:
--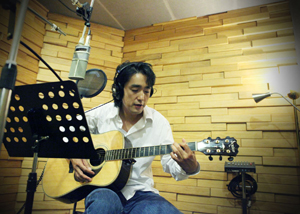 I
n 2010, drawing on the title of his first full length album 'Moth', Brian Lee headed away from the darkness and towards the light, unabashedly expressing his feelings of love, hate and frustration and painting richly emotional themes with the help of his co-writer and producer Franchot Tone. He named the album 'Moth' because it was the perfect metaphor for his own metamorphosis and emergence as an artist. He fully relates to the creature, safe and warm asleep in its cocoon, then finally waking up to become a beautiful flying creature, like the underdog emerging to take on the world. Moths always hide during the day, then chase after the light at night. These images connect perfectly to Lee's feeling that he was making a long anticipated breakthrough with 'Moth', where he learns to "paint the love" in his own words. Beside, Lee's input on his songwriting happens mostly during the night, after the moths get activated in his semi-lonesome basement room.

"I am getting back to the basics of why people write songs", he said back in 2010, "sorting through my own life and picking up critical points and exploring all of the emotions I felt in those moments. It is not telling one overriding narrative but it is more of different ideas collected over time, less about the present than the past and future. I like to call my songwriting a passion, but more than that, it's like a wonderful addiction that comes naturally to me. I'm always subconsciously working on new songs even when I'm not sitting down to actually write with my guitar".

Brian Lee believes that the ultimate meaning of any given song should be up to the listener. "A song takes on a life of its own and the writer has no control over how it is interpreted, construed and used". Yet he is open to discussing his inspiration on several tracks of 'Moth'. "In both my albums, my EP 'Quadrilogy' from 2008 and 'Moth' from 2010, I looked after, attended to the darker side of life, focusing on things in life mostly ignored by many", says Lee, "I wanted to put positive energy into these dark forces and beautify it with my songs and words. Because my concept is that life is all about relativity. We feel happy only because there is sadness that we have also felt - like one cannot exist without the other. There's the butterfly in the sun, pretty and promising, but it only looks that way to us because there's the moth coming out at night. Often when I am confronted by epiphanies of songwriting materials, they are so personal that I am scared to release them commercially", says Lee, who grew up in Schenectady, NY, and made the rounds as an open mike singer while attending college in Buffalo, at Penn State, and finally in Los Angeles. His recording depicts and paints the portrait of ordinary Americans of various backgrounds.

Now turn the clock to 2013, when Brian Lee is preparing diligently for his third album release. Lee's video promoter Kurt Zendzian was struck with an epiphany one summer day, of allowing listeners to come up with their own versions of music videos, depicting the song according to their own interpretation. Zendzian conveyed the idea to Lee, who easily obliged with the idea of running a contest of making music videos using his many songs that sharply questions the limit of human emotional patience on socially challenged subjects such as gay friendship, chemical war fares, environmental protection issues, over saturated societies with commercialism. Traditionally, songs are regarded as mere reflection of how the society is evolving, but can it be the other way around? Can songs actually change how people think and feel about the world they live in? Lee and Zendzian have decided to call this project 'change'. Several songs of Lee will be presented to the audience, and will give a chance to interested parties to come up with their own music videos, competing for various prizes, for which Lee hopes will not be the only motivation to make music videos.
Three songs have just been released via his third album 'Declare', which will grant the followers a fresh look into what Lee has been up to with his speechless songwriting companion, his guitar in his Seattle situated cocoon. Brian Lee is certain that people will be delighted to experience his more folk music oriented style he has grown comfortable with.
---
Brian's EP:

1. "Going West": The EP starts off with an acoustic folk ballad. Just Brian's friendly voice and of course his trusted companion the guitar. Very intimate and pleasant sounding in a Paul Simon way.

2. "While You Were Sleeping": The accompanying band has arrived for this melodic midtempo song. An upbeat example of Brian's influences from British pop in the late 60s and early 70s.

3. "Hide And Seek": A little waltz, with a wink at Leonard Cohen's work. The lyrics address the gun violence among the young people in the U.S.A. Very nice female harmony vocals.

4. "From Earth 2014": An urgently emotional uptempo folkpop song about the destruction of our planet and the environmental protection movement. Not too political, but sung with well-meant compassion. Ending in a heartfelt plea to love, not only the planet but also its people. Great keyboards and harmony vocals.

5. "Declare": The title track closes off the album. Another lovely sounding Leonard Cohen type of waltz, with poppy choruses. The subject: society in general and also the art world are over saturated with commercialism.
---

Brian made a great choice from his own stack of compositions, these are strong folk pop songs with meaningful lyrics, while they offer a true listening pleasure!

The producer of 'Declare' is Franchot Tone. He also played and sung on the album, together with Jim McGorman, Grace Laxson, Marc Slutsky, Chris Joyner, Adam Topol and Amanda Sarles.
---
Brian Lee (about how it all began)
: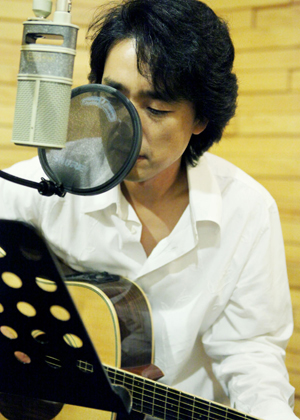 "We get to the gig around 9:30 p.m., a pack of twelve or thirteen kids with spiked hair, faded denim jackets covered in a chaotic splash of color and band logos. Assorted cases of beer in tow, we walked more than a mile through neighborhoods often hostile to people like us to pay three dollars and stand in a backyard filled to capacity, get drunk, and raise a little hell as our friends line up in varying band formations every half hour or so and tear through their sets. Their efforts are lit by a single lamp strategically placed on the makeshift stage at the back wall of the house. After a little searching, we find the other heads from the neighborhood - who came to the gig in two carloads - in the far corner of the yard with a keg between them.
We are collectively the punks from NYC, but we are by no means alone in the backyard. Kids from Montebello, Huntington Park, Highland Park, South Gate, Alhambra, El Sereno, Monterey Park, and other areas have also come out tonight to see the Sex Pistols, who are rumored to be making a rare appearance. I make my way through the crowd, can of Bud in hand, place my very scrawny self squarely in front of the stage, and begin heckling the front of the stage, and begin heckling the members of Side Effects, who are friends from Whittier. "You guys are too stupid to play and your drummer is a gimp", I shout at them through the din of tuning instruments. Behind me, another critic chimes in with "Go back to Whittier you has-been scumbags".

Their singer smiles. "Glad to see you guys, too," he deadpans into the microphone. Their drummer four-clicks and, as the band begins their first song, the backyard erupts into the sea of ritualized violence we call dancing. Many fall to the ground, but are quickly picked up by watchful friends and relatives. Somewhere in the middle of the set, I make my way back toward the keg, parched, sweaty, and loving every minute of the night. Two bands later, my brother informs me that he's talked one of the bands into lending us their equipment and that we will be playing after Anti-Social, who are currently onstage. We find Scott, our singer, and make our way back toward the stage. Anti-Social finishes and we tune up the borrowed instruments. Scott introduces us as "just another band from East L.A." and we begin our set amidst a hail of reciprocated insults from the members and a shower of wasted beer."

-----
Written & compiled by Johanna J. Bodde - January 24th, 2015.
=====