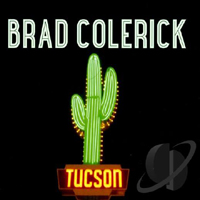 If you scroll down, way down this page you will find Brad Colerick in one of the first 'Artist talks about Album' contributions, regarding his CDs 'Cottonwood' (2006) and 'Lines In The Dirt' (2007). I don't think we, as smart Europeans, have much trouble with his name - but just in case, he wrote on FaceBook: "There's much confusion about how to pronounce my last name. Though I'll answer to about anything, here's the simple answer: two syllables, cole-rick. For the soccer fans, rhymes with 'goal kick' or, perhaps more appropriately, 'old hick'. I learned what to do from Suzy Bogguss, who has many issues with her name as you can imagine. Part of her protocol is to tell them how to pronounce it before she goes on stage". By the way, being in your mid-50s isn't being old, yet, Brad.

I'm glad to see Brad back here, aren't you? Yes, he still makes beautiful music! Here's an update:

W
hile contemplating his next CD, Brad found himself drawn to story songs, traveling tunes and folk ballads, painting sepia-toned visions of SouthWestern vistas, MidWestern prairies, and the ramblers and life gamblers who crisscross them. On the surface, that might suggest he's fixated on the myths of a particular region or place. Digging deeper reveals that the Nebraska-raised, California-based songwriter is dealing with the shifting geography of the heart.
"For me, Tucson is not so much a place as a symbol, a state of mind", he explains while discussing the title track, composed by his friend Dave Plenn. "My grandparents retired to Arizona from Nebraska, now my parents have followed in their footsteps. It's a transitionally time in all of our lives. But I have this strange feeling that I've lost a point of reference, or that I've just turned down an unfamiliar road".
After hearing Plenn perform "Tucson" at Wine & Song, the weekly songwriter showcase Colerick launched four years ago in South Pasadena, he realized he'd found the touchstone for his next album. Each week at Wine & Song he work shopped original songs that cohered around the emerging theme of time's passage. The talented cast of characters appearing on this album includes Herb Pedersen, April Verch, Steve Hanson and former Johnny Cash bassist Dave Roe, who have all sat in with Colerick at various Wine & Song nights and other performances.
"One thing I learned the hard way is to always woodshed the songs. Playing them in your living room by yourself is a totally different experience from playing them with other musicians and listening through the ears of a live audience. That's why doing this weekly hootenanny has been so valuable for me".
Most of the eleven songs were recorded in Drasco, Arkansas, with producer and guitarist Charlie White, with some production assistance from California-based Ed Tree. Full of guitars, banjo, mandolin, fiddle, and pedal steel, this record lands firmly into the Americana wheelhouse. The natural imagery and resilient characters of songs like "Late Winter Snow", "The Hands Of Time" and the bluegrassy "Brakeman's Door" hark back to his Nebraska roots. Even after more than two decades in the Los Angeles area, where he runs his Deep Mix music supervision company, Colerick still identifies strongly with the MidWest. "I'll always be a flatlander at heart", he says. "I love California and being part of the singer-songwriter community here, but I don't think I'll ever disconnect from that place I come from. The geography and the people tend to seep into my songs and characters. That's just who I am".

"This feels like a real storytelling period in my life", Brad Colerick says. "I guess I'm coming to grips a little more with the fact that we're all aging, and life is moving to a new phase". For Colerick, this unanticipated turn toward Tucson has resulted in a rich and captivating musical journey.

---
With this album, Brad took a different approach, opting to record it in Drasco, Arkansas at Jon Raney's studio. "I took two trips and just focused on the record", he tells. "It was three full days for each trip and I just concentrated on the record and nothing else". Spotlight on producer Charlie White, especially for his wonderful work playing the various acoustic, electric, slide, pedal steel and resophonic guitars, dobro and bass.

1. "Tucson": Written by David Plenn. Very effective intro on the resophonic to this country song, which also features fine pedal steel, both played by Charlie White. Brad sings better than ever and takes us out on the road for an interesting journey. Smart lyrics, with a wink at Robert Earl Keen: "They say this road goes on forever / That's what they say until it ends." Classy move, to give title track as well as opener credits to his friend!
BC: Dave is such a great writer and he debuted this tune at my weekly Wine & Song series at the Firefly Bistro. Knew immediately it was one I needed to record. As I sorted out material for this record it seemed to gain significance and became the perfect title cut. Thank you, Dave.

2. "Blue Horizon": A banjo driven, lightly rocking song, with its sober depiction of old friends' paths diverging. It shows us impressionistic images of tragic stories - from a robbery to the reservation.
BC: An old song but one of my favorites - written in 1992 in Colorado. Glad this one finally made it to a CD and thrilled with how it came together in the studio. The original demo was cut years ago in the bedroom studio of my good friend, Lyle Workman, up in San Rafael, CA. Lyle brought in a wonderful pedal steel and banjo player by the name of Dave Ristrim who I've continued to work with over the years and play gigs with when I'm in Nashville. We recorded Steve's parts to my temp guitar track at Ed Tree's studio in LA and added the rest of the band in Arkansas.

3. "Place Of You": Country ballad, simple and impressive - fondly remembering past love for a partner, after moving on. "Our paths may never cross again". Lovely slide guitar!
BC: I taught a songwriting class for a few quarters at the Los Angeles Music Academy (now the Los Angeles College of Music). I gave my students an assignment and decided I should follow my own advice and do the homework along with them. This song was the result. I dedicate this one to all those students I had the pleasure to work with at that wonderful place.

4. "This Is What I Do (Mighty Keeper)": A melodically uplifting, even autobiographical song whose gentle assessment of choices made and missed is couched in Brad's hometown's daily rhythms. This track was produced by Ed Tree. Focus on the three acoustic guitars! Cool vintage folk chorus.
BC: This feels like a real storytelling period in my life. I guess I'm coming to grips a little more with the fact that we're all aging, and life is moving to a new phase.
Dave Morrison invited me to be part of a songwriter's group in the San Gabriel Valley. We met in Lorin Hart's living room every month or two. This was a song I wrote for one of our meetings. My neighbor's dog, Macy, was being very protective of his domain one morning as I was trying to write for that evening's song group meeting. The song took an unexpected turn straight toward Macy when he wouldn't quiet down. Had someone thrown him a bone while I was writing, it would have been a much different song. RIP, Macy.

5. "Late Winter Snow": Phil Parlapiano plays electric piano and Hammond B3. Brad's characters often face hard times and equally hard choices. This song describes the regrets and missed opportunities in a long relationship: "Every time I thought that I might find you again / Nothing but a white-out up ahead / I thought time was on our side / But this time it's come and gone". Phil's soulful layers of keys adding to the slightly haunting effect. Charlie's dobro underlines the lyrics. A song that keeps lingering in your mind.
BC: I was in Toronto for a commercial shoot with Suzy Bogguss and got snowed in for a couple of days. The song began there but sat unfinished for a number of years until I was inspired by some unfortunate pain a friend was dealing with. This was a song I brought out after Charlie said "What else do you have that you haven't played me?" - wouldn't have imagined it would become one of my favorite songs on this record.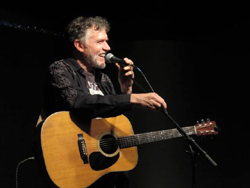 6.
"Brakeman's Door"
: Uptempo bluegrass song, co-written by Steve Hanson, he also plays banjo and mandolin. The lovely Canadian April Verch on fiddle. Herb Pedersen sings background vocals. A historic tale, doesn't matter if the writers made it up, in the style of bluegrass greats from the past.
BC: Steve and I began this song in Santa Cruz in the middle of a little tour up the coast. Steve has a cabin in Long Pine, Nebraska where this story takes place. He hosts a series of Bluegrass camps there every Summer. My kids and I attended one year and had a blast. Hope to get back to Long Pine soon. Did a show with April Verch at McCabe's when she was coming through California and got her into the studio the next morning to add her magic to this one. And getting my good friend Herb to sing background vocals was pretty special also.

7. "Hands Of Time (Nancy's Song)": An audience pleaser, no doubt. Love that has been restored with renewed vows. A meandering ballad, featuring the soulful sound of the pedal steel.
BC: Paul Schock commissioned me to write a song for his wife for her birthday. We had a number of phone calls and e-mail exchanges to talk about their story. I wrote this one mostly on a drive from Kansas City to Drasco, Arkansas where we recorded the album. Got to play it live for Paul & Nancy at her surprise party at the Prairie Club outside my hometown of Valentine, Nebraska. Very special moment.

8. "Hob Trasher": Written by Jack McNevin & Michael McNevin. Recorded on Michael's album 'In The Rough' (2002). Tim Crouch plays the fiddle here. A 'Mr. Bojangles' type of story, about a ninety-year old fiddle player, jamming with other musicians in a Californian airport lounge. Reminds me of songs by the great Nitty Gritty Dirt Band.
BC: Another song I first heard at my Wine & Song series in South Pasadena. Mike was a featured artist and gave an amazing performance. I couldn't get "Hob Trasher" out of my head. What a beautiful story, that he wrote with his father. I've since played a couple shows with Mike up in Niles where he hosts some great jams at his Mudpuddle Shop.

9. "Mother": I think, quite a lot of men will relate to this ode to mothers and find it a touching one.
BC: Always felt bad about not calling my mom 'Mother', which she told me she preferred. My friend, Kim Genkinger, gave me an assignment to write a piece for her client, Teleflora, for a Mother's Day commercial. Ended up not being quite right for the spot but I liked the idea and finished it off for 'Mom'.

10. "Tragedy": "There's a legend passed down through the years / Of a soft-spoken angel, baptized with tears / Cursed this land before she fell from grace". I like the pace and the very strong but concealed undercurrent of energy, up until the very end. My favorite on the album! Excellent electric guitar solo again.
BC
:
Charlie White moved from Nashville, where we met, to Arkansas. I booked him once to come play a series of shows with me up the coast and he had to cancel at the last minute. I knew he was going through some difficult times and wrote this one thinking about his struggle. Had never been to Arkansas but since I was recording there I decided to dust this song off and play it for Charlie. He liked it. I never mentioned to him that he inspired the song, though I guess he'll know now that I'm writing this.

11. "Roll On": This road song presents a fitting bookend to the album. About taking life as it comes and gaining some wisdom from all the experiences. "It ain't black or white / So do what you think is right / Heaven is better than hell / That's life in a nutshell." Brad finished the song at Charlie White's request.
BC: We were reviewing material in my hotel room. I would play songs for him. He was so nice... if there was something he didn't like, he would say: "What else you got?" After a few of these 'what else you gots', I started digging up parts of songs I hadn't finished. This one I hadn't finished, and he really liked it. Rob Laufer and I were working on a bunch of songs for various artists for an ad campaign for Sears Auto Centers. This one, intended for Shawn Colvin, was started but never finished. We wrote a different song called "Free To Roll" for Shawn and I went to New York with Larry Klein to record it. Glad this one finally came back around.
-----
A few
questions
for Brad
(asked by
Colorado Boulevard's Debra Penberty):

Question: I'm always interested in the stories behind the songs. Can you tell me about "Blue Horizon", one of my favorite songs off your new CD?

Brad Colerick: That was a song that I wrote back in 1992, but I just hadn't put in on an album… It's about a lot of things. For a long time, I was not recording my own music. There was a twenty year span from my 1986 album to my 2006 release. And during that time I was doing mostly music for ads. I wrote "Blue Horizon" during that break. It's about our choices in life and the longing I had to get back to the things that matter to me. I've managed to do that now.

Q: How does it feel?

BC: It feels great! I still have my company DeepMix, based here in South Pasadena, but I'm able to strike a balance between that and doing my own music… And at my age, you think a lot about the passage of time. You see your parents and your kids getting older…, and so it brings a different perspective on life and looking back.

Q: So, you're thinking about what's important in life and where you're headed?

BC: That's right. And, my parents recently moved from Nebraska to Arizona. They had planned to move to Tucson, but they moved to Scottsdale instead. I'd already settled on Tucson for my new album name, though. So I kept that!

Q: Yeah, Tucson rolls off the tongue a little more easily! Tell me about this series at the Firefly Bistro in South Pasadena.

BC: Well, this series has been going for five years. It started at a wine bar that used to be on Mission… but we moved it to the Firefly. The owners, Paul and Carl, have been really supportive, and it's been great to have this regular spot to try out new material and feature other artists. I usually open the evening with a couple songs, then our featured artists each do a short set. And we have some special guests each week who pop in and do a couple songs each, then the featured acts close out the night. And, it's really been made into a listening room where people come and focus on the music.

Q: One last question. Tell me about what roots you in the Americana genre.

BC: Well, I used to call my music folk rock, I was heavily influenced by singer-songwriters like James Taylor and Jackson Browne. Then this term Americana began to surface in the '90s. I attended a retreat in 1996, shortly after Gavin Magazine began reporting an Americana radio chart. There were two factions, one the singer-songwriter camp and the other the alt-country camp. There was a lot of discussion about how to describe Americana music. That retreat was the catalyst to what became the Americana Music Association. It's a fairly broad genre that encompasses a lot of 'roots' music sub-genres. My sound falls right in the heart of that spectrum somewhere between folk and country.
-----
Well, I still like to think of this great music as 'countryrock', it's still my favorite and I still believe in it! Beautiful and strong story songs, set in a broad melancholy landscape of well-composed and nicely flavored sounds. I know Brad has quite a large following already, but he deserves more recognition and appreciation. Just let Brad take you on this very enjoyable road trip!
-----
Written & compiled by Johanna J. Bodde - February 11th, 2015.
=====