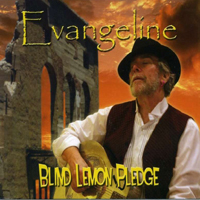 Blind Lemon Pledge
'Evangeline'
(Ofeh Records, 2014)
www.james-creative.com
The Blind Lemon Pledge BIO:

'Evangeline' is the latest release from singer/songwriter/producer/multi-instrumentalist Blind Lemon Pledge (aka James Byfield). This album explores a variety of musical directions, and it showcases the range of writing and producing skills that Blind Lemon Pledge has developed through his career.

James Byfield has been involved with music since childhood. At fourteen, he first picked up a guitar and began a life-long love of folk and blues music, especially the country blues of the pre-WWII era: Son House, Bukka White and Blind Lemon Jefferson, as well as the exciting developments in rock that were happening at the time. In high school, he pursued his love of music by playing in rock bands and in coffee houses throughout the San Francisco Bay Area. In 1967, while in college, James Byfield composed 'The Rock Mass', credited by Time Magazine as the first use of hard rock music in a liturgical setting. Under the aegis of Grace Cathedral in San Francisco, he toured with 'The Rock Mass' throughout California, gaining press coverage, a certain notoriety and a love of new and unusual directions in music.
After graduation from San Francisco State University, James played music in a wide variety of settings for the next several years, while making his living as a graphic designer, multi-media producer and animator. His media skills have continued to benefit him as he creates graphics for his albums, web sites and videos.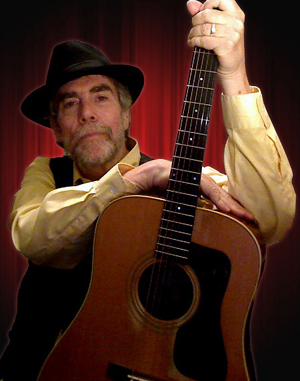 Over the course of his musical career, James explored a number of different, and sometimes wildly divergent, musical paths. He played rock, blues, country and folk, and even took a five year hiatus to delve into Chinese classical music, learning to play the Er Hu (a two stringed fiddle) from a local master. All during these years he learned to play a variety of instruments as well as mastering MIDI programming and computer-based recording. And, of course, he continued to hone his songwriting skills. Blending his folk and blues influences with jazz and American Songbook techniques, he created a unique musical hybrid that echoes Willie Dixon, Hoagy Carmichael, Randy Newman and Bob Dylan, while offering a range of original and cover songs from Blues to Ballads, Rock to New Orleans.
In 2008, James Byfield was able to devote to his music full-time and launched a recording and performance career under the name 'Blind Lemon Pledge'. In 2009, he completed his first, completely self-produced and self-recorded solo album 'Livin' My Life with the Blues' which combined classic blues songs and his own originals, all set with the sound of an old-time blues string band similar to early Muddy Waters, Sleepy John Estes and the Gus Cannon Jug Band, among others.

In 2010, fronting an acoustic blues band called Blind Lemon Pledge, he released a second album of material, again with a combination of classic blues and originals with a couple of reworked pop classics such as The Rolling Stones "No Expectations" thrown into the mix. "I Would Rather Go Blind" has a clean, spare sound with guitars, keyboards, harmonica and bass.

Another well received album followed in 2013 with the release of 'Against the Grain', this time featuring all original tunes covering everything from Folk Rock to Swing to Southern Gospel. For this album, James brought in a group of his musical associates, honing each individual tune to the needs of the song rather than relying on one set band sound.

For 'Evangeline', Blind Lemon Pledge returned to the recording style of his first album and did all of the instruments, production and editing himself. He sincerely hopes this new album will reach across various musical genres and bring his songs to a whole new audience.
-----
The Blind Lemon Pledge ALBUM
:

An interesting and original take on the various kinds of roots music. All tracks are very different from each other, it is hard to believe that one man came up with all of these songs actually, but this whole combination makes the album very enjoyable, like a musical journey of sorts.

Although at least one music critic believes that James Byfield just created the list of humorously named sidemen and played almost all of the instruments himself, apparently he posted an ad on craigslist in 2008, to audition and finally assemble the current Blind Lemon Pledge team. Originally conceived as a weekly jam session, what was, at first, a loose amalgam of musicians quickly became a tight quartet of players devoted to their sound and styles.

A collection of iron-clad songs by an inspired unafraid artist. Each one of the tracks stands on its own and shows its own beauty. Blind Lemon Pledge definitely takes you by surprise!
-----
The Blind Lemon Pledge TRACKS
:

1. "Buley's Farm" - BLP: An a-capella song with cigar box guitar / harmonica solos. Done in the style of the John Lomax recorded prison songs from the early 1900's.
Brilliant opener with those percussion sounds in the background and the rugged repetitive a-capella vocal harmonies - we can almost see prisoners working on a chain gang, keeping up the spirit by fantasies about getting away: "I ain't stayin'..." Add the minimal use of the haunting cigar box guitar and the harmonica riffs plus the slightly raspy voice of James Byfield and the result is a hard hitting track.

2. "Jennie Bell" - BLP: A heartfelt love folk rock song with overlaid guitars.
"There's a 6:03 to New Orleans / Got a ticket, it took all my pay". A gorgeous folk ballad and sweet sad love song with dreamy acoustic guitar. James delivering great husky vocals in his role of an aspiring singer, who is going to try his luck on the stages of the big city. And Jennie Bell has to stay behind...

3. "Brimstone Joe" - BLP: A dark and brooding song with a New Orleans beat in a 'St. James Infirmary' style.
Inspired by the music of Jelly Roll Morton, an original Crescent City honky tonk piano blues song. Apparently Joe is the guy to know for gentlemen who want to have a good time on Canal Street. But better beware: "Drink one more and you might disappear"...
4.
"Midnight Assignation"
- BLP: A hard rocker with an Allman Brothers type slide lead and a 'sell your soul to the devil' theme.
The electric slide guitar has been picked up for this fast intense roadhouse blues rock track. Referring to the legend of trading a musician's soul to the devil at the crossroads in exchange for exceptional musical talents. Slides can not do anything wrong with me. "Another soul is lost again".
5.
"Go Jump The Willie"
- BLP: A swingin' dance number reminiscent of Louis Jordan and Jump Blues.
Offset by some understated single note picking, culminating in a catchy ragtime rhythm. The guitar playing is perfectly blending with the jazz piano notes. James Byfield's jump jive blues tribute to '40s star Louis Jordan, The King Of The Jukebox, makes us want to dance and shake our 'derriere'!

6. "The Language Of Love" - BLP: An upbeat and fun song... a sort of gringo Latin dance number.
More dancing? Why not! A captivating blues tinged salsa number, telling about a trip to Puerto Rico. Vibraphone and exotic percussion in an endearingly funny and sunny song.
7.
"Ham And Eggs"
- BLP: A novelty song done in a neo-Andrews Sisters style about gastronomic bliss. Has a definite Depression Era vibe.
A tip of the hat to Cole Porter and the American Songbook. Silly lyrics, of course - that was to be expected. Skillfully played with wonderful harmonies, I'm giving credit where credit is due: perfectly done.
8.
"How Can I Still Love You"
- BLP: A jazz blues number with some great guitar work.
Slow smoky track, seemingly straight from a late night at a swanky blues club on some fancy avenue. The lazy sound of the jazzy crooning brings Mose Allison in mind. Very smart lyrics: "How can I go on dreaming / When you drove Mister Sandman out / How can I go on hoping / When you say your middle name is Doubt". That is also one great expensive sounding piano!

9. "You Had Me At Goodbye" - BLP: A sad love song about the end of a relationship.
Lovely melodic folk rock, smooth, not too subtle winking at The Byrds. A sad and gentle serenade to a lost love. Yes, I fall for this confession of his lies!
10.
"Evangeline"
- BLP: A deep blues song inspired by the acoustic pre-war greats such as Son House. Great slide work and a dark mood.
The long title track closes off. Apparently it got the name thanks to a secret crush James had on actress Evangeline Lilly. Back to the Mississippi Delta with a country blues featuring bottleneck guitar, some more lethargic acoustic guitar on a sparse rhythmic base. "The book lost all the pages". Perfect sadness...
-----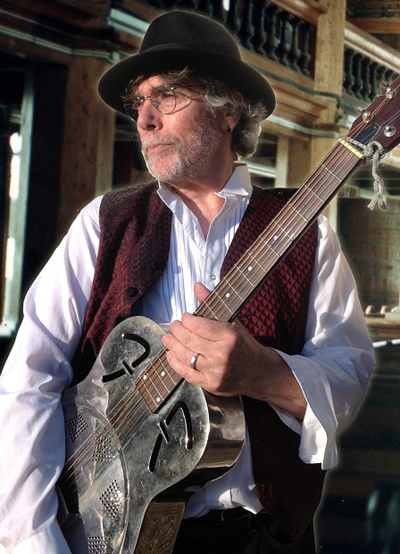 The Blind Lemon Pledge INTERVIEWS:


From Middle Tennessee Music (Joshua Smotherman):


Question: Let's break the ice. Who are you? Where are you from? What style of music do you create?


Blind Lemon Pledge: I am a singer/songwriter, multi-instrumentalist, arranger and producer located in San Francisco, CA. Although my given name is James Byfield, I have performed under the name 'Blind Lemon Pledge' since 2008 when I was able to devote myself to my music 'full-time'. Unlike so many residents of our wonderful state, I am California born and bred. I currently create a unique brand of Americana / Blues based music with a very eclectic mix of styles. From hardcore 'deep' acoustic blues in the style of Son House and Fred McDowell to New Orleans inspired honky tonk to Bar Band rock to sophisticated jazz/blues. One person described it as Muddy Waters meets Hoagy Carmichael meets Bob Dylan meets Randy Newman. I play both original songs and covers.


Q: Where did the name 'Blind Lemon Pledge' come from? What's the story behind that choice?


BLP

: The name was lifted from an old routine by the singing comedian Martin Mull on his album 'Martin Mull and his Fabulous Furniture'. When I recorded my first solo album in 2009, I took the name and created a whole fictitious back story for the character which you can find on one of my websites. (Even with t

he only known photo of Blind Lemon Pledge, circa 1924.)

I loved the combination of humor and reference to blues great Blind Lemon Jefferson who is one of my musical idols. Sometimes I wish I had done a little more research, because it turns out several others have also used this name. But having already had some success with the name, I decided to stick with it. Luckily, I think my persistence and track record is winning out over others who are using the name.


Q: Who or what influenced you to choose the musical path?


BLP: I first began playing guitar at about fourteen and quickly discovered the blues. For some reason the library of my High School in Palo Alto had a copy of a Son House record (the only blues record they had) and I used to go in on countless lunch hours and listen to that record over and over, as well as the music of Sleepy John Estes, Fred McDowell (whom I got to meet), and Blind Lemon Jefferson. However, my tastes and my path have been very eclectic. For years I played hard rock music as well as dabbling in folk, country, and jazz American Songbook standards. In 2008, I decided to return to my roots and went back to the acoustic blues which had been such a formative part of my early music. And I have been following that path with significant variations ever since.


Q: What music did you listen to when you were younger? How about now? Have your tastes changed?


BLP: When I first started playing guitar, folk music was the big fad, which was then quickly followed by the great rock of the Sixties - from English Invasion to Motown, etc. I am not one to go back and listen very much to the music of my youth, other than blues. Over the years I have gotten heavily into Reggae and Kaiso (with several trips to Jamaica and other parts of the Caribbean), early Punk and New Wave (still have a great record collection of this music including a signed Flipper 45), Jazz, 50s and early 60s Rock 'n' Roll (I own about 200 45s), R&B, Rap and Chinese and other Asian classical. And of course all kinds of blues from acoustic to electric, including jug band music. In some ways it's easier to ask me what kind of music I am NOT into. As I keep saying… very eclectic tastes. Overall, the one binding factor is whatever grabs me in the gut and sounds genuine.


Q: Having been at this for a while, what's the most significant change you have noticed from the pre-social media music business to the post-social media biz?

BLP:The changes have been awesome and inspiring. Under the old construct, an indie eccentric like myself would have never had a chance of getting his music out to the public. But the access that social media provides has given me that chance to have my music heard worldwide. That being said, the downside to the online distribution companies is the poor rates they pay the musicians. But, if I was in it for the money, I certainly wouldn't be playing my offbeat brand of blues and Americana. Also, YouTube videos allow people who would never experience my music to see and hear me perform. Very cool. I have gotten fan email from Europe, Canada and Australia as well as the US.


Q: Is the Internet helping you connect with fans and grow your fan base? Are there any challenges you have had to overcome?


BLP: Yes, the Internet is definitely good for connecting with fans. My biggest challenge is that I am personally not that great at using FaceBook, etc. I forget to do it and find myself involved in my creative projects and neglecting the social aspect. I am kind of a one man show and it's hard to keep up with all of it. Plus, I think I am a bit of a recluse and the 'gossipy' aspect of social media doesn't always fit my personality. I can't imagine that anyone cares what I just had for dinner!


Q: How has your genre changed over the years (if at all)?


BLP: Blues is interesting because it changes and doesn't change all at the same time. There is always new blood adding interesting new twists to the forms and styles. But the basic I-IV-V pattern still dominates. It is such a basic foundation of all modern American influenced music from Jazz to Pop to Rock. I mean why change it? In my own small way, I think I have contributed by bending the genre in a lot of directions. I hardly ever write a straight ahead blues song and most of my covers have some interesting variation on the patterns.


Q: What's one of your favorite career moments?


BLP: The first time I heard my music played on the radio wins hands down!

-----

From the interview by Michael Limnios:

Question: What do you learn about yourself from the blues and what does the blues mean to you?

BIind Lemon Pledge: I have been listening to and playing blues music since I was about 14 years old, shortly after I first took up the guitar. At first I was exposed to the more 'acceptable' stylings of Sonny Terry and Brownie McGhee and of Josh White who were featured on television at the time. But, by chance, I discovered an old record of Son House in my school library and I was immediately hooked on the raw sound of pre-WWII era blues. My first blues record was a compilation with Leadbelly and Sleepy John Estes.
I have been listening since that time and have pretty much been exposed to all the various facets of the blues. Although I have my favorites, I like some aspect of almost any kind of blues from country blues to Chicago to jazz, blues rock and on. However, those early single guitar/singer cuts and the jug and string bands from the 20s, 30s and 40s are still the mainstay of my ongoing influence and remain my favorites.
I would say blues taught me the importance of emotional honesty and about 'cutting to the bone' in my music. I think a lot of music gets buried in production and gimmicks and a lot of songs lose their way in the lyrics, but the best blues, in whatever style, keeps it honest. And, I hope I achieve that in my performance and recordings.
As far as learning about myself, I would also hope that I can achieve that same emotional honesty in my life and relationships as is in the blues.
What the blues means to me is a seminal art form that aids in getting in touch with one's inner self and finding the core of one's strength. I have an old song I wrote several years ago called "Living My Life With The Blues". I always introduce it in my performances as 'my philosophy of life'.

Q: Why did you think that the Blues & Folk Roots music continues to generate such a devoted following?

BLP: In a world that is increasingly modernized and marginalized, people are craving the 'real thing' in their music. You can turn on the radio or TV and hear so much music that sounds like it was created for a Las Vegas extravaganza. Blues, Folk and Roots gives people an opportunity to connect with tradition and to experience their music in an unvarnished form. It is 'dangerous' music – not over processed and allowing for the opportunity for unexpected things to happen.

Q: Which meetings have been the most important experiences for you? What is the best advice ever given you?

BLP: The two most important meetings in my life happened very early when I was still a teenager. The first one took place right outside of my house in Palo Alto, CA. At the time I had been first studying the blues and was trying, without much luck, to learn how to play the alternating bass and finger picking patterns similar to the Piedmont style. I looked out my window, and across the street a young African-American man was leaning against a car, playing just this style. I went across the street, introduced myself, and asked if I could just watch him for awhile. When he finished playing about half an hour later, I had learned the style. He was like an angel sent by the blues gods! The second meeting occurred about a year later at the Berkeley Folk Music Festival which was, at the time, held every year on the Berkeley Campus. After years of playing his music in obscurity, Mississippi Fred McDowell had just recently been discovered by Chris Strachwitz of Arhoolie Records. As part of the Festival, John Fahey hosted a workshop with Mr. McDowell - a question and answer session, punctuated by examples of playing. Myself and about ten other folks got to sit right there with him, ask questions and marvel at his skill and bask in his genuineness. Fred was a huge influence on my tastes and on my slide phrasing. The 60s and 70s were the end of the era for many of the great pre-war blues players and it was wonderful to be able to be so close to such a fine (if often under-appreciated) master. The best advice - "Make the song your own".

Q: What do you miss most nowadays from the blues of past? What are your hopes and fears for the future of?

BLP: Of course I miss the old greats whose names are such a part of the lore of the blues. I am glad that I got to see some of the old guard before they moved on: Fred McDowell, John Hurt, Muddy Waters, Otis Spann, Lightning Hopkins, Mance Lipscomb, Sonny and Brownie, etc.
I hope that the blues will continue to thrive and that future generations will rediscover the country blues as well as other styles. I guess I don't fear much, I think the blues will take care of itself.

Q: Let's take a trip with a time machine, so where and why would you really wanna go for a whole day..?

BLP: Interesting question! And a hard one to answer. There are so many choices. Since song writing is so important to me, I would probably like to go back and be a 'fly-on-the-wall' at the creation of one of the great blues songs. If I had to narrow it down I would say I would like to watch and experience Skip James composing "Devil Got My Woman" or Blind Willie Johnson creating "Dark Was the Night" or Hoagy Carmichael creating "Georgia".

Q: From the musical point of view what are the similarities between: Blues, Folk, Jazz, Gospel and Country?

BLP: Again, I could go on for hours on this topic and I am not even a legitimate musicologist. America itself, with all its wonderful ethnic and cultural diversity and richness of experience, is the bond that unites all of these musical streams together. When you look at musicians like the Carter Family or Jimmy Rogers, you see the roots of Country music, greatly influenced by their contemporary experience with African Americans and the Blues. When you experience Leadbelly, you see how Folk informs the Blues. When you listen to Chuck Berry or Elvis Presley, you see the way Country intersected with Blues to create Rock and Roll, the single most influential music in all of history. Jazz and Gospel, of course draw on a wide range of influences as well as add their own touch. Music is not created in a vacuum and America has had a long and unique history of cross-cultural interaction. And all of the music you mention comes together in the melting pot that is America. Listen to Big Bill Broonzy or Lonnie Johnson and you can see how everything can come together in one musician.
You asked earlier what I missed most about blues from the past. I would say one of the things I miss most is the cross pollination that used to be so much a part of 60s free form radio where you would get a country song followed by a blues song followed by a folk song followed by a psychedelic rock song, etc. Mass media seems to be getting so stratified. Diverse but stratified. And I think it is a shame that people are not exposed to the different strains that used to be available from a single source.

Q: Is it easier to write and play the blues as you get older?

BLP: In the last few years I have experienced some deep personal tragedy which definitely got me more in touch with the emotions I need for good performance. I have noticed a recent marked upswing in my ability to convey all kinds of emotions to my audience. This is coupled, of course, with the natural ease that consistent performing has brought through time.
Other things just naturally come with age. When I was a boy falling in love with the great old blues men, I never dreamed I would become an 'old blues man' myself! My guitar playing has gotten more fluid and streamlined over the years. There was a period when I was younger that I tried to play like a steamroller… Alvin Lee comes to mind. I practiced for hours getting as fast and as complicated as I could. But as I have matured, I have learned that three perfect notes are better than two dozen fast ones. I concentrate now on the phrasing and meaning much more than the speed. One of my guitar idols is Steve Cropper who can say more with one simple phrase than other guitarists can in an entire song.
I have also found that my songwriting has continued to mature in very positive ways. I think I am writing consistently better now than ever. Although some of my older songs have definitely withstood the test of time as far as my being able to relate to their emotions and meaning. But in the last few years I have been able to explore themes and emotions that I would not have comprehended in my youth. And my use of lyrics has gotten even more succinct and creative. It has been very gratifying.

-----
Written & Compiled by Johanna J. Bodde - January 30th, 2015.
=====