Pictures of Bill by: Jolanda Haanskorf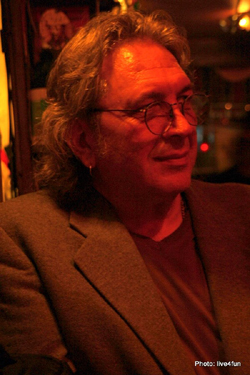 Yes, our friend singer-songwriter Bill Parker is back here -as promised- with his latest release! In case you missed anything: just scroll down on this page and you'll find Bill, talking about his previous four albums. Make sure to get back here afterwards, friends.
This is a fine six-track
EP
with acoustic insightful folk songs. Bill is a very good guitar player and convinces with his modest, slightly ragged voice. Only a man, who has always lived and enjoyed life to the fullest can write and perform art like this.
"Nederland" is the Dutch word for The Netherlands and this is an interesting theme for sure, if you're Dutch yourself or not! The cover art shows a canal in the city of Groningen, this is a picture Bill took during his first visit.
I love the album right from catchy opener
"Never Been So Happy To Be Wrong"
with Bill's excellent finger-picking and a guest role for his guitar 'John the Resonator'. Followed by the super funny anti-ode to Amsterdam
"Secondhand Smoke"
and the sweet sad love song
"Never Again"
. We take a ride with Bill in the
"Enchanted"
car, the music goes uptempo with a shot of tequila in
"I'm Gone"
and too soon we say 'goodbye' all the way on the end of the disc with the trademark Dutch greeting of three kisses on the cheeks!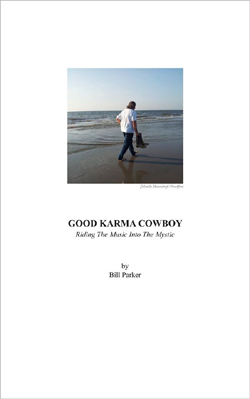 Well, I'm excited that we could convince Bill again to share his thoughts about this mini-album. We're so lucky he likes to write... Speaking of, Bill wrote a book about his adventures in The Netherlands. He skipped the original idea and title "Where The Kibbeling Roam". I still hope he will publish that sometime in the near future, as 'RadioGirl' has a small role as one of the characters! Anyway, the
NEW BOOK
is called
"Good Karma Cowboy: Riding The Music Into The Mystic"
. Published through Amazon's Kindle Bookstore. If you like to read books: highly recommended. Don't forget the album though, why don't you give yourself a nice present: the EP 'Nederland' and the book as a set!

SOME THOUGHTS ON 'NEDERLAND' by Bill Parker

As the title suggests, the songs on the 'Nederland' CD/EP arrived in the wake of my 2014 tour of The Netherlands. As always, they are based on what I saw, heard, were a part of or thought about during those five weeks in early summer but they aren't literally word-for-word true. My songs are most often about what might or could have been rather than what actually happened and even the ones that are – to quote Oscar Wilde - "as good as true" still fall short of the mark. I'm a songwriter, not a news reporter.

As such, I leave it to the listener to differentiate between truth and poetic license and to determine who's who in a given situation. Not that it matters: I'm not sending out subliminal messages. I'm not that clever. That being said . . .

Anyone who likes my approach to playing acoustic guitar (especially when it comes to finger-picking) needs to thank Stephen Stills. Everything I do stems from my early attempts to replicate what he did from the first Crosby, Stills & Nash album (1969) up to and including the first Manassas LP (1972). It's all there. I'm long past the point of having heroes but I always acknowledge my influences and "Never Been So Happy To Be Wrong" is my latest 'thanks, pal' to the original Cautious Cowboy.

The latest 'Singalong With Bill' number, "Secondhand Smoke" is true at the start and finish but somewhat less so in between as I am indeed 'a clean man now'. This was written in response to my fellow countrymen and women who were far more interested in whether or not I sampled the carnal delights of Amsterdam's red light district or got legally loaded on primo hash (or both) than they were in the more mundane aspects of being on the road in a foreign country, like the people I met, the cities I visited or – oh, yeah – the music and how it was received. Ah, well.

Contrary to popular belief, you don't have to be romantically involved with someone to write a romantic song for them. Simply stated, there are people in this world who have a 'muse' quality about them, which from time to time sparks a surge of creativity in others. I'm fortunate to know someone like that and "Never Again" is the latest offspring of our non-romantic relationship. I never question where a song comes from, my only concern is that it works. As a less-than-fond farewell – with broken hearts on the horizon – I believe this works.
"Enchanted"
could be sub-titled "The Designated Driver Song". Given the choice, when there's driving to be done I prefer to be behind the wheel. It's not some macho/he-man thing, I just like to drive. But when you're 6000 miles from home that's not always an option and that's when you find out if you know how to ride in someone else's car. Not everyone does. You don't give advice or directions unless asked for them. Instead you make conversation, comment on the scenery, or drift off into some private reverie while hoping the car has been touched by magic. You especially do this when the driver has 'had a few'. If you can't do that, you shouldn't have got in the car in the first place.

If you've ever known someone – friend, lover, relation – who regularly pushed the boundaries of the relationship by acts of conspicuous idiocy, you'll recognize the sentiment behind "I'm Gone". There are many ways to abuse someone and an all-too-common one is to count on them to 'pick up your pieces' every time you crash and burn, claiming unbreakable bonds of love or friendship and promising it won't happen again. But it always does and always will until you finally say 'see ya, baby!' and take it on down the road.

Often when I write I hear other instruments playing, someone elses voice singing. In the case of "I've Got A Secret" I heard Nicky Hopkins playing piano while Bonnie Raitt sat next to him on the piano bench, singing as only she can. It's a nice, late night sort of tune to close out this collection.
-----
Written by Bill Parker & Johanna J. Bodde - February 27th, 2015.
=====