Amanda Rheaume
'Keep A Fire' (Self-Released, 2014)
ictures by Herman Keverling Buisman

Sometimes I'm fortunate enough to see wonderful artists play live in the best places! Amanda Rheaume was a guest in my friend Thomas Kaldijk's radio show 'Blueprint', recorded live - with audience in the foyer of Theater VanBeresteyn in Veendam, The Netherlands. Last year with Jeff Logan, on September 12th again as the Amanda Rheaume Trio, with Marie Josée Dandeneau (also known from Oh My Darling) and Fraser Holmes. I didn't know any of Amanda's songs when I first went over there, it can be very nice to just let the music surprise you! A pleasant surprise it was...

Amanda has a beautiful voice, she has something to tell us in her songs, she knows how to win over the audience immediately with her energetic stage presence, her pretty smile and bubbly personality and she also picks great musicians to tour with her.
Although 'Keep A Fire' is the first CD that landed in my hands, Amanda has been regularly releasing music since 2007, both EPs and full albums. Her style is a hybrid of folk and country with a poppy sound. Comparisons have been made with Alanis Morrissette, Mary Chapin Carpenter, Joan Baez, Sheryl Crow and Joni Mitchell, although I think Amanda's songs sound more natural than Joni's constructions. She lives in Ottawa, the capitol of Canada but she plays more than 160 shows a year, all over the world, even in Afghanistan (up to three times - entertaining the troops), Dubai, Honduras and on the Faroe Islands. She is involved with various charity projects: Babes for Breasts, the Boys and Girls Clubs of Ottawa, raising money for the families of military personnel, etc.
'Keep A Fire' is a concept album, that pays tribute to Amanda's Métis heritage (a mix of European and First Nation, Canada's aboriginal peoples) and most of all: her family and ancestors. The intention behind the title is that we keep a fire alive for those who have come before us, both for their benefit and ours.

"Through my travels across Canada the last couple of years, I started to ask more questions about where my family was from," Amanda said in an interview. "And when I started touring, all these family members who I had never even met started popping out of the woodwork in Saskatchewan, Manitoba, Alberta. I ended up meeting a bunch of family that I didn't even know, and I started collecting all these great stories. And through that process, I realized that we all come from somewhere, we all have our own stories, and for me, I learned a lot about myself just from looking backwards. From that point on, I just went on this research mission."
Flying in a Hercules aircraft on her way to perform for Canadian soldiers stationed in the remote base at Alert, Nunavut, someone on board tapped her on the shoulder and pointed out the vast waterway of the NorthWest Passage. "I looked out the window of the plane and a light bulb went on in my head," she recalled. "I saw this big, amazing body of water, and it made me think of my Poppa, Thomas Arthur Irvine, who is my mom's dad and who navigated the H.M.C.S. 'Labrador', the icebreaker that charted the Canadian Arctic and the first ship to circumnavigate North America. I knew he travelled through there, but until I saw the NorthWest Passage myself, I didn't think about what he did. Not everyone gets to see that body of water. I could kind of see this huge ship in the water and I had this inkling that I wanted to come home and tell him. He had already passed away, so I wasn't able to share that moment with him. So I sat down with my writing partner John MacDonald, and I started to explore the whole time line of things, the dates and where exactly the voyage was." The moment inspired her to ask her surviving relatives about their lives and about their collective family history. "I called my Grandpa in Okanagan and asked him about his mother and about his brother. I spoke to his sister. We looked through old family pictures about growing up in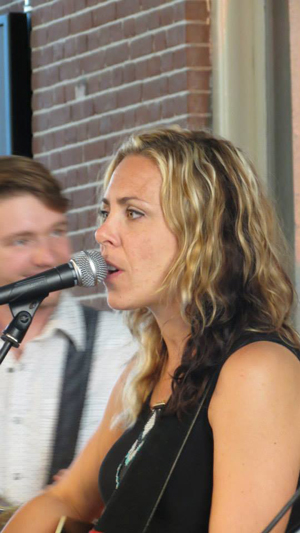 God's Lake where the planes would come in twice a year," says Amanda who describes this grandfather as kind, generous and warm. "I never met his mom, my Ojibwe great-grandmother, Stella Rheaume, who died a month before I was born, but a number of the songs are about her, and I really wanted to get them right."
"When you look backwards, you can understand more about yourself," says Amanda who spent many hours speaking with her family, especially her grandfather, in the process of creating these songs and discovered that her urge to move on to the next interesting project and her love of travel may be hereditary. After collecting stories, Amanda contacted her friend John MacDonald who hand built her favourite guitar. Slowly and thoughtfully, the two turned the stories into songs that would resonate for audiences across the country. "This wasn't about the fast, easy song. It's about telling family stories, but keeping them accessible. It took almost a year," she says, "I don't think I could have gotten these stories into song without him." John has been right
Photo by Herman Keverling Buisman
beside Amanda throughout the entirety of the record making process and the duo have enjoyed the benefit of a full band input, with mandolin and fiddle periodically adding the roots sound amongst the waves of modern electric guitar.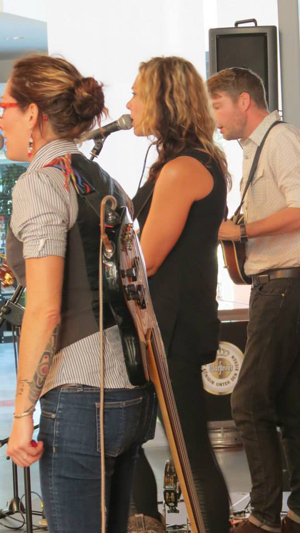 Photo by Herman Keverling Buisman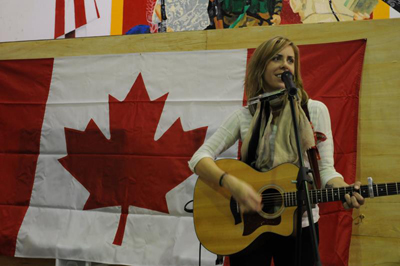 1. "Strongest Heart":
An optimistic uptempo opener, with a basic poppy chorus. A reminder to open your heart to both yourself and others. Whatever happens in life: 'Love will always embrace you!'
2. "Ancient Rime":
"I flew the NorthWest Passage / A lifetime after you". A gorgeous acoustic folk ballad, something the young Joan Baez could have done. This song was inspired by Amanda's maternal grandfather, Thomas Arthur Irvine, who sailed on the icebreaker H.M.C.S. 'Labrador'. "A ghost ship breaking through / The ice that isn't there."
3. "Not This Time":
A driving drum thumping track about the harrowing voyage across Great Slave Lake taken by Amanda's paternal great grandparents, who were on route from Nelson House, MB to a Hudson Bay posting in Fort Norman, NWT. Her great grandmother and her six children travelled on a barge attached to a paddle wheeler, while her great grandfather helped shovel coal on the boat. When a storm hit, the barge (with the family!) was set adrift in the elements for two days until, miraculously, they were reunited with the boat and Amanda's great grandfather. Her great grandmother had a history of marine tragedies in her family (her own father died on a lake in a storm) so the song title is a toast to the fact that she escaped that fate. The cleverly arranged song also features a moody fiddle part, played by Peter Cliche.
4. "Write You A Letter":
A simple but moving heartfelt track, building up to an emotional climax and then fading out, about letting go of the pain and anger - that a broken relationship leaves behind.
5. "Passed Down The Line":
Amanda is proud of her family, which she shows in this upbeat country song, together with her own talent for composing catchy melodies. Fraser Holmes plays mandolin here.
6. "So Much To Gain":
Her paternal great grandparents are again the subjects of this gentle acoustic folk song with finger picked guitar. Here is the family being forced to pack their bags and move from Manitoba, when the father was sent all the way to Fort Norman in the North West Territory.
7. "Keep A Fire In The Rain":
Includes a modern version of the ancient chant. Amanda's research led her to Northern Manitoba, where her paternal French-Canadian great-grandfather, Origene, and Ojibway great-grandmother, Stella, were ostracised by both communities on account of their mixed-race marriage. This pulsing song is set in 1934, where she talks of Stella as a teacher and the tribe's midwife, she and her husband living -somewhat symbolically- in a cabin he'd built between the native reserve and the mine site, where Origene worked, in God's Lake, MB. A powerful song, made all the more intense by Amanda's personal involvement, as her own Métis heritage provides the song's foundation, like a Romeo and Juliet tale, luckily with a happier ending.
8. "You Walk Beside Me":
A twangy mid-tempo song, inspired by a dream, a tribute to the inspirational strength of her great grandmother and everything else we all inherit from past generations.
9. "A.G.B. Bannatyne":
A sprightly strummed, rootsy ode to Amanda's great-great-great grandfather, a founding father of Manitoba and friend to Louis Riel, spiritual leader of the Métis and Canadian folk hero, who hosted the province's early legislative sessions in his home and after whom Bannatyne Avenue in Winnipeg is named. Fraser Holmes on mandolin again.
10. "Home On The Road":
Bluesy, slightly soulful country rock to close off the album. A 'thank you' note for the amazing people who opened their homes for Amanda and guitarist John MacDonald when they were touring 25 venues in 29 nights. That's sooo sweet!
It's obvious, that a lot of Amanda's time and efforts went into researching piles of material for the album, which makes it all the more appealing to the listener, a window into a little known world. Although the tracks are somewhat different in style and mood, they all breathe a feeling of positive energy. If you're into story songs, especially exciting true stories, then this is your album! The lyrics are not too complicated and definitely not boring, everybody can relate to at least a couple of the songs - after all: every human being has a family and a background. It must be very nice to be in contact with many members of your family and to know so much about your background! I think Amanda is a very lucky lady and we have to thank her, that we can all enjoy this beautiful album with her...
Audiences deeply connect with Amanda Rheaume's music. "After a concert, people often come up to me and tell me their stories," says Amanda who longs to find a way to share these stories. "We're Canadian and I feel that, but I think we're still trying to define what Canadian means. For many of us, we came over from somewhere unless we're First Nations."


When she played in Veendam, Amanda told us that 'Keep A Fire' just had been nominated for a Canadian Folk Music Award in the category Aboriginal Songwriter of the Year. Although she's the first to admit she loves her phone and the instant connections it facilitates (I complimented her on the FaceBook posts that are fun as well as informative), Amanda thinks that unplugging from technology and sitting around the dinner table, sharing stories and learning about your family history is a tradition well worth rekindling. "I also love painting and would do more of it if I had more time!"
Photo by Herman Keverling Buisman
-----
Written and compiled by
Johanna J. Bodde
- October 12th, 2014. (Quotes from interviews by
Kathleen Wilker
and
Aedan Helmer
)