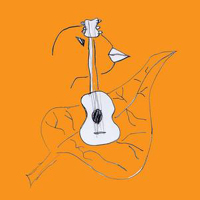 Allen Forrister
'You Show Me Things'
'Sad Lands, Tall Cans' 7"Vinyl Single
(Self-Released, 2014)
It's a good thing that I like to watch crime series on TV and that I'm not too squeamish! Allen Forrister surprised me with his info sheet, showing a small picture of... a corpse? It says: "Why should you care that Allen Forrister is dead? Well... You shouldn't. He isn't." Ah, that's good to know! We don't need any more dead heroes, we need an alive version! Allen explains: "The dead guy photo is from a B-movie I was in; I still have the prosthetic head and it's fun to use for various shenanigans." Oh yes, he almost fooled me!

Let's talk about the music now. Allen Forrister lives in East Vancouver, BC. "I have been playing and performing solo in marching and concert bands since I was nine; playing in rock bands since I was fourteen and writing and performing with rock bands since I was seventeen."

Known for his visceral guitar playing, Allen mentions some names: "As a lead guitarist I have been in bands performing in Vancouver with occasional Canadian and American tours for the last twenty years. My most notable band, Nasty On opened for The Damned, Rocket From The Tombs, MC5, Boss Hog, Jonathan Richman and Black Keys to name a few and we did our fair share of damage headlining shows as well. Other bands I've been in (Sun Arise, Sir Bison, The Christa Min, Brainbolt, storc) have shared stages with Black Angels, Destroyer, Pride Tiger, Battles and Mi'ens). I've played every type of rock imaginable." He still plays in the area, like at the Music Waste Festival, for the second year in a row.
"Turning forty, I have five albums, one EP, two singles and several compilations under my belt. Doesn't seem like enough!" That's a very good reason for his first outing as a solo performer and he is promoting his first single now. Allen Forrister's Do It Yourself 7" showcases his more pensive solo song-writing style. Still whiskey-fuelled, but more focused on the morning after than the night before. More drinking from regret, less drinking to forget. If you like Lee Hazlewood and Townes Van Zandt, this might well be your thing too! "I hear the countrypolitan sound of Hazlewood and late 60's Johnny Cash", according to Michael White (Editor of Vancouver Magazine).
The A-side "You Show Me Things" is a cinematic, brooding and obvious tip of the hat to Allen's hero Lee Hazlewood. Spell-binding. A loving homage on which he plays every instrument.

The B-side "Sad Lands, Tall Cans" is a slow ballad, bittersweet and mournful. A dark obituary for a town he once called home and the loves left and lost there.
I love everything about this music! Allen's deep, dark brown voice - it probably doesn't make much sense, but the closer a vocal resembles Russ Tolman's voice the better I like it. Allen's guitar and the clever arrangements he creates. The whole atmosphere. I'm looking forward to the new single he announces and I can't wait until a real Vinyl LP arrives!
Allen tells about his plans: "I am about to record my next single, a classic throwback to Johnny Cash / Johnny Horton countrypolitan storytelling. The A-side is called "Satan's On My Side". So, with "You Show Me Things" still charting at radio stations CITR and CJSW; and with another single forthcoming, Allen Forrister is alive and well, and despite photographic evidence to the contrary, decidedly NOT DEAD.
-----
Written by Johanna J. Bodde - December 29th, 2014.
=====