Adam Rich
Streetlight Smile'
'Virgin Freak'
Love Muffin Records, 2014)
Adam Rich is one of the most dedicated musicians I know. He has that 'never say die' mentality and doesn't give up, no matter what life throws at him. I also admire Adam's professional way of running his own record label. If you scroll down on this Insurgent Country page, you will find an item, where Adam talks at length about his previous solo album 'You Can't Escape Life' (2006). Now we are listening to his latest release and a re-release. Just so you know: this is rock music, a bit on the fringes of what we usually feature here, but very interesting nonetheless!

---
Adam Rich - The Early Years (from Guitarz Forever):
I am from Cleveland, Ohio, and have been playing guitar since I was 15, drums since 16, and bass since 19. My main influence didn't hit me until 12th grade. That's when I discovered Joe Satriani. Specifically, his CD 'Flying In A Blue Dream'. I'd been playing guitar and drums for about two years by then. I liked both instruments and found myself coming up for parts for rhythm guitar, solos, and drums when I'd write songs. I'd read Joe recorded his first cassette playing everything himself - guitar, bass and drums. So why couldn't I do that?

My first attempt at recording was the boom box system of recording guitar on one boom box, then playing the tape while another boom box recorded what was playing on the first boom box as well as me playing the drums live. I then took that tape of the guitar and drums I'd just recorded, and played that while the boom box recorded that plus a live lead guitar. The quality of the finished product was crap from the generation loss. So, unless that is your only means of recording NEVER do that. My advice: get a Tascam 4 track cassette Portastudio.
My parents had gotten me my first bass the summer before I went off to college at Bowling Green State University, and I found a band a few months after I got there. It wasn't so much a band as it was a guitarist and a singer who needed a bassist. The band recorded a lot, but didn't play out much. We named ourselves Cottonmather, and our first gig was drummer less so we used a drum machine. Sometimes I'd play guitar in it, too. We eventually found a drummer but only played one show with him, I think. By the end of freshman year I wasn't in the band anymore. After that first year, I decided to make a 4 song cassette that summer to take back to school and sell.

I'd got a good old Tascam basic cassette 4-track, EV-150 mic, a small bass amp and went to work. The result was my first cassette 'Leave My Fish Alone'. The name was coined when I was eating dinner with my parents, and my fork reached for my mom's fish. She said 'Adam, leave my fish alone", and I thought "What a great name for a tape!". I released it on the quickly named Rich Records. It consisted of 4 instrumental songs. I made 25 copies, took it up to college my sophomore year, and sold all 25. I made wacky new ads every 4-6 weeks, and would stick them on the kiosks around campus as well as peoples dorm room doors. At one party I pulled it out and they popped it in. I ended up keeping in contact with the sane students who lived there that year and the next two years. They took a picture of me and taped it up on the wall of the house above the door.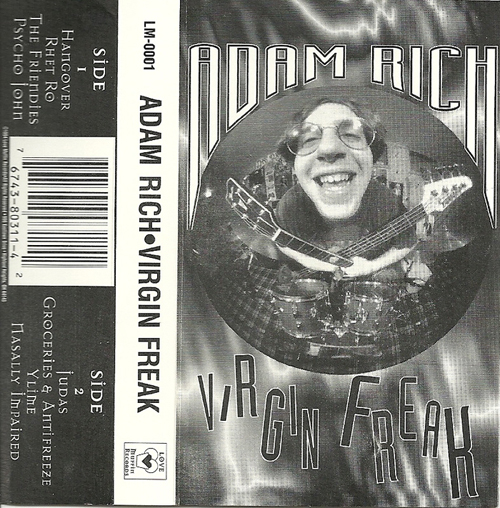 That summer, I made my first full length cassette, 'Virgin Freak'. The title was chosen by a sign up sheet I put on my dorm room door asking for titles. Over the summer I'd upgraded to a 6 track Tascam and gotten a few SM-57's. I was now able to use more then one mic and more then one track for drums. I utilized the 'click track' on my Yamaha keyboard and would record guitar parts to those first, then record drums over it, then record solos. The quality wasn't amazing, but it was far better then 'Leave My Fish Alone'. I'm amazed at the crisp drum sound I got by simply putting two Shure SM-57's overhead. While the cassette was once again instrumental, I did have one friend sing on a song written about him. He couldn't really sing, but it was college so I didn't really care. I also decided to ditch the name Rich Records and replace it with Love Muffin Records. 'Love Muffin' was a nickname I had on my soccer team in high school. It sounded like a good name for a label. I had a logo made up, got a barcode cheaply through a local music collective back in Cleveland, and had 100 copies made. I brought it to school my sophomore year in 1994 and moved into the new, renovated dorm on campus. Throughout the year I sold all 100 and even re-ordered 25 more. The tape got reviewed in the school paper and a local magazine in Toledo. I also found a band that year. The drummer lived down the hall and needed a guitarist. Another kid who lived on my floor also tried out. He got it, but they also needed a bassist. I was asked if I played bass. I did, but had only been playing it a few years. I had to have my parents bring my bass from home. I tried out and made it. It was called State Of Green, and I was with them from 1994 to 1997 when members graduated and we broke up. I still keep in touch with them today.

State Of Green had some pretty good times in those three and a half years. We entered a contest and won enough money to record our only CD. We played the legendary CBGB's on a cold Tuesday night in September of 1996. We also opened for Columbus's Watershed, who was on Epic Records at the time. To this day, I come to every Cleveland show they play and they still remember me. We also made it into Peavey's 'Monitor' magazine.

With the success of 'Virgin Freak', I decided to make another cassette. Part of it was recorded at my house, part of it was recorded at the house I lived at with State Of Green during the summer of 1995 and part of it was recorded at another band's house. I upgraded again to a nice Tascam cassette 8 track and several more mics. This cassette marks the beginning of collaboration with Jared Levengood. Jared played guitar & sang in the local band Pacemaker Jane. He also dabbled in bass and drums. A guy who played everything, sort of like me. I lived with them in a house at school the summer of 1996. I'd started coming up with a song and laid down rhythm guitar & bass. I went to class, and when I got back, Jared had come up with a drum idea and lyrics. We fleshed out the songs and eventually came up with another one. Both songs appeared on the 1997 release 'Flavor Savor'. Flavor Savor was the nickname people gave my goatee, and the cover was an extremely close up shot of my goatee. The cassette was released hastily at the end of 1997. I thought I would graduate then, but I was a few credits short.

State Of Green ended in late 1997. The drummer and I formed another band with two guitarists/singers and a keyboardist. The band was named 10watt. We put out a cassette demo and played a few shows. My apartment lease ended in May, while the drummer still had another half year or year to go. I decided to move back to Cleveland in search of a new band. 10 watt moved to Columbus the following year, found replacement members and renamed themselves the Stepford Five. To date, they have put out three or four CD's and are still together. In May I finally graduated and my apartment lease was up. I moved back to Cleveland hungry for a new band….

-----

Adam Rich - The BIO:
Adam Rich is Cleveland, Ohio born and bred. He started out playing piano as a child, and moved up to cello in elementary school as well as clarinet. High school and the teenage years introduced him to guitar and drums, while bass did not present itself until college.
Adam released three cassettes while he was in college: a 4 song EP 'Leave My Fish Alone' (1993), a full length 'Virgin Freak' (1994) and another full length 'Flavor Savor' (1997). Limited copies of the last two cassettes still exist, while the first one is long out of print. In 2001, Adam released his debut CD 'Foundation', followed by 'You Can't Escape Life' in 2006 and 'Streetlight Smile' in 2014. All these releases feature several guest musicians and vocalists, but the songs are written by Adam.

Adam has also been playing in bands since he was in high school. The short lived Adamthrax played the senior talent show and a school dance. In college, Adam also played bass for State Of Green (1994 - 1997), and later for Tadpol (1998-2001), Girth (2002 - 2006), Adam Rich Band (2007), Oliver Buck & The New Madrids, (2007 - 2009) and Quinn Sands (2009 - 2010).

Adam is still a multi-instrumentalist, who currently plays guitar, bass and drums. He is the bassist for blues rock band The Flavor. He explores a wide array of styles, not only rock and blues, but also pop, punk, reggae, ska and jazz, all with a guitar-driven base. He continues: metal, hard rock, acoustic, instrumental guitar, fusion. We probably mentioned most existing music styles by now! Adam was heavily influenced by such instrumental guitarists as Joe Satriani, Eric Johnson and Michael Fath, as well as Alex Skolnick (Testament), Kirk Hammett (Metallica), Johnny Reznik (Goo Goo Dolls), Mike Ness (Social Distortion), Mike Enzinger (Incubus) and Ben Harper. Basswise, Adams draws heavily from Cliff Burton (Metallica), Flea (Red Hot Chili Peppers), D.D. Verni (Overkill), Dave LaRue (Steve Morse Band), Robby Takac (Goo Goo Dolls), Jerry Only (Misfits) and Juan Nelson (Ben Harper).

In March of last year (2014), Adam reissued 'Virgin Freak' onto CD and digitally with a bonus track, new liner notes, and never before seen photos. His first new release in eight years, 'Streetlight Smile', is now out.

-----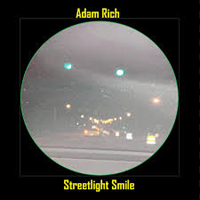 Adam Rich -

'

Streetlight Smile

'

:
Streetlight Smile is the sixth release from multi-instrumentalist Adam Rich. This solo CD is his first new release in eight years. Released on Love Muffin Records, the album features eight songs. Three are instrumentals, ranging from guitar fusion / rock to acid jazz to indie / pop, while the other five tracks each feature a different vocalist. Adam's solo albums always feature guest musicians, usually friends from bands he knows. While Adam wrote the songs and plays all guitars and bass (plus one drum track, Ernie Richman is the drummer on a majority of the other tracks), this album boasts the most guest musicians Adam's ever had: six different vocalists, three different drummers, one guest guitar solo, and one saxophone solo. Quite a remarkable group of assistants!

Adam tells: "I recorded my first four releases on various models of cassette Tascam Portastudios with me doing everything. My last release was done on a 16 track digital Fostex machine with a college buddy manning the helm. This is the first solo release I have done on a computer based digital setup. One of my band mates, who has over thirty years of recording knowledge, was at the helm for this one. We did it in our band's practice space on his equipment.This is also the first solo release where all I had to do was play. I was not used to that. I also got to use different amps and guitars, including an awesome vintage Gibson Les Paul through a Mesa Boogie amp. I also used my Fender Stratocaster."
The title 'Streetlight Smile' came about during one of Adam's drives home in the early morning hours from seeing a band downtown. At intersections when it's dark, sometimes the traffic lights and street lights look like a smile. The traffic lights are the eyes, and the perspective of the streetlights makes it look like a smile. Adam:

"The title comes from driving home after a night of gigging or attending a concert. Have you ever noticed when you come to an intersection, the streetlights make sort of a smile? The traffic lights you come up to are the eyes, and the streetlights seem to make a smile as the vantage point changes. I thought this would be a good name for a CD."

The bulk of the songs were written between 2008 and 2011, while the album was recorded, mixed and mastered by Dave Mann Wolf from 2011- 2014 at Mann Wolf Studios in Cleveland, Ohio. Adam: "Recording started in late 2011. We recorded the rhythm guitars to a click track, then did bass, lead guitar and vocals. Most of the guitar solos were made up on the spot while recording. A few are so weird that I have no idea what I was playing and could not replicate it if I tried. Things were moving along nicely. But by early 2012, recording stalled for nearly two years. Life got in the way. People became busy. Family members became ill. I had hernia surgery. In early 2014 we got back into it and the drum tracks were finally recorded along with an ambient sax track."

During the recording, indie rocker at heart Adam hit the milestone age of 40. He also suffered the loss of both his parents within a one year time span.

---
1. "Magical Pear Feet Groove": The album opens with a driving instrumental - a take-off of the title of a certain song by one of Adam's influences: Joe Satriani. It begins with a simple very nice melody, expanding into a just as catchy rocking tune halfway through. There's a little bit of Tom Petty here too!

2. "Streetlight Smile": Vocals by Jerry Principe. In this song references are made to some of Cleveland's local bands, from Carlos Jones to The Jack Fords, and venues Adam frequents. Another great tune with effective hooks, an impressive guitar solo and a fine vocalist to boot! I also like the way this track ends, almost in a fade-out. Adam: "The title track describes some of the local bands I like to see and local venues I like to go to here in Cleveland. Since I wrote the song, a few of the venues have closed and a few of the bands have broken up."

3. "Labor Day": Vocals by Frank Ian and backing vocals by Dave Mann Wolf. A true story about being alone. This song has a relaxed bluesy 70's feeling and humorous lyrics, yet with a sad undertone. Is this the same Frank Ian from the albums 'The Blue Rider' and 'Tales Of Hollis'? Excellent singing! Adam knows how to pick exactly the right vocalist for his songs. Adam: "The song was written on Labor Day when I literally had nothing to do."

4. "Muffin Shuffle": Another Satriani worship reference. An instrumental and a great guitar blow out, I love it when Adam expresses his inner Joe Satriani!

5. "Wait Till Next Year": Vocals by Drew Clair. This track shows the frustration and suffering of an average Cleveland sports fan. Ah, the misfortune of your favorite local team... That's universal. Let's go to the bar and wait for next season! The funny delivery of this rocker fits the quirky lyrics. Adam: "Wait Till Next Year" is my frustrating vent about Cleveland sports teams."

6. "Government Bailout": Vocals and guitar solo by Mike Taffi. Drums by Smitty. This political song was written during the recession. Adam explains: "Government Bailout" deals with the government money bailouts in 2010." A punk blues rock track, with an angry guitar solo. Not outdated - when is the recession really over?

7. "Diet Nipples": Saxophone by Norm Tischler. Drums by Adam himself, in this weird fusion / acid jazz ambient jam. Experimental, the curious guitar effects are fascinating in some way, the wah wah sound always gets my attention!

8. "Adam's Head": Vocals by Oliver Buck. Guitar by Joe Landes. An outtake / freeform jam, from one of Adam's past bands. Adam: "This is a improvised outtake from a previous band's recording session." This jazzy, goofy, fun track closes Adam's new album. A series of strange, personal jokes about -indeed- Adam's head. It requires a strong character, to take a joke and turn it around into a song! Here we are: at the end of this eclectic selection of strong rock songs. Recommended, if you like to think -and listen- outside of the box.
-----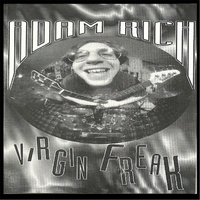 Adam Rich -

"

Virgin Freak

"

:
Earlier last year (2014), Cleveland Ohio based songwriter and multi-instrumentalist Adam Rich marked the 20-year anniversary of the first release on Love Muffin, his full-length debut 'Virgin Freak', with a special re-issue for dedicated fans. Adam tells in the re-issue notes: "It was done on a 4-track Tascam PortaStudio the summer between my second and third year of college in my basement a.k.a. 'My Basement Studios'." A somewhat rough sounding collection of rock tunes. A reviewer remarked, with a wink: "At least it wasn't 8-track tape!" For the re-issue it was transferred from cassette by Jared Levengood. This was Adam's first full-length cassette and so it should be looked at as his official debut album. "My dad took the cover photo." It shows Adam's smiling face with his instruments in distorted black and white. Although rudimental in some ways, this album already showed the talents, potential and a selection of the interesting ideas and recording experiments of a young musician. As a guitarist, he was then already really good, using effects and fuzz tones. Absorbing various influences from rock and metal, incorporating them into the development of his own style. Same goes for the bass. The drum parts have been kept simple. This album was a sure-fire promise for the future! Adam: "I still own the drum set and main guitar used on this recording. Wow, has it been 20 years??"
1. "Hangover": Noisy guitars on this album opener, part metal and part surf music. Part of a B-movie soundtrack, maybe?
2.
"Rhet Ro"
: This groovy instrumental was written while watching... Scooby Doo! Absolutely great wah wah guitar riffs on this somewhat more mellow but funky tune.

3. "The Friendies": The song was named after a group of attractive girls in Adam's dorm, who called themselves by that name. In hopes of getting the attention from one of the girls romantically, but it failed... In the meantime this five minute long piece gets more atmospheric and melodic, while Adam shows of his guitar skills. Halfway through the tempo picks up drastically and then the original theme returns again.

4. "Psycho John": A bit weird track indeed. The lazy crazy vocals are in sharp contrast with the furious and still excellent guitar work. About one of Adam's college friends, who was his party buddy and does the vocals himself on the song.

5. "Judas": A metal workout with lots of gritty guitar riffs. Adam: "Judas and The Friendies were among the very early songs I ever wrote when I was a teenager. My friend Oliver and I used to jam in the basement in high school. He was a part of shaping these two songs."

6. "Groceries & Antifreeze": This track gets a bit psychedelic. Adam's parents went grocery shopping. It shows, that inspiration can be drawn from the simplest things in life!

7. "Ylime": The name of a girl backwards! Adam shows his softer side in this gorgeous sweet acoustic song. Another reviewer compared this piece with Leo Kottke. I hope at least this girl was impressed? I would have been as a twenty year old!

8. "Nasally Impaired": Written while Adam had a cold. The bass takes over with heavy crunchy chords. There comes the old-fashioned European fire truck!

9. "Weaving": The track list even includes this song from Adam's 1993 EP 'Leave My Fish Alone'. A sturdy instrumental, recorded a year earlier.

---

The info sheet:

Adam Rich to reissue 'Virgin Freak' 20 years later.

Hard to believe it's been 20 years since the original release of 'Virgin Freak'. What's even harder to realize is it was literally half of Adam's life ago as he turned 40 this year.
'Virgin Freak' was originally released while Adam was in college. Recorded during the summer of 1994 in his home on a Tascam cassette Portastudio, it was unleashed on the Bowling Green State University campus upon returning for the Fall semester in August. The title came from a sign up sheet Adam posted on his dorm room door. Two of the songs were the first and second songs he wrote when he was 16 in 1990. The others were written from 1991 to 1994. Adam played everything himself, recording to a click track and adding real drums at the end. His father took the cover photo, and a barcode was purchased through the old Cleveland Music Group.

Adam's college life was a part of the release, the rest of the titles came from home life. One hundred cassettes were made. Adam sold them out of his dorm room, the local music stores at Bowling Green, and also got it into a Cleveland bookstore. It got a few reviews in local papers and one review in the national magazine 'Recording'. This was the first release on Adam's newly formed label, Love Muffin Records. It was purely a vanity label at this point, and would exist on and off until 2006, when it was made legit.

Also included on the CD is a bonus track: "Weaving", a song from Adam's first release, a 4-song cassette titled 'Leave My Fish Alone' released in 1993.
-----
An
update
from Adam Rich: As 2014 is winding to a close, Streetlight Smile continues to sell a few copies here and there. The promotional campaign will end in February 2015. I plan to reissue 'Flavor Savor' in 2017, exactly 20 years after it was first released. It will be on CD with new liner notes, a bonus track and unused photos, as well as digitally. I've got a dozen songs for the next solo release, which will hopefully be out in 2016 or 2017. Recording will probably start late 2015. No more of 8 years between releases =).
-----
Written by Adam Rich & Johanna J. Bodde - January 4th, 2015 Includes quotes by Jeff Wanser (Buzzard Tracks).
=====