A
'Red Dirt'
band from Oklahoma fronted by a singer-songwriter who listens to one of my favorite names 'Aaron'. What can possibly go wrong?
Current line-up:
Aaron Newman - Walton McMurry - Chad Roper - Randy Sanders

Aaron Newman & The OK Caravan are a folk-americana act based out of Oklahoma City that formed in 2013. Aaron Newman is the founding member of the OK Caravan, which started out as a solo / duo acoustic project (with John Calvin), that landed him a deal with 598 Records (Mike McClure, The Damn Quails). Shortly after signing the deal, 598 Recordings stopped operation and Aaron was forced to move on without the label. In December of 2013, Aaron started working on the first OK Caravan album with Mike McClure (The Great Divide, Mike McClure Band) and Brightman Music producer, Geoff Rockwell. The self-titled debut album has been released in late December 2014.
Aaron Newman, now in his early thirties, has shared the stage and played events and festivals with acts such as Jakob Dylan of the Wallflowers, The Lumineers, The Steve Miller Band, Stoney LaRue, Aranda, Jason Boland, Graham Colton, Susan Gibson, Johnny Lee, Jacob Fred Jazz Odyssey, Dr. Hook, Of Montreal, Tea Leaf Green and Other Lives.
--
Well, I'm figuring that they went through some changes over the past years, like most bands do. I see that the
line-up
on the CD is slightly different:

Aaron Newman (vocals, rhythm guitar)
Walton McMurry (drums & percussion)
Chad Roper (fretted & fretless bass)
Blake Lennon (lead guitar, lap steel, mandolin, keyboards, background vocals) Carlton Dorsey (fiddle, mandolin)
plus Derek Paul as a guest vocalist on two tracks.

Although the band claims to be formed in 2013, I find reviews from the years 2010 to 2012, mentioning an earlier band name: Lemma. Also a group that changed line-ups a few times and Aaron was their singer / guitarist. It's all fine with me as long as I have a good disc here! It ended up without a title, but was previously announced as 'Winter Blues' and I would have liked that very much.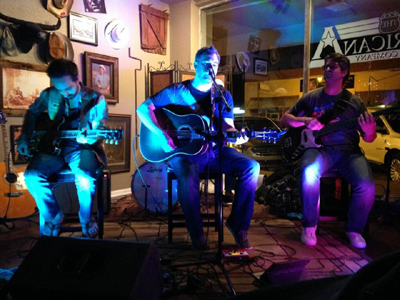 The album:

1. "1892": A very pleasant sounding opener, with a playful rhythm and a relaxed groove - which fits the melancholic theme of slowing down, wondering what life was like in the year 1892? A horse and carriage would take time, indeed. Aaron plays the rhythm guitar and has a very nice, gravelly voice with a few raggedy edges. There's a cool earthy mandolin doing its own thing in the mix. A special guest, Derek Paul, sings background vocals.

2. "The Battle Of Washita River": We move on to serious subject matter here, a mournful rendition of a very tragic historic story. The music has an urgently uptempo beat, with galloping twang guitars and an amazing fiddle part by Carlton Dorsey, reminding us of the duel between Charlie Daniels and the devil.

Red Dirt Report explains: "The actual bloody battle aka 'The Washita Massacre' between the infamous Lt. Col. George Armstrong Custer and Black Kettle's Cheyenne camp on the Washita River took place in present-day Roger Mills County. Aaron Newman captures the terror and dread of that event, where both Cheyenne warriors and non-combatants (women, children, elderly) were butchered by the bloodthirsty Custer and his men in this remote corner of Indian Territory in November 1868."

3. "Day Is Done": The first official single off the album. I like the energy and enthusiasm of this rhythmic country rock song. The band goes full out with electric guitars and keys and harmonies, just imagine how this would sound live in a big arena, thunder and lightning indeed!

4. "Going In No Direction": Very, very good spacious arrangement of this - what we usually call 'rock ballad'. Acoustic guitar upfront in the mix, the ghostly fiddle in the background, together with the strong rhythm tandem. Then the electric guitar comes along for a soaring solo, in the meantime Aaron manages to keep a sort of intimate feeling by singing closely into the microphone. Highlight of this album!

5. "No Return": This is scenic Western music, the dry sounds of the acoustic guitar, the galloping horse rhythm again, the electric guitar goes surf and then there's a stunning outrageous fiddle solo. The lyrics are about relationship trouble though.

6. "Winter Blues": Being the center piece of the album, I understand why Aaron was contemplating to call the whole album after this song. The tempo slows somewhat down to a sincere rock ballad, straight from the heart, full of longing. Derek Paul is also back for some more background vocals.

7. "Only In America": Things get sunnier, when it comes to the sound on this catchy uptempo country track. Chad Roper is playing his fretless bass and the fiddle competes with Aaron's falsetto vocal parts for the wow-factor.

8. "Correlation": Such a great arrangement again! That driving rhythm, even the mandolin hops along. Very nice background vocals too and the electric lead guitar is great up until the fade-out.

9. "I'm On the Moon, You're On The Sun": Personal lyrics with a smart title, in a rocking Creedence Clearwater Revival type of track. "Sometimes good things just don't last", unfortunately - that's what often happens in love. Great (falsetto) vocals again!

10. "Winter Blues (Reprise)": The album closer is not just an acoustic version of the earlier song. Even the lyrics are different, the girl is now in New York City and our character is still stuck singing his winter blues. Gorgeous lapsteel parts, cool percussion and an effectful haunting chorus at the very end.
--

Aaron Newman is a confident, yet down-to-earth performer. Obviously a hard worker too. Well, that's exactly what the 'Red Dirt Scene' has been all about from the start! He knows how to capture his every day and historic scenes, respectful of the tradition.

Although the sound is mostly country of the good traditional kind, the album is also appealing to lovers of the John Cougar Mellencamp type of roots rock with thoughtful, introspective lyrics and of course every fan of the other 'Red Dirt' artists like Stoney LaRue, Jason Boland & The Stragglers, Cody Canada, Brandon Jenkins, among others, should purchase this album for their collection. Some European writers prefer to make comparisons with The Wallflowers or Hootie and The Blowfish, yes, I can see why. I would also like to add Cody Morrow and Pat Green.

Most tracks are uptempo, well sequenced - slowing down a bit here and there. Tons of potential. No weak moments at all on the album of this smart and talented singer-songwriter!
-----
Written by Johanna J. Bodde, February 25th, 2015.
=====