Walter's BIO
:
A Cuban-American whose parents fled Castro's Havana with him still in the womb, born in New York City, Walter Salas-Humara was raised bilingual with his two older brothers just across the Florida Straits in Fort Lauderdale. He began playing drums at age seven, performing with a series of prog-rock and disco bands throughout adolescence. A cross-country road trip before his senior year of high school, which he spent at the progressive Colorado Rocky Mountain School in Carbondale, Colorado, instilled in him a lifelong wanderlust, and led directly to his taking up the guitar and beginning to write songs. He attended the University of Florida in Gainesville, where he studied visual arts and received a Bachelor of Fine Arts degree. While in college, he co-founded the original version of The Vulgar Boatmen, leaving him with a lifelong habit of Mudcrutch / Tom Petty-style crunchy guitar riffs. Chasing the punk prairie fire to New York just in time to sift through the ashes, he formed The Silos in 1985 with guitarist Bob Rupe, a veteran of the South Florida music scene, and Mary Rowell, a classically trained violinist from Juilliard, plugging the main cable of American rock idiom into the jerry-rigged soundboard of Velvets-era feral experimentalism. The unlikely result, as evidenced by 'About Her Steps' (1986), the seminal 'Cuba' (1987) and their RCA debut 'The Silos' (more commonly known as The One with the Bird on the Cover, 1990) which also featured Amy Allison on vocals and J.D. Foster on bass, was a loose-limbed conceptual country-rock album that in turn influenced (if not outright inspired) the alt-country No Depression movement just around the corner. The band was voted Best New American Band in Rolling Stone Magazine's Critics Poll of 1987 and appeared on 'Late Night with David Letterman' in 1990. When they were dropped by RCA, Salas-Humara retained The Silos name. Rupe went on to record with the bands House of Freaks, Gutterball and Sparklehorse, and was a touring member of Cracker from 1994 to 2000.
With this apocalyptic agrarianism safely encoded in his band's name, Salas-Humara moved on once that lineup had run its course - taking with him not the country revisionism that by now could have sustained him in an endless holding pattern, but rather the Lower East Side's fervid avant-gardism, that high-test mixture of aggression and dissonance the neighborhood wears like a jailhouse tattoo.

He forged connections in Austin, another lost outpost tailor-made for his particular set of influences, where he formed the poor man's supergroup The Setters with fellow songwriters Michael Hall (The Wild Seeds) and Alejandro Escovedo (Rank and File, The True Believers). They recorded 'The Setters' (1993) and a live album recorded in Berlin, 'Dark Ballad Trash' (1996). The would-be supergroup was conjured out of thin air when Hall was informed by Transatlantic phone call that he wouldn't be invited back to the Berlin Independence Days Festival, which only booked first-time bands. The Setters was his impromptu (and successful) attempt to skirt this momentary impediment.

Relocating to Los Angeles in 1991, Salas-Humara reformed The Silos with bassist Tom Freund, singer-guitarist Manny Verzosa, drummer Darren Hess and sometimes guitarist Jon Dee Graham, all of whom hailed from Austin, Texas or later spent time there. This core band (augmented by various studio musicians) played on the albums 'Hasta La Victoria!' (1992) and 'Susan Across The Ocean' (1994), released in the U.S. on Austin label Watermelon Records. A third album, 'Heater' (1998), was released on the Checkered Past label and featured guitarist Gary Sunshine after Manny Verzosa died in an automobile accident while on tour. A series of electronica and trip-hop remixes of 'Heater' was released as its mutant twin on the German label Normal the same year under the name 'Cooler', validating the early acclaim and expanded Salas-Humara's reputation as one of the finest songwriters working in the American vernacular.

Opting for a more aggressive, stripped-down sound and a more experimental approach to the songwriting, Salas-Humara returned to New York in 1998 and refashioned the Silos 3.0 - as a fierce power trio with Drew Glackin on bass and lap steel guitar and Konrad Meissner on drums, continuing to release an admirable body of work. This configuration appeared on 'Laser Beam Next Door' (2001, Checkered Past) an album that burst with the crackling intensity of proto-punk legends The Velvet Underground and Television, 'When The Telephone Rings' (2004, Dualtone), 'Come On Like The Fast Lane' (2007, Bloodshot) and the live-album 'This Highway Is A Circle' that same year (Blue Rose). After Glackin's unexpected death in 2008, Salas-Humara and Meissner added Jason Victor on guitar, Rod Hohl on bass, and Bruce Martin on keyboard, the band entered a new phase and recorded the 2011 Silos record 'Florizona' (Sonic Pyramid), just like 'When The Telephone Rings', are these intricately crafted productions, densely layered with glittering detail. Walter Salas-Humara and The Silos present and past have marshaled the best of America - our wide tradition, focused innovation and unfettered optimism. Embrace them as a national treasure.
Salas-Humara and The Silos appear in the George Pelecanos novel 'Shame the Devil' (2000), the last of the D.C. Quartet (The Big Blowdown, King Suckerman, The Sweet Forever), when series regular Nick Stefanos sees them play at the D.C. club The Black Cat: "The Silos, the night's headliner, came out a half hour later. Walter Salas-Humara took center stage and ripped through a set from 'Heater', his group's latest album, as Stefanos downed two more beers."

In addition to his work with The Silos, Salas-Humara has recorded three solo records: 'Lagartija' (1988), 'Radar' (1995) (returning to his first instrument, the drums, on both) and now, after an 18-year hiatus, 'Curve And Shake' (2014).

Besides his own projects, Salas-Humara worked as a soundtrack composer for the Sony Classics film 'Whatever' (1998) and the TBS NASCAR documentary 'Good To Go'. His songs have appeared in the films 'Girl' (1998) and 'Takedown' (2000), and he has created original compositions for episodes of 'Sex And The City' and 'Queer Eye For The Straight Guy'. He produced two albums for The Vulgar Boatmen - 'You And Your Sister' (1990, Record Collect) and 'Wide Awake' (2003, No Nostalgia); fellow Setter Michael Hall's first solo album, 'Quarter To Three' (1990, Record Collect); Milwaukee folk-pop duo The Woolridge Brothers' 'Uncovering The Sun' (1998, Don't Records); Ann Arbor singer-songwriter Jim Roll's 'Lunette' (2000, New West); and Minneapolis singer-songwriter Jonathan Rundman's 'Public Library' (2005, Salt Lady), which featured the circa-2000 version of The Silos as its backup band.

Salas-Humara partnered with songwriter Dave Bassett (Shinedown, Josh Groban) on the one-off Woozy and their eponymous 2000 release 'Woozy' for the French label Last Call. In 2008, he recorded the album 'You Are All My People' with novelist Jonathan Lethem under the band name I'm Not Jim, produced by the Elegant Two (Beastie Boys, Yoko Ono) and released on Bloodshot Records. Lethem has called Salas-Humara: "A melodic genius, one of our greatest songwriters".

Walter Salas-Humara has shared the stage with the following greats: Wilco, Lucinda Williams, Matthew Sweet, American Music Club, Chris Whitley, Hootie and The Blowfish, Violent Femmes, The Jayhawks, Yo La Tengo, Certain General, The Reivers, The True Believers, The Wild Seeds, Victoria Williams, Willard Grant Conspiracy, Mark Ribot, Ryan Adams, Jon Dee Graham, Alejandro Escovedo, Let's Active, Young Fresh Fellows, Miracle Legion, Living Color, Souled American, The Minus 5, Steve Wynn and The Miracle 3, Jon Langford, The Waco Brothers, Chuck Prophet, Jerry Joseph, Caitlin Cary, Anders Parker, Tom Freund, Centro-Matic, Spottiswoode and his Enemies, Lynyrd Skynyrd, … to name a few.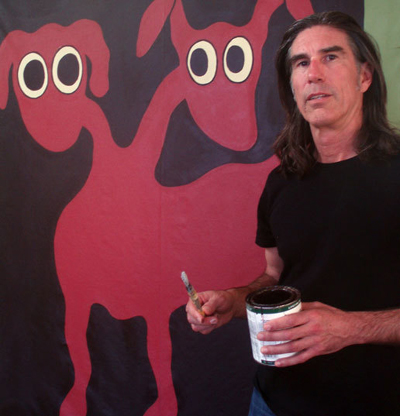 Walter's VISUAL ARTS
:
Having first moved to New York in 1982 to pursue a career in the visual arts, and having completed a year of graduate work at the Pratt Institute in Brooklyn, Salas-Humara found steady work with the Leo Castelli Gallery during the '80s Manhattan art boom. Citing as his heroes '50s minimalist painter Ellsworth Kelly and pop artist Jasper Johns, Salas-Humara's early paintings were primarily large abstract color fields. His art career was cut short with the success of The Silos three years later.
In the early 2000s, Salas-Humara took up painting again after a hiatus of two decades. On a whim, he created several stylized, cartoon-like dog paintings as holiday gifts for his nieces and nephews. They became so popular that he was soon spending much of his free time painting commissioned dog portraits in his signature style for friends and fans. In 2005, he formed a company called
'WaltersDogs'
and began producing originals and prints for sale at shows, by mail-order and in music-oriented art galleries like Yard Dog in Austin, eventually expanding his product line to include apparel, accessories, bedding and stationery products.
His dog paintings can be seen on the walls of Elisabeth Moss's apartment in the 2010 Universal Pictures comedy 'Get Him to the Greek'.

"I create paintings that combine qualities of the abstract art I like with fun imagery that anybody can relate to, even kids," he says.


Walter's ALBUM
:

Walter is currently living in Flagstaff, Arizona but connects easily with his fans all over the world through the social media. I was E-mailing with my fellow music writer Wim about Walter's music and he was so very kind to send me the new release and an old favorite 'Lagartija' (U.K. release on Rough Trade Records, 1990). If you're still able to grab that one: highly recommended! I followed Walter more by way of The Silos, proof is a small collection of tape recordings documenting several radio sessions and concerts from the late 90s.

Rolling Stone editor Anthony DeCurtis describes the album: "That sense of being untethered from certainties, of floating, permeates 'Curve And Shake'. The feeling is gentle, not quite scary, but with an element of unease. Letting go of expectations combines aspects of sadness, freedom and even wonder. Like so many great singers, Walter communicates as much by what he doesn't say as by what he does. His raspy tone provides a rich counterpoint to the genial surrealism, the offhand magical realism, of so many of his lyrics. His words are presented as if they're describing straightforward events, but they speak a rich, associative poetry that evokes emotions more so than facts. His guitar playing is similarly adaptable - raw and stinging one moment, dreamy and droning the next."

So, I'm curious about this CD, adorned with Walter's painting, of which he said during the recording process 'what I think will be the best album I've made so far'.
Walter's TRACKS:

1. "Counting On You": This sounds so incredibly beautiful, that it almost brings tears to my eyes. Walter has definitely one of the most incredible voices of our rootsmusic world, he is not a 'singer-singer', but there's that certain something, same reason why I like Larry Barrett so much, the voices are somewhat similar: I'm stealing the expression 'honeyd rasp' from a fellow writer. A gorgeous floating melody, with a Native American feel and great percussion.

2. "The Craziest Feeling": Yes, there are synths on this record and that's O.K. with me! Handled by Marius Libman of the Portland art rock band Sun Angle. This song is co-written with Jerry Joseph, he and his Jackmormons play along with Walter. So is Charlie Salas-Humara (guitar and more synths), I'm told he is Walter's nephew. And hello, Jason Victor, old friend!
3.
"Curve And Shake"
: The title track is co-written by Amy Daggett, Walter's partner. A simple arrangement, just Walter's acoustic guitar and the electric piano, plus some more fine Latin percussion. The lyrics are featured on Walter's download page on the website, check out 'Info'. A wonderful story about a high school reunion, thirty years later there's one look reigniting an old love affair. "I'm taking this gift / I'm taking this gamble / Riding the chairlift up the steepest angle". Every 'middle-aged person' can so relate to this...

4. "Satellite": The band Groove Session backs Walter up for this catchy upbeat sounding track, chorus and conga and clapping. With a dazzling electric guitar solo. Speaking of, Walter uses a cool metaphor: "I brought the wrong guitar / And I don't know how I messed that up". Repeating the chorus: "Like a satellite / Will it be my guide / Flying side by side / Be my lost guitar / Be my satellite". Super...

5. "What Can We Bring": Jerry Joseph & The Jackmormons are back, Jason Victor too, for another strong song (is there anything else here?). Walter addresses directly a rather unusual subject, how children from poverty stricken families are treated in the Arizona school system. "We can work a little harder / To leave none behind". As it comes down to pay a little more in taxes, so no child get left behind. Ryan Williams plays fine electric piano and organ, I love the fierce extended guitar solos!

6. "Hoping For A Comeback": "Like strong black coffee", that's how this song starts. Walter is very good at capturing the little but sometimes crucial details in life, that also resonate well among his listeners. A sweet rippling song about a harmless stalker: "I gonna get arrested in this town again / I gonna have a chance to be your friend". A favorite among the other highlights for me! Oh yes, those affairs of the heart... Longing for connection, hope, taking new chances, staying positive with this optimistic soundtrack!

7. "I Love That Girl": Ryan Williams accompanies Walter on the (electric) piano for this sparse but poetic ballad. Something Elvis Costello or Nick Lowe could have recorded.

8. "Uncomplicated": A heavier rock song, with lots of electric guitar work and the urgent question: "Does it have to be so hard?"

9. "Way Too Heavy To Float": The beautiful, indeed floating sounds of the first track are back. Walters intense, hoarse vocals and a blistering guitar solo, backed up by fantastic keyboards and supporting voices. Spiritual moments...

10. "Two Inches Two Hours": We are back on the subject of communication, or a lack thereof. "I just called to say / I'm two inches away / From not even making this call". Fear of rejection, that paralyzes all of us at times, underlined by piano and percussion. Very smart observation, including all the small details, again.
A rock album that makes a deep and lasting impression. Intelligent lyrics, in which some difficult subjects have been tackled, but it leaves us in a good place. With a warm glow, looking ahead to a possibly more positive future, that kind of feeling. If you're new to Walter's work - just give this album a little time, that's well worth it.
The songs are smartly constructed and have a timeless quality, once the atmosphere is created and the stage is set for the story, it seems there's not too much happening, but the suggestive poetry with its often repeating lines gives everybody lots of food for thought.

The sound is always innovative, rock with elements from altcountry, Latin and even electronica in unusual but thoughtfully created arrangements along whimsical lines. Played effectively by a collective of very talented musicians and singers.
In the end, I can only agree with Walter's own words: "Frankly, I am in love with the songs on this album!"
-----
Written & compiled by Johanna J. Bodde - March 12th, 2015.
=====