Kenny Meeks
"Tell My Angel"

Big East Music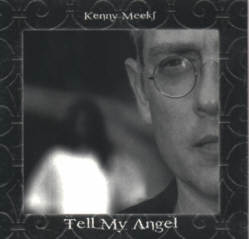 Kenny Meeks, a longtime multi-instrumentalist who has played with such artists as Buddy and Julie Miller, Sixpence None the Richer, Al Perkins, and Little Kings releases his debut solo album (finally) on Big East Music. Self-produced in his hometown of Nashville, TN, Mixed by Russ Long (Wilco, SixpenceNTR) with guest appearances by Julie Miller, and Leigh Nash of 6pNTR. Featured artist on WYYB-FM's "Grassroots Show". "Meeks' impressive debut is a soulful creation that brings together rock, country and blues; a truly American blend" Miles ofMusic. Julie Miller's vocal contributions range from tender (Who Am I?) to rowdy (I'll Take the Blame) while Nash lends her angelic magic on the tide track. Songwriting reminicent of Prine and Petty, without a hint of following the herd.
--Digital distribution and promotion through GrooveTone.com, Americana's primary online music source.
--Shipping to all Gavin Americana reporting radio, with radio promotion support.
--Touring summer 2000
--Print ad campaign targeted for Americana and roots magazines, with retail co-op programs and advertising in development. Liberal supply of promo cds for radio giveaways and in store play. POP materials in planning stage.

#31602
Big East Music
5566 Big East Fork Rd, Franklin, TN 37064 (615)406-7449 Fax: (615) 591-5473