Jon Dee Graham
escape from monster island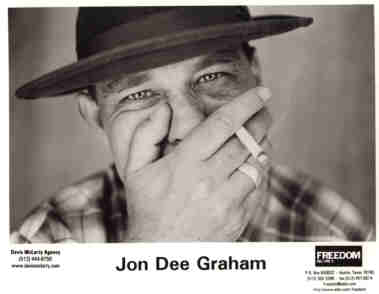 "a bare-knuckled, bone-chilling solo debut."
- Dallas Morning News
"like a raging bull in the china shop of singer-songwriter delicacy."
- No Depression
"a soulful blend of rock, country and folk that just jay be the best
debut of the year. Five Stars"
- Lincoln Journal Star
Jon Dee Graham was raised on a ranch in Quemado near Eagle Pass, on the Texas-Mexican border. He grew up listening to country, rock and conjunto music, and began playing guitar when he was 12 years old. He briefly attended the Univesity of Texas, but dropped out to play guitar full-time with the Skunks, one of the first punk bands in Texas. The Skunks toured nationally and are remembered for their Austin gigs at Raoul's and the Armadillo.
After a year with Texas blues star Lou Ann Barton, Jon Dee joined True Believers, one of the most notorious bands of the 80'. True
Believers toured constantly, earning national recognition for their nihilistic post-punk sound, and recorded two albums (now available
together as a Rykodisk re-issue called A Hard Road), before disbanding in 1987.
In 1988, Graham moved to Los Angeles to write, record and tour with John Doe, the founder of X. Spending the next 7 years in L.A., Jon Dee collaborated with many well-known musicians, including Exene Cervenka of X, Ryan Hedgecock of Lone Justice, Dan Stuart of Green on Red, Simon Bonney and Michelle Shocked.
In 1994, Patty Smyth recorded Jon Dee's song One Moment for her gold album Patty Smyth.
In 1995, Grahm co-wrote and played lead guitar on Calvin Russell's recording Dream of the Dog. He spent the next year touring with
Russell in Europe and the United States.
Jon Dee returned to Austin in 1996 to work with singer Kelly Willis and to pursue a solo career. He has worked in the studio recently
with Kacy Crowley, Trish Murphy and Darden Smith and accompanied Willis on the successful Lilith Tour this Summer.
Austin Chronicle cover story that chronicled his amazing career and featured a four-star review:
http://www.auschron.com/issues/vol16/issue47/music.index.html