Grievous Angels
on their 3rd CD
"Miles on the Rail"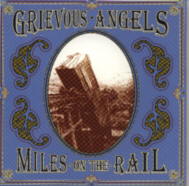 1. Seven Engines
2. Might be you
3. Help yourself
4. Hell gets a broken soul
5. Cold cold ground
6. No more room in hell
7. Don't think I will
8. Ten feet away
9. Sin away
10. Dumb love
11. Long Gone Lonesome Blues
Tempe, Arizona's favorite sons continue the journey from the sweaty, scorching parking lots and cookie-cutter condo enclaves of the Southwest to the sticky, smoky beer joints and cookie-cutter decaying industrial parks of the North. How can one not love the classic, old-school honky-tonk stylings in the vein of BUCK OWENS and LEFTY FRIZELL butting against the chutzpah of indie-rock luminaries like GREEN ON RED and the LONG RYDERS?
Leading the charge for the Grievous Angels is guitarist/co-producer Dan Henzerling. Listen as he tightropes between the sparse boom-chicka-boom of JOHNNY CASH's longtime sideman Luther Perkins and the drunken slash and burn of the REPLACEMENTS' late, great Bob Stinson (that's also Dan doing the singing on the TOM WAITS song "Cold, Cold Ground" and the woozy version of HANK WILLIAMS' "Long Gone Lonesome Blues"). The Grievous Angels also boast the finest pedal steel/banjo/madolin/hawaiin guitar player this side of....well...anyone. John Rauhouse's style of part swoon and part swashbuckle has left may a jaw hanging agape. (He recently guested on some songs on the OLD 97's major label debut). Up front is singer/acoustic guitarist Earl C. Whitehead, whose born and bred in the urban desert worldview colors the subject matter bleaker and more apocalyptic than any Nashville hit factory would ever allow.
So get on the good foot, give a listen, and give us a holler if you like what you hear.
Nan * Bloodshot Radio Slave *
Bloodshot Records
912 W. Addison Chicago IL 60613-4339
U.S.A.