THE COAL PORTERS
The Chris Hillman Tribute Concerts
Prima Records (SID013) 2001
Performing Country Rock Favourites & Highlights From Chris Hillman's Career!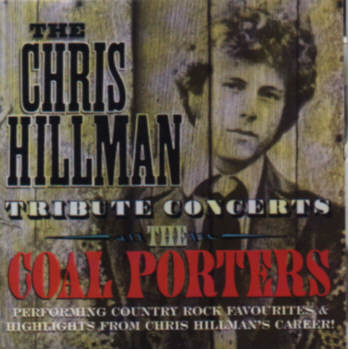 • First album in three years from The Coal Porters, now based in London, England. Produced by Sid Griffin
and recorded live during concerts in London, Nashville, Louisville and New York City
• Features ex-Long Ryder ringleader, current Western Electric member and now rock writer (Mojo, Q, Request, etc.)
Sid Griffin on vocals and mandolin.
The Coal Porters are/were:
Pat McGarvey - vocals, banjo (Western Electric),
Neil Robert Herd - vocals, guitar (Western Electric),
H. Nield - dobro, cinematography, Gemma White - fiddle,
Rory McFarlane - double bass (classical violinist Nigel Kennedy's band),
Bob Loveday - fiddle (very famous English session fiddler),
and Chris Morgan - double bass
• First ever Tribute Album to ex-Byrd/Flying Burrito Chris Hillman - Gram Parsons' partner in crime during the building of his country rock legend.
Chris Hillman is also a country rock Hero in his own right! The album contains songs all sung at one time by Chris Hillman during
his illustrious career with The Byrds, The Flying Burrito Bros., The Desert Rose Band and The Hillmen
• Features songs by Hillman, Gram Parsons, Roger McGuinn and Bob Dylan as well as country standards
Track Listing
1. Introduction by Big Steve Tree
2. My Uncle
3. When The Ship Comes In
4. Summer Wind
5. Draft Morning
6. Older Guys
7. Time Between
8. Wheels
9. The Lost Highway
10. Sin City
11. Cody, Cody
12. Brand New Heartache
13. The Girl With No Name
14. I Am A Pilgrim
15. The Fallen Eagle
16. So You Want To Be A Rock & Roll Star?
17. You Ain't Goin' Nowhere
Most of the lyrics ar available on:
grindex.htm
(Chris Hillman, Flying Burrito Brothers, Gram Parson, Byrds, etc.)

Coal Porters
The Chris Hillman Bluegrass Concerts
We love this one. The Coal Porters have gathered up a bunch of tunes that Hillman has done over the years
and presented them in a live setting. The result is one great song after another. Hillman has been the quiet giant
in country and rock in his nearly forty year career. He's been there for the whole ride and he's had
success at every bend in the path. This disc is more than a tribute, it's a musical statement that
shines the spotlight in the right direction.
(Village Records)

Coal Porters
Chris Hillman Tribute Concerts
It's no surprise that Sid Griffin (Western Electric, Long Ryders,
quintessential country-rock writer and enthusiast) has a deep
appreciation for the musical legacy of Chris Hillman. Hillman's
musical and songwriting talents have played key rolls in many of the
bands that influenced Mr. Griffin. From an impressive list that reads
through The Hillmen, The Byrds, The Flying Burrito Brothers,
Stephen Stills' Manassas, and The Desert Rose Band, The Coal
Porters have stoked this collection of live recordings with highlights
from all of the aforementioned groups. With Mr. Griffin on mandolin,
he is well accompanied by Pat McGarvey on banjo and Neil Robert
Herd on guitar and collectively they craft a chillingly sweet vocal
union that takes you back a few eras. In addition, there are guest
players on dobro, fiddle, double bass and pennywhistle to provide
additional colour to these fine performances. UK Import
(Miles of Music)
Other Projects:
Go for further details to:
sidgriffin.com
Western Electric -Western Electric (MRCD 199)
The debut album which made several publications Album Of The Year listings for 2000.Traditional roots rock played with the latest technology, it sounds like Wilco songs played by Portishead. Billboard (USA) called this "...Griffin's best, most assured, most experimental and ambitious work by a long shot" Mojo (UK) declared this Alt-Country Album of the Month for June, 2000.The European release is on Munich Records but in Germany it is on Glitterhouse Records (GRCD 485) and in the USA Western Electric appear on Gadfly Records (Gadfly 261).
Dazzling Display Deluxe Edition - Steve Wynn (Prima SI DO 12)
Ex-Dream Syndicate leader Wynn's second solo album now reissued with six extra tracks. Contains contributions from REM's Peter Buck, John Wesley Harding, Flo & Eddie.
The Gram Parsons Tribute Concert -The Coal Porters (SIDO 10)
Recorded live September '98 in London this album features a dozen Gram Parsons classics performed in classic electric country-rockin' style.
Kerosene Man Deluxe Edition - Steve Wynn (SID009)
The re-release of ex-Dream Syndicate leader Steve Wynn's first solo album featuring six extra tracks, two of which feature Prima Records guru Sid Griffin.
Little Victories - Sid Griffin (SID007)
An acoustic affair featuring eight Sid originals and four covers, including his duets with Billy Bragg on an unreleased Phil Ochs' ballad Sailors & Soldiers and with Steve Wynn on their classic The Rate Of Exchange.
The Lost Weekend - Danny & Dusty (SID006)
The only album by the Paisley Underground supergroup featuring Green On Red, Long Ryders and Dream Syndicate members on CD for the first time and featuring a bonus track.
Two-Fisted Tales Deluxe Edition -The Long Ryders (SID005)
The final studio album from the Long Ryders now with four bonus tracks, rare photos, complete lyrics and liner notes by drummer Greg Sowders. Considered by many, many fans to be the band's best album.
State Of Our Union - The Long Ryders (SID003)
The number one USA alternative chart classic featuring Looking For Lewis & Clark and now with four bonus cuts.
All CDs are £ 10 incl. p&p UK, £ 12 R.O.W.
Please make cheques/money orders payable to: PRIMA RECORDS • P.O. Box 2539 • London • England • NW3 6DF • United Kingdom
fax 44 (0) 20 7794-9549
Internet address for Prima/Sid Griffin and all the above is:
www.sidgriffin.com