http-equiv="Content-Type" content="text/html; charset=iso-8859-1"> < name="GENERATOR" content="Mozilla/4.6 [de]C-CCK-MCD QXW0320c (Win95; I) [Netscape]">
Andé Williams & The Sadies
RED DIRT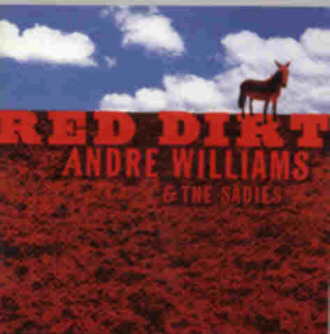 Hullo again, sugarbabies. Mama wants to know if you're sitting down. Hmmmm? Because -- if you are -- it's time to get up off that winter-fat ass and shake it, grind it, and get behind it! Legendary oooo-wee R&B nastyman Andre' "Mr. Rhythm" Williams is back on the Bloodshot Records side with the new full-length release, RED DIRT -- featuring both kinds of music: country AND soul. Throw the windows wide and let some of this inside: 14 songs slathered in greasy groove gravy, and Andre's high-mileage velvety growl - with sexy booty bottom provided by Toronto's own finger-lickin' surfabilly pickers, The Sadies. Spring is here, children -- and this is the sonic tonic you've been craving...
... so open wide and PUT IT IN your CD player now. Check out Andre's bold soul recitatives on covers from the likes of The Bottle Rockets, Harlan Howard, Eddy Arnold, Lefty Frizzell - an4 a "hack slowly away from the nice crazy man, kids" version of Johnny Paycheck's "Pardon Me, I 've Got Someone to Kill." Then bask in the gritty glory of all new originals (co-birthed by Andre' and The Sadies) like the slinky slayer "Weapon of Mass Destruction" (you know you got it, baby!), the soon-to-be party tune of the year "My Sister Stole My Woman," and ihe insidiously catchy "She's a Bag of Potato Chips" (a song just itching to be the "Don't Mess With My Toot-Toot" of the new millennium.) Don't waste your time with those Rooster Pills! Andre' Williams is the hard stuff !
Here's a quick history lesson for those sadly out of the loop on "Mr. Rhythm": R&B crooner/writer/producer pioneer from the 50's - wrote/sang cult classics like "Bacon Fat," "Jail Bait," and "The Greasy Chicken" - forced Hanson to cough up sacks of cash for using his "Shake a Tail Feather" without permission (!)- jumped back into the action with last year's lascivious Silky CD - and has been blowing Jon Spencer's ass off stages Oil worldwide tours since 1997. And now Andre' Wuliams is READY and Red Dirt's got it all. It's got Stax/Volt soul grooves, it's got Screamin' Jay gospel menace, it's got Johntiy Cash boom-chicka-boom, it's got schmoove "helloooo my lay-day" balladeering, and it's got... well - Andre'-ance! Listen to me when I say that this record will jack your dooker. Period. Mama knows best.
Bloodshot Records
www.bloodshotrecords.com
---
Andre Williams meets "The Shades"
Dallas Good and the Sadies spent five days in Detroit recently, laying down tracks for an album with R&B legend Andre Williams. The Sadies' label, Bloodshot Records, was doing a Williams record, and asked the band to back him up on some tunes, but when the January blizzard hit, everyone stayed put and kept working. "The more we worked, the clearer it becarne it wouldjust be
us on the record," Good says. "After we did the covers Bloodshot had chosen, we just started laying down original bed tracks." Gui4ance from the legendary Williams often consisted of sound effects ("play it like brohug, brohng") or instructions like "really cry it, though," or "put your dick in it, son!"
The album, which will be credited to Andre Williams and the Sadies, will be released on Bloodshot in late spring or early summer. For Good and the band - whom Williams called "The Shades" the entire time - it was an ex perience they look forward to repeating. ei ther on some live gigs, or another, less hap hazard recording."'You know, the Shades is a much better name$' Good laughs. "I'd be more than happy to change it for Andre."
---
SF Wickly 1998
New songs like "Let Me Put it In," "Bonin'," and "Pussy Stank" are raunchy enough to send Rudy Ray Moore running for cover. But there's no sense in lecturing to Williams about good taste. He's heard it all before. "People now keep saying, 'Andre, you're too dirty. Quit being so lascivious!"' he says. "Lascivious. Shit. I didn't know what lascivious meant until a week ago, and I've been lascivious for on near 61 goddamn years."
---
2 STAR TABERNACLE (with Andre Williams)
"Ramblin' Man 7"
The a-side is a cover of Hank WiIlams' "Rambling Man," which sounds mean with Andre's gravely voice booming out the sweet country twangage of Hank. The backside features Danny Doll Rod on backing guitar, and "Lilly White Mama..." is a good offashioned tale of wrong place wrong time. All-in-all a great change, and a good one, from Andre's last abum. (Bloodshot) P. Hahn

---

THE SADIES
Precious Moments
Bloodshot Records
"Guns Speak," the first track on this beautiful freaking record, barrels out of your stereo like a Pony Express rider gone mad on peyote -- theme to a Sergio Leone flick not yet made. ~rely a minute long, this instrumental is ~enty long enough to stoke the listener's appetite for more deft postcountry twang.
Interspersing electnc tolk songs - about murder, love and drinkin', in about that order -- with superb, dazzling chicken-pickin' on the many instrumentals, The sadies are the coolest thing to come out of Canada since...well, since Phonocomb (another band featuring The Sadies' Dallas Good). Those who caught the Jad Phair/Phonocomb show at Kirby's a couple years back still have the hair standing up on the backs of their necks.
---