Terry Lewsader


talks about...
(Self-Released)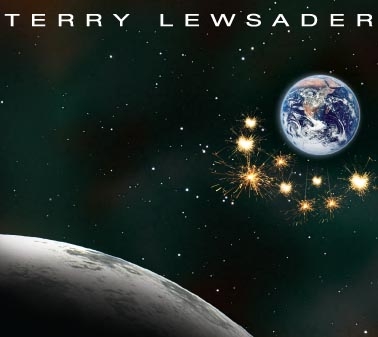 In 1970 a band called 'Morning' put out their debut album, which included several different styles of music, although it was marketed as a psychedelic album. Jay Donnellan was a key member of that band. He had recently come out of 'Love', a popular 60's band fronted by Arthur Lee. Worth mentioning early on also is that Al Perkins played pedal steel on this album. (Note: both Jay and Al Perkins lent their talents to my album, as well as Byron Berline, the incredible fiddle player who played with Gram Parsons and the Rolling Stones. I'm very fortunate and grateful to have received this kind of help on my first solo outing)…..but I digress…and more on that later).
I mention 'Morning' because they had a profound effect on me. They played Pop, Country, Jazz, and Psych music (and evidently anything else they felt right to them)….and they put it all on the same album. They were a wonderful band, and to this day it is still one of my favorite albums. As Jay was helping with my album he advised me to not worry about the styles (which didn't surprise me). So I didn't. Thanks, Jay!


Now, for the 'more later' part: I can't tell you why because my memory about this is vague, but one day a few years ago, for some odd reason, I decided to buy a new pedal steel. I had been out of the pedal steel loop for a long time, and needed some help with this. I had been to Al Perkins's website in the past, and remembered there was an email address there…so I wrote to him. This started a series of emails back and forth as he helped to walk me through the process of buying a new pedal steel. Al is a wonderful human being, and steel players are a little clannish to begin with, so he was very kind and willing to help…even when I wrote back later to ask if he knew what had happened to the guys in that band 'Morning' he recorded with many years ago. He gave me a good lead on Jim Hobson (Morning's amazing keyboard player), and I found Jim right away. One lead led to another, and the next thing I know, I had made contact with the three main members of the band (including Jay mentioned above). This is how I came to get Al Perkins and Jay Donnellan to play on my album. Byron Berline and Al P. are friends from a long time back, and have worked with each other for many years. In fact they played for Gram Parsons on his 'GP' and 'Grievous Angel' albums (also two of my all-time favorite albums). So I sent the song to Byron and he liked it, and as it turned out he and Al played on my song 'Can I Get A Witness'. I still have a handwritten note from Byron telling me that he thought it was a good song, which I'm very proud of. How lucky can a guy get?!!!?
As I've been reminded by the wonderful and hardworking Johanna, I did get lots of help from some extremely talented people and here's a little information about them. I met a few of my vocalists while playing pedal steel on their recordings a few years ago, so they kindly reciprocated when I asked for their help. These include Sutter and Jason (who have now renamed their band, 'Hatter'), and Hari Rex, who plays in a band called 'Young Hunting'. I'm hoping we will continue this process for some time to come. As a producer it is difficult sometimes to find the right voice, and players when changing musical genre's. I found Brandywyne and Linda Lamb by advertising online in Los Angeles. Brandywyne came in like a true professional, did a wonderful job, and then moved to Seattle shortly thereafter. I haven't heard from her since. Finding Linda Lamb was another lucky break. Linda has had success in France and around Europe, and still tours and records there as the result of a spring-board song that made her popular some years ago. I also found Bjorn Kelker by placing an ad online in Austin, Texas in an attempt to find a good southern rock singer for 'This Time'. The first time I heard Bjorn I knew I had found the right guy for the job. Amazingly, Carla Tassara was found by my engineer about 24 hours before he left town for the summer…talk about a lucky break!!! She was performing at an outdoor event and he called to suggested we get her to sing the song 'Walking Blues' which she delivered so well. Walking Blues is an off time song, and many vocalist who have heard this song are amazed that she was able to "get it" so quickly. Also making an appearance on Walking Blues is Gee Rabe on accordion. Gee also played on 'The Soul'. Worth mentioning is that Gee holds a PhD in Ethnomusicology and teaches at Cal State University. She laid a total of five tracks on Walking Blues so I would have plenty to choose from. In the final mix we used all five accordion parts which gave the song a very full…almost orchestral sound. And since I've gone this far I need to mention that this would have been a totally different project without my two engineers, Russell Wiener and John Abella….who I also call the 'Studio Magicians'. They are both very talented engineers and musicians. I also met John as a result of playing pedal steel on a recording for a band he was in.

O.K.! One more story and then I'm done. I know I mentioned Jay Donnellan at the beginning of this writing, but here's one more FUN FACT before I go. Jay was nominated for a Grammy for engineering Gary Wright's, Dream Weaver album in the mid 70's (for anyone who remembers that song). He has also worked with Johnny Cash, Ringo Starr and several other popular artists. He now lives on an island and refuses to come home. HA
Oops! That's more than one FUN FACT….
THIS TIME
Lyrically, an exercise in frustration at the state we live in, and the acknowledgement that as I get older, I get farther from the freedom of my youth. This song expresses the urgency and longing to really live while there is still time. An upbeat Southern-Rock song that started life as a country song.
IN BETWEEN
A style I had never written before. I still can't identify a genre for this song but sounds like it maybe belongs in a movie. I don't know (Spielberg, give me a call). HA. The music came fairly easy as I remember. A strong, positive, self-empowering and somewhat mysterious, sort of Celtic feeling hit me so I went with that on a search for lyrics. I remember having the mental image of a foggy black forest in my mind as I was working with this song…and the thought that strength can come from adversity. The lyrics are open for interpretation. Jay painted the perfect picture with his wonderful instrumental interpretation on the solo.
THE SOUL
The Soul is a folksy, science-fiction, truck-driving, love song. It's the story of a truck driver who takes off in the bad winter weather, after having a fight with his girlfriend. Somewhere down the line he drives out of this reality - into a parallel universe, never to be seen again. However, he is able to make contact with his girlfriend from the parallel plane he is on, as it explains in the song, "she awoke to hear a whisper and saw a mist fade out of sight." I also wrote into the song an old truck stop called 'Dixie' that I used to frequent after gigs in my hometown in central Illinois.
FLYIN'
I've long been a fan of psychedelic music. This was a fun song to write. I didn't edit myself as I went through it. It felt right. Written from the view point of a child. Production was more intense than the other songs as I recall. The only psychedelic song on the CD.
CAN I GET A WITNESS
I heard Paul Stookey talk about writing The Wedding Song one time. He said the song came through him. In fact, he felt so strongly about it that he never took royalties for the song, instead sending all royalties to a Public Domain Foundation. I feel like 'Can I Get A Witness' was a gift like that. I even get a little uneasy now trying to explain how it came about….but here's how it happened: I walked around with a very vague melody and chord arrangement in my head for at least a couple of months. I felt something brewing from the beginning and got a real good feeling about it. Something told me that it would come eventually as long as I didn't push it or try to make it happen. Then one day, this voice said "get the guitar…it's time to write the song." Suddenly this melody and chord arrangement magically came into focus, and the lyrics came without effort, and the song was written in about 20 minutes. The whole process was so effortless that it doesn't even feel like I wrote it. And, of course, with Al Perkins and Byron Berline playing on it, it seems even that much more special.
LITTLE TOWN
Nostalgia. Longing for stability, simplicity, romance and innocence in a world that never stops changing. I don't remember much about writing this song, but it still calms me and surrounds me in a fantasy world that seems to exists for me in this song, if nowhere else. An easy-listening, even somewhat jazzy setting for this song.
MICKEY ROONEY
I actually did see Mickey Rooney in a small theatre in Westwood, CA. I became a fan after seeing the movie "Bill" that he starred in. Another free-form style of writing similar to 'Flyin'' (but totally different). No editing. No struggling. I just did what felt right all the way through the writing process, and this is the result. Lots of fun!
THE HUMAN HEART
I think this may be the only 'Pop' song on the album. A cry-out for people (governments) to start doing the right thing. A song about man's inhumanity to man. Musically speaking, this is the only lead guitar work I do on the album….which may seem a little strange since that is mainly what I do. But this seemed to be the only song that really called for it.
WALKING BLUES
Just one of those days.
=====