RHYTHM & BLUES NIGHT
De Oosterpoort, Groningen (NL)
May 3rd, 2008
http://www.rhythmbluesnight.nl/

Usually I can report about some funny encounters with animals, going to a festival. From a chihuahua via geese to cat Max. (For all of his fans: he moved and I miss him!) Now I'm just glad I can escape from the noisy neighbors upstairs... Two non-stop screaming babies in an apartment where you can understand each other's phone conversations through ceilings & walls, get a little too much after a while! It's one of the first sunny warm days this Spring, so that will put a dent in the amount of visitors to the festival, I'm afraid. Perfect timing, after my bus ride I just arrive when the doors to De Oosterpoort have been opened. I'm asked to wait for about ten minutes, while the girls check if my name really is on the guestlist of Hayward Williams. The booker of Roots on the Road festival passes by, he is only allowed to hand out his flyers on the street, away from the doors. I compliment him on the excellent choice of booking the Southern Tenant Folk Union. Wasn't that my tip? No, somebody said they were at least as good as Chatham County Line. Yep, that was me, taking a short-cut in recommending!!

And there is my ticket... It's even a 'plus one', wow, I'm touched by the generosity of Chris (all the way in Wisconsin) and Peter (all the way in Sweden), who pulled this off. Thanx a million!! No altercation with the security this time, I bet I'm getting too old to pose a threat to anybody. There's even an impatient lady to search the ladies purses now. Is this my first Rhythm & Blues Night? No, I've been here once before, in 2003. Am I a real blues tigress? I pretend to be, after my colleagues at the radiostation asked me to take over their show on a holiday. Then I dug deep into the blues, going from acoustic countryblues to loud bluesrock with screaming guitars and I have to say, that was an enriching experience!
---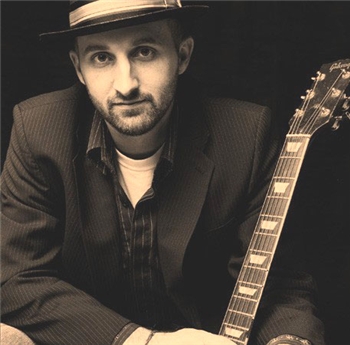 A choice between three shows starting at 8 p.m. and I pick
SETH
WALKER
. I have his album "Seth Walker" in my collection since it was first released (2006) on Pacific Blues, I was probably the first DJ to play it over here and I still love it. The Small Room, with seats, a good environment. The shows in this room are being recorded for national radio, so the fresh voice of a lady MC makes the announcement, much better than the mouldy retired DJ's at other roots festivals! Seth Walker looks exactly like the picture on his CD, wearing a black jacket and hat with a little feather. He plays an electric guitar, there's a drummer, a guy behind several keyboards and a big acoustic bass plus its player. They make a great start with an instrumental, the audience is clapping along and the second song follows immediately, "Kick It Around", a James Hunter cover. Seth, with his strong voice, has everything under control. The keyboardplayer turns around to his Roland and they continue with "So Far Gone". It's early to play the blues, according to Seth: "The sun is still up!" He explains why he likes to play "Miss Ann", a cool duet with his bassplayer. In a slow blues he wraps himself in the solo, smiling... "Sun Down" is another excellent showcase for his impressive vocal and then Seth wants us and even his own musicians to clap along again in a fast one, electric bassguitar this time, the Roland being played plus a spattering drumsolo! He tells that it's his first tour here, he landed in Amsterdam on Queen's Day: "You have a reputation for partying here, but we thought 'Man, this is a Party!!'" The next song is no less than brilliant: "I wrote this right after Katrina hit...", yes, that's "Two Feet Left To The Ceiling". He plays "Change My Way" with only his drummer keeping a steady beat and the result is yet another clap-along: "Everybody is on the same beat! Let's get this party going!" Seth obviously luvs playing this show and introduces the musicians in his band, pianist Stefano Intelisano (from Italy indeed) and bassist Lindsay Greene ("It's not a cello or a violin, it's a full-grown bass!") also played on his record, drummer Damian didn't, but he's a Texan just like Lindsay. And Seth is import, he's originally from North-Carolina. The Cindy Walker tearjerker "You Don't Know Me" is being spoiled by drunken university students 'singing' along so loud, that it even distracts Seth, who can't help laughing though. This festival is known for drinking and even throwing beer, but it's still early! They don't get another chance to disrupt anything, as the next song is uptempo and then there's "Steady", great with that soul touch. Seth drinks from his water bottle and the university students comment: "No beer??" After a full hour it's time for the last song, a James Brown cover. "From way back, one of his early recordings."
---
The
Rhythm Chiefs
are playing their last instrumental in the foyer, when I pass by, three enthusiastic very young rockabilly cats. All the members of Canadian six-piece
LOOMER
must be in their forties. They play on the Entrance Hall stage and start up a long soundscape, while I find myself a seat on the central heating system along the window. Officially not very comfortable, but the heating is turned on just a little bit and for the first time today -being sick with a fever- I actually do feel comfortable! I notice two of my music friends (one with a flashing new haircut) from the Rotterdam area in the small audience here. The line-up of the Rhythm & Blues Night this year is mainly blues related, so not too many americana lovers came out. And a couple of the americana acts already played here at the Take Root festival last year. Blues fans don't like it when there's too much other music featured, but the number of tickets sold is also important, I would say. I concentrate on the music of singer-songwriter Scott Loomer and his men now. I don't own their two albums, but they are known for cryptic lyrics and detailed musical arrangements. The songs are slow to midtempo, picking up steam every once in a while. Melancholy, that's an important qualification here. The drummer is really good, he saves quite a bit of the songs, together with the leadguitar player. Scott himself isn't a great singer, but the guy with the rhythmguitar definitely shines in some harmonies. Until halfway the set I ask myself if Scott ever smiles and then he makes a joke about songs with a two-headed calf. Darned, there is indeed a two-headed calf mentioned in the song "Old Grey Ford"! Other songs I recognize are "Bluebells And Roses", "Only Lovers" I think, "Turnbuckle". Both singing and introductions are hard to understand, monotonous and almost mumbling sometimes. Just too bad, as I think that Scott here can come up with one-of-a-kind lines! He obviously listened very well to Jay Farrar and Jeff Tweedy. Allright, there's a 1969 Neil Young: "Everybody Knows This Is Nowhere" and although I'm not a big fan of covers being played at festivals, this definitely does the show a lot of good! And the songs even become faster after that... Is that "Dirt Angel"? Then the musician at the end of the stage picks up his electric mandolin from the first song and they take off into another soundscape. Which is kinda brave, as soundscapes are hard to re-create live. My guess is, that the albums must be better, where you can figure out the lyrics. Most of the songs have the same construction, so Loomer sounds here too much like a long rainy ride on a windswept road with lots & lots of rust colored leaves...

---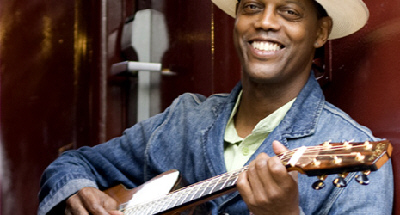 Now I can make a choice between the concerts of
Oh Susanna & Luke Doucet
or
Eric Bibb
. There's an earlier album of Oh Susanna in my collection, which I like a lot. I don't like Luke Doucet's stuff. (Sorry!) I only know Eric Bibb's name and I heard he's good. The Inner Room isn't set up with chairs this time, so I choose the comfort of the Small Room, which means I'm going to listen to
ERIC BIBB
! Choices are this easy sometimes. So there's Eric, alone on the stage with one acoustic guitar in his hands and another one stand-by. He wears a hat, loose fitting pants & shirt and seems much younger than he actually is, he looks very confident and flashes a big smile. He says: "It's been a while, let's not wait so long till next time..." And he plays this acoustic folkblues, one of the styles I love best in the big scala of bluesmusic. Eric takes his time to adjust a capo and introduces: "Another song from the same town St. Louis, the gateway to the West, about a man named Stagger Lee." The audience is spell-bound and quiet, except for the loud applause. I like this line in one of his songs: "She likes her coffee / I like my green tea / I don't gonna change her." He also covers a Dave VanRonk song and wonders if he might play it for one his relatives tonight, as the name sounds like it came from here. Wow, this is a Personality with a big P. "I feel good up here, this is what I live for, so thank you!" A faster song with a real groove and a lot of Kokomo follows. He announces "Still Living On" in a great way: "About people who passed away, but are still around somehow." He mentions the musicians who recorded a few songs in the 20s or 30s and went back to sharecropping, the song features a lot of names. "Shingle By Shingle" is melodious and folky, another one more uptempo with the audience clapping along on the intro: "You're right on time, Brother Johnson". "Connected" is slow again and classic "John The Revelator" is very powerful, Eric sings the first lines without guitar but holds it up in the end and smiles: "We should do this more often..." A woman taps various people on the shoulder, asking in English for his name and when they tell her, she says in broken Dutch: "You don't know?" Must be her own private kind of joke. The blue spotlight stays on Eric Bibb, who moves smoothly on stage. His voice makes me think of Sam Cooke sometimes, but that comparision is too easy, of course. Not sure about the title, but "Right now is the needed time" sounds like a Christmas song, before Eric plays the solo, he asks us: "Think of someone you love". He does himself, I see it in his face! And he announces already the following song, "A song my mother says I should never leave off my set list". This is great indeed, "Don't let nobody drag your spirit down." The last one is some sort of gospel "Get On Board." He never touched that second guitar!
---
I go back to the Entrance Hall stage and my "seat" on the central heating, after a short pitstop. Behind a door that isn't supposed to be open, I see Guy Davis!
BORIS MCCUTCHEON and his Saltlicks
have started their set already. A limited number of Saltlicks this time, only Brett Davis on lapsteel, banjo and electric guitar (lightblue with white) and Susan Holmes on bass, both big acoustic and electric (also lightblue with white). Boris himself plays his trusted acoustic guitar and some harmonica. He's always good and solid, he says it's his fifth tour already in The Netherlands, this must be the third time I see him play. He lives in New Mexico now, but he always had that SouthWestern feel in his music and a little bit of trademark Boris soul in his voice! His new album is called "Bad Road Good People", unfortunately I didn't get it yet. I assume the new songs he's playing now, can be found there. A man -leaning on the stage- sings along with everything... "It was easy when they followed you, down the canyons" and so on. There's "Small Town Blues", that was still a "new" song last time! Brett and Boris joke around about old cars, Brett assures us: "Boris drives one!" and "the slow lane's too fast" according to the song. During the solo a man with cowboyhat steps up to the microphone and pulls duct tape off a roll, the convincing sound of a car in trouble!! Boris asks the audience to meet him later: "We're over there... Somewhere..." he points vaguely and then closes off with a rousing "Caves Of Burgundy".
---
I'm not going to say 'hello' to Boris, somewhere, I'm going to the Inner Room to see as much as I can of the
HAYWARD WILLIAMS
show, starting at midnight. The Hayward Williams trio (from Wisconsin) was going to play in my radioshow two nights ago and we were all excited about it, until... they couldn't find an affordable flight back from Norway to The Netherlands before today. Just too bad!! Don't know what Norway holds against me, this is already the second time in less than half a year that artists can't make it to my show due to trouble flying back from Norway. Well, I was put on the guestlist anyway, which was very nice and we certainly are going to try again next tour! So, this is the first time I see Hayward's trio and all of them look very young, sitting on stage. Hayward himself plays acoustic guitar, he wears big eyeglasses, cool! I've said it before: no artist should ever feel pressured to take the eyeglasses off or to wear contacts on stage. We luv artists with eyeglasses!! Then there's Sarah Welder on violin and Noah Hewett Ball on electric guitar, they both sing harmonies too. First song is the prize track off the album "Another Sailor's Dream" (review elsewhere on this page) and it's called "Devil's Lament", with the intriguing line: "And the saints will all come through to cast their decision / yes and how could this love even replace your religion". On the CD the sound is fuller with trashcan drums and an accordion, but this is definitely a good interpretation. Hayward steals my heart when he says, after his 'hellos': "You guys got to stand up this time, sorry about that!" Somewhat strange indeed, this room had chairs the other times I was here. "You Were Right" is the second song. Hayward has a wonderful voice, his trump card. And he writes intelligent lyrics, the trump card up his sleeve. Funny, this link to Springsteen at the time of "Nebraska" on the album, even mentioned in the festival booklet, isn't present at all here, while he plays live! He tells a story about Norway, where everything's so expensive that they couldn't even buy bread! They were kicked out of the hotel at check-out time, still had some vouchers for coffee or tea and even thought about stealing a piece of pizza that was going back to the kitchen... Oh man, I know what you mean! Twenty years ago, out on the road, budget of one coffee with one hamburger a day per person, been there, done that!! "Mockingbird" is a new song, a slow ballad featuring the violin. He tells charming stories, they're tired of carrying their merchandise around, so they're selling the t-shirts for five Euros each tonight. "You can wipe your kitchen with it..." "I Will Understand", also a new one and then he plays his harmonica on "A Song For Lou". Hayward tells that he went to the movies with his mother, "that's what you do when you're a musician with no job." He must have a real cool mother, she bought him his first guitar, a '64 Gibson, at a garage sale! "If you've been waiting for a rocker..." That's a fast new song, "Toe To Toe". And "Cottonbell" is the tentative title for the new album he's working on. And then... the moment I always hate. I hate it especially now, as these people have been so kind to me and I have to leave the show early to... catch the last bus on the line! So sorry, folks!!
---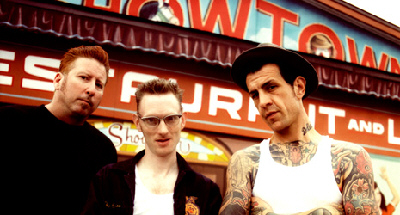 While waiting to retrieve my coat, I hear the rowdy noises of
The
Legendary Shack Shakers
on the Foyer stage. Loud! I would have loved to see
Malcolm Holcombe
too, but hey, this is called the Rhythm & Blues Night for a reason, it still goes on until 3 a.m. It is not so crowded as in 2003 and not so spectaculair, remember Jason Ringenberg climbing the speakerboxes to play his harmonica solo? But I had a really good time!! And I have a very pleasant conversation in the bus with a young man, who loves gothic rock but listens to everything from classical to rap, just like I do actually. The conversation goes from Tchaikovsky to Eminem and it's sure good to meet an open-minded young person, who will carry on our musical torch one day!

---
Written by Johanna J. Bodde - May 6th, 2008.
=====