Peter Cooper
"Cautionary Tales"
(CoraZong Records)
Peter Cooper and I have a few things in common. He is a music journalist too. O.K., I don't see myself writing liner notes for an Emmylou Harris box set anytime soon, but still... The frontyard of his house (in East-Nashville) looks the same, except for the motorcycle, but mine has weeds between the tiles too. And -most important- his record collection could be mine! I look at the picture and see the covers of LP's by David Olney, Emmylou Harris, Kris Kristofferson and even my favorite Charlie Rich!
Peter was five years old, when he first caught a Kristofferson show. That was on an outdoor stage in Charlotte, North Carolina, not too far from Cooper's hometown of Spartanburg, South Carolina. Something about the experience must have stuck, as Kristofferson's wordplay and folk-inspired melodies became a touchstone. Now Kris Kristofferson says about him: "Peter Cooper looks at the world with an artist's eye and a human heart and soul. His songs are the work of an original, creative imagination, alive with humor and heartbreak and irony and intelligence, with truth and beauty in the details. Deep stuff. And they get better every time you listen to them." From there, it was on to Tom T. Hall, Mickey Newbury, Bob Dylan, Emmylou Harris, Bobby Bare, Guy Clark, Eric Taylor and others who managed emotional literacy without ever seeming unduly literary. And the old storyteller Tom T. Hall says: "The enticing allure of Nashville is that there is always something new coming down the pike. Put this record on and you'll hear footsteps."
In addition to his work as a songwriter, Cooper has become one of America's most prominent music journalists, writing for "The Tennessean", "Esquire", "Britannica" and "No Depression", among others. He met Todd Snider when he was interviewing him for Nashville's "The Tennessean" newspaper. They realized they shared ideas and record collections, and they began collaborating. In 2006, Snider began pushing Cooper to do a full-length album, something the journalist/musician had put off for years.

The two called many of their favorite musicians to record. They gathered at Nashville's "House Of David" studio, it's a cool place, with a trap door in the floor that was built for Elvis Presley to come in and out without fans realizing he was in town...

There was Lloyd Green (also co-producer) on steel guitar. He played on "Sweetheart Of The Rodeo" by The Byrds and on albums by Paul McCartney, Don Williams, Nanci Griffith, Tammy Wynette, Charley Pride and many more. He retired in the late 80s and returned to session playing in the new century, working with Nanci Griffith again, Alan Jackson, Steve Wariner and other chart-toppers.

There was also Jason Ringenberg (Jason and The Scorchers) playing harmonica. Bill Lloyd (Foster & Lloyd) sang harmonies and played electric guitar. The lovely Jen Gunderman, formerly of The Jayhawks and currently of Last Train Home, pitched in on piano, Wurlitzer and accordion. Dave Roe, who toured in the bands of Johnny Cash and Dwight Yoakam, laid down acoustic and electric bass lines, and ace percussionists Pat McInerney and Paul Griffith completed the rhythm section. On "Mission Door" Todd Snider, Nanci Griffith and Fayssoux McLean (who sang with Emmylou Harris) all took verses.
Let's leave the bio behind now, let's listen to the silver disc! Opener "Boy Genius" is a midtempo country song with abundant steel guitar and Wurlitzer. Words from the bio still ring in my head: "This is not a country album, but it has more steel guitar on it than anything released in ages." This is not such a good start, I'm not too impressed, I do like Peter's slightly hoarse voice though! But then... I'm completely blown away by the Eric Taylor cover "All The Way To Heaven". "I saw Charlie Rich singin' at the Continental Ballroom / He let the whiskey do what whiskey does the best / Here's a song about Kentucky with a big, bright blue moon / Put a little somethin' in my glass / Can you put a little somethin' in my glass? / With a song like that you make it all the way to heaven / Pearly gates open when the doorbell rings / When you can sing like that, all can be forgiven / I'm hearin' ol' Charlie Rich sing tonight / I'm goin' to hear ol' Charlie Rich sing". Breathtakingly beautiful. The steel guitar solos sound heavenly, these must be the best ever captured on record! "Wine", a slow ballad with again the combination steel guitar plus Wurlitzer from the first song. "Couple Of Lies" gets a different sound though, when Lloyd Green picks up the Dobro and Jen Gunderman plays Hammond organ. Another slow ballad with a strong yet simple chorus: "She said, 'Where'd you go tonight?' / She said 'What'd you do?' / He told a couple of lies but the rest was true." Impressive, great, bluesy, that's "Take Care". "I heard him sing it one night when he was too messed up / To remember most of the words / After the show, if you could call it a show / I watched a man walk up to him and say / 'Let me tell you, I love what you do' / The singer said, 'That's good, you're one of the few'." Hey, didn't we all know him?? And there's that unlikely combination of lap steel, Hammond organ and harmonica to top it off. "Mission Door" is the other Eric Taylor cover, with all the guest vocalists, accompanied by Dobro, accordion and acoustic guitar.
"They Hate Me" is played in a traditional line-up, emphasis on the words in the quiet beginning and end, parts inbetween served up as an uptempo rocker. Piano (that's Jen of course) and Jason Ringenberg on harmonica throughout. "715 (For Hank Aaron)" turns out to be a very long (six minutes plus) story ballad about the all-time home run king, with a spoken part in the middle, underlined by steel guitar, harmonica and drums. It comes down to this: "In '47 when a black man signed with a big league team" and also to Peter's love of sports! "Sheboygan" is definitely the most catchy track on the album, starting out slow, with an infectious chorus. And I luv the thought behind the song: "Everything according to the master's plan / Sittin' in Sheboygan drunk again". Ah, "One By One"! Haven't we all once heard a tale like this, told by a middle-aged man, maybe not in a bar but at a bus station or in a delayed train? Peter goes into character like an actor, like David Olney would do! Maybe some people might think it's boring, but to me it's spell-binding, especially the chilling end... "Andalusia" is another midtempo country song and then the album ends with "Thin Wild Mercury", a Peter Cooper & Todd Snider co-write and a surprising subject, the fall out between Phil Ochs and Bob Dylan.
So, what does this album add up to? Some truly astonishing beautiful songs, original as well as cover, that make a couple of others (definitely not bad ones!) pale and almost sound like fillers. That's odd... If this were an album of less quality, I might have used the word "uneven", but nah, here it's more of a luxury problem!

The looks of the CD? The "super jewel box" holds a booklet full of lyrics, information and nice pictures. The painting on the cover is called "Clown Juice" and made by Melita Osheowitz Snider. The looks of Peter Cooper? Handsome!!
Written by Johanna J. Bodde, April 2008.
---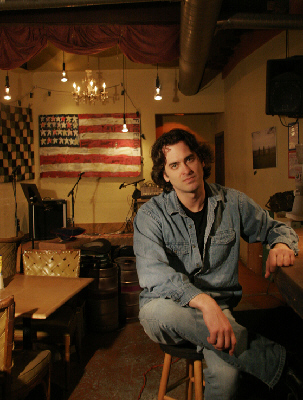 In traditional folklore, a cautionary tale warns the listener of dangers to be avoided. I was very pleased with the permission to include Peter's own notes on the songs here:
BOY GENIUS
A tousle-haired singer-songwriter wakes up one morning and realizes that there's some younger fellow with significantly tousled-er hair out there. The FEMA dude - the guy the president put in charge of emergency management - wakes up, hears about a mighty storm and realizes that he's not really going to be able to coast through his federal appointment. I wake up and realize that I have more in common with these people than I'd like to admit. And what we have in common, in my opinion, is something like abject fear. I'm glad I didn't get offered that FEMA gig. I would have taken it, and I'll bet I'd have screwed it up, too.
ALL THE WAY TO HEAVEN (by Eric Taylor)
Charlie Rich plays, a beautiful woman dances, somebody gets shot and Eric Taylor tells me it's pretty much a true story. I can't resist. Check out Jen Gunderman's big piano chords, and Lloyd Green's spacey, "how-on-earth-did-he-do-that?" steel solo.
WINE
I wrote this song a bunch of times, over a bunch of years, with the extraordinary Baker Maultsby of Spartanburg, South Carolina. Baker and I also wrote "Four Wal-Marts" and "Fatback and Egg on Bun" and "Nirvana Was Better Than Pearl Jam" together, but those aren't on here. You'll just have to come to the show.
COUPLE OF LIES
I know a guy who played power forward on a really good high school basketball team. And now he doesn't. But he wants you to know that he did.
TAKE CARE
He sang one that went, "Won't you lend your lungs to me? Mine are collapsing." And he was dead serious. Todd Snider is also sometimes dead serious, and he plays the crazy harp on this one.
MISSION DOOR (by Eric Taylor)
One time, I was sitting at a hotel bar with Eric Taylor when a guy came in off the street and started screaming about how he was a doctor. "You gotta believe me! I'm a doctor! I'm a doctor!" was the gist of his argument. Neither Eric nor I believed him, but I was too tentative to say so. Eric looked him straight in the face and said, "No, man, I don't believe you're a doctor at all. But you can sit and drink with us if you want to." The guy quieted down real quick, and sat down, too. Years later, Eric told me not to be tentative about anything, ever. I've always admired Eric Taylor, and I hope you'll like my covers of his songs enough to seek out his own recordings. I also admire Nanci Griffith, Todd Snider and Fayssoux McLean, all of whom take verses on this song. Lloyd Green plays Dobro, and it's the exact same Dobro he used on Don Williams' recording of "Amanda".
THEY HATE ME
This one has been through several incarnations. Funny how sometimes the truth is hard to tell. In this case, at least it rocks out pretty well. Anyway, hate spreads like kudzu on the side of a blue South Carolina highway, and this song is about what happens when you can't find any kind of clippers or a machete or whatever it is you would use to whack away at kudzu. Thanks to two of my rock 'n' roll heroes - Bill Lloyd and Jason Ringenberg - for the startling solos.
715 (FOR HANK AARON)
I thought I was done writing this, until Todd Snider asked me one day why I cared so much about sports.
SHEBOYGAN
If everything we do has been divined by some greater power, then we are doing the Lord's work, no matter how we're acting, what we're saying or who we're with. I've spent a lifetime searching for cop-outs, and this is the greatest I've found.
ONE BY ONE
I met Richard Goerke in a New York City bar, and he explained to me with very little patience that he loved Johnny Cash more than I do. I argued at first, then shrunk back down when he got up in arms about this. I asked Richard when it was that he had learned to love Johnny Cash, and he told me that he learned to love Johnny Cash when he was in prison. I asked why he was in prison, and he said it was because "they" said he had done this terrible thing. I asked why "they" had said that, and he said, "Because I did it, damn it!" I was glad I'd shrunk down a while back. We talked for hours, and the best part of the story wasn't what he did but why he did it. Or maybe that's the worst part of the story. For sure, though, it's part of the story. Thanks to Dave Hixx, the world's greatest songwriting tour manager (or tour managing songwriter), for help in getting all this down the way it may have happened.
ANDALUSIA
It's a town in Alabama, and my grandfather used to live there. And Hank Williams used to live there. And those two sounded just exactly alike when they talked. They didn't sing alike. My grandfather sang like Bing Crosby.
THIN WILD MERCURY
Todd and I wrote this after having numerous discussions about the night Bob Dylan called Phil Ochs a journalist and then threw Phil out of his car. That's the sort of thing we have numerous discussions about over on my side of town. The story is in the song. To our way of thinking, Dylan and Ochs probably both wished everything had played out differently. "If he ever thought better, he thought too late," is the way we wrote it. We never said who "he" was, because we didn't have to. My heart goes out to Dylan, wherever he is tonight. And to Phil Ochs, lying in that cold, cold ground.
=====