MICHAEL WESTON KING
Concert Review
In The Woods, Hollandsche Rading (NL)
July 15th 2003



So you can get an impression of what it's like, I dug up a review of the first Michael Weston King show I attended!

--
My best friend has the original habit of sending a music compilation for birthdays & holidays, with songs that fit me and my life. In this way I acquired four impressive tracks, performed by The Good Sons. Only much later I learned that Michael Weston King was the driving force behind this band.

Tonight his show is part of the concert series In The Woods. The venue is -indeed- situated deep in the woods, so you need a car here and plenty of money in the pocket, as the entrance fee is high (12 Euro). There are around forty music lovers in the audience, the chairs are lined up in long horizontal rows, so more people can sit close to the artist (smart idea) and smoking is prohibited (super smart idea).

Michael carries a beautiful shining acoustic guitar with him and looks funny in a cute way, with his black hat, long sideburns and eyeglasses. When he speaks, his British accent is more noticable than when he sings. And he talks a lot... He opens with "Where The Stars Don't Shine", from his new album, followed by "Tim Hardin 65" about one of the important moments in rock&roll, where he would have liked to be present. The other one is "Elvis 68 before his fall from grace". Then he goes on about Liverpool, where he's originally from and where he refused to perform Beatles songs. When he plays "Broken", he first drops the name of Townes Van Zandt, he played often with him. Both Michael and David Olney wrote a song that they named "God Shaped Hole", the expression turns out to be one of Kierkegaard's, always interesting to know. "Oh no, he's going to play a harmonica!", that's being done on "The Englishman's Obsession With America (part two)", about the music press liking a certain kind of lo-fi American singer-songwriters so much. And on "Always The Bridesmaid (Never The Bride)", also about the music industry. Last song before the break is a Pete Townshend cover.
"I sat in the fridge for the past twenty minutes". Who can blame him, with a temperature of over thirty degrees Centrigrade! In the second part of the show the Townes Van Zandt trilogy is most interesting. "Lay Me Down" is being accompanied by a story about the tour manager of Townes, who opened the front door for Michael and immediately asked: "Wanna watch a video of the funeral?", in England they usually ask: "Would you like a cup of tea?" "Lovers Lullaby" draws a cynical but hammer-hits-the-nail remark from Michael: "Amazing how many records he made from beyond the grave, but then he was a genius." "Riding The Range" was featured on the first Good Sons album and Townes did the vocals back then.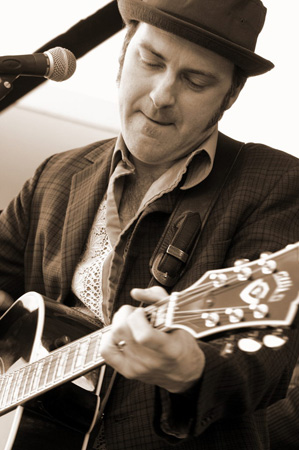 Michael ends the show with beautiful "Endless Wandering Stars", which turns out to be a "stolen" line by James Joyce and then "Celestial City", catchy opener on the new CD. When he comes back for the encore, he finally has taken off his black jacket: "Hope you don't mind me exposing my pink shirt... My wife bought it for me!"

Very nice man, Michael Weston King. His talking inbetween songs is definitely the best, in The Netherlands we would call him with a French word "conferencier". But maybe I expected a little more than a sweet-voiced folksinger... I don't believe I started out immediately with his four strongest Good Sons songs, did I?

--
Looking back, I think I was a little bit disappointed that the show stayed too much on the surface. While for Michael the entertainment value is also very important. Anyway, I'm still a big fan and I can recommend a Michael Weston King concert to all the lovers of singer-songwriter music!
-----

Written by Johanna J. Bodde, Dutch original of this concert review previously published on Real Roots Cafe, The Netherlands.
=====